Discovering that Marseille is for Foodies
Contributor blog post by Barefoot Blogger:
Marseille wasn't high on my list of places to visit. A weekend spent there to celebrate the birthday of a dear friend from Uzès totally changed my mind. On top of being an incredibly beautiful city with lovely, welcoming people, Marseille is for foodies like me.
I've been to Marseille on several occasions …Continue reading here for Deborah's photos of her food-filled weekend in Marseille. This is a city where you can eat the famous bouillabaisse, but just as quickly find Italian, or a great curry, or a couscous royale or… And, that is before we talk about the markets.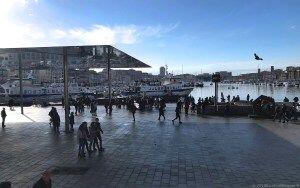 Visit Marseille for the Food
3-Star Le Petit Nice Celebrates over a Century of Gastronomy in Marseille
Port-side Marseille Dining at Les Halles de la Major
World of Wine and Food Flavors in Marseille
A trip to Marseille for an authentic Bouillabaisse
Recipe for Marseille Classic Bouillabaisse
Via:: Barefoot Blogger