Crafting Workshops in Goult at Jolie Vintage Atelier
Charming Provence
Jolie vintage might be a good description for Goult. This village is one of a few in the Luberon that is not teeming with tourists, during the high season. In September 2015, Mimi and Michael Pillsbury purchased an old village house, as their new home and the base for the Jolie Vintage Atelier crafting workshops. Here, is what they shared about Goult.
In our opinion, Goult has the perfect balance between year-round residents and seasonal visitors. We have a steady stream of tourists passing by (many of them taking photos of our house), but not so many that we feel the town is "overrun."
Like its neighbours (Gordes, Bonnieux, Roussillon and Lacoste) Goult is perched on a hillside. However, unlike the other towns, it is not visible from a distance, which might be a negative for the photo-op crowd. The fact that there is a single road to enter the village is certainly a deterrent for bus tours and one that residents might not regret.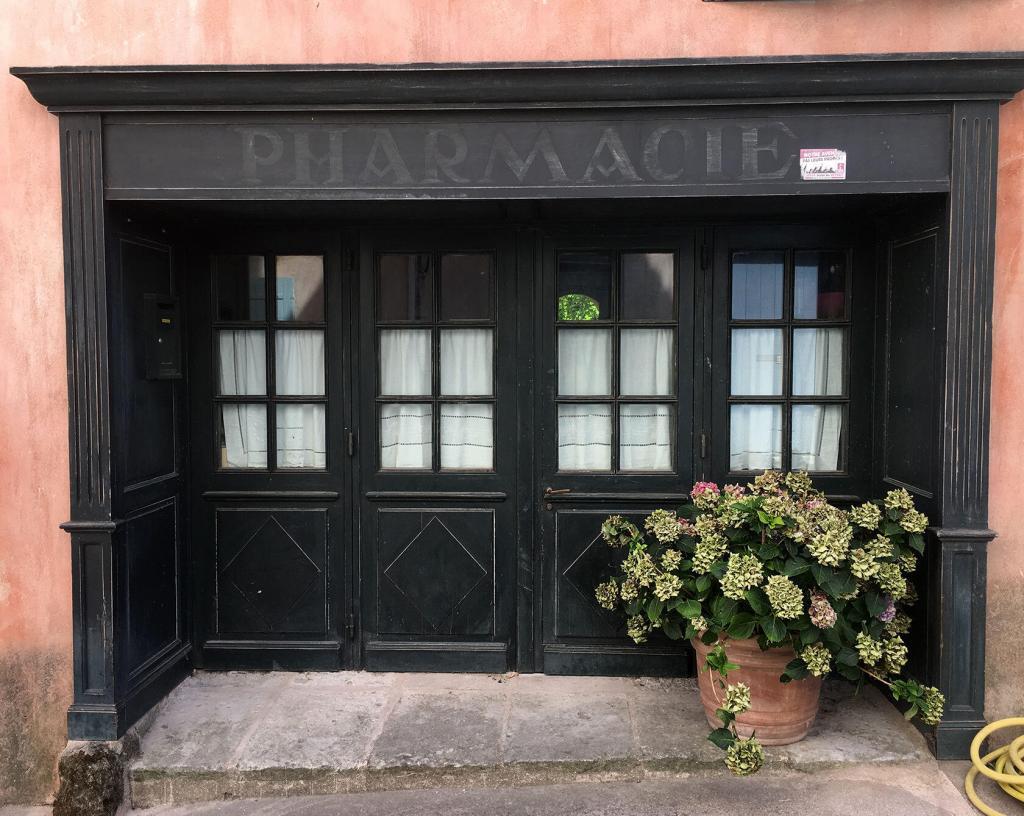 At first glance, Goult appears caught in a time warp. The old stone walls of village houses run the length of the main street, there are few chic boutiques, but you can find all the essentials (bread, meat, local produce, and a lively café). Goult is certainly not undiscovered many of the village houses have been restored and renovated as second homes. With a permanent population of only 1,300* Goult maintains its authentic Provencal charm.
We loved Goult from first sight. When you drive up to the village, it opens into a big central square. We think the village has done an excellent job of preserving its charm, as almost all the houses are restored in the same manner as they were originally built. With a good portion of year-long residents, it is alive all year long, has essential services and stores (bakery, butcher, épicerie, la Poste). Only well-informed tourists seem to have "discovered" Goult.
Career Changes
In 2007, Mimi and Michael met on assignment in her native country Serbia. Michael is originally from Michigan. They both have decades of work on development assistance projects. Michael worked in international development for nearly 30 years in Africa, Central and Eastern Europe and the Middle East. His specialty was local and state level economic empowerment (helping to improve investment conditions and public services) and small business development. While Mimi's 20+ years of work in Serbia, and other countries, focused on strengthening political parties and establishing the fundamentals for civil societies. She also participated in the engagement of women and youth in public life and local government.
Working in development for so long has its advantages. You meet many different kinds people from all over the world, you get to learn about different traditions and cultures, and you develop a real empathy for people pursuing the same goals (a safe place to live, education opportunities for our children, and meaningful work). However, under sometimes challenging circumstances.
After their collective decades of development work, the Pillsburys decided it was time for life to take a new direction. "Although such work was very satisfying, we found that we missed art built on the European renaissance era and opportunities to express ourselves artistically."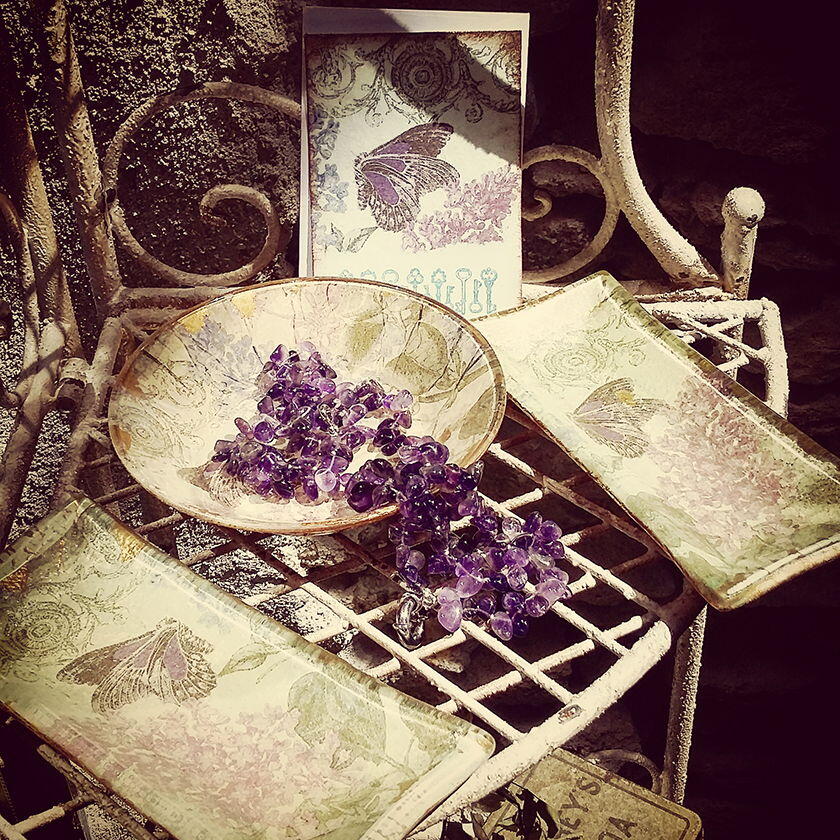 Buying Real Estate in Provence
The Pillsbury family chose to settle in Provence and selected Goult. At first, their story sounds like a coup de coeur (an impulsive purchase after sudden infatuation). They bought the first (and only) house that they visited. In reality, their criteria were well-established. Mimi and Michael travelled extensively for work and had visited Provence many times. Due to a tight timeframe and their limited understanding of the opaque French real estate system, Mimi and Michael chose to engage with property agent Sophia Mose (read more about buyer's agent services here).
Sophia delivered!
Yes, it was the only house we saw in our search, and we don't regret it. We had been travelling to the region since 2012. We had already put a lot of time living for, a week at a time, in places like Aix, Avignon, and Arles. As well as, visiting perhaps 15-20 smaller villages before we zeroed in on Goult.
Creative Inspiration
Their house is nearly 300 years old, during the 1940's it was a village cafe, along with six (6) other cafes in the village at that time. It is perfect setting for Jolie Vintage Atelier. The ground floor has a bright, open layout that accommodates workshops, and the house is easy to find.
Perhaps more importantly, both the exterior style of the building and the exposed stonework and natural light within the interior match our concept. At the same time, the rest of the village houses and the nearby Goult Château serve as daily inspiration. The crafting pieces that we are trying to create are meant to reflect this beauty.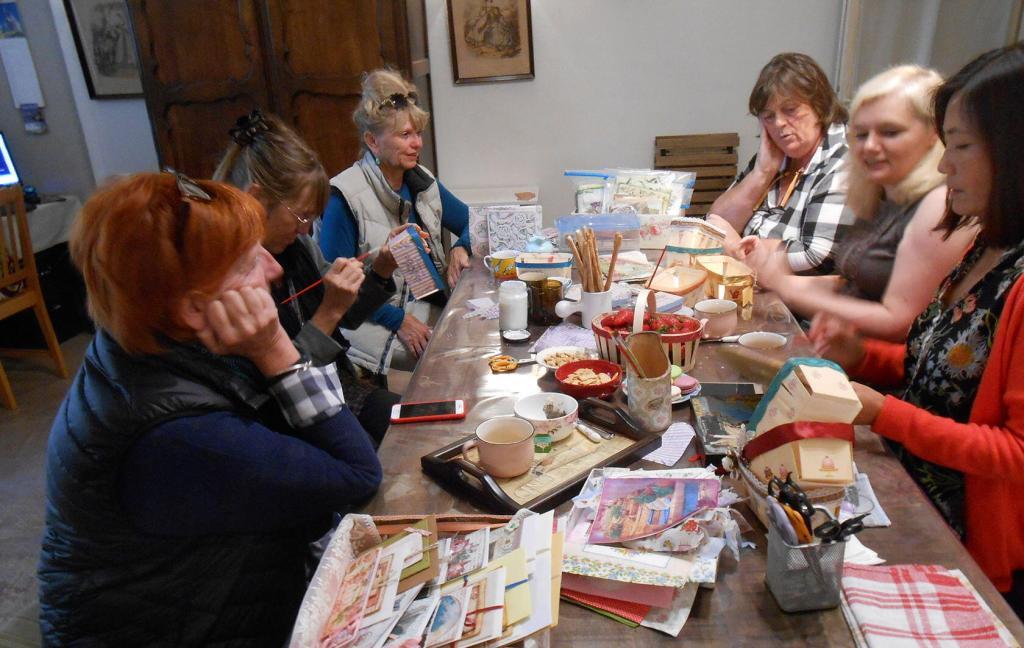 Jolie Vintage Atelier opened its doors in January 2017, for workshops accommodating a maximum of six (6) people. However, for crafting parties for kids and adults, the numbers can be larger if held in a larger venue. During the summer, Jolie Vintage Atelier is open all the time, but advanced reservations of a minimum of three (3) days would be appreciated. From September to May, the atelier is open on Tuesdays, Wednesdays and Thursdays; however, arrangements on other days (including weekends) are possible. The crafting sessions last 2 1/2 hours and at the end participants will have completed one project – a single decorated object.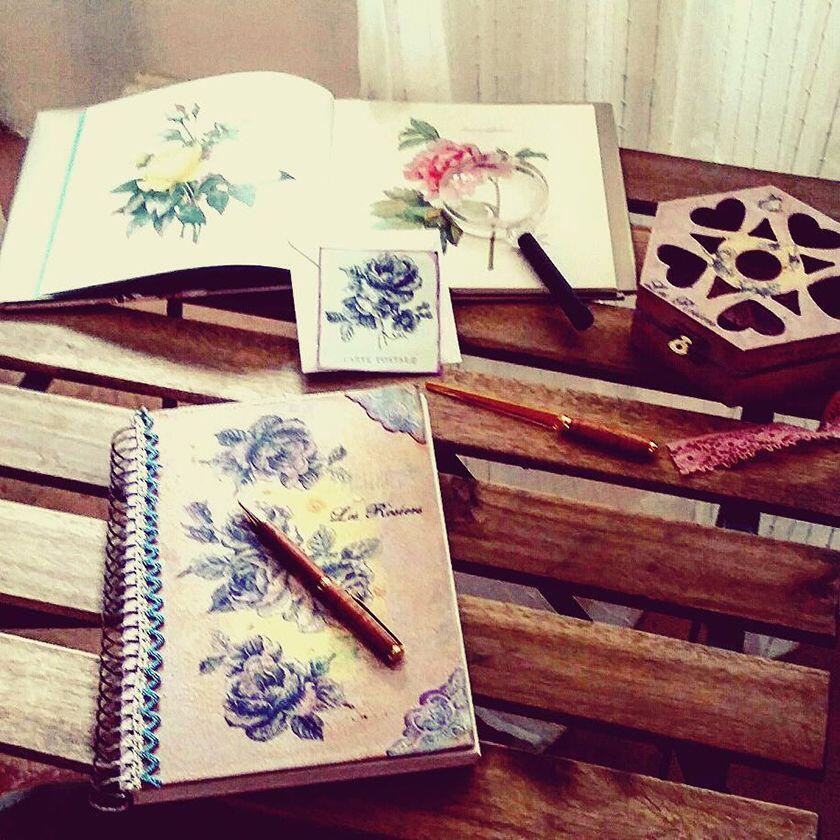 During workshops we create a fun, relaxing atmosphere while at the same time learning something new, or perhaps more accurately, rediscovering something old – one of the Atelier's key techniques, decoupage, can be traced back to 12th century China and was popularised in France and Italy during the 17th century. If you like brocante, romantic, vintage, floral, rococo, purple, old gold, or the "distressed-look" themes that this era evokes, then you will love crafting sessions at Jolie Vintage Atelier.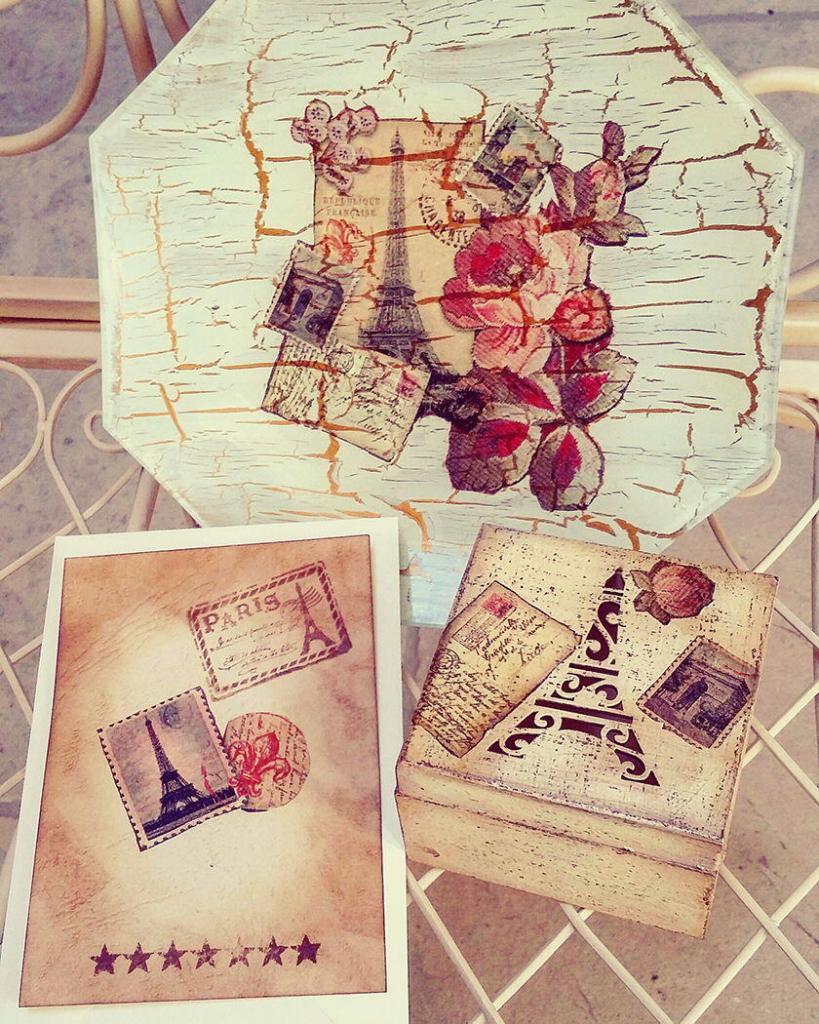 Currently, Jolie Vintage Atelier offers 15 different types of workshops. Participants learn various crafting techniques (crackle, shabby chic or 3D crafting) on different surfaces (wood, cardboard, canvas and glass). For clients interested in learning all the techniques to start their own business they offer special package pricing.
Touring the Luberon Near Goult
When Mimi and Michael are not busy with their business, they are off discovering Provence.
We think the best time for hiking in Luberon is winter, as we learned this year. This was probably our biggest surprise. We had heard stories of the chilling Mistral winds and had thought that outside adventures would have to wait until spring. We love hiking in the Fôret des Cedres (just outside of Bonnieux) and hiking the trails at the foot of the Petit Luberon near Robion. Summer is surprisingly hot, and sometimes we feel sorry for the tourists that cannot afford (time-wise) to stay in the house during the day to wait out the heat as they have only a limited time to try and "see everything."
There is plenty to see and do near Goult.
In town, visit l'église Saint Sébastien built in several periods beginning in the 11th C. Take a walk to the Moulin de Jérusalem, which functioned until 1947. Keep hiking to see the remains of roughly 5 hectares of terraced lands (restanques) built by farmers in the Middle Ages. The town's website has more detail (in French).
Crafting Workshop Contact information
Jolie Vintage Atelier
Mimi Pillsbury
Goult, Provence
vintagedreaming3@gmail.com
Tel: +33 (0)4 90 72 58 90
Facebook Page
Instagram
Explore at Mimi's personal work on her Etsy site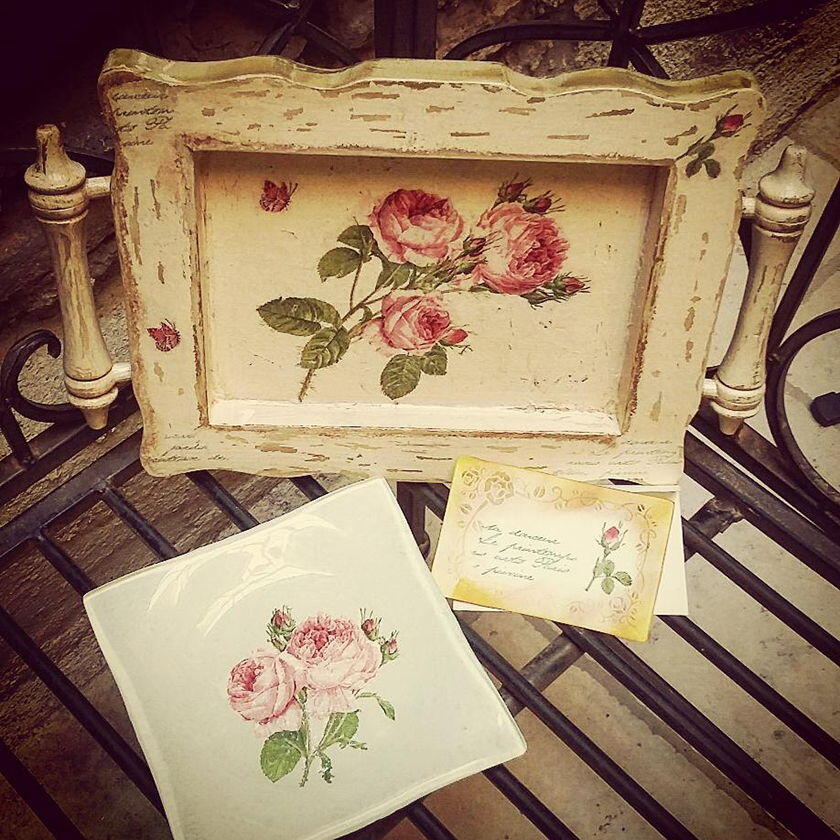 Image credits: All photos of the vintage work were provided by and published with the permission of Mimi & Michael Pillsbury at Jolie Vintage Atelier, in Goult
* Population 2006 – 1,281
All rights reserved. Perfectly Provence articles and other content may not be published, broadcast, rewritten (including translations into other languages) or redistributed without written permission. For usage information, please contact us.
Syndication Information
Affiliate Information
As an Amazon Associate, this website earns from qualifying purchases. Some recipes, posts and pages may have affiliate links. If you purchase via these links, we receive a small commission that does not impact your price. Thank you in advance for supporting our work to maintain Perfectly Provence.