Books to Read the Latest Novel by Sophie Claire
Born in Africa, her childhood featured many relocations, but Sophie Claire spent summers in the South of France visiting her grandparents. It's those memories of sunny, carefree days that inspire her novels today.
Sophie Claire's latest novel, Summer at the French Olive Grove, was published in May 2021. Her effortless writing style draws you in and captures your attention while the characters and their story develop.
A Love Story
Far away from pretty St Pierre, a fictitious seaside village on the Mediterranean, the protagonist Lily Martin is injured while working on her latest film. Forced to return to St Pierre to convalesce, Lily goes to her grandmother's home for the summer. She returns to find Mamie visibly ageing but still attempting to play matchmaker with Lily and her childhood friend Oliver. However, fiercely independent Lily refuses to consider Oliver anything more than the boy next door. After her father's fatal accident, Lily masked her schoolgirl crush on Oliver and buried herself in her work, avoiding any close relationships in the last 13 years.
Lily is running from her past, but is Oliver charming enough to break down the emotional barriers? A heartwarming story that revolves around love, loss, and realizing what is important in life.

Looking for Escapism
Summer at the French Olive Grove touches on life in the small town where life is predictable but focuses on the relationship between the two main characters. The book delivers pure escapism in its 372 pages. Ideally suited for vacation reading, this novel involves plenty of intrigue and substories weaved through the pages to keep your attention to the last one. Sophie Claire allows the reader to explore the South of France as a backdrop to her storyline. The novel is a page-turner, far from predictable, delivering plenty of twists to keep you entertained.
---
Author's Bio

Sophie Claire writes uplifting emotional stories with their heart in Provence, where she spent her childhood summers. She is half French, half Scottish, was born in Africa and growing up in England, she felt she didn't belong anywhere – except in the pages of a book. Perhaps this is why she likes to help her characters find their home, a place in the world where they can be loved for themselves.
Previously, she worked in marketing and proofreading academic papers. However, writing is what she always considered her 'real job', and now she's delighted to spend her days dreaming up heartwarming contemporary romance stories set in beautiful places. Find out more at www.sophieclaire.co.uk.
Read more about how Provence inspires Sophie's novels here and here.
Try her grandmother's chocolate cake!
Grandmère's Chocolate Cake
This is such a special recipe for me. It's been handed down through my mother's side of the family and it's the cake Grandmère always used to make for us when there was a birthday or other celebration. I've never tasted another chocolate cake quite like it (believe me, I've tried many). Whatever you do, don't overcook it. Five minutes too long in the oven and the middle will dry out. Like American brownies, you want the centre to be sticky and squidgy and a little sunken. It will glue your mouth closed and taste heavenly.
Check out this recipe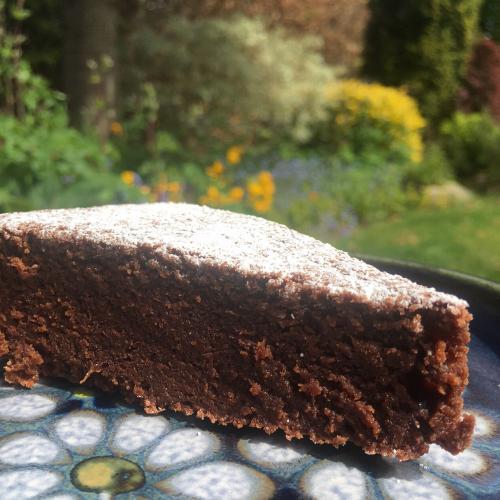 ---
Affiliate Statement:
To order a copy of Summer at the French Olive Grove, please click on the book cover or titles. As an Amazon Associate, this website earns from qualifying purchases. Note: if you purchase a book via these links, we receive a small commission that does not impact your price. Thank you in advance for supporting the work we do to maintain Perfectly Provence.