Book Review The Christmas Kalends of Provence
The Christmas Kalends of Provence, by Thomas Allibone Janvier, was first published in 1902 and republished many times since. The edition I am using is a facsimile published by Bibliobazaar, 2007, Charleston, South Carolina. Reviewed by Mary-Jane Deeb
A few years ago my publisher, Paraclete Press, gave me a small advance on my forthcoming mystery novel to do research in Provence. I decided to make it a family holiday, and we spent a memorable Christmas in Grasse researching Provençal Christmas traditions. Although Grasse is physically only a stone's throw away from Cannes, culturally it is a world apart, steeped as it is in tradition and provincial lore. We attended midnight mass in the twelfth-century cathedral of Notre Dame du Puy, partook of the thirteen traditional desserts, consumed boxes of nougats, viewed numerous "crèches" and purchased "santons" those little Provençal characters attached to the mangers. We breakfasted on bread with lavender jam and "pétales de violettes" jelly, and ate the traditional fougasso or Provençal doughnut. I also discovered a small bookstore in Grasse where I bought the books of Frederic Mistral the poet and lexicographer of the Occitan language, and of Emile Litschgy on Grasse's history and traditions. My novel which was published in 2004, and republished in 2012, was entitled a Christmas Mystery in Provence, and incorporated many of these rituals and practices in the story.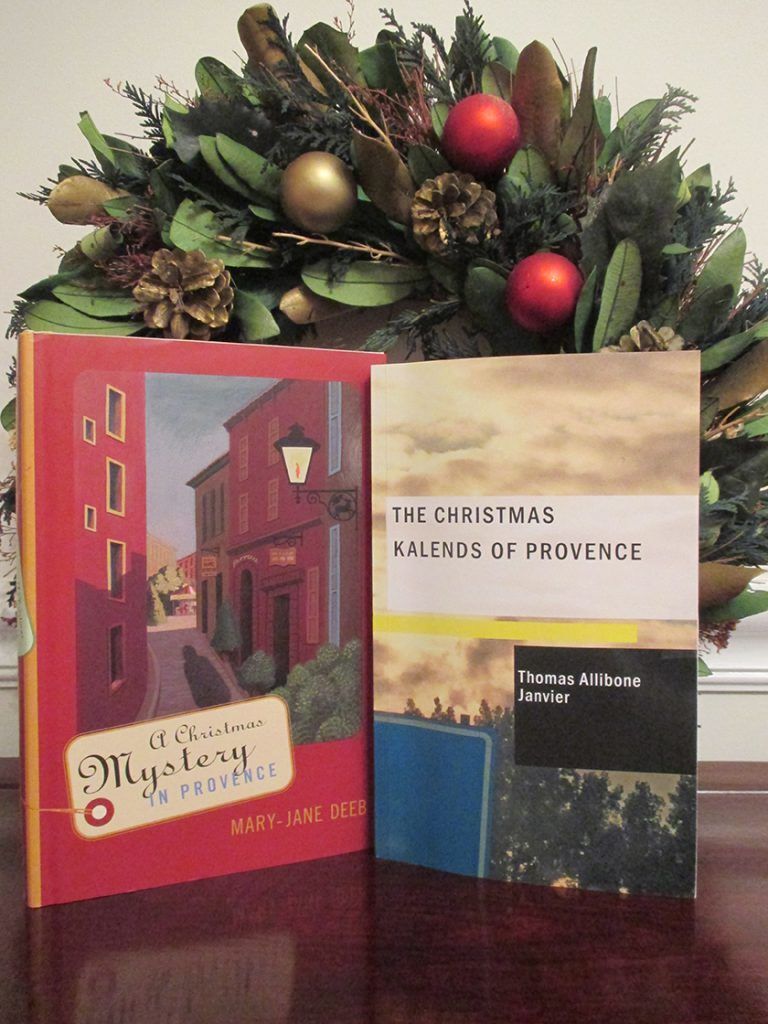 It is only recently, however, that I became aware of a small book first published in 1902, by Thomas Allibone Janvier (1849-1913), about Provençal Christmas traditions. It is a delightful tale of a Christmas visit by Janvier, an American journalist and writer of Provençal descent, to a friend, the Count de Vielmur, in his chateau located "on the westward slope of the Alpilles, overlooking Arles and Tarascon and within sight of Avignon, near the Rhone margin of Provence." (p. 15) Although this is a superb ethnographic study, Janvier explains Provençal traditions and how they evolved over the last two millennia, in ways that enable readers to better understand ancient customs and how they relate to those they still practice.
Take for instance Calèndo, the word for Christmas in Provençal. It comes from the January Kalends, "the Roman festival of the Winter Solstice" (p.23), hence the title of the book. Or the twelve days before Christmas called in Provençal coumtié, which farmers celebrated believing, for centuries, that each day foretold the weather in the ensuing twelve months. The lyrics of the "Twelve Days of Christmas" which is part of British and American Christmas lore, were first published in England in the eighteenth century, but the origin of the song is believed to be French.
The most important tradition, however, appears that of the cacho-fiô, or the bringing home of the yule log. The whole family must go out and cut a fruit-bearing tree such as an almond, olive, pear or apple tree. Once in the home it is set ceremoniously in the fireplace and must continue to burn from Christmas Eve until New Years' Day (it is snuffed out every night, and re-lit the following day). This custom, according to Janvier "is an echo of [a] Druidical ceremonial … when the Druid priests cut the yule-oak and with their golden sickles reaped the sacred mistletoe." (p. 25) The chocolate bûche, or Christmas log, that is served for dessert on Christmas eve in France (and now around the world), is a pale reminder of that cacho-fiô tradition in Provence.
Janvier also describes in great detail the dinner on Christmas Eve at the chateau of the Count of Vielmur. The "Gros Souper," or the great supper which includes seven dishes (for the seven sorrows of Mary), is meant to be lean (no animal meat or animal fat). Food is consequently cooked only in olive oil, rather than in suet or lard. It is only on Christmas Day that the stuffed goose and other meats are served. The raïto is the principal dish of the "Gros Souper" and consists of delicately fried fish (usually cod) served in a red wine and caper sauce, "whereof the tradition goes back around twenty-five hundred years…" and comes from Greece via the Phoenicians who brought it to Marseilles! "But this excellent dish was not lost to Greece because it was gained to Gaul: bearing the same name and made in the same fashion it is eaten by the Greeks of the present day." (p. 63).
The six other dishes include escargots or snails, cooked with a sauce rich in garlic. Today the escargots are still served on Christmas Eve, not only in Provence but all over France. More fish and vegetable dishes follow, with celery in a white creamy sauce, stuffed artichokes, and blanched carde, or cardoon, a thistle that grows wild in Provence. The dinner is then followed by desserts including nougats, the fougasso, candied fruits, and various nuts, fruits and cakes.
And after dinner, it was time for midnight mass. More than a decade ago, around 11:00 pm, my family and I, like Janvier, the Count de Vielmur, his guests and staff, walked with everyone else to the cathedral. The streets were narrow, winding and dark, but there was laughter, and song in the air, and a feeling that we had stepped back in time when ancient traditions and rituals were celebrated in a meaningful way, communally and joyously.