Bistro Sandwich with Chanterelle Mushrooms and Truffle Oil
David Allen Scott's recipe of the day is inspired by a newspaper clipping sent to him by his friend Sue in Manchester, Massachusetts – on the North Shore of Boston.  Inspiration being bistro sandwiches served in little bread boxes with eggs, cheese and roasted asparagus.  Kind of a glorified "birdie-in-the-nest"or "hole-in-one."  David's taste buds and creative mind took this idea and created a Franco-Italian version that you see here.  (Franco for the bread and chanterelle mushrooms, Italian for the cheese and truffle oil.) For the full Cocoa and Lavender post follow this delicious link.  The recipe is below.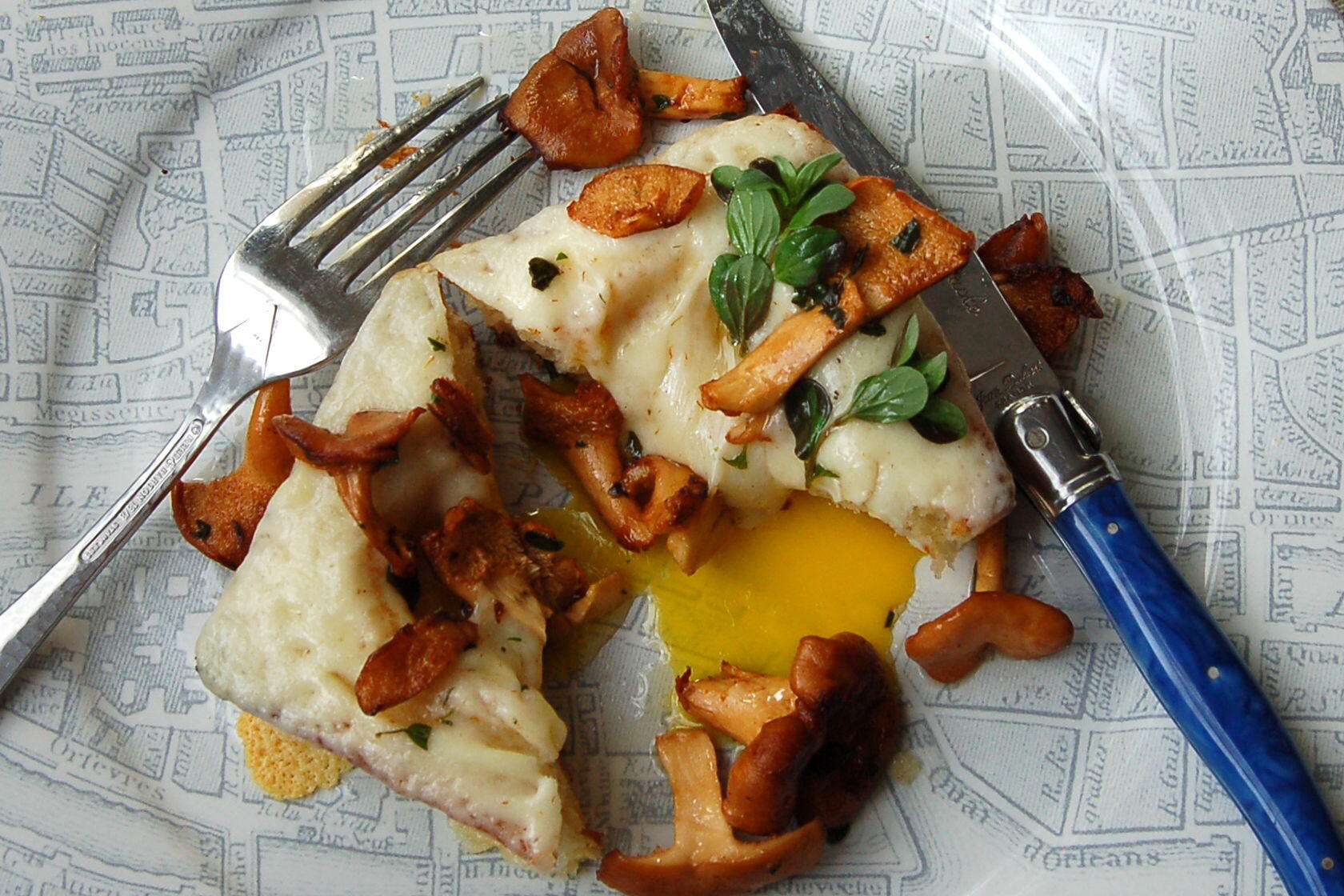 Toasted Bread Boxes with Chanterelle Mushrooms and White Truffle Oil
David was inspired to make this recipe by a bistro meal in France.
Ingredients
2

slices

Pan de mie, 1 1/4 inches thick each

crusts removed

2

egg yolks

2 large or extra large egg yolks

whites reserved for another use

4

slices

Fontina cheese, 2 inches by 4 inches & 1/8 inch thick

8

oz

fresh chanterelle or other wild mushrooms

sliced if large

2

tbsp

Unsalted Butter

2

tsp

chopped fresh marjoram

2

tsp

white truffle oil

Salt and pepper, to taste
Instructions
Preheat the oven to 450ºF.

After trimming bread of its crusts, use a knife to cut a 1 1/4-inch hole in the bread that goes halfway through.

Scoop out the "hole" and eat as a snack while continuing. This should leave a nice "cup" in which to nestle the egg yolk.

Toast the bread boxes directly on the oven rack for 5 minutes, or until nicely toasted.

While bread is toasting, prepare mushrooms.

Place the butter in a skillet and melt; add mushrooms and sauté over medium heat until done- about 6 minutes.

Add marjoram, season with salt and pepper, and sauté 1 minute longer to meld the flavors.

When bread boxes are toasted (note: the sugar content of pain de mie is high and it browns quickly), remove them and allow to cool a minute or so.

Carefully place an egg yolk in each cup, trying your best not to break it.

Cover each bread box and egg yolk with two slices of cheese, overlapping slightly.

Place on a a greased cookie sheet and bake 5 minutes, or until cheese is beginning to brown an dis bubbly.

To serve, place one box on each of two plates and top with mushrooms. Drizzle with truffle oil and serve immediately.