Cowboy Culture Living Dangerously in Provence
"The bull has escaped!"
Cowboy Culture in Provence
I looked up to see a thousand pounds of anger barreling down the street at me. Everyone scattered, frantically jumping over the metal barriers to safety. The bull thundered past, followed by closely by French cowboys on horseback. It was a terrifying moment, the kind you remember all your life.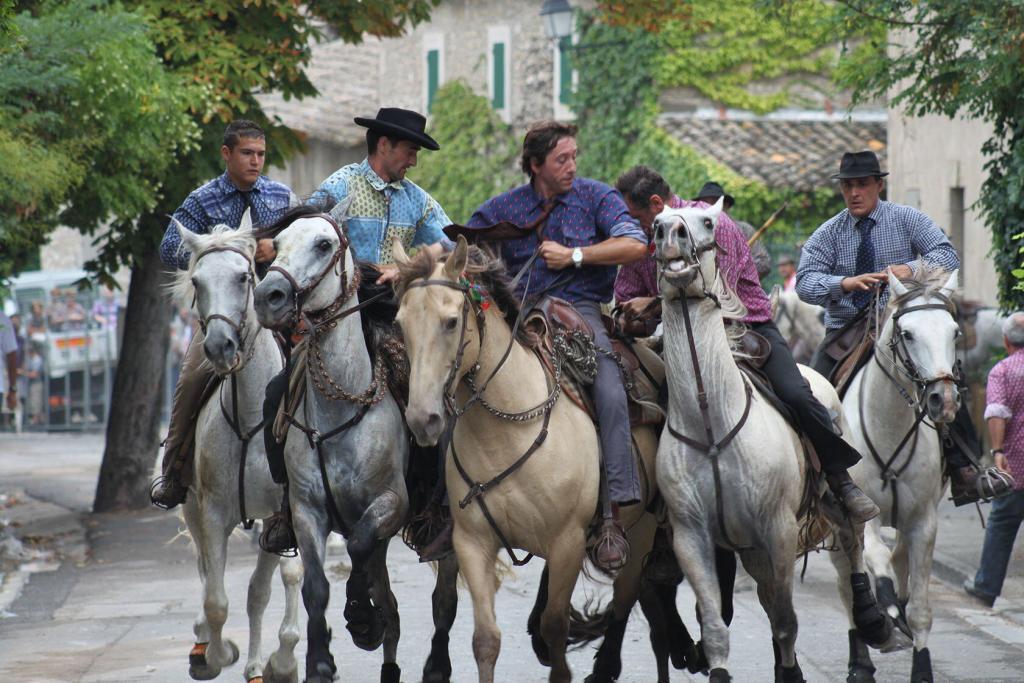 Just south of Arles lies the famously wild Camargue, a vast, marshy territory that is home to bulls, pink flamingos and white horses running free. This is where the gardians live, the French cowboys who form a living link to France's romantic past.
Every region of France has its own customs, and one of the things unique to Provence is its connection to bulls, evident in the cuisine, the festivals and the local sports.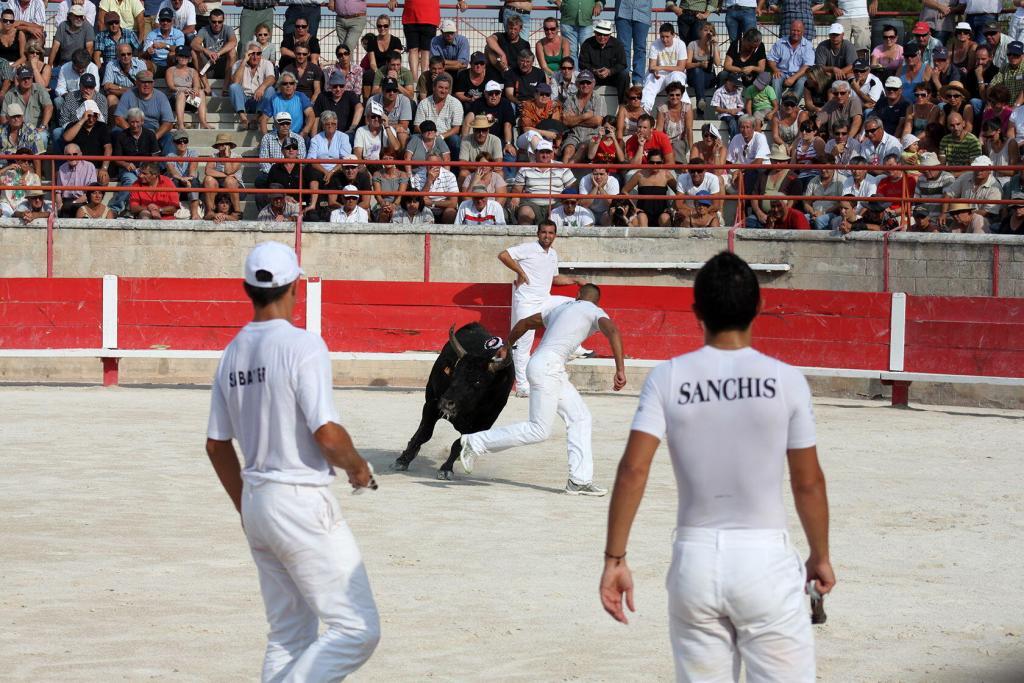 One way the young men of Provence demonstrate their bravery is in the Course Camarguaise, what some people call French bull fighting. But it's not fighting at all and the bulls don't get hurt. Instead, little doodads are tied around their horns and the young men, the rasateurs, have to run up to the bulls and take off the doodads without getting hurt. It's a popular event, filling arenas throughout Provence.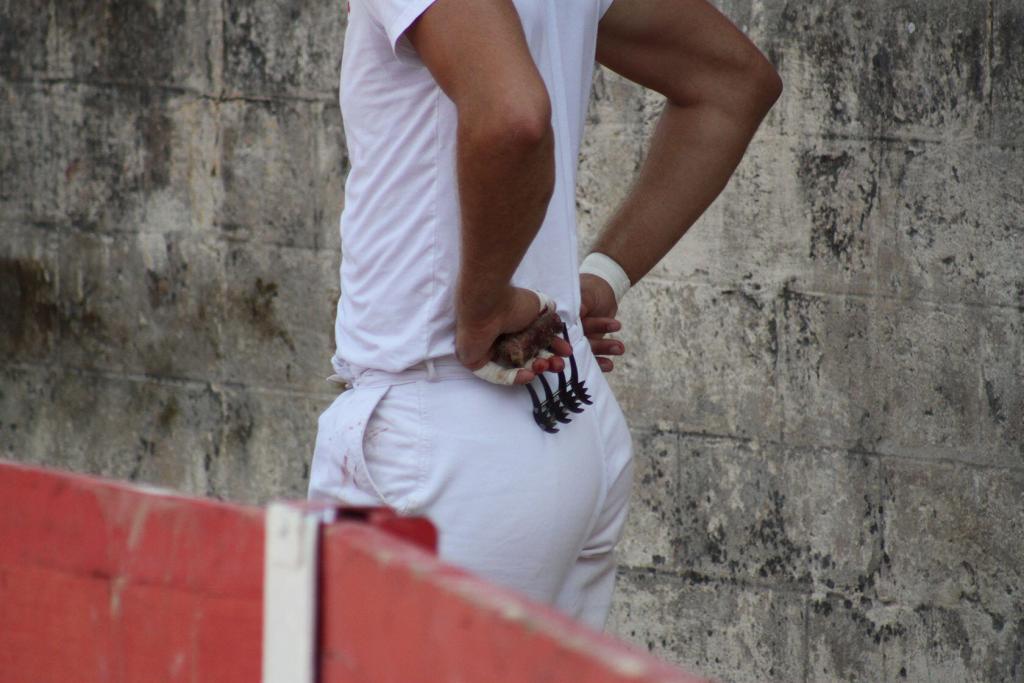 My wife Val loves the sport, mostly because of the rasateur's traditional outfit of tight shirts and even tighter white pants. She once confessed this love to our French friend Sophie, who made her own confession.
"I like to watch American football on TV" said Sophie. "I don't understand the game at all but I like the way the uniforms show off the player's butts."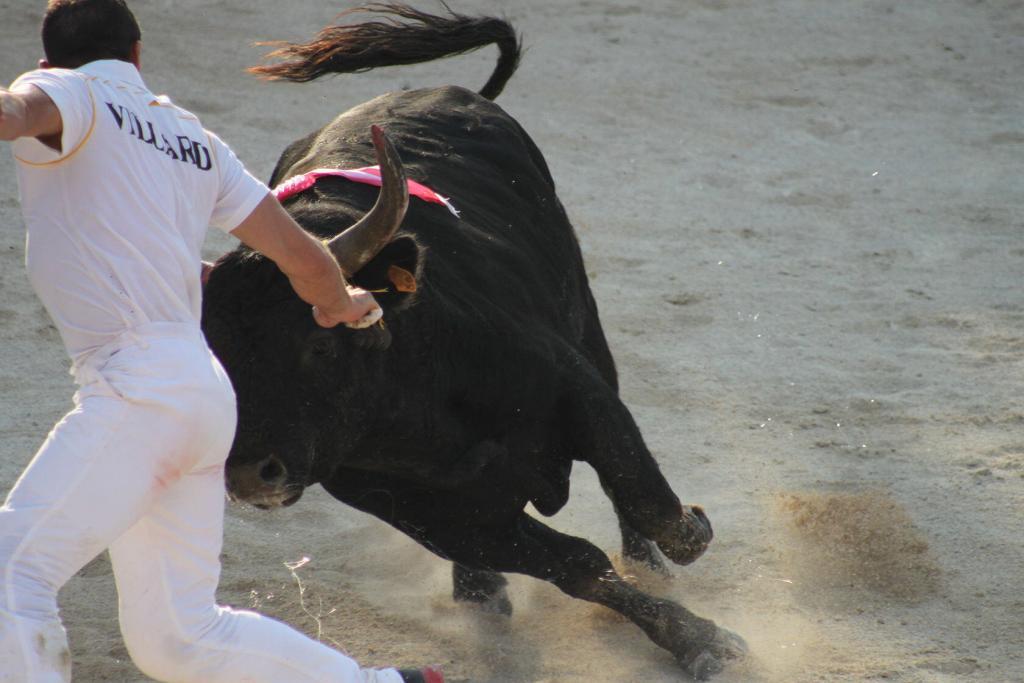 This led to a discussion between Sophie and Val of French versus American butts, with me of course rooting for the home team.
Courses are usually preceded by an abrivado, an exciting event in itself. Bulls are run one by one through the streets of town, ending up at the arena.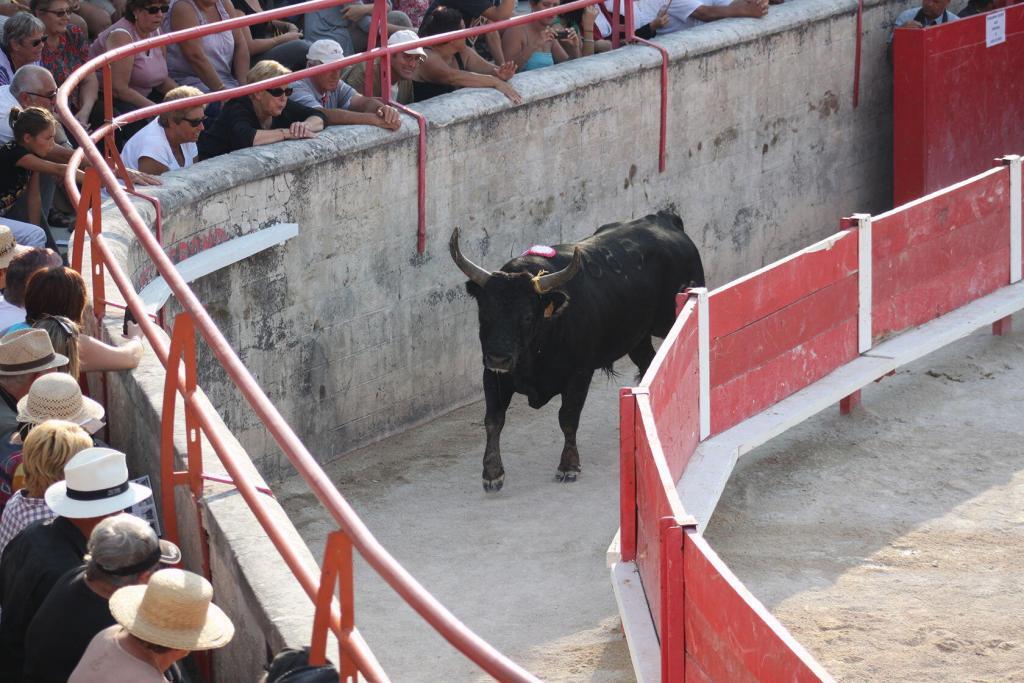 At the abrivado, a truck door opens and a bull charges out, ready to escape. He is met by gardians on horseback, both women and men. The gardians form their horses into a V shape, like a flock of geese, ready for the bull. As he exits the truck he charges right into the center of the V and the gardians take off, trapping the bull in the V and leading him to the arena.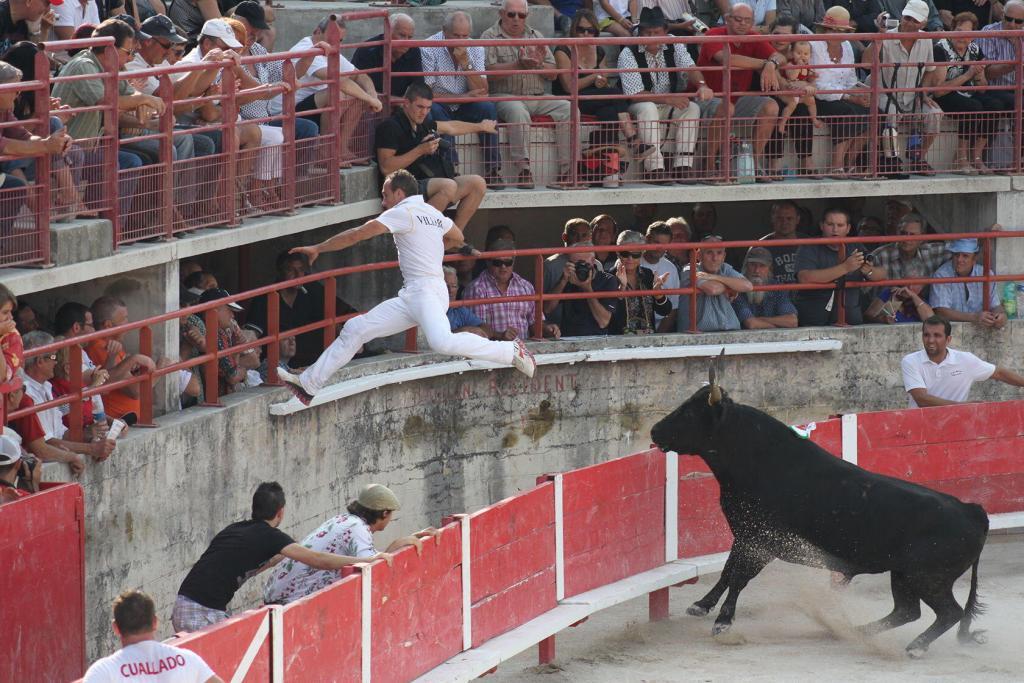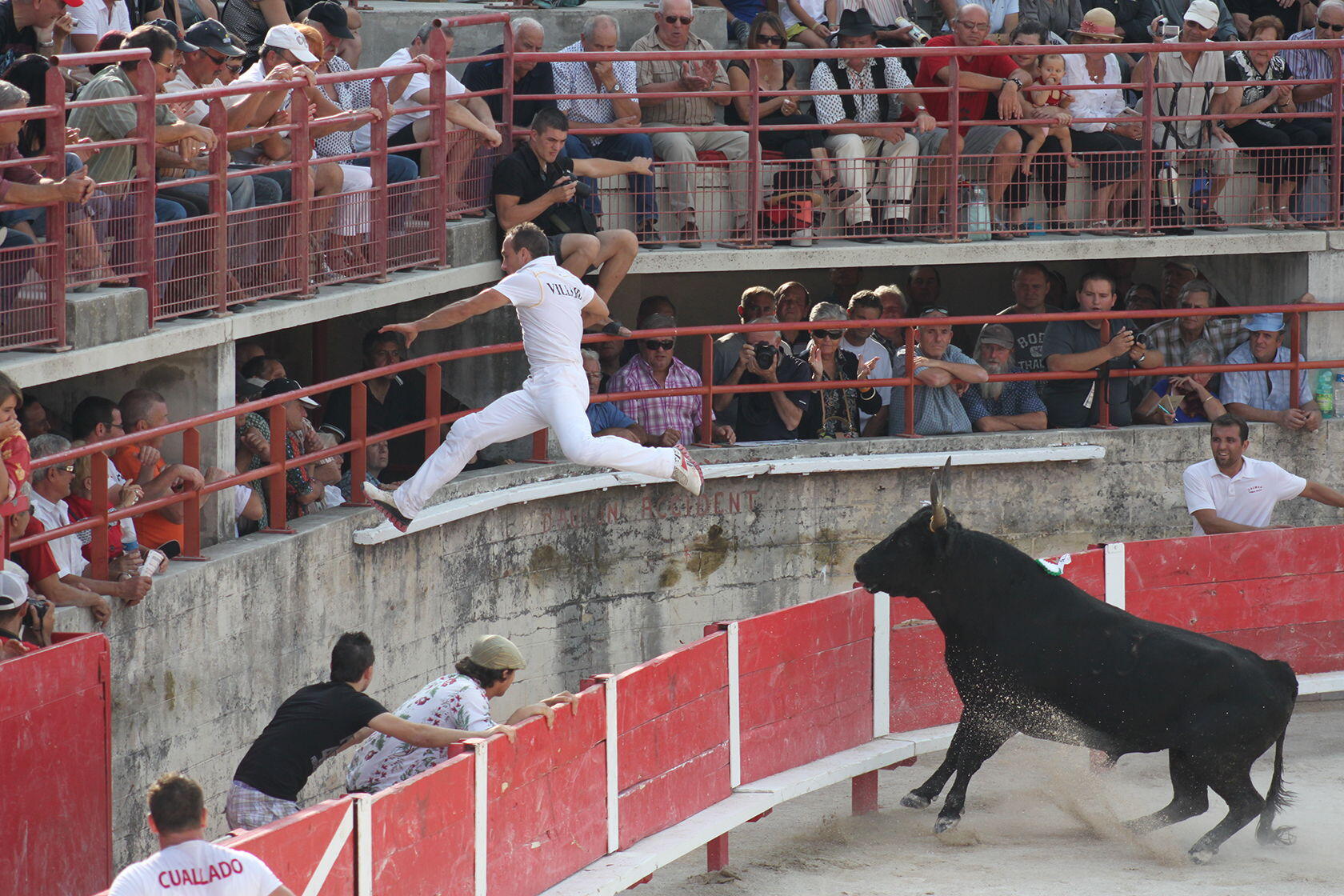 To be able to do this—controlling the bull without being gored—is a great test of horsemanship that only the best gardians can pass.
The streets of the town are lined with metal barriers and everyone stands behind them to watch the spectacle. Then, at the end of the event, they clamber over the barriers into the street. There they discuss what just happened, whether the gardians had shown proper form, and of course, where to have lunch. This was where I was standing the day a bull slipped away and made a run for it.
The gardians did not earn top marks that day.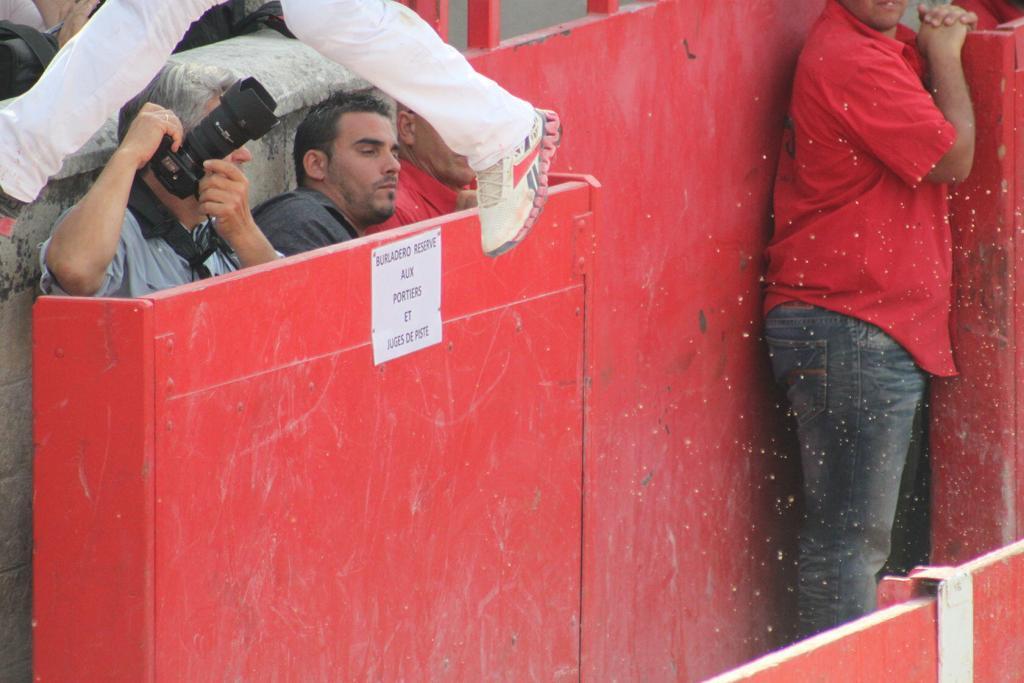 More Cowboy fun in Provence