A Trip to Arles: Cultural and Lunch Reasons to Visit this City
Contributor blog post by Aixcentric:
Cultural Arles
The newly-created arts and cultural centre, LUMA, based in the old railway sheds, has a handful of shows this summer and fall. Headlining them is Gilbert & George: THE GREAT EXHIBITION (1971-2016), an 80-work retrospective which will be taking place until 6th January. I also like the sound of 'Une Histoire Avec Vincent'.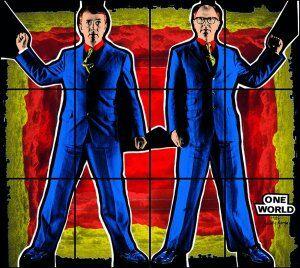 …Continue reading here to discover all the current events (and lunch spots) in Arles. These shows include the annual Rencontres d'Arles and the exhibition at the Fondation Van Gogh, both of which run until the end of September.
The Arles Agenda website (here), in French, is a good portal where you can see all of the current events in one place.
Luma Fondation (website). The construction is scheduled to terminate at the end of 2018. Even before the site is 100% complete the programming for art and cultural exhibitions has started. Click here for the current programming.
---
Lunch in Arles

Lynne recommends the Jardin des Arts, which is in a 13th-century cloister.
38 rue de la République
13200 Arles
Tel: +33 (0)4 90 96 10 36
Michelin-stared Chef Jean-Luc Rabanel offers diners the option of dining in the Le Bistro or Le Restaurant. His focus is organic food for his two-star restaurants that are located right in the heart of the old centre of Arles. You can also sign-up for a cooking class, or even book a bed in the beautifully appointed rooms or apartment located across the street from the restaurant.
19 rue des Carmes,
13200 Arles
Tel: +33 (0)4 90 47 61 13
Take just a short drive into the Camargue to visit Chef Armand Arnal (one Michelin star) at La Chassagnette. He invents recipes with organic products direct from his kitchen garden on site. Reservations are a must.
Mas De La Chassagnette
13200 Arles
GPS coordinates: LAT: N 43.5676 – LON: E 4.6674
Tel: +33(0)4 90 97 26 96
Cuisine de Comptoir is perfect for lunch. The menu is a list of eleven tartines (open-faced sandwiches) on grilled pain Poilâne (a sliced bread originally produced in Paris). The options include vegetarian options and some Provencal classics with chevre. Book in advance this restaurant is popular for a reason.
10 rue de la liberté,
13200 Arles
Tel: +33 (0)4 90 96 86 28
Located steps from Fondation Van Gogh is Le Galoubet (no website). They serve prix-fixe menus of local, traditional Provencal dishes. The restaurant has a street-side terrace with a leafy canopy. Both the food and service are excellent. Book in advance.
18 Rue du Dr. Fanton,
13200 Arles
Tel: +33 (0)4 90 93 18 11
Buy some sausage from Maison Genin. They have been making le saucisson d'Arles for five generations.
11 rue des Porcelets,
13200 Arles
Tel: +33 (0)4 90 96 01 12