Aix-en-Provence: News from the Excavations Construction Update
Contributor blog post by Aixcentric:
What a mess the town centre is right now what with the travaux for the new bus route and the simultaneous archaeological dig and renovations at the Place des Precheurs. But then no pain no gain…no omelettes without breaking eggs, and all that good stuff.The bus drivers seem to be bearing the situation with truly Provencal shrugs, at least the ones I have talked to, but in the week Madame le Maire Marysse Joissains was ambushed by about 50 people who run businesses around the Place des Precheurs.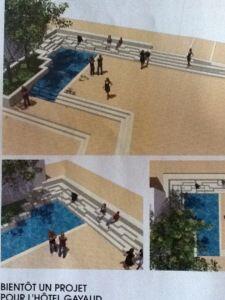 …Continue reading here for details on this large infrastructure project in the heart of the old town of Aix-en-Provence. To say that this construction work is challenging would be an understatement. The site is home to several existing businesses that remain open during the work, and the discovery of medieval foundations has required planning and adjustments to the timeline.
Image Credit: AIX-EN-PROVENCE, LE MAG janvier – février 2018 – n°23
Via:: Aixcentric