A Provencal Variation of Boeuf Bourguignon
This traditional dish is as steeped in history as it is in flavour. From its early origins as a peasant dish, through the decades of haute cuisine and still today, Beef bourguignon has become a staple on many French menus to the delight of foodies worldwide. David has once again created a dish that not only satisfies the taste buds but encompasses comfort foods to a delicious new level all the whilst fondly remembering how he came to love this dish, Julia Child herself and more through her legendary recipe books Mastering the Art of French Cooking.
For the rest of the post on David's Provencal version of this classic French dish continue reading here…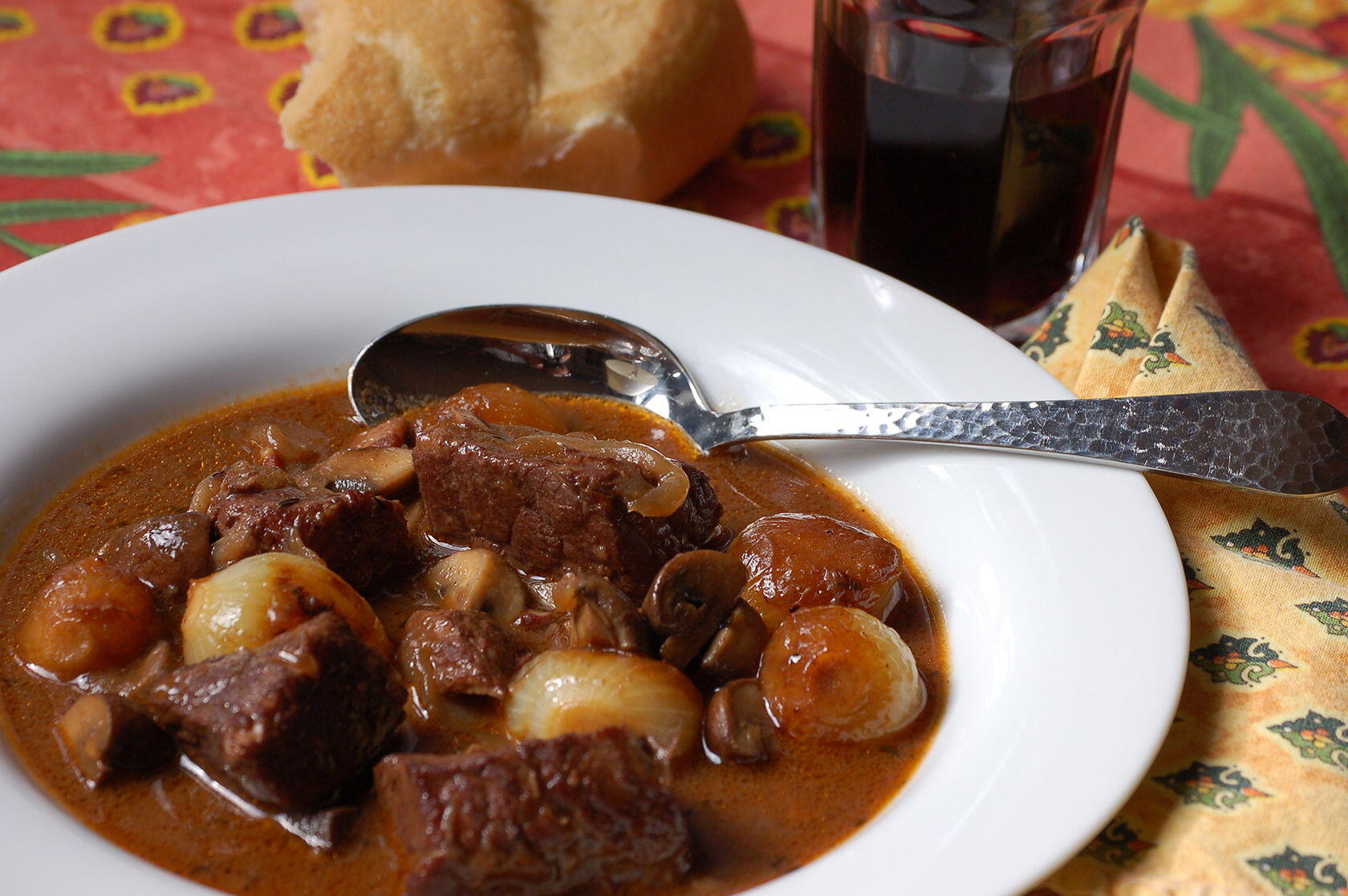 Boeuf Bourguignon
Boeuf Bourguignon or Beef Burgundy, a traditionally slow simmered, red wine braised beef stew with salt pork (lardons), onions and mushrooms served over egg noodles, rice or potatoes.
Ingredients
6

oz

meaty salt pork

not American bacon

1

tbsp

Extra virgin olive oil

3

pounds

lean stewing beef

rump roast or chuck roast

1

Carrot

sliced

1

large

White Onion

sliced

1

tsp

Kosher salt

1/4

tsp

Freshly ground black pepper

2

tbsp

Flour

3

cups

full-bodied red wine

I used a Côtes de Rhône

2-3

cups

beef stock

1

tbsp

Tomato paste

1 1/2

tbsp

fresh thyme leaves

or 1/2 teaspoon dried thyme leaves

3-4

fresh bay leaves

or 1 dried bay leaf

24

small white onions

peeled

1 1/2

tbsp

Unsalted Butter

1/2

cup

beef stock

Bouquet Garni

1 bay leaf, a sprig of thyme & 4 sprigs parsley

1

pound

cremini (or button) mushrooms

quartered

4

tbsp

Unsalted Butter

2

tbsp

Extra virgin olive oil

Parsley sprigs for serving
Instructions
Preparing the beouf
Remove rind from the slab of salt pork. Slice the salt pork into 1/4-inch slices and then into 1/4-inch batons.

Place into a small saucepan of boiling water and reduce heat.

Simmer for 10 minutes and then drain; dry well with paper towels.

Set aside; both the rind and the batons will be used.

Preheat the oven to 450°F (225°C).

Heat 1 tablespoon olive oil in a Dutch oven over medium heat.

Sauté the batons of salt pork for 2 to 3 minutes until lightly browned.

Remove the salt pork from the pan with a slotted spoon and put on a plate; set aside.

Raise the heat under the Dutch oven to medium high and add your dried beef cubes to the oil, a few at a time, as not to crowd them. There must be space between them otherwise they won't brown properly.

Brown the cubes on all sides, then remove the and add them to the plate with the salt pork. Repeat the browning until all the beef is used.

Next, sauté the carrot and sliced onion until brown using the same fat.

Pour off any excess fat.

** Note: in Mastering the Art of French Cooking, Julia actually never says what to do with the sautéed carrot and onion. Once they are sautéed, they are never mentioned again! Some references say remove them, while others just keep them as part of the stew. In this version, I removed them but have kept them at other times. I actually watched her French Chef episode on this - I believe it was the very first episode of the series - and she didn't have the salt pork, carrot, onion or any flour. Go figure...

Return the beef and salt pork to the Dutch oven and season with the salt and pepper.

Then sprinkle with the flour and toss to coat.

Place the Dutch oven in the preheated oven for 4 minutes, remove and toss the beef, then bake for an additional 4 minutes. This process toasts the flour.

Reduce oven heat to 325°F (170°C).

Add the wine and 2 cups beef stock to the meat, so that the meat is barely covered. If necessary, add more stock to cover the beef.

Add the tomato paste, herbs and reserved bacon rind.

Bring it to a simmer on top of the stove, then cover it and place it in the oven.

Check after 15 minutes to make sure the stew is at a simmer. If it is more than a simmer, reduce heat. Conversely, if it isn't simmering, raise heat 5°.

The meat should be done in about 3 hours - and will be very tender when pierced with a fork. Some cuts of meat (bottom round, for example) might take longer - up to 4 hours.

While the beef is in the oven, prepare the onions and mushrooms.
Preparing the onions
To brown-braise the onions, heat the butter and oil in a skillet until bubbling.

Add the peeled onions and sauté over medium heat for about 10 minutes, rolling the onions so that they brown evening on all sides.

Take care not to break their outer skins, and (per Julia) don't expect them to brown evenly.

Pour in the 1/2 cup beef stock and add the bouquet garni. Cover and simmer slowly for 40 to 50 minutes, until onions are tender and still retain their shape.

At this point, most of the liquid will have evaporated. Remove the bouquet garni, and reserve onions for the stew.
Preparing the mushrooms
Sauté the mushrooms. Julia's advice in this is spot on, and something I learned and will never forget. Sautéing mushrooms is easy following her counsel.

Place a large (14-inch), heavy skillet over high heat with the butter and oil.

As soon as the foaming of the butter begins to subside, add the mushrooms. Toss and shake the pan for 4 to 5 minutes.

In this time, they will fist absorb the fat. In a couple of minutes, the fat will reappear and the mushrooms will begin to brown.

As soon as they have browned lightly, remove them from the heat and set aside.
Bringing it all together
When the beef is fork tender, pour the stew through a sieve set over a saucepan.

Wash out the Dutch oven and return the beef and salt pork (this is where she doesn't mention the carrot and onion) to it.

Add the brown-braised onions and sautéed mushrooms to the pot.

Skim the fat off the strained sauce, and simmer for a couple of minutes skimming any fat that rises. This will depend on how lean your beef was to start.

You should have 2 1/2 to 3 cups rich, thick sauce that coats a spoon. If too thin, boil for a couple of minutes to reduce it. If too thin, add some beef stock a couple of tablespoons at a time.

Pour the sauce over the meat, onions and mushrooms.

Cover Dutch oven and simmer for 2 to 3 minutes, stirring gently a few times.

Serve over egg noodles, rice or boiled potatoes - or, as we did, with a nice crusty bread and a nice tumbler of wine.
Notes
Notes before starting:~ Choose salt pork over bacon as this dish would not do well with a smokey American bacon.

~ Always cut your own stew meat. The stuff you can buy as "stew meat" is usually the dregs - full of fat and generally the trims.

~ I used a chuck roast and cut it into 2-inch cubes. Don't make the mistake of cutting it smaller: this will adversely affect your stew.

~ After cutting your meat, dry it well with lots of paper towels. This will significantly improve the browning. This rule applies to all meats
and fish.

~ I chose a Côtes de Rhône wine, but we all know that a good burgundy would be perfect. The former is much more readily available and
more affordable, and I think it was pretty wonderful both in and accompanying the dish.

~ Julia used dried herbs and I prefer fresh, as they are just a few steps away in the garden.

~ Cremini mushrooms were my choice, as they are meatier and actually add more flavor. Button mushrooms are the more authentic choice,
though.