A Wild Mushroom Risotto Recipe after the Market
Mushroom season in the south of France is here and the varieties for sale in the Uzès market are endless.  You can use any mushrooms for the garnish in this Wild Mushroom Risotto recipe and the more varieties you use the more interesting your garnish will look!  I used field mushrooms that I was lucky enough to find growing in our orchard this morning.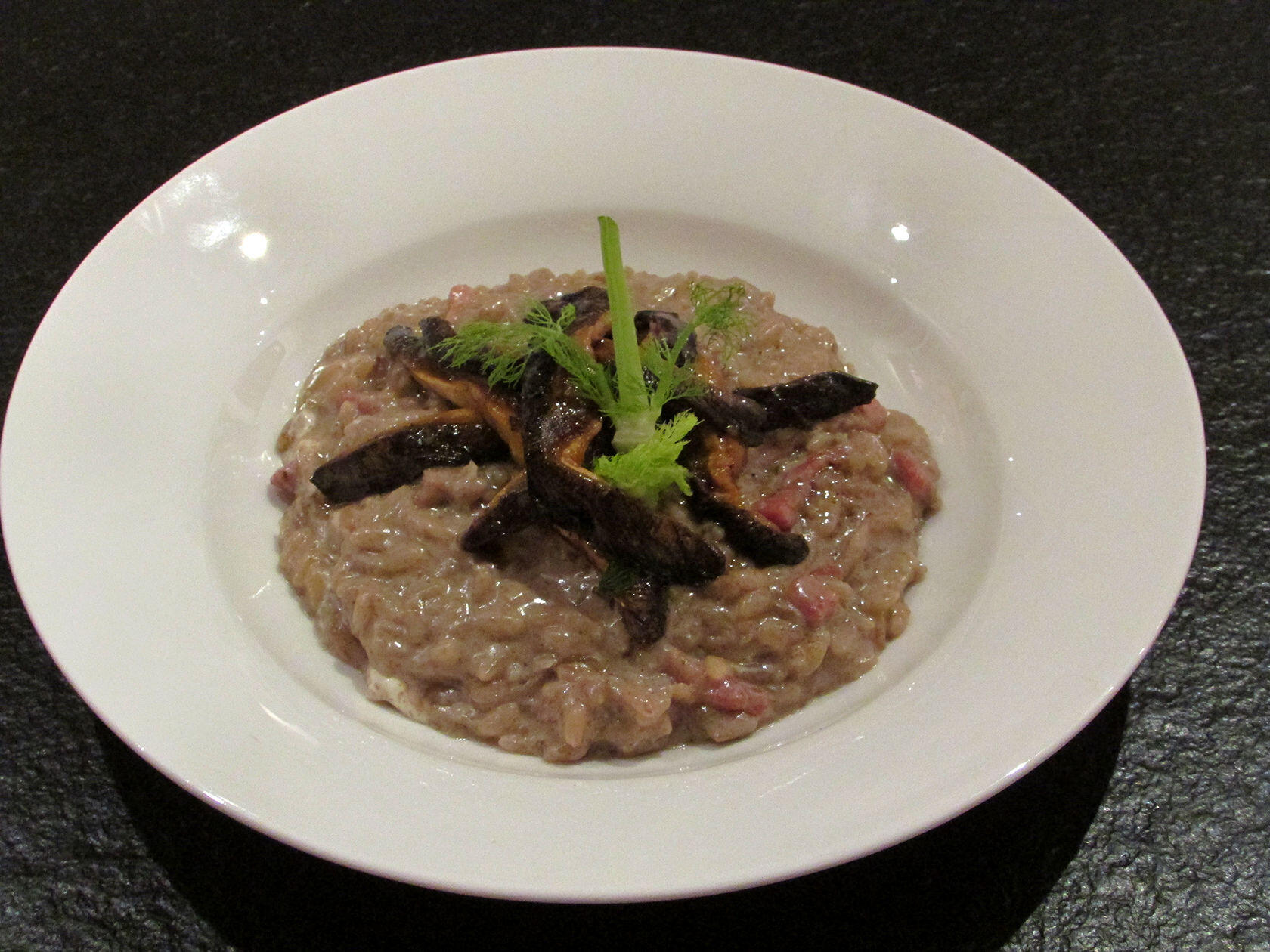 Wild Mushroom Risotto
Celebrate mushroom season with a creamy al dente risotto highlighting those wild mushrooms. Enhanced with pancetta, shallots and crisp white wine, and garnished with sharp, salty Parmesan and fresh herbs.
Ingredients
300

gr

Mixed mushrooms

chanterelles, girolles, trompette de la morts, etc.

2

tbsp

Chopped pancetta

omit if a vegetarian dish

1

Large shallot

finely chopped

125

ml

double cream

500

ml

Chicken stock

200

gr

Arborio rice

150

ml

Dry White Wine

100

gr

Field / chestnut mushrooms

1

Garlic Clove

finely chopped

2

tbsp

Grated Parmesan

olive oil

Butter

Ground Pepper

Sea Salt

1

tbsp

Fresh herbs

oregano or thyme
Instructions
Gently sweat the chopped shallot in a pan with a little butter until translucent but not coloured.

Add the pancetta and gently sauté.

Add the rice and cook for a few moments until coated with butter and shiny.

Add the dry white wine and cook until fully absorbed.

Meanwhile heat the chicken stock in a pan.

When the wine is completely absorbed into the rice start adding the hot chicken stock a little at a time and reduce the heat to a low simmer.

Continue adding the stock, stirring occasionally, until all the stock has been absorbed.

The finished risotto should be rich and creamy, but the grains of rice should still have a slight bite.

While the risotto is cooking, fry the 100g of field/chestnut mushrooms until soft and cooked through.

Add the double cream and simmer gently for 5 minutes, adding salt and pepper to taste.

Remove from the heat and set aside.

When the mushroom mixture is a little cooler, place in a blender and blend until smooth.

To make the garnish put a little olive oil in a frying pan, add the chopped garlic, sprinkle the fresh herbs on top and then place the mushrooms on this and apply a gently heat.

Cook the mushrooms slowly, adding more olive oil if necessary.

To finish the risotto, stir in the creamed mushroom mixture, the grated Parmesan and add salt and pepper to taste.

Serve the risotto on warm plates and then top off each serving with the herbs and mushrooms garnish and enjoy with plenty of crusty French bread.
Notes
Note: to make this a vegetarian dish use vegetable stock in place of chicken.