Where to Eat? Restaurants in Eygalières to Try
Unlike the abundant shopping in the heart of Saint Remy de Provence, the village of Eygalières has only a handful of boutiques. However, what this town lacks in retail opportunities it makes up for with places to eat and drink.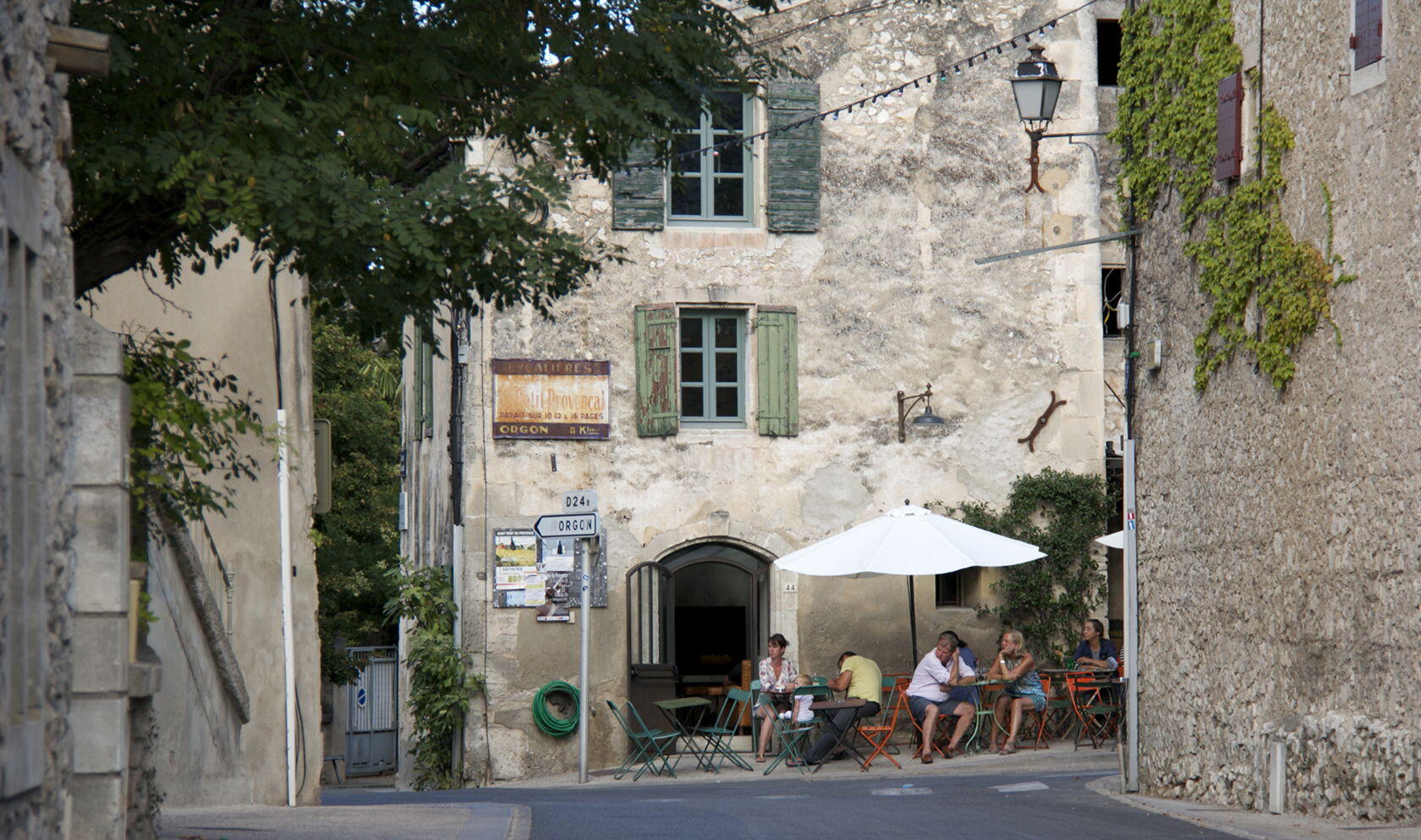 The following list of cafés and restaurants in Eygalières is a reference guide (you can be the critic). The restaurants are listed in the order they are situated on Rue de la République, running from the top of the street near the church towards the Marie, unless otherwise noted.
---
Eygalières Restaurants
Chez Paulette – From the day this restaurant opened, the team builds on a successful formula of fresh, delicious, seasonal and excellent service.
Reservations are highly recommended.
Rue de la République
Tel: +33 (0)4 32 62 18 19
Facebook
Closed Wednesdays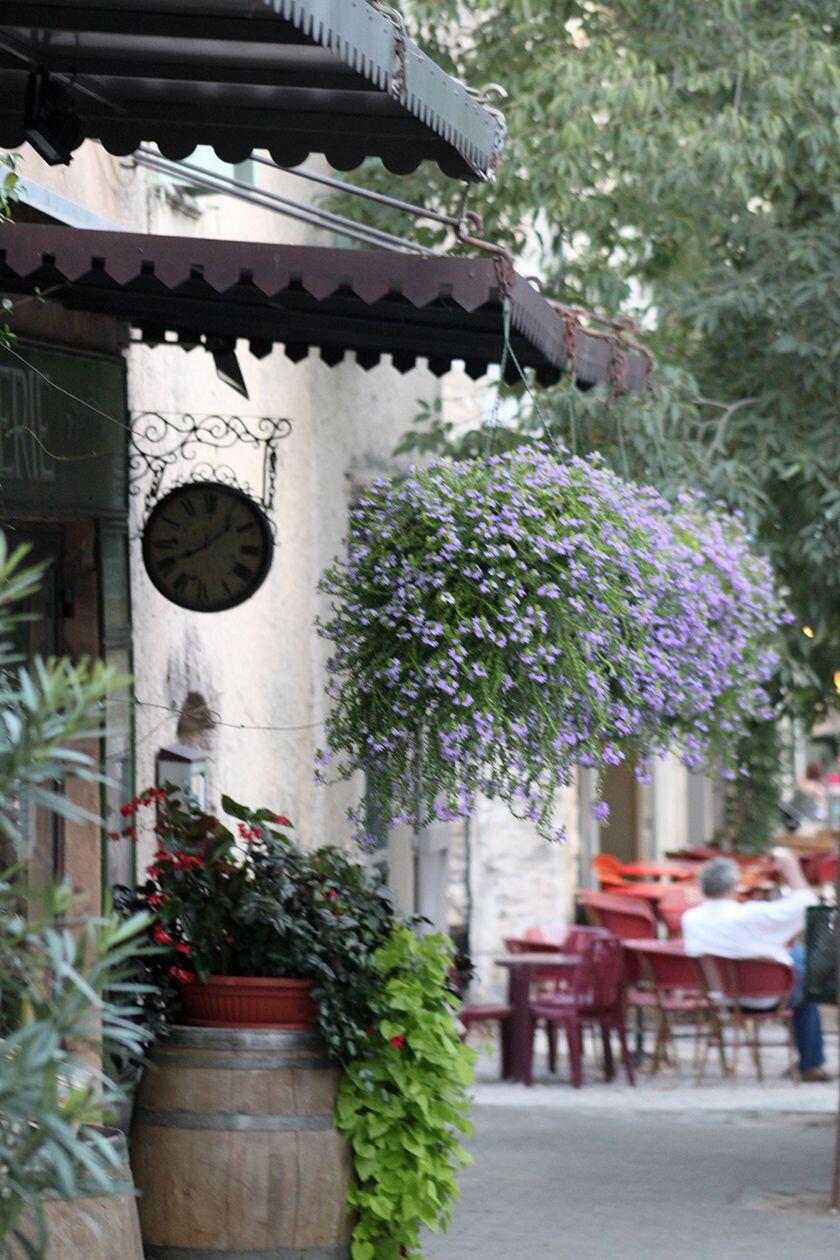 Luigi – In the centre of Eygalières main street, you might be mistaken for thinking that you had just landed in Tuscany. Luigi serves wood-fired pizzas, delicious appetizers and traditional Italian food.
Reservations are recommended
89 Rue de la République
Tel: +33 (0)4 90 20 03 13
Closed on Mondays
Luigi's Facebook Page
Café du Centre – A perfect name for the bar-café located right in the heart of town. Go for a coffee or a drink; they don't serve any food, just a few salty nibbles. Open daily.
Maison Hache – Michelin 1* – L'art de la table is definitely part of the Maison Hache experience and the chef's philosophy that the food provides a feature role. However, it needs to be surrounded by the right presentation. Elegant artisanal charger plates in a biscuit finish ceramic are hand-embossed with thyme, rosemary and other herbes de Provence. Each course on the menu communicates regional flavours and traditions without being overwhelmed by heavy décor.
Reservations are required
30 Rue de la République
Tel: +33 (0)4 90 95 00 04
Website
Open: Wednesday – Sunday for lunch and dinner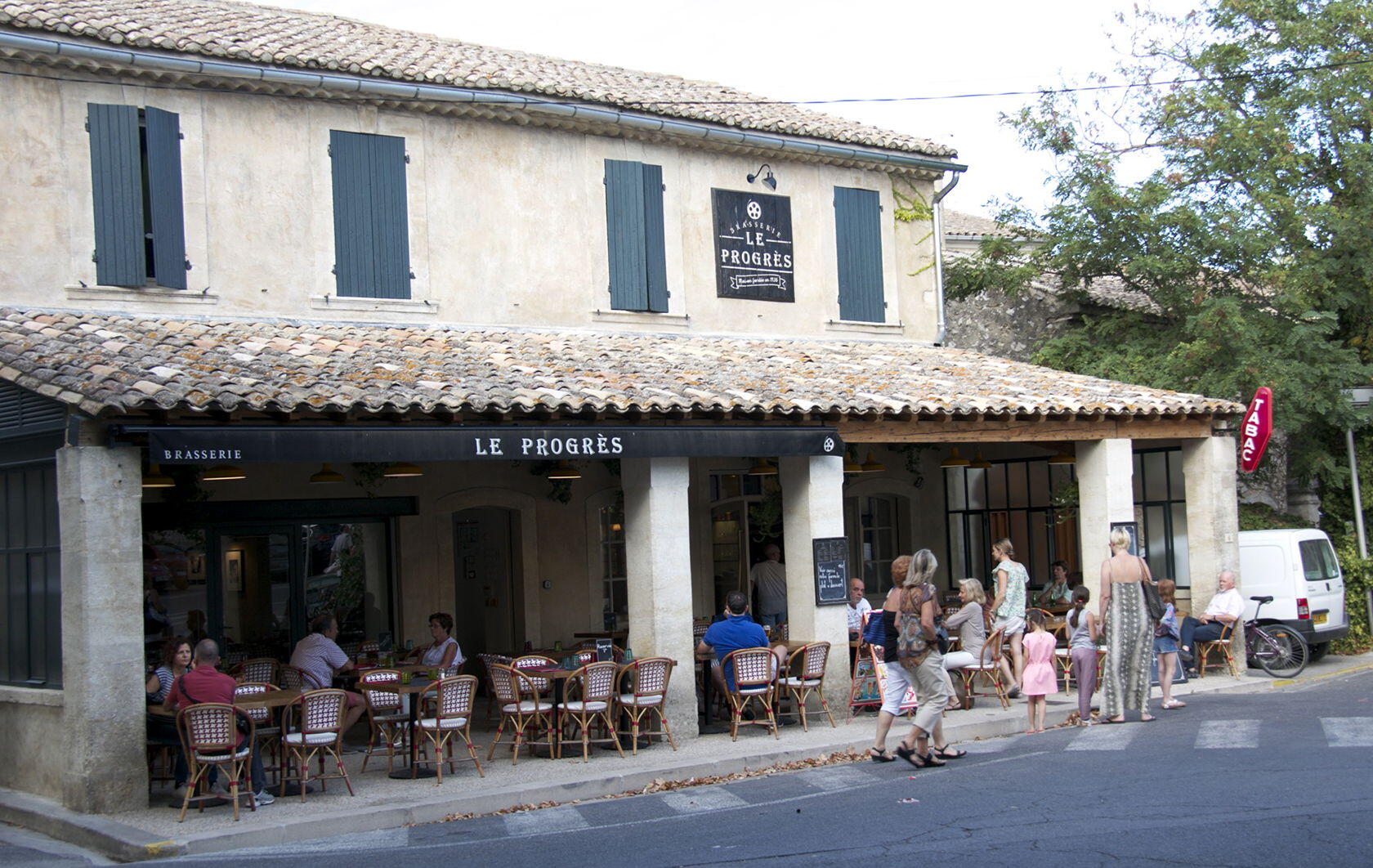 Brasserie Le Progrès – This restaurant and its bar have a Tabac license (where you buy cigarettes) and a strategic corner position. They have a daily "plat du jour" and a regular menu that includes fresh salads, classic omelettes, burgers and frites.
6 Rue de la République
Tel: +33 (0) 9 64 13 16 88
Facebook
Open daily
Restaurant Karine – This restaurant has an Italian-themed menu with thin crust pizza, pasta dishes, antipasti and assorted main courses. It is popular with families or those looking for a casual meal.
Reservations are recommended
34 Place Marcel Bonnein
Website
Tel: +33 (0)4 90 26 03 28
Closed on Mondays
Epicerie fine et Cave à vin – a gourmet deli and wine store.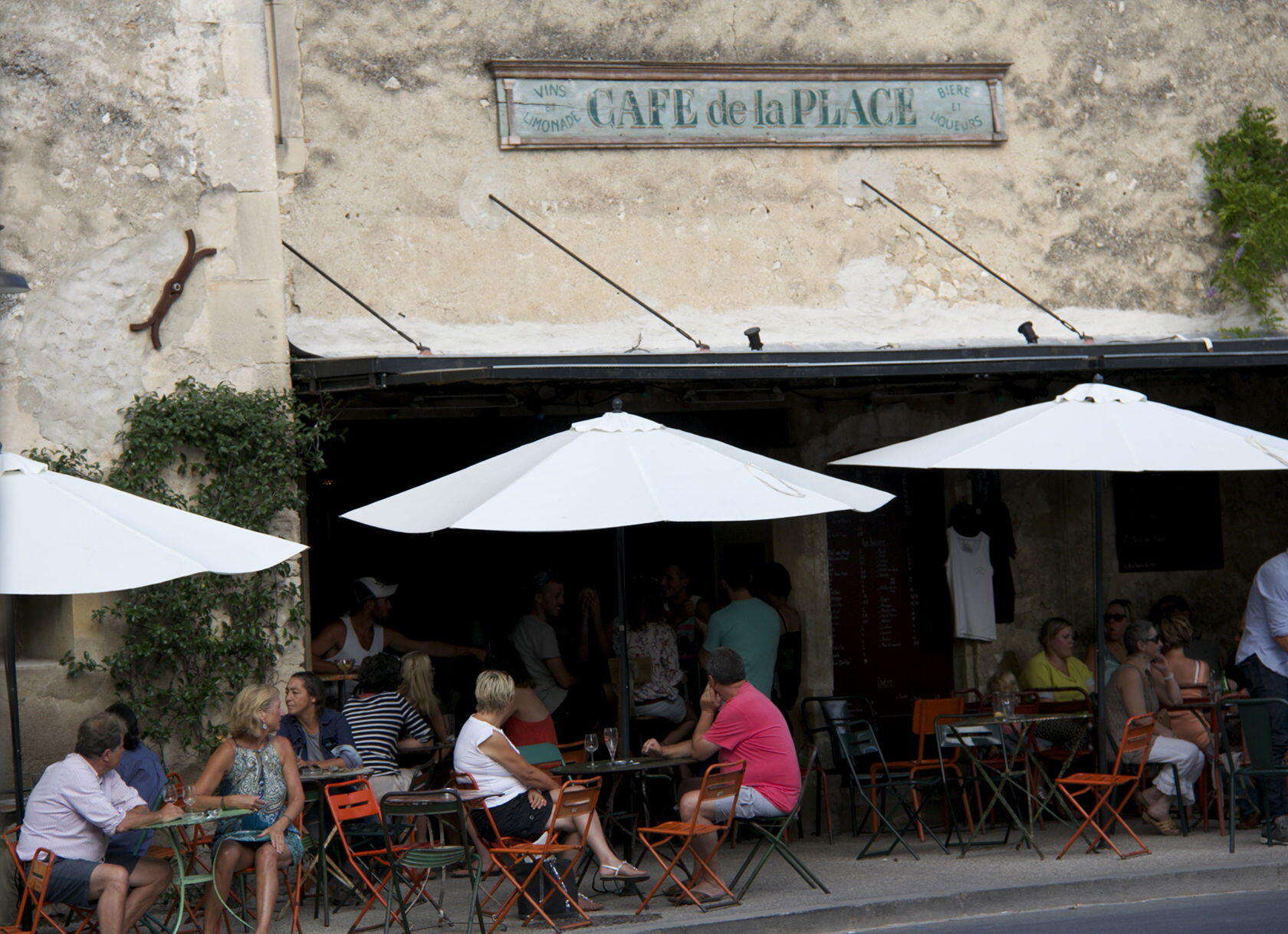 Café de la Place – This café-bar is an icon in Eygalieres. It's the place to be seen on market day, for a late afternoon apéro, for a football (soccer) match or any other occasion. They serve light charcuterie platters and a few nibbles, but really, it's about the drinks.
Place de la Mairie
Tel: + 33 (0)4 90 26 93 60
Facebook
Open daily
Bistrot l'Aubergine – This long-standing restaurant recently expanded its outdoor dining space. The food is inventive, and the servings quite generous.
Reservations are recommended
18, Avenue Jean Jaures
Website
Tel: +33 (0)4 90 95 98 89
Closed Wednesdays
Le MICOC'  – Tucked away steps from the main street, clients enjoy a terrace shaded by Microcouliers. The menu changes according to seasonality and the chef's creative inspirations. Discover the extensive selection of French wines and the creative cocktail list.
Reservations are recommended
Traverse Montfort
Website
Tel: +33 (0)4 90 95 94 53
Closed on Mondays and Tuesdays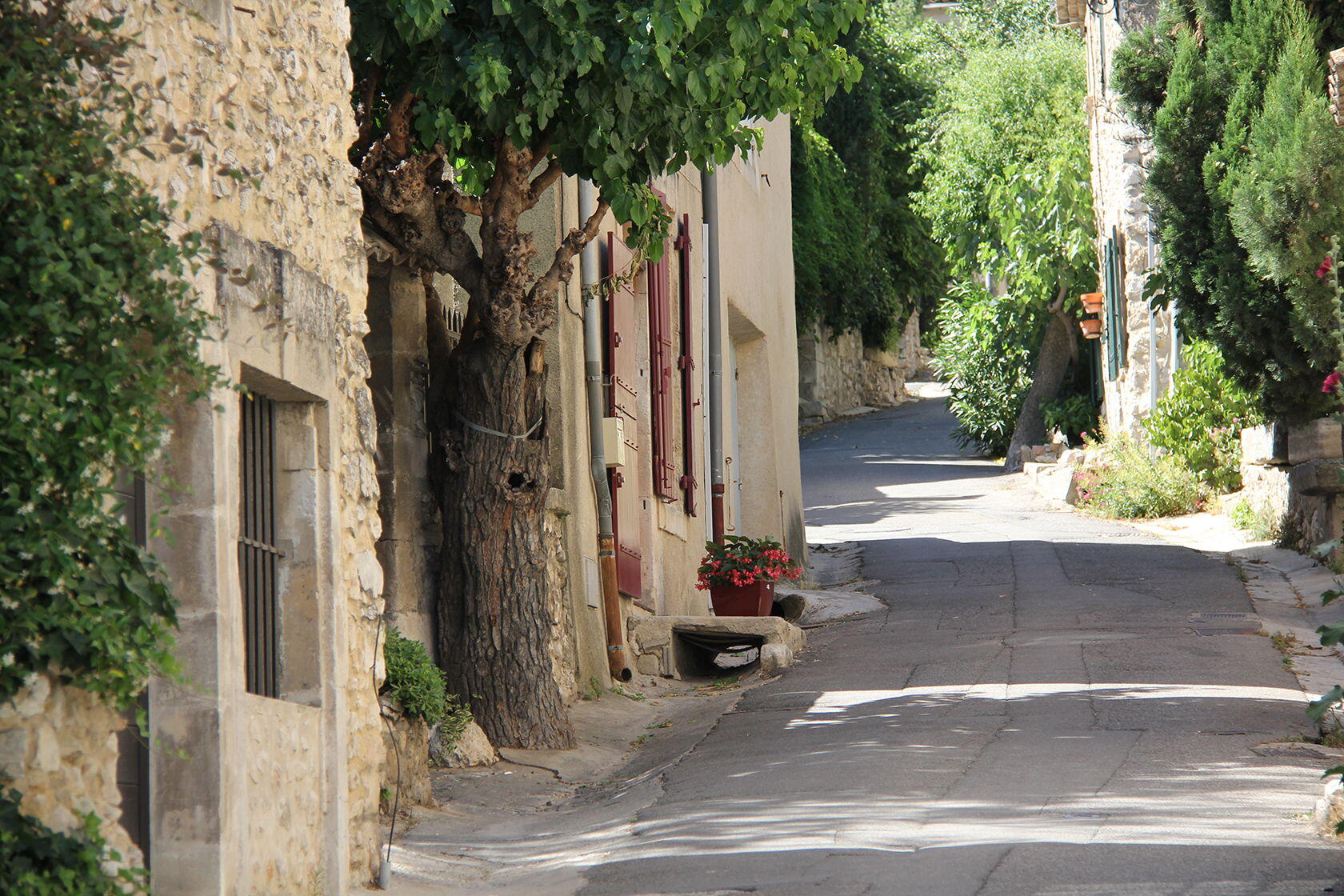 ---
A Short Drive Away
Le Bistrot de la Gare sits at the corner of the busy D99 and the road heading toward Eygalières. Relatively new on the local dining scene (opened in 2022), this restaurant has a winning formula – brasserie-style food, great service and a lively atmosphere.
6 Qur de la Gare,
13810 Mollégès
Open Thursday – Sundays
Telephone: +33 (0)4 90 95 08 83
Instagram
Le Lézard Gourmand at La Bastide Hotel is a 10-15-minute walk or a quick drive from the town centre. The chef's focus is organic ingredients. They have a lovely shaded terrace for lunch and a cosy dining room offseason.
Reservations are recommended
765 Chemin de Pestelade
Tel: +33 (0)4 90 95 90 06
Website
Open daily
L'Opale – Domaine La Pierre Blanche conveys a resort feel with unpretentious grace. The property sits at the base of the Alpilles with expansive views in all directions, and nature is the only thing to interrupt your thoughts. Less than a 10-minute drive from Eygalières, the setting for al fresco dining on their terrace is hard to beat at the foot of the Alpilles. The food is contemporary and inventive.
Reservations are recommended
2950 route d'Orgon
Tel: +33 (0)4 90 26 10 00
Website
Open daily
L'Ambar Sunset Lounge
Whether staying at the hotel or visiting for a meal, Domaine la Pierre Blanche delivers pure escapism. Encompassing 2.5 hectares at the base of the Alpilles mountain range, the Domaine is secluded enough to make you forget the rest of the world. Your evening is heading in the right direction, with a panoramic view of the pastoral surroundings and the L'Ambar Sunset Lounge craft cocktail collection. Developing the drinks list was a tasting project that involved the owners Floris Van de Werf and Ana-Luisa Negreiros, the culinary team, and a Brazilian mixologist friend.
Open from Thursday through Monday from 17h to 22h.
Watch for news on musical evenings and special wine tastings through the season.
Potager de la Mas – A gourmet restaurant for any occasion associated with the Mas de la Rose boutique hotel. Although the hotel is technically in Orgon, the drive from Eygalieres is quick, and your reward is a stunning setting and food that is a culinary art.
Reservations are recommended
Route d'Eygalières
Tel: +33 (0)4 90 73 08 90
Closed Mondays and Tuesdays