Where to Eat Lunch in Aix-en-Provence or Nearby?
Situated in the Bouches du Rhône, Aix-en-Provence may lack Marseille's waterfront and beaches, but the beauty of Aix more than makes up for it. A day is hardly long enough to appreciate a city that began as a Roman settlement over 2,000 years ago. Spend some in Aix-en-Provence walking a loop of the old town. It will allow you to visit many of the fountains. The walking tour begins with the La Rotonde fountain, meanders through the Medieval city, the Quartier Mazarin and back to the starting point.
With all that walking, leave time for the joy of Provence's lifestyle – enjoying a good meal. Below we highlight some of our favourite places for lunch in Aix-en-Provence.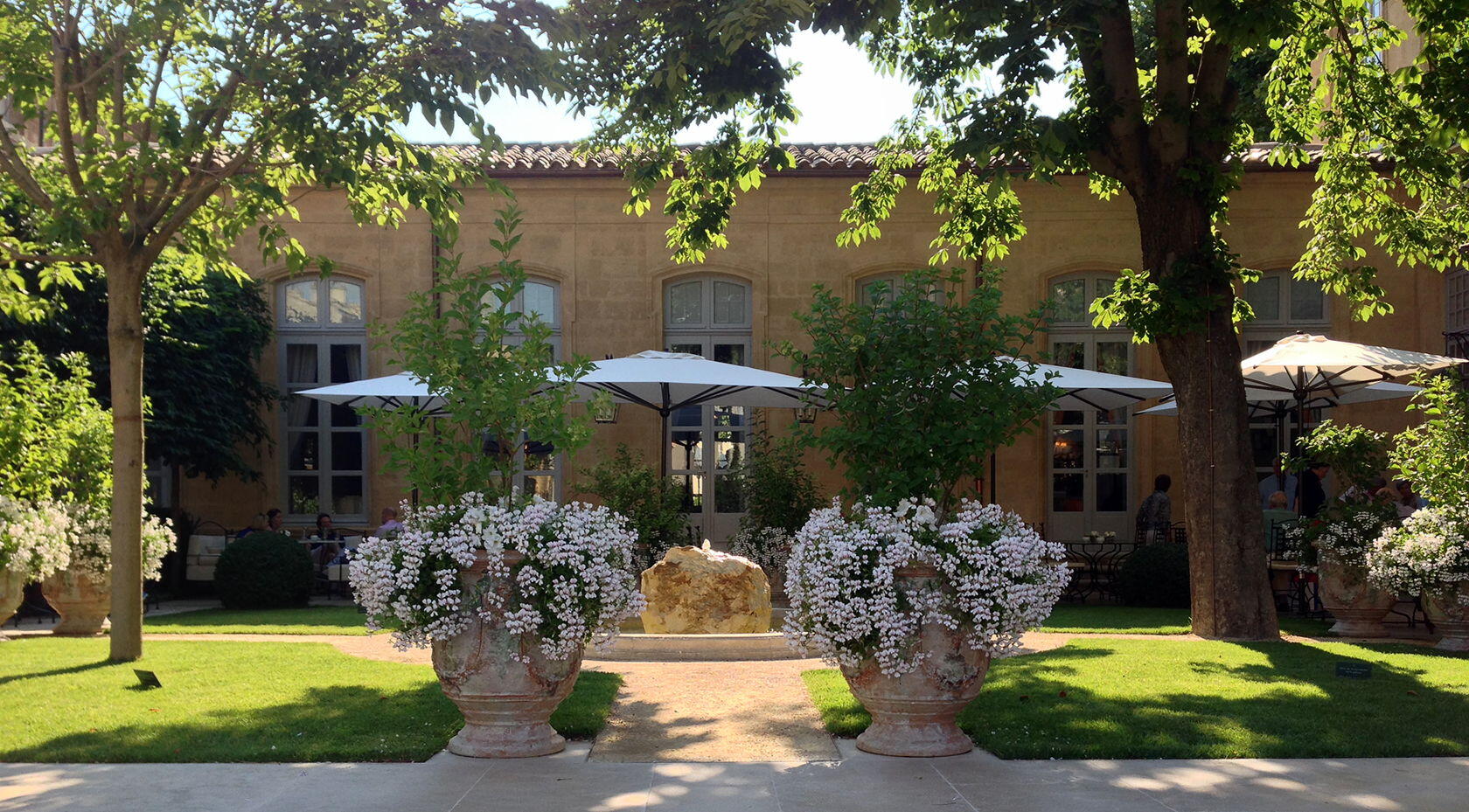 Hôtel de Caumont

In the heart of the Mazarin district, you will find Hôtel de Caumont, one of the rare urban residences in Aix with a courtyard and a garden. This chateau was built in the 1700s to highlight the aristocratic status of François Rolland de Réauville, the Marquis de Cabannes. The Hôtel de Caumont changed ownership many times until the mid-20th century. The City of Aix eventually purchased the property, and the Museums and Heritage Department carefully restored the residence and gardens to their former glory. In 2015, the Hôtel de Caumont opened as an art centre to the public. Walk through the doors, and you'll feel like you've travelled back almost 300 years into the past!
Hôtel de Caumont
3, rue Joseph Cabassol
13100 Aix-en-Provence
Hours: Open daily. From May to September: 10 am to 7 pm // from October to April: 10 am to 6 pm. Late night opening on Tuesday until 9.30 pm during exhibitions.
Le Café Caumont is open daily from 11:30. They do not take reservations
Lounge Bar Caumont for light bites and drinks is open until 11 pm
Pro tip: Weather permitting, a table in the garden is the best place to eat.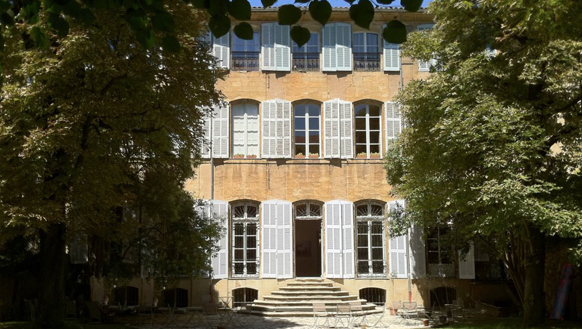 Hôtel de Gallifet
Hôtel de Gallifet is located near the café-lined Cours Mirabeau, one of the most popular places. The restaurant is open June 1- October 1, 12-6 pm Tuesday – Sunday, and until 11 pm Thursday – Saturday evenings. The hours change from November 1 to May 31 to Wednesday through Saturday, 12-6 pm.
Hôtel de Gallifet
52 Rue de Cardinale
13100 Aix-en-Provence
Telephone: +33 (0)9 53 84 37 61
During the summer, dining is in the garden courtyard. Reservations are highly recommended.
The Hôtel de Gallifet is in the heart of the Mazarin quarter, just a few steps from the picturesque Fontaine des Quatre Dauphins. Dating from the 19th century, Hôtel de Gallifet was previously a private mansion. Today it is a contemporary art centre with six (6) exhibition rooms.

Villa Gallici
Described as a small Florentine Palace, Villa Gallici is also recognized for the gastronomic cuisine created by Master Chef Chistophe Gavot. Guests are treated to a menu inspired by the seasons of Provence and influenced by products local to this Mediterranean region. In warmer months, meals are served on a terrace shaded by a large plane tree overlooking the aqua pool and meticulous garden beds. In less favourable weather, guests can relax in intimate candlelit spaces offering romantic seclusion.
5* hotel and gourmet restaurant
18 Avenue de la Violette,
13100 Aix-en-Provence
Phone: +33 (0)4 42 23 29 23
Reservations essential
L'Incontournable Grill
L'Incontournable is open every day except Sunday from 12-2 pm and 7:30-10 pm. The restaurant is located in a beautiful setting serving delicious food and wine. They accommodate vegetarian and gluten-free options.
14 Rue Montigny,
13100 Aix-en-Provence
Telephone: +33 (0)9 80 32 86 32
Les Petits Plats de Trinidad
If you are looking for a quick bite to eat on site or takeaway, Marie, the owner of Petit Plats de Trinidad, makes fresh, innovative cuisine for this tea room/café. There are vegetarian, vegan, and gluten-free options. The restaurant is open Tuesday-Saturday from 9 am to 6:30 pm. A fun fact, as a young girl, she wanted to be called Trinidad.
10 Rue d'Italie13100 Aix-en-Provence
Telephone: +33 (0)9 50 02 14 60
Closed on Sundays and Mondays
La Petite Ferme
La Petite Ferme is an upscale restaurant that serves delicious platters ranging from sea bass to steak. The portions are large and perfect for sharing! At the age of eight (8), Ronan Kernen decided that he was going to be a chef. Inspired by his grandparents, who ran a hotel and were also passionate about cooking, and his uncle, who ran a butcher shop, Kernen was destined to be in the restaurant business. Kernen is the talented chef behind the Côté Cour restaurant.
7 Avenue Victor Hugo
13100 Aix en Provence
Telephone: +33 (0)4 42 26 68 84
Reservations recommended.
Looking for Something Sweet in Aix?

Le Four Sous la Platane
Le Four Sous la Platane is an Italian restaurant on a small terrace. They are open Tuesday through Saturday, 12-2:30 pm and 7-11:30 pm, with vegetarian-friendly options on the menu.
31 Rue de la couronne,
13100 Aix en Provence
Telephone: +33 (0)4 42 26 07 71
La Tomate Verte
La Tomate Verte offers a high-quality dining experience serving allergen-sensitive fresh food. Open from 11:30 am to 2:30 pm from Tuesday to Saturday and from 6:30 pm to 10 pm on Tuesday, Thursday, Friday and Saturday. Sébastien and Maryline are the owners and chefs. Their lunchtime menu changes weekly, with a special brunch dish on Fridays and Saturdays.
15 Rue des Tanneurs
13100 Aix-en-Provence
Telephone: +33 (0)4 42 60 04 58
Paulette
Paulette is a French and European-style restaurant serving healthy options for lunch and dinner. They are open Tuesday – Saturday from 12-2:30 pm. Friday and Saturday are open for dinner from 7:30 pm – 9:30 pm.
4 Rue Portalis,
13100, Aix-en-Provence
Telephone: +33 (0)4 42 92 74 10
Au Pave du Roy
After all, you are in France so no one will question lunch on the go from this Artisan Patissier, Chocolatier, Boulanger, Glacier, and Traiteur is ready to satisfy your sweet and savoury cravings. Everything is made onsite. Their pistachio almond croissant is a must-try!
9 Cours d'Orbitelle next to Hôtel Roi René
Telephone +33 (0)4 42 26 22 81
Open Tuesday – Sunday 7h-20h
Tita
This Méditerranean street food café started as a food truck at the Aix-en-Provence market. They
11 rue des Bernardines
13100, Aix en Provence
Telephone +33 (0)4 42 38 93 54
Open Tuesday-Saturday 11h30-15h & Friday and Saturday also for dinner 18h-21h
Pro tip from Susan, the grilled aubergine, coleslaw, creamy hummus, and tomato/red onion salad are fantastic. And so are the falafel, kefta, and chicken shawarma.
Meow Cats Café
Morgane is the cook, and everything is homemade with love. Enjoy the re-invention of the virgin mojito, milkshakes, and chai latte frappés. The salads are uniquely layered in ball jars, and the wraps are good. Enjoy a few moments of relaxation and try one of her desserts.
10 rue de la Fonderie – on a side street close to the Peripherique and Arts & Metiers
Telephone +33 (0)9 83 81 18 24
Open Tuesday – Saturday 11h-18h
IT – Italian Trattoria Aix-en-Provence
The menu reflects the family roots of the restaurant chain's Calabrian founders. Some of the ingredients and products come from Italy.
37 Cours Mirabeau
13100 Aix-en-Provence
Open daily: 11 am –10:30 pm
Restaurants Near to Aix
Les Zèles 114, a restaurant at the Aix les Milles airfield. The "ambiance" and decor are fantastic! Open until 6 pm most days. Amicable people, down-to-earth cuisine, reasonable €, amazing!
Les Zèles 114
Aerodrome Aix les mille,
Chemain de la Badesse
13290 Aix-en-Provence
Closed Fridays and Sundays
All rights reserved. Perfectly Provence articles and other content may not be published, broadcast, rewritten (including translations into other languages) or redistributed without written permission. For usage information, please contact us.
Syndication Information
Affiliate Information
As an Amazon Associate, this website earns from qualifying purchases. Some recipes, posts and pages may have affiliate links. If you purchase via these links, we receive a small commission that does not impact your price. Thank you in advance for supporting our work to maintain Perfectly Provence.