Visit Moustiers-Sainte-Marie a Plus Beaux Villages of France
Blessed with many picturesque villages, there is only one place in France with a dedicated star overhead – Moustiers-Sainte-Marie.
Moustiers-Sainte-Marie
Flanked by towering cliffs, Moustiers-Sainte-Marie resembles a Provencal nativity scene protected by a 150kg gold star suspended between the bluffs. In 1981, Moustiers-Sainte-Marie joined the ranks of the beaux villages attracting visitors year-round.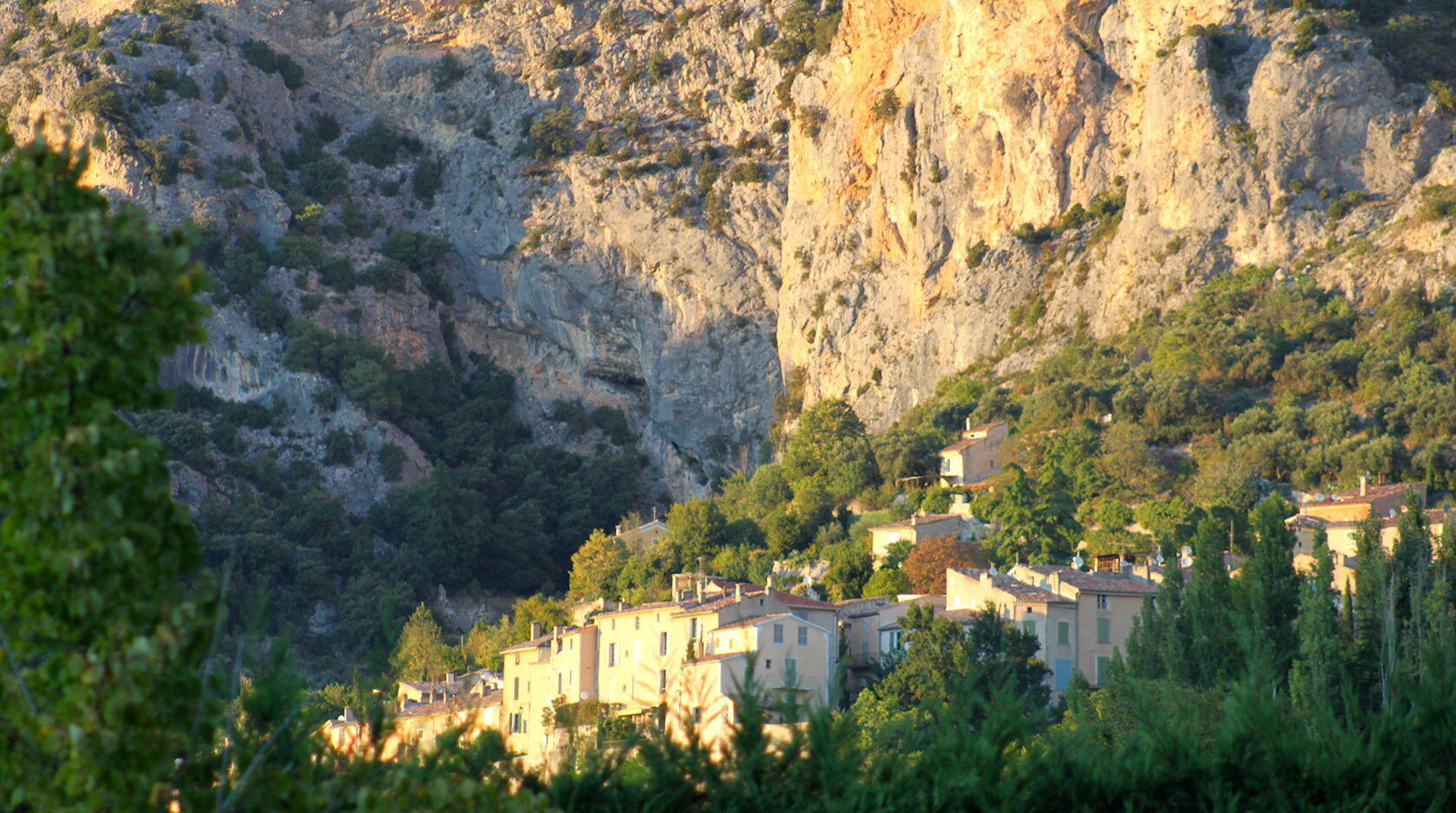 Moustiers-Sainte-Marie is a hamlet with roughly 700 residents, but with visitors, that number swells in the high season. Straddling two departments the Var and the Alpes-de-Haute-Provence, Moustiers is considered the gateway to the Parc Naturel Régional du Verdon and part of the UNESCO Géoparc de Haute Provence. The scenery is stunning, with the Gorges du Verdon and Lac de Sainte Croix as centrepieces. The area is a paradise for outdoor enthusiasts.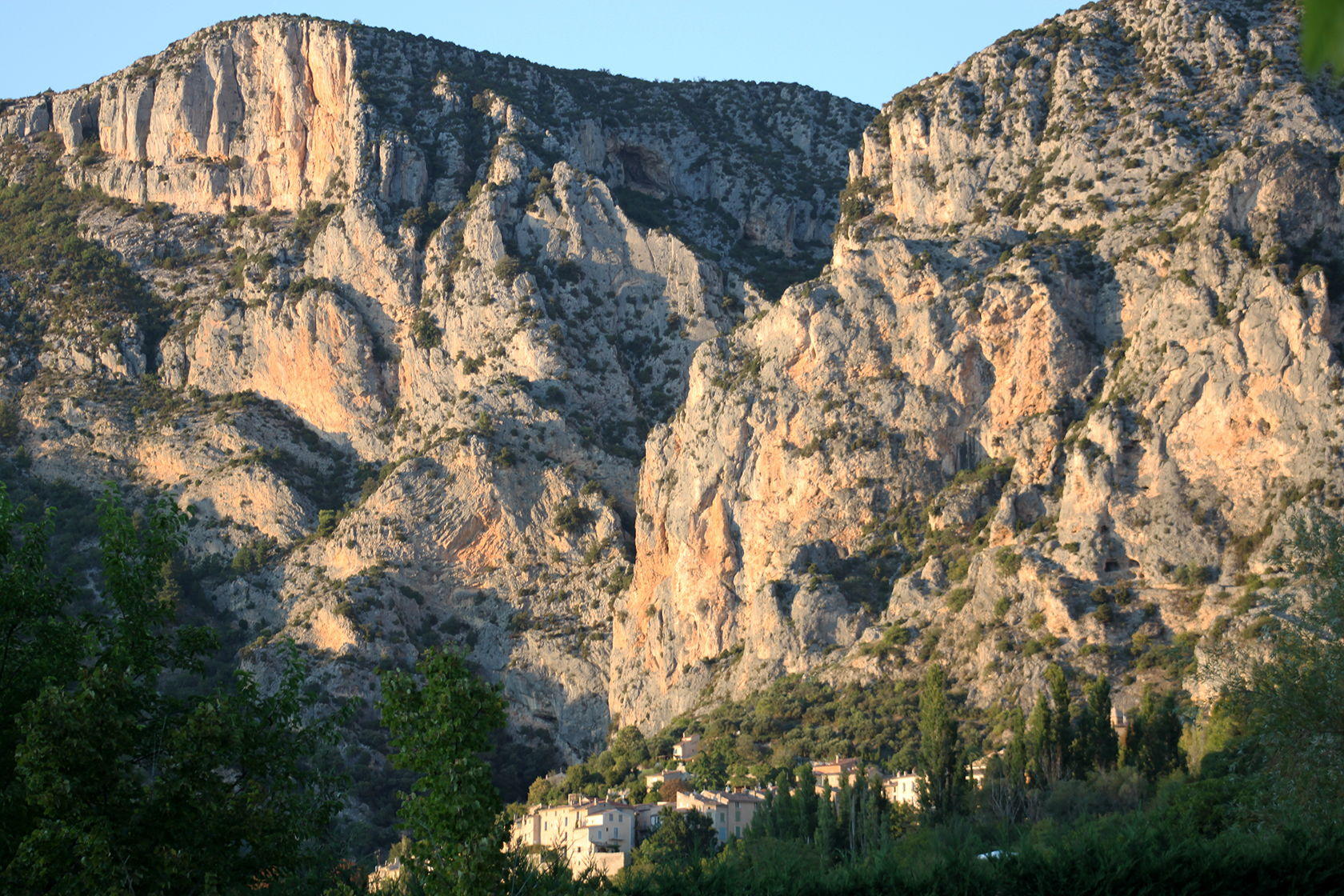 Many visit the town for its reputation for exceptional ceramic artisans. Walk around the village centre visiting the workshops where artists create traditional earthenware – faïence – high-quality porcelain with opaque glaze.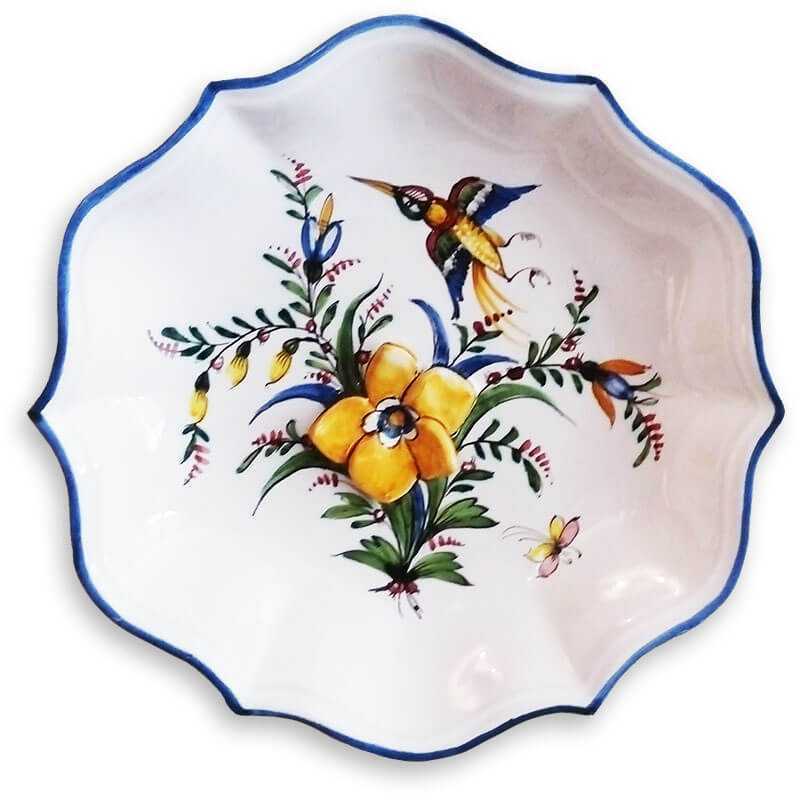 Make sure to Visit
Do make a point of walking up the stairs (many of them) to the hillside chapel Notre-Dame de Beauvoir, classified as a historic monument in 1921. Depending on your physical ability, the walk to the church will take 15- 20 minutes. Along the ascent, you find the 14 stations of the cross featuring local earthenware tiles. You can descend the same way or follow the trail towards the Sainte-Madeleine cave and enjoy the village's overhead views and Lac Sainte-Croix in the distance.

Moustiers-Sainte-Marie Visitor Tips
Markets:
The traditional market occurs on Friday mornings on the square in front of the Hôtel de Ville (city hall).
In the summer months (July and August), there are several additional markets. On Tuesdays (9 am to 6 pm), enjoy the flavours of the Southern Alps. Local farmers bring their just picked goods to town on Sunday mornings. Additionally, there are night markets on Wednesday evenings.
Parking: There is a mix of free and paid parking available.
Tourism Office: (website)
Maison de Lucie – Place de l'Eglise
04360 Moustiers-Sainte-Marie
Telephone +33 (0)4 92 74 67 84
The Parc Naturel Régional du Verdon headquarters is just outside the village of Moustiers. They have a selection of regional information, maps and route planning ideas.

Where to Eat near Moustiers-Sainte-Marie
Local stores and markets offer a wide range of local food products. These include lavender honey, goat cheese, seasonal vegetables, organic lamb, black olive tapenade, olive oil and even a famous local beer made with honey and thyme (La bière de Moustiers).
For a casual lunch after a walkabout in Bauduen, Lac St Croix, you can't beat the deliciousness of crêpes, both sweet and savoury at Hirondelle et Kaneyl. They do, hands down, the best galettes made with sarrassin (buckwheat) flour and filled with eggs, ham, tuna, or ratatouille and the price is right.

Epicureans book a table at La Bastide de Moustiers, the Alain Ducasse hotel and restaurant for a Michelin star culinary experience.