Visit Carrières des Lumières in 2023 for the Dutch Masters
This year's main program at Carrières des Lumières ("Quarries of Light") in Les Baux de Provence is "From Vermeer to Van Gogh, The Dutch Masters."
The works of Johannes Vermeer and Vincent Van Gogh will be featured, along with a series of painters from the Dutch Golden Age. Some of their pieces are well-known, like Rembrandt's The Night Watch. Others will be new to many viewers, including Hendrick Cornelisz Vroom's ships at sea and Abraham Blomaert's kingdom of the gods.
This program will accompany the shorter program Mondrian, Architect of Colors. Mondrian (Pieter Cornelis Mondriaan), a Dutch painter active in the early 20th century, broke away from traditional painting and embraced the radical neoplasticism style. The program traces the path from traditional forms to the vivid colours for which Mondrian is known.
These new shows will begin on February 23 and continue until January 2024. The total program is an hour-long—about 45 minutes for the main program and 10 minutes for the shorter one—and runs continuously throughout the day.
Visitor Information
Carrières des Lumières
Route de Maillane
13520, Les Baux-de-Provence
Carrières des Lumières is the largest fixed multimedia installation in France. The 14-metre-high walls are the backdrop that 70 video projectors use to broadcast images. More information, including hours and ticketing, can be found on the Carrières des Lumières website.
Buying your tickets online in advance is highly recommended.
Open every day, including public holidays. However, the opening hours change slightly depending on the season.
The last admission is one (1) hour before the Carrières closes.
For souvenirs and books, there is a small gift shop at the entrance to the Carrières.
A casual restaurant, Café des Carrières, is open daily for light meals.
Parking is limited and can be challenging during the busiest periods.
The best time to visit Carrières des Lumières is early morning or late afternoon after 17h. Otherwise, parking can be a bit of a nightmare.
This show is suitable for anyone with mobility issues as there are few stairs and ramps where necessary.
Inside the show space interior is fresh, which is fabulous on a hot summer day, but even then, it can feel cold, so it is best to bring a sweater or coverup.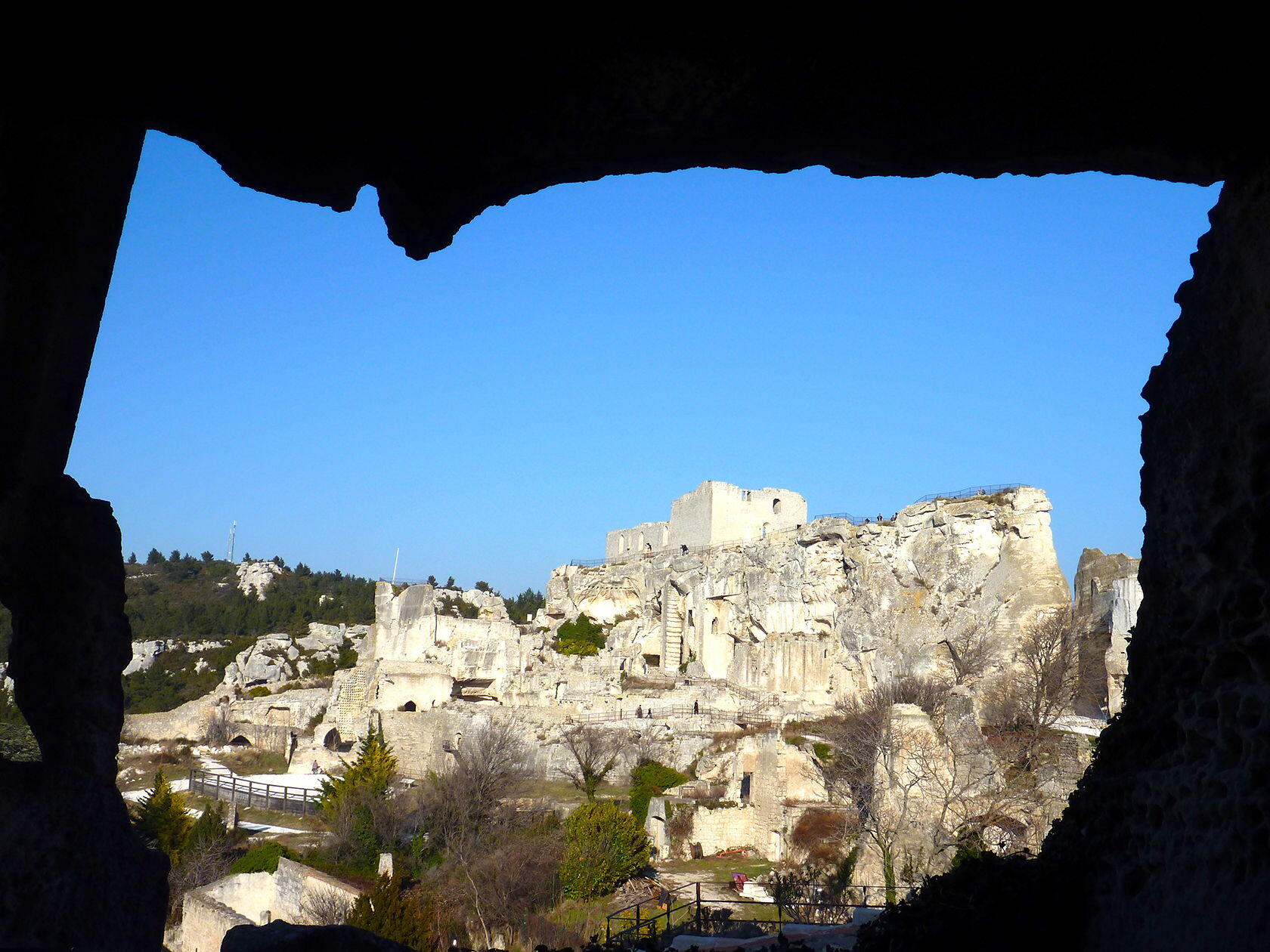 Must-See Les Baux
Perched on an outcrop are remains of the medieval fortress of Les Baux. This castle was once one of the most powerful in France. Today the old village is a pedestrian-only zone, and all vehicles must park outside the ramparts. Visitors to Les Baux enjoy magnificent views of the Alpilles, vineyards, olive groves, and the Mediterranean on a clear day.

The village caters to tourists with its boutiques, galleries and restaurants. Tiny cobbled streets meander through the town at odd angles, but in the end, most of these routes lead to the castle at the top of Les Baux. A ticket is required to enter the Château les Baux and can be purchased as a package with the Carrières des Lumières multimedia show for a slight discount.
Once inside the castle walls, follow the map for a self-guided discovery tour. The climb to the highest point requires sturdy shoes and some stamina. There are demonstrations of ancient weapons, such as catapults and trebuchets, for additional entertainment.
If you'd like to taste some of the best olive oil in Provence, look no further than the Moulin Castelas, situated just below the famous fortress of Les Baux-de-Provence. Castelas is owned by Catherine and Jean-Benoît Hugues, a French couple who lived in Arizona before returning to their native country when they "fell in love with some old olive trees." They bought the estate in 1997, then constructed a new olive mill in 2002 to make the best olive oil possible.
All rights reserved. Perfectly Provence articles and other content may not be published, broadcast, rewritten (including translations into other languages) or redistributed without written permission. For usage information, please contact us.
Syndication Information
Affiliate Information
As an Amazon Associate, this website earns from qualifying purchases. Some recipes, posts and pages may have affiliate links. If you purchase via these links, we receive a small commission that does not impact your price. Thank you in advance for supporting our work to maintain Perfectly Provence.