A Savoury Prawn​ ​and​ ​Rosé​ ​Linguine​ Recipe
Katie and Safia are a duo that you might want to get to know. They are the chef and baker duo behind "We are Cook and Baker." So, needless to say, they have both sweet and savoury dishes covered. The following recipe for Prawn​ ​and​ ​Rosé​ ​Linguine​ originally appeared on Mirabeau Wine. Using Rosé wine when cooking the prawns in this dish gives them a beautiful citrusy finish, and the chilli adds a fiery kick.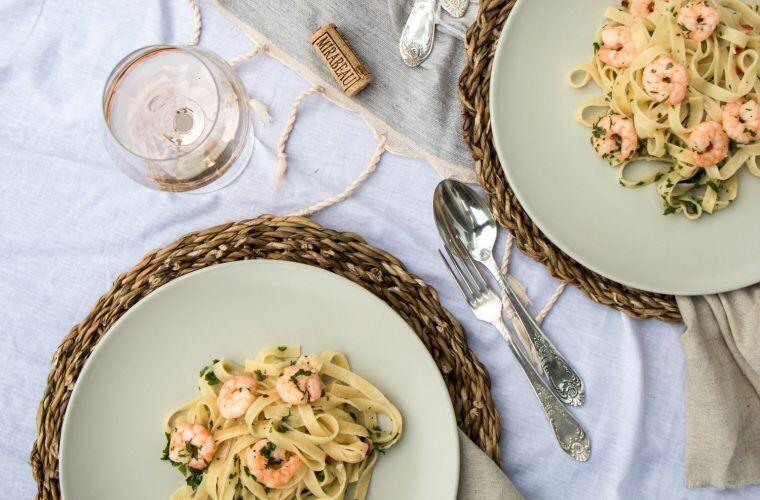 A Savoury Prawn​ ​and​ ​Rosé​ ​Linguine​ Recipe
This meal is simple a perfect weekday dinner or for a crowd.
Ingredients
1

tbsp

Olive Oil

1

Garlic Clove

1/4

small

Red Chilli

seeds removed

1/2

Lemon

to squeeze on top at the end

Large handful

Flat leaf parsley

150

g (5 oz)

King Prawns

raw or cooked

1

small glass

Mirabeau Etoile

2

servings

Dried linguine or use fresh
Instructions
Bring a large pan of salted water to the boil.

Meanwhile, peel and finely chop the garlic. Finely dice the red chilli and roughly chop the parsley.

Once the water has come to a boil, add the dried pasta and cook for 8-10 minutes.

Whilst the pasta is cooking, add 1 tbsp olive oil to a large frying pan over a medium-high heat.

Add the prawns and heat through for 2-3 minutes if pre-cooked. If using raw prawns, cook for 3-4 minutes until pink and the flesh is no longer translucent.

Add the garlic to the pan and toss the prawns in the garlic and oil.

Pour in the wine and allow to simmer for 2 minutes.

Once almost cooked, add the pasta to the frying pan along with a little of the cooking water.

Toss in the sauce and stir in the red chilli and fresh parsley. Squeeze lemon juice on top just before serving.

Serve immediately with a glass of Mirabeau Etoile.
Notes
If using fresh pasta reduce the cooking time.
For a typical serving of pasta we recommend 200g dried weight.