Recipe for Lemon Madeleines
While the origin of this little spongecake or "teacake" that is served as a cookie is still widely debated today, one thing is for certain madeleines are a light, sweet and aromatic taste experience. From Lorraine to the court of King Louis XV and onto Paris, this cookie has traveled and served historic generations in France with it's classic timeless beauty and taste. Try and stop yourself from eating just one. David Allen Scott's version of this recipe comes from being a devotee to blogger Dorie Greenspan, namely known for French Fridays with Dorie, read more here…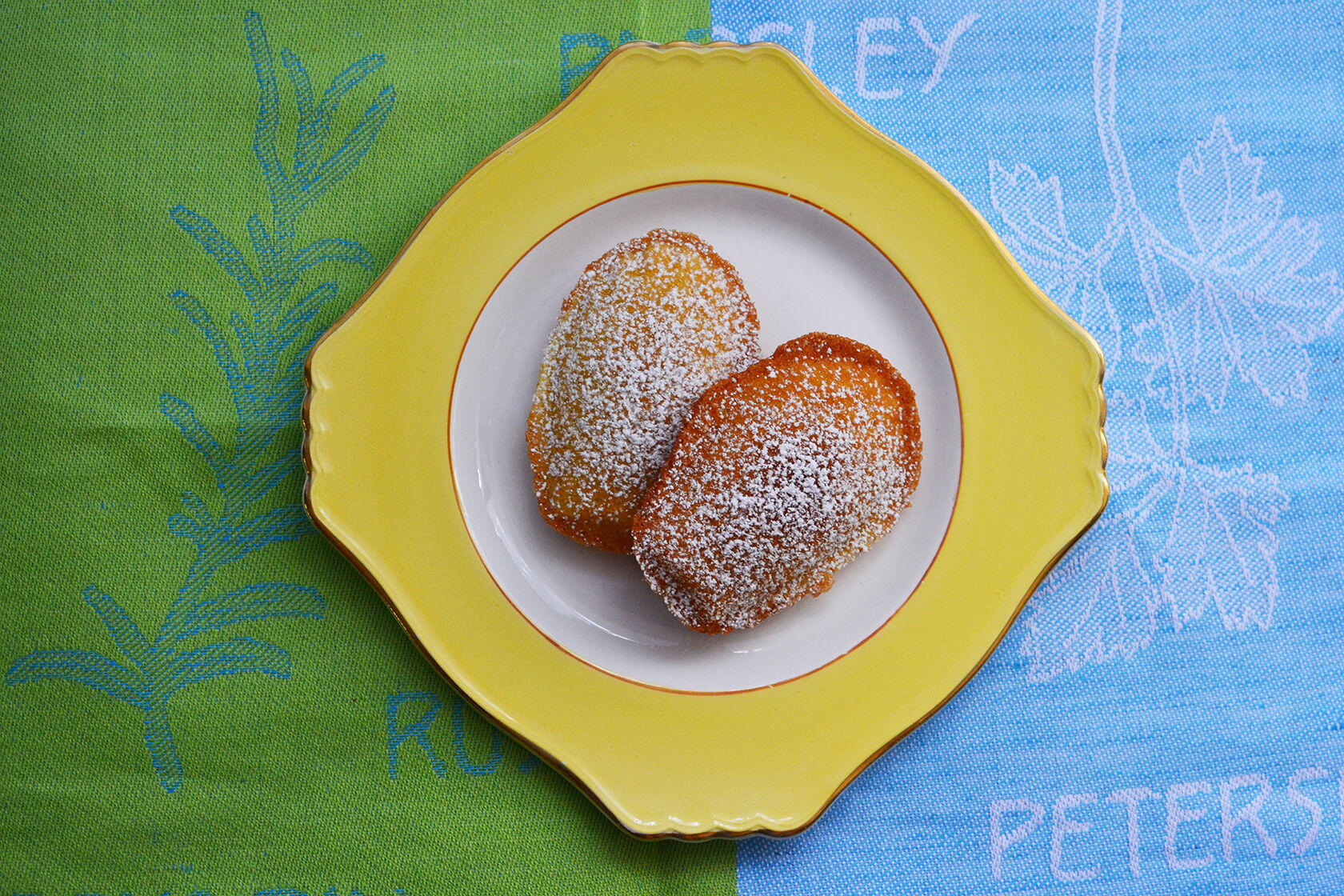 Lemon Madeleines
A light and airy spongecake often referred to as a "tea cake" highly recognized for it's delicate shell shape with a classic buttery lemon taste.
Ingredients
90

gr

All Purpose Flour

1

tsp

Baking Powder

1

pinch

fleur de sel

67

gr

Sugar

2

zest of lemons

finely grated

2

large

Eggs

* at room temperature

1

tbsp

Honey

1

tsp

pure vanilla extract

8

tbsp

Unsalted Butter

* melted and still warm

2

tbsp

whole milk

confectioners' sugar for dusting
Instructions
Whisk together the flour, baking powder and salt in a small bowl; set aside.

Working in the large bowl of a stand mixer, rub the sugar and lemon zest together with your fingertips until the sugar is moist and fragrant.

Add the eggs and, using the whisk attachment, beat at high until the sugar and eggs are slightly thick and pale.

Beat in the honey and vanilla.

In a small bowl, mix together the dry ingredients: flour, baking soda and fleur de sel.

Gently fold in the dry ingredients, stopping when all dry ingredients have been moistened.

Fold in the melted butter and then the milk.

Press a piece of wax paper against the surface of the batter and chill for at least 1 hour.

Using baking spray, coat the molds of two 12-shell madeleine pans.

Divide the batter among the molds, filling them no more than two-thirds full.

Refrigerate filled pans for 1 hour longer.

Preheat the oven to 400°F.

Place the madeleines in the oven and bake for 11 minutes, or until the cakes are golden and the big bumps on their tops spring back when touched.

Remove the pan from the oven and immediately turn out madeleines onto a cooling rack and allow them to cool to room temperature. (Use a small silicone spatula to remove any madeleines that might have stuck to the pan.)

Dust cooled madeleines with confectioners' sugar just before serving.
Notes
Variations to try include, nuts, chocolate or citrus juice.