Recipe for a French Classic Crêpes Suzette
Always sure to draw a crowd with it's "flambé-ant" presentation or culinary pyromania as David likes to refer to it, Crêpes Suzette is definitely worth the effort to wow your guests with your dessert finale.  David's rendition certainly keeps to that standard…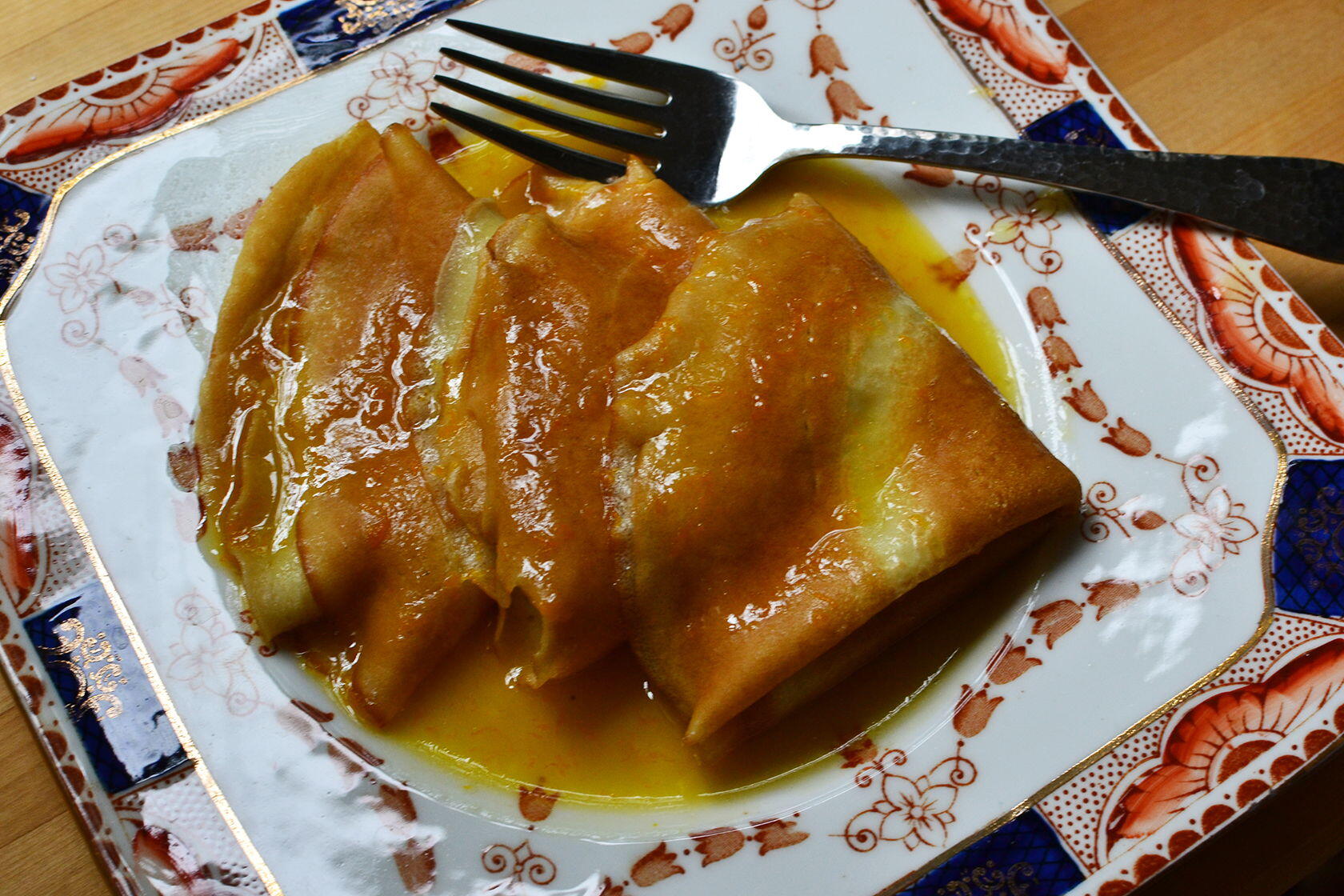 Crêpes Suzette
An entertaining flambé dessert of crêpes served with a sweet and zesty citrus beurre sauce.
Ingredients
Crêpes
3/4

cup

Flour

2

large

Eggs

1/2

cup

whole milk

1

tbsp

Unsalted Butter

melted

pinch

Salt

1/2

tsp

Sugar

1/8

cup

cold water

2

tbsp

light oil
Beurre Suzette
1

tbsp

Butter

melted for the pan

6

tbsp

Unsalted Butter

softened

1/2

cup

Sugar

1

tbsp

finely grated orange zest

1/3

cup

orange freshly juiced

about 1 orange

1/2

cup

Cognac
Instructions
Crêpes
Combine the flour, eggs, 1/4 cup of the milk, the tablespoon of melted butter, salt, and sugar in a bowl and mix well with a whisk.

Add the remaining milk, the cold water, and the oil. Stir well.

Heat a 7-inch nonstick skillet and butter it lightly (for the first crêpe only) with the teaspoon of butter.

Pour about 3 tablespoons of the batter into one side of the skillet and immediately tilt the skillet, shaking it at the same time, to make it coat the entire bottom of the pan.

Cook over medium high heat for about 30-45 seconds, until lightly browned.

To flip, lift up an edge of the crêpe with your fingers or a fork, grab it between your thumb and forefinger and turn it over.

Cook for about 15-30 seconds on the other side and transfer to a plate.

Repeat with the remaining batter, stacking the crêpes golden side up (you should have 9). These may be made in advance.
Beurre Suzette
For the sauce, place the butter, sugar, zest, and juice in a skillet.

Cook over medium-high heat until the sauce begins to caramelize, about 4 minutes; the foaming will stop, and large, glossy bubbles will appear.

Pour in the Cognac and carefully ignite with a long match.

While the alcohol burns off, fold the crêpes into quarters, golden side out, to create a fan shape.

Dip each crêpe into the orange butter sauce and serve 3 per person, with a couple of spoonfuls of sauce.
Notes
If there is too much sauce, resist the temptation use it up; smothering the crepes is not an improvement. Eat it later when no one is looking.