The Provence Market for Women a Fashion Update
Eight months after the launch of The Provence Market fashion brand for women, we reached out to Michele and Jean-Marie for an update. This couple is so passionate about the Provencal lifestyle that douceur de vivre is the company's tagline.
"Douceur de vivre is difficult to define. Indirectly, Peter Mayle made it his core theme in his book A Year in Provence. It is the sum of everything one experiences when spending time in France. The food, the landscapes, the proximity of nature, the markets, and the arts." ~ Michele and Jean-Marie


Provence Lifestyle Brand
The Provence Market is a brand built on the couple's respect for traditional French markets. The economic and social fabric of a town revolves around the local market, even in large urban centres like Paris. Food is often the anchor of a market. However, handcrafted products and artisan creations share the space. The displays of fresh produce, just-baked bread, local cheese, and seasonal fruit stop visitors in their tracks, but it's the artisans who capture the imagination.
The region has long attracted artists and inspired artisans. During a spring trip to the South of France, Michele and Jean-Marie visited with local artists who have since created exclusive tee-shirt designs for The Provence Market. Clearly, the local Provencal market continues to serve its purpose as a meeting place, as that is where Michele and Jean-Marie encountered these three artists.
Provencal Artists

They first met David Mounier at the Wednesday morning market in Saint-Rémy-de-Provence. Mounier is a graveur (engraver) who uses the original technique known in French as pointe sèche. He etches his drawings into a thin copper plate using a sharp needle. In some cases, he works with a mirror as his design will be inverted when printed. Once the design is finished, the ink is rolled onto the metal plate and pressed onto paper using a large mechanical press. Often the number of prints is limited because the copper wears down over time.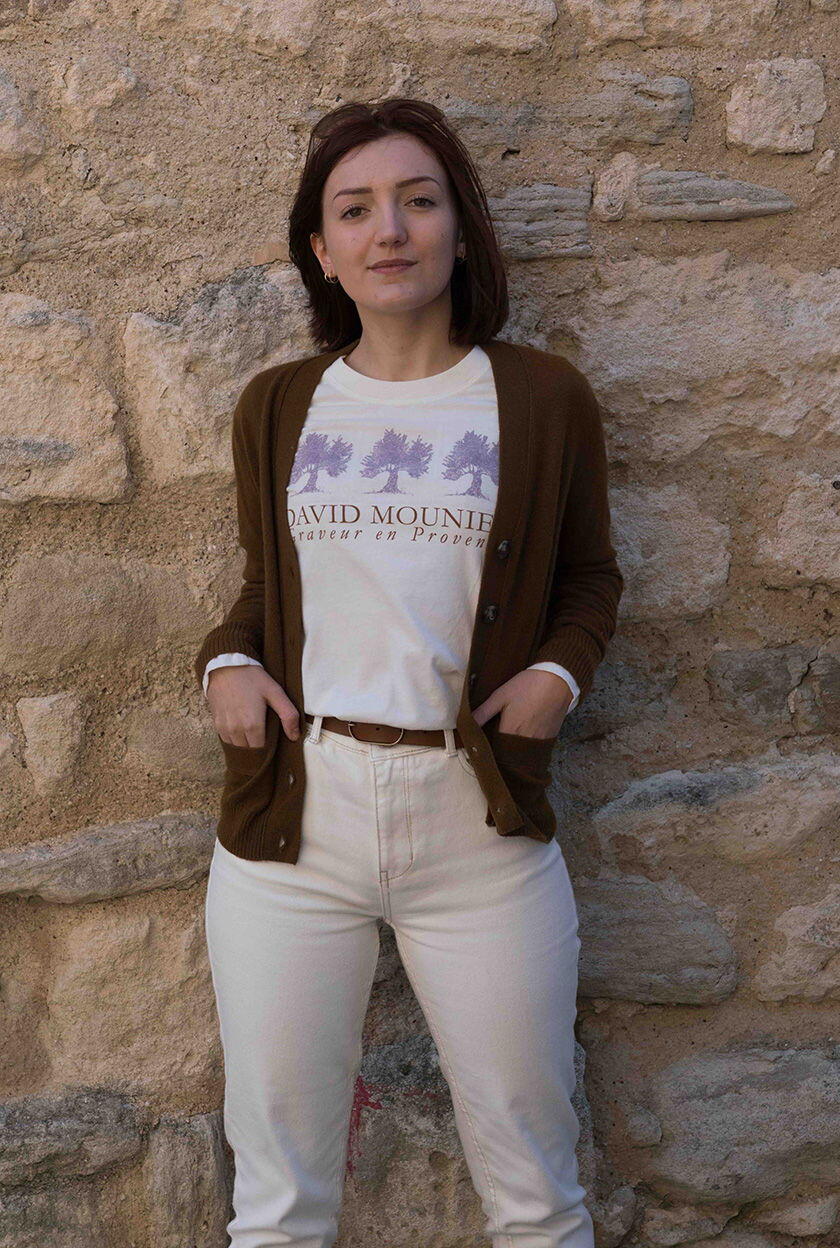 "We fell in love with David's representation of the olive tree, which can be found everywhere in Provence." ~ A classic long sleeve tee-shirt called the Olive Tree.
Every Provencal market has unique characteristics, even if the vendors are the same. Curcuron's Tuesday morning market is distinctive with market stalls lining up around the sides of l'Etang, the large 14th-century water basin. On market day, café tables in Place de l'Etang fill with people enjoying a coffee, or something stronger, under the shade of enormous plane trees. It's a lively atmosphere.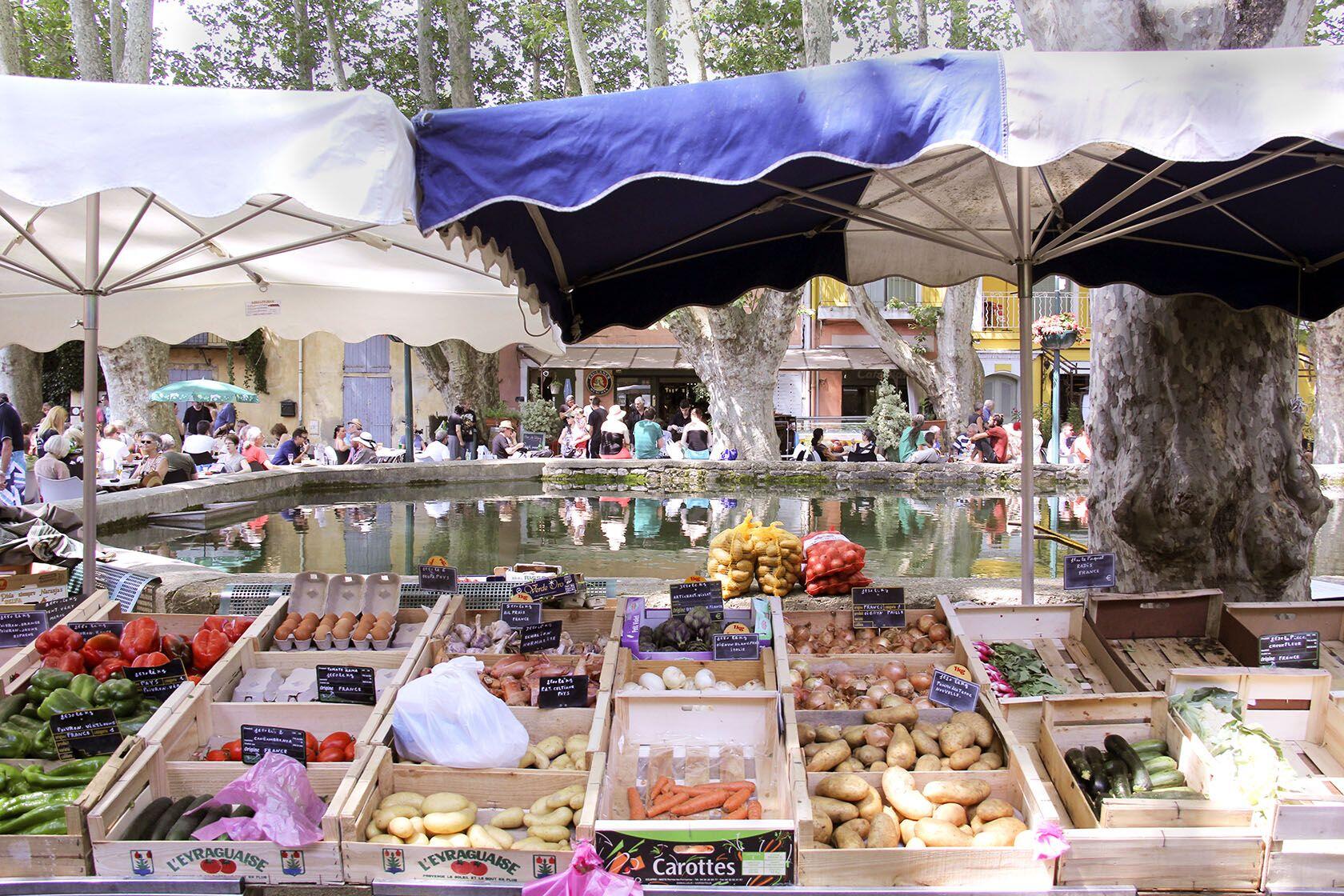 Lucky Meeting
Perhaps that explains Michele's chance encounter with Luberon-based artist André Aubert who considers himself as "Le Peinture du Luberon" (THE painter of the Luberon). Engaging and entertaining André produces work that is not shy. He uses vivid colours in a definite style that André calls Provencale Moderne or Fauvisme Moderne.

"You want to wear all of these colours, and the Luberon landscapes or scenes all are very evocative, but we could only pick one of André's creations and fell in love with the Luberon Village." ~ A short sleeve tee-shirt in navy with a bright design.

Traditional Work
There are few earthenware pottery artisans left in Provence. Richard Esteban is a potier (potter) who produces these ceramics using traditional techniques and a low-temperature kiln. His atelier (workshop) is in Aigues-Vives in the Gard. The process starts with a pottery wheel. Esteban produces a range of items for the home and table décor including plates, platters, vases and more.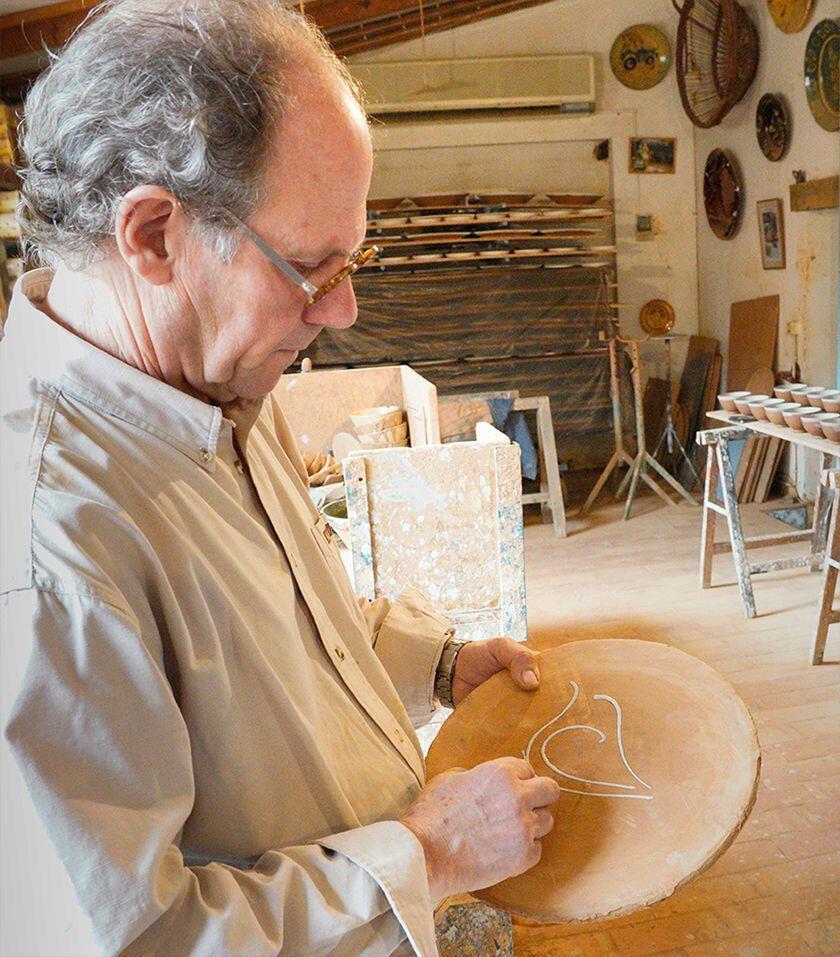 His inspiration ranges from museum pieces to traditional designs from the Provence region. But what he never fails to charm the visitor with, is this bird we fell in love with. He actually painted one in front of us, and that little bird seemed to start singing as soon as Richard declared with his irresistible accent "et voila!" ~ The Poterie Bird short sleeve tee-shirt in a cinnamon colour.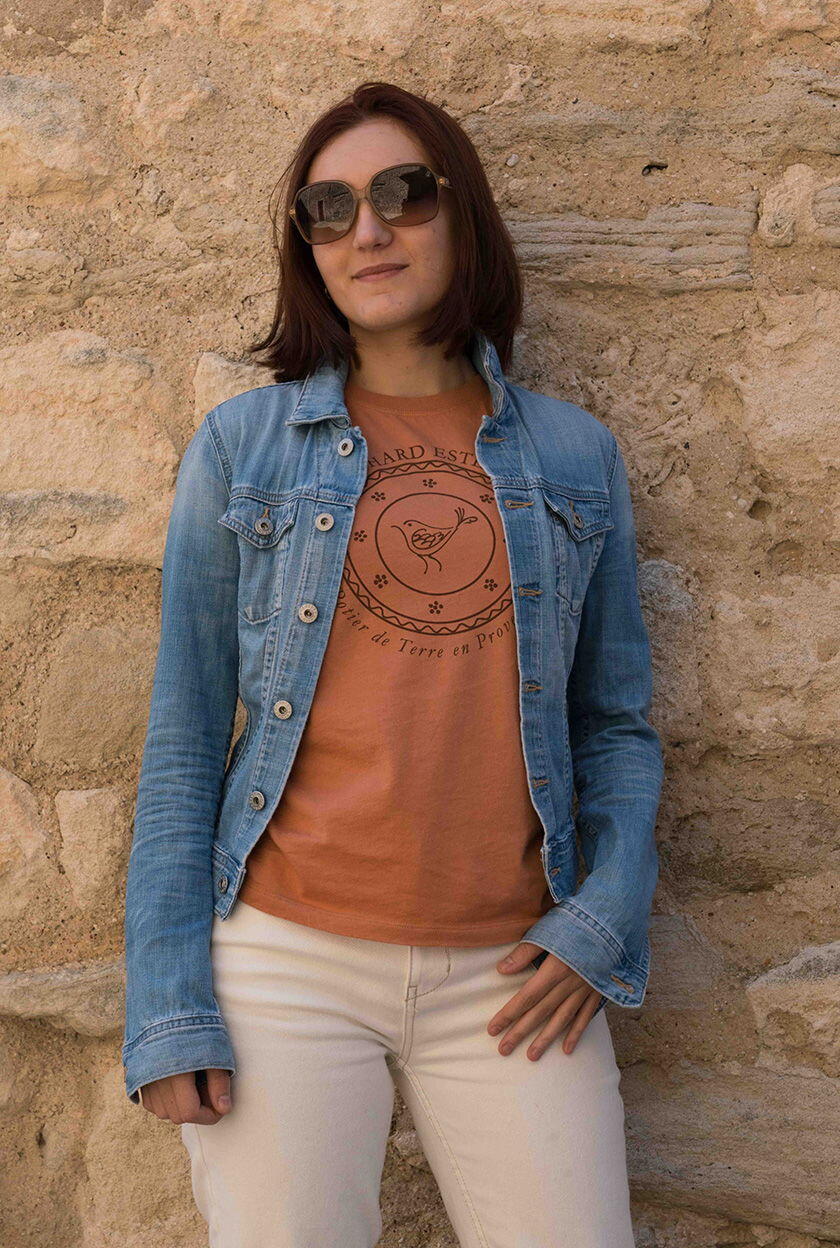 Order Your Favourite Tees
The Provence Market website
Available in sizes XS to XL and Plus sizes 1X – 3X
Free Shipping on orders over $75 (global shipping options)
Experience the magic. Watch for new designs by local artists each quarter.