Provence Holiday Home Owner Shares Her Luberon Lifestyle
Diving into Provence
Ten years after Peter Mayle's book "A Year in Provence" was published, Georgina Causton and her partner decided to spend a sabbatical year (1999) in Provence. Completely enchanted by the lifestyle in the South of France they never returned to live in London. Suddenly, they found themselves with three properties in the Luberon, three mortgages and an equal number of intense construction projects. Working to near impossible renovation timelines, they managed to have all the villas ready for the summer rental period.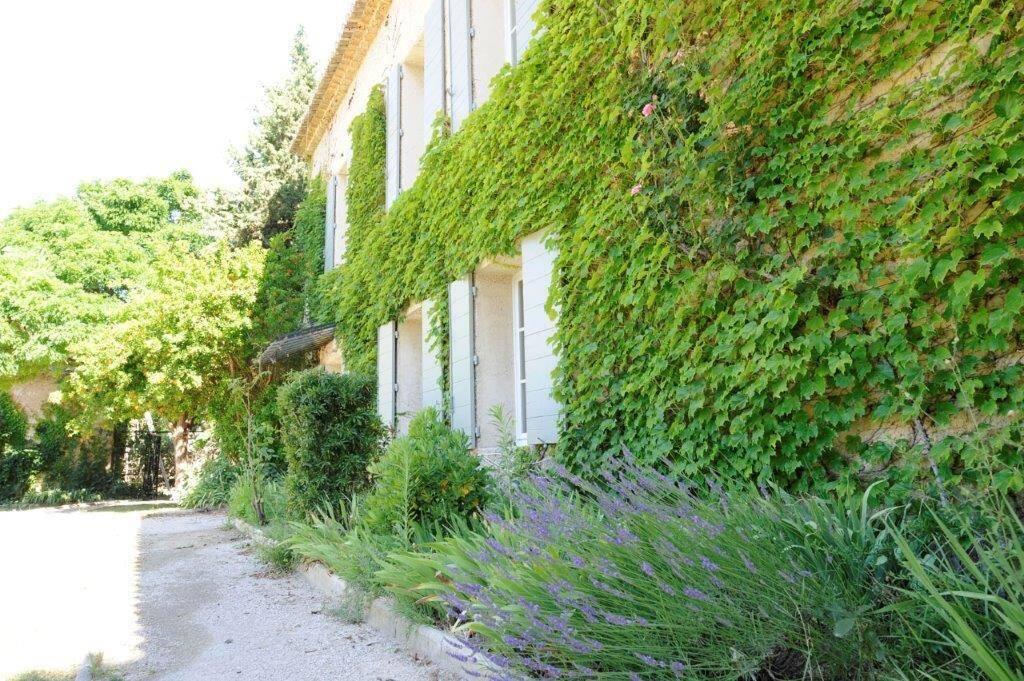 Self-Catered Luxury
Each of these self-catering properties is beautifully renovated, completely private and provide guests with excellent locations from which to explore the region.
Ferme du Val was previously an 18C Mas; a time when it would have been the farmhouse associated with a château. Located on 25-acres of land this impressive two-storey villa can accommodate 14 people in 7 bedrooms. More property details are available here.
Situated just outside of the beautiful village of Cucuron, les Vallons is a villa suitable for up to 12 people. The house is surrounded by the Provencal agricultural staples; grapevines and olive trees. Located in the heart of the Luberon Valley, Mont St Victoire is visible from the pool deck. Explore Les Vallons and its amenities here.
---
Luberon Lifestyle
Since she has spent close to two decades in the region, we thought we would ask property owner Georgina Causton to share her thoughts on the lifestyle in Provence.
How would you describe the lifestyle in Provence to someone who has not visited?
Definitely a more laid-back vibe in comparison to most other parts of France with the added incentive of experimenting with the fantastic produce in the area whether it be the fruit and vegetables, or the olives/oils, wines and meats and fish. Cooking and eating are part of the lifestyle here.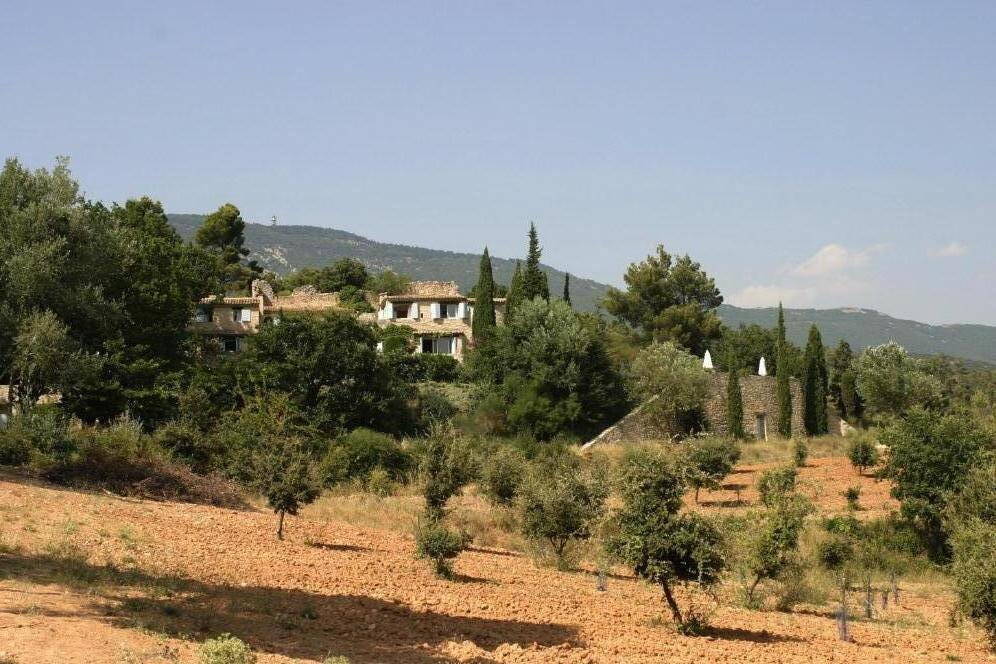 To some degree, Provence lives on its clichés in photos – scenes of lavender, sunflower fields, and boules players. Is this your Provence?
Without a doubt yes!  Whether it be the poppy fields, vineyards or the lavender. And, not to forget the incredibly bright blue sky against the intense green of the countryside.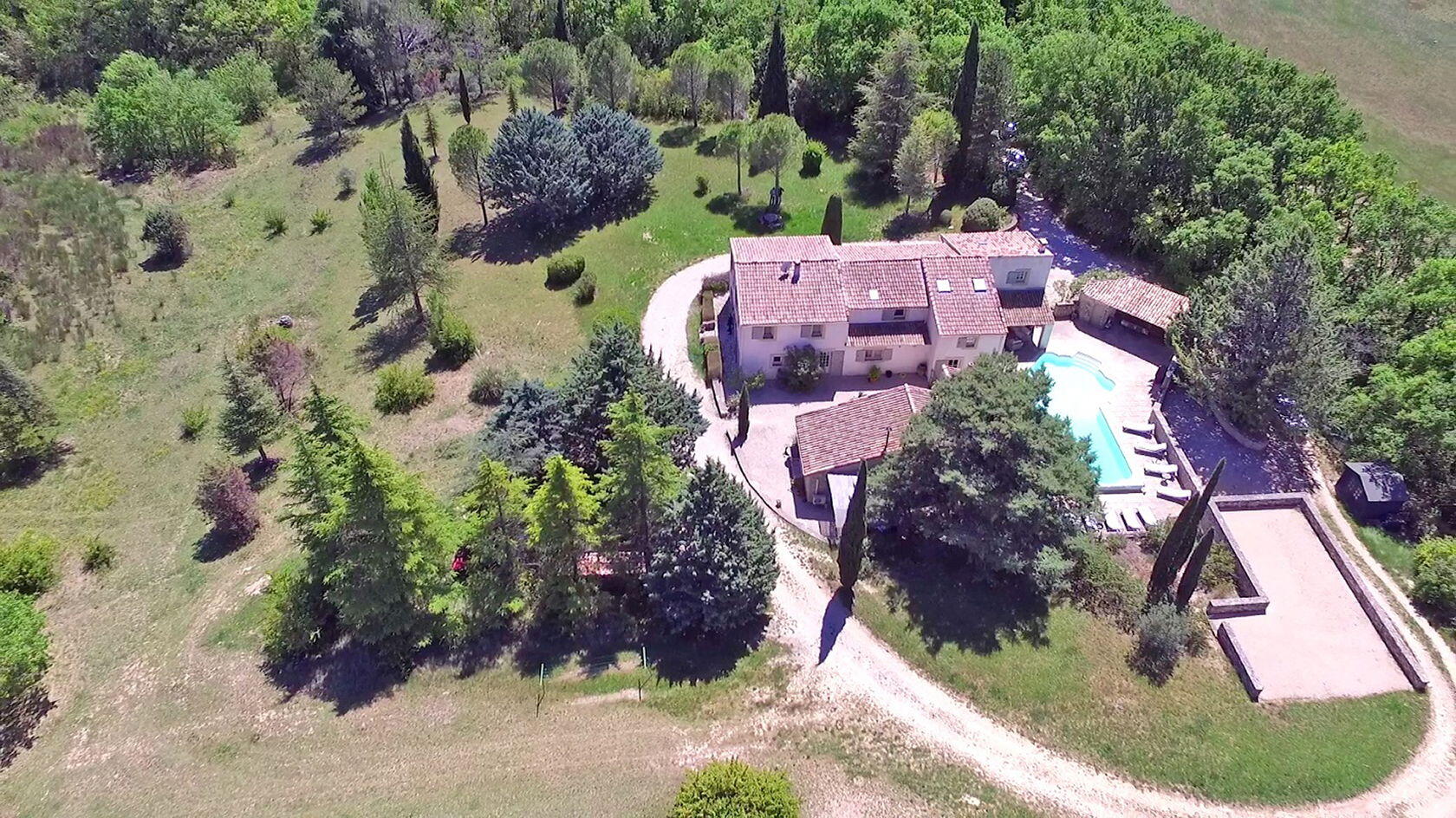 What is your favourite season in Provence and why?
It has to be the spring. There are red poppy fields, red cherries in the orchards and the delicate early-season almond blossoms. In the spring, the land is generally greener than mid-summer.  Spring brings with it the promise of strawberries and asparagus. However, we do appreciate all seasons here as being in the countryside there's always something beautiful whether it be a snowfall (yes, it happens each year!) or the grapevine leaves turning to shades of yellow and red in the fall.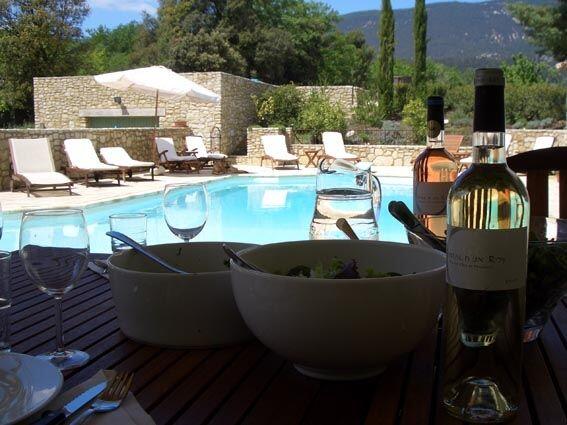 When you first return to Provence what aroma "says" I have arrived?
The scent of the pine trees, and the hearty garrigue herbs. The herbes de Provence; rosemary, savoury, thyme, marjoram, and oregano grow wild in the Luberon hills.
Provence and the Cote d'Azur appear to evoke a decorative style in homes, restaurants and hotels. What is the decorative style you have used at your properties?
We have combined Provence, Cote d'Azur and England in the interior finishes. Otherwise, we find there are too much grey and blue-grey in modern Provencal decor.
Your self-catering villa properties are in different locations. Can describe the countryside near Ferme du Val and les Vallons?
Ferme du Val has the advantage of being closer than our other properties, to Aix en Provence, the International schools, as well as the Mediterranean coast. Set in the middle of the countryside the property offers a peaceful base for great walks and cycling straight from the house. It is not far from all the amenities of both St Cannat and Lambesc (tennis courts, local markets, grocery stores and more). The excellent Barben Zoo is only a 5-minute drive away for families with kids. The Pont Royal Golf Course is always a temptation for many of our guests.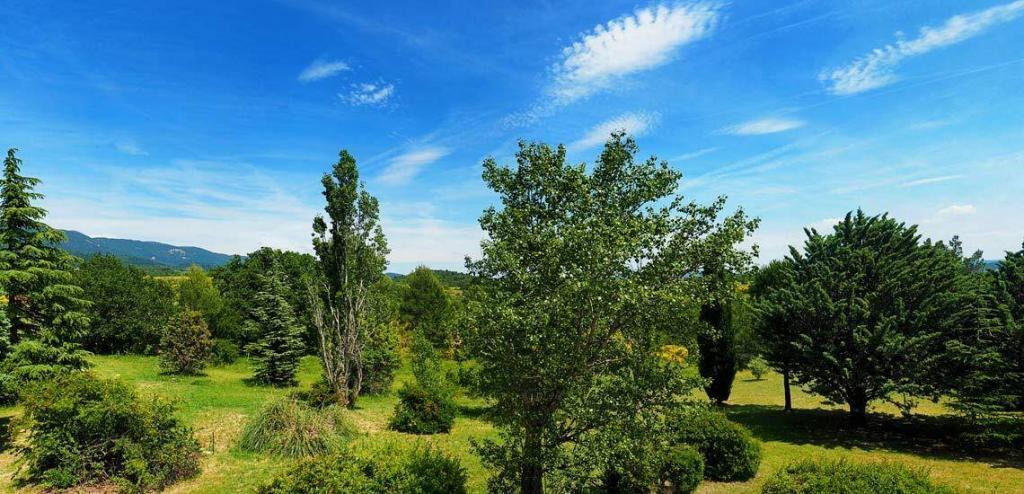 Les Vallons is just outside the Luberon village of Cucuron made famous for being the backdrop in the movie "The Good Year."  The property is in the Luberon National Park, which is beautiful countryside for great walks and cycling. The home is only a 5-10-minute drive to excellent restaurants and only 30 minutes from the centre of Aix-en-Provence. There are lovely markets nearby, as well as accessible tennis and golf.
If a visitor asked you about your favourite Luberon Village what would you say?
Well, I'm biased as I love Cucuron for being a charming village as well as a working "living" one so not too touristy and there's always something going on.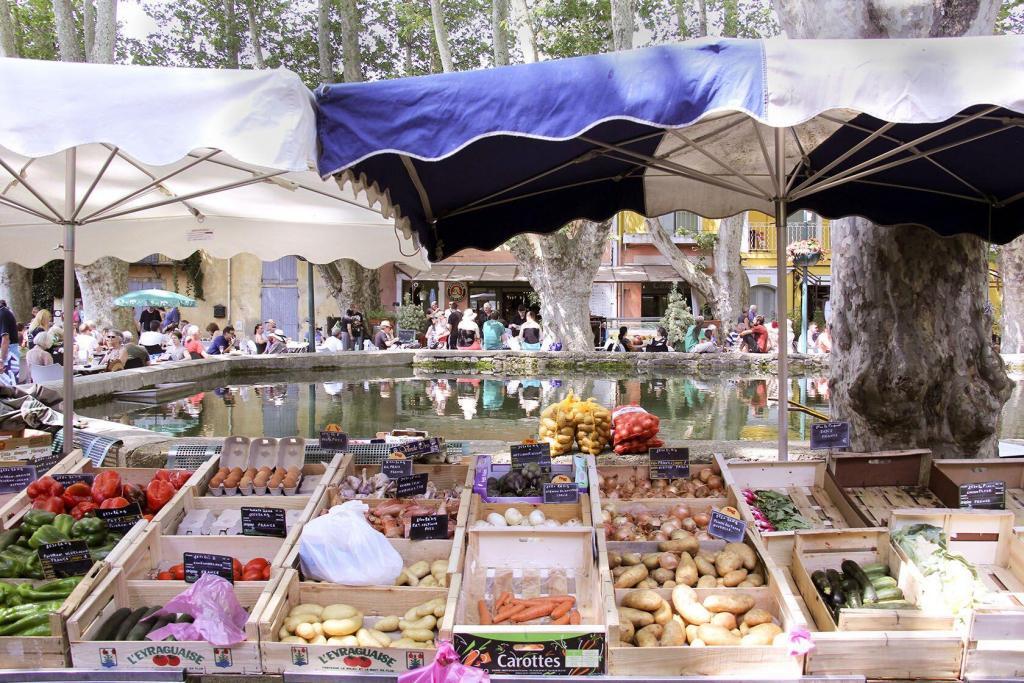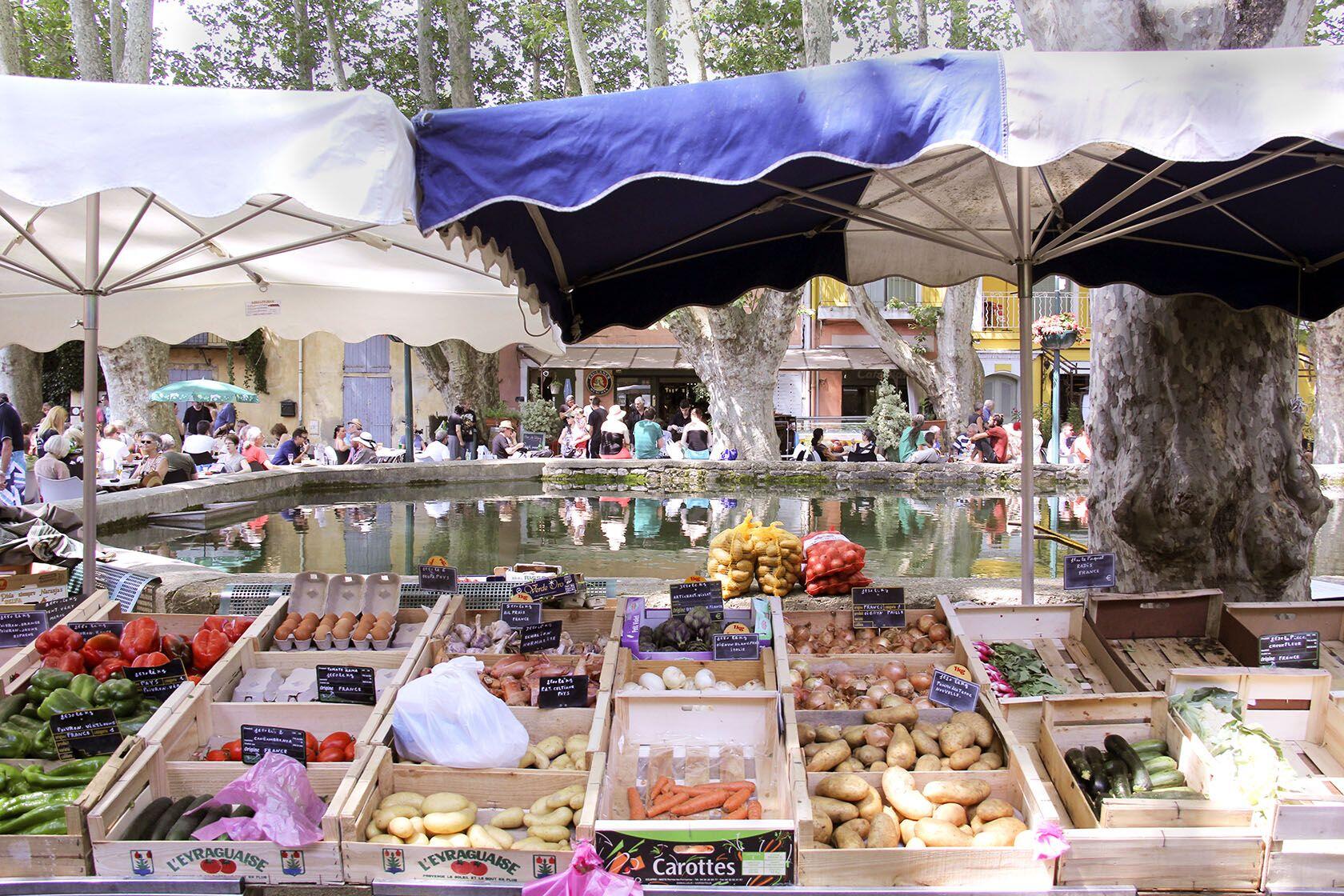 What are your favourite markets close to your properties?
Cucuron (Tuesdays) and Lourmarin (Fridays) – for the excellent choice of fresh produce as well as the clothes, pottery, soaps, flowers, baskets and the list goes on!
If you stayed for a week at Ferme du Val or Les Vallons what activities would you make sure to do?
Apart from lying by the pool?!  Walking and cycling to burn off calories before sitting down to amazing meals created by a chef who can come to the house, or by the guests themselves.  If you have time (and can pull yourself away from the pool) then definitely a wander around Aix-en-Provence, Avignon, and Cassis are all on the must-do list.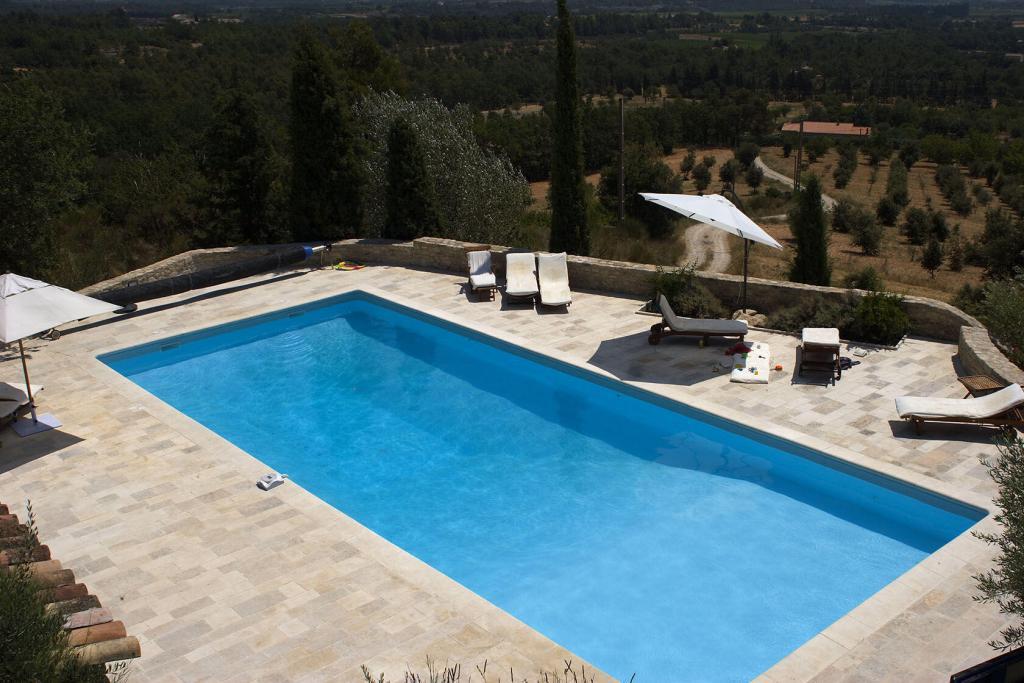 The properties are self-catering, but you do help with extra requests. Can you describe these?
We can arrange for a private chef, cooking classes, aromatherapy massages, wine tours, cycle hire, restaurant bookings and more.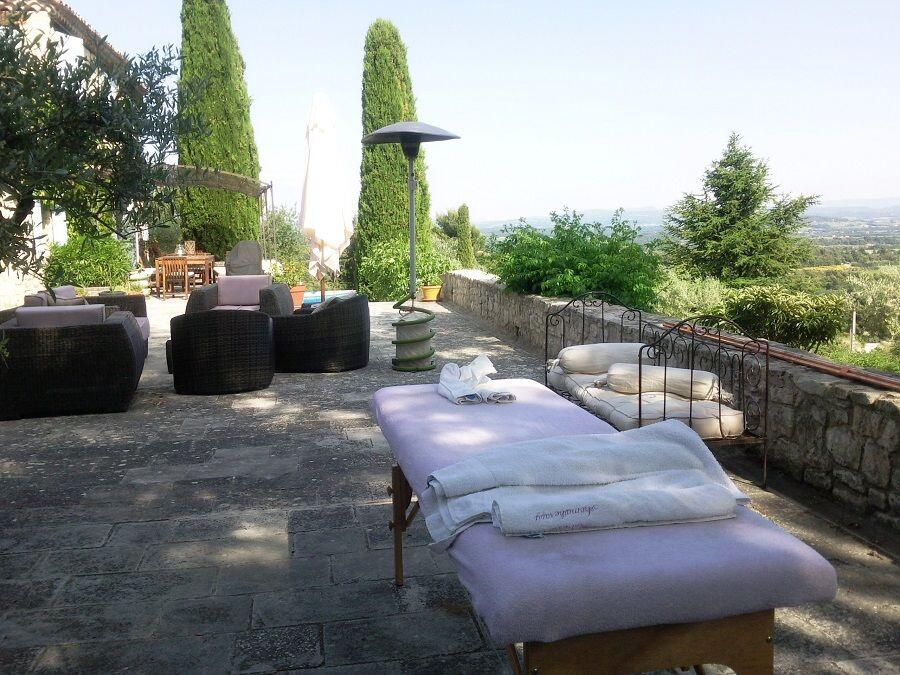 In your opinion, what is the #1 thing visitors at any of your properties should do while staying in the area?
If you are into hiking or cycling, then head up the Luberon mountain range (or drive). Take along a picnic and enjoy the fantastic views from the top of the ridge.
All rights reserved. Perfectly Provence articles and other content may not be published, broadcast, rewritten (including translations into other languages) or redistributed without written permission. For usage information, please contact us.
Syndication Information
Affiliate Information
As an Amazon Associate, this website earns from qualifying purchases. Some recipes, posts and pages may have affiliate links. If you purchase via these links, we receive a small commission that does not impact your price. Thank you in advance for supporting our work to maintain Perfectly Provence.