Provence Getaway: Why take a Road (Train or Boat) Trip to Lyon
One could say that Lyon is at the intersections of France.
After Paris and Marseille, Lyon is France's third largest city. Located almost in the centre of the country, the drive from Marseille to takes a little over 3 hours and 4.5 from Paris. However, on the train (TGV), from either metropolis, the travel time is cut considerably. Lyon enjoys easy access to mountain sporting activities with the Alps to the East. And, the trip to the heart of Burgundy's wine country is only a couple hours away.
Perhaps it's all of the above that makes Lyon so attractive and the perfect road trip destination from Provence. With the "best of France" flowing towards Lyon, the city has a justified reputation for its high-quality gastronomy, deep cultural history, and as a UNESCO World Heritage Site.
Why Visit Lyon?
Perfectly Provence was recently featured in a Scenic Luxury Cruises & Tours blog post on Lyon. Here, what we had to say,
"Even the most devoted Provencal foodies can be tempted to leave behind ratatouille and bouillabaisse for a trip up the Rhône River to France's capital of gastronomy — Lyon. As France's third largest city (after Paris and Marseille) Lyon has a lot to offer its visitors. From the traces of Roman inhabitants to modern street art, Lyon's museums, parks, art and architecture offer a broad range of entertainment. However, many visit Lyon for its food first with the cultural alternatives as distractions between meals." Read the full article here.
Eating in Lyon
Lyon sits at the confluence of the Rhône and Saône Rivers and enjoys the fruits of wine labour from Côtes du Rhône vineyards to the south and Burgundy a couple of hours north. The most traditional Lyonnais restaurants are called "bouchons." Lyon's version of a Paris bistro, these lively restaurants serve local fare. The meals are hearty, to go along with the wine. Menus might include Rosette Lyonnaise (a cured pork sausage), potatoes gratin, sausage varieties such as a pistachio version, or coq au vin. On the sweeter side, among the local specialities are candied chestnuts (marrons glacés), pralines (pink sugar-coated almonds) and bugnes a "light" version of a beignet. After few food-filled days in Lyon, it may be time to return to the lighter tastes of Provence.
Festival of Lights
Lyon is also famous for its Festival of Lights or Fête des Lumières set around December 8th every year. On this date, the people of Lyon place candles or lamps in their windows in reverence to the Virgin Mary. The origins of today's professional light show were, in fact, a celebration that began quite by accident. In 1852, a statue of the Virgin Mary was to be inaugurated on Fourviere Hill to pay homage to the Lord for banishing the Black Plague from the city. The official event was postponed due to violent weather, finally, once the storm passed the inhabitants of Lyon lit their homes with candles and took to the streets to celebrate.
Today, the Fête des Lumières is a light and musical spectacle that lasts for four consecutive nights in December (always centred around the 8th). This festival attracts over four million viewers and lights up the city with more than 70 professional installations. You can find more details on the Festival of lights here.
History, Architecture and Trade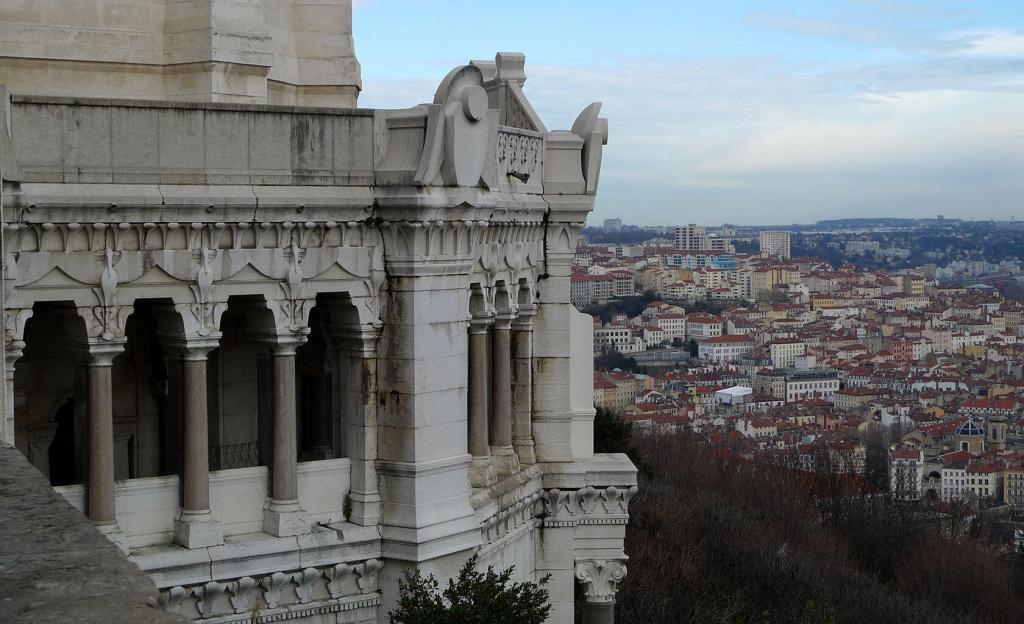 Walk off some of Lyon's gastronomic delights with a visit to the top of Fourviere Hill (there is also a funicular) where there is much to see. Traces of human settlements pre-date the Romans, but even in 43 BC the importance of Lyon (then Lugdunum) had been realised with four trade routes joining at the top of this strategic hill. Take a look at the remains of Roman baths and a theatre that is still used for concerts in the summer months. No trip to this hilltop would be complete without a visit to the Fourvière Basilica. Additional details here.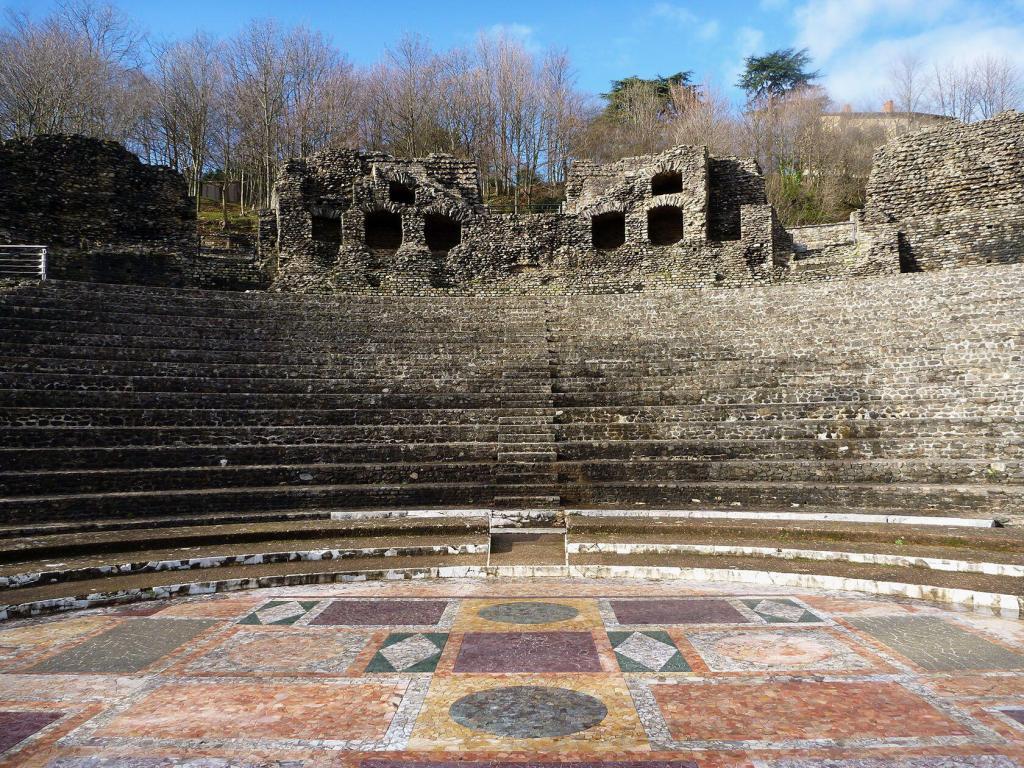 Thanks to the foresight of André Malraux's (Minister of Culture) conservation plan in 1964, the old centre of Lyon (Vieux Lyon) was retained and restored. The old town remains a labyrinth of narrow streets, alleyways and hidden corners. You should expect to find restaurants, hotels, and many retail stores all catering to tourists. However, duck into one of the connecting passageways known in Lyon as "traboules," and allow yourself to be transported to the middle ages when the town began to form.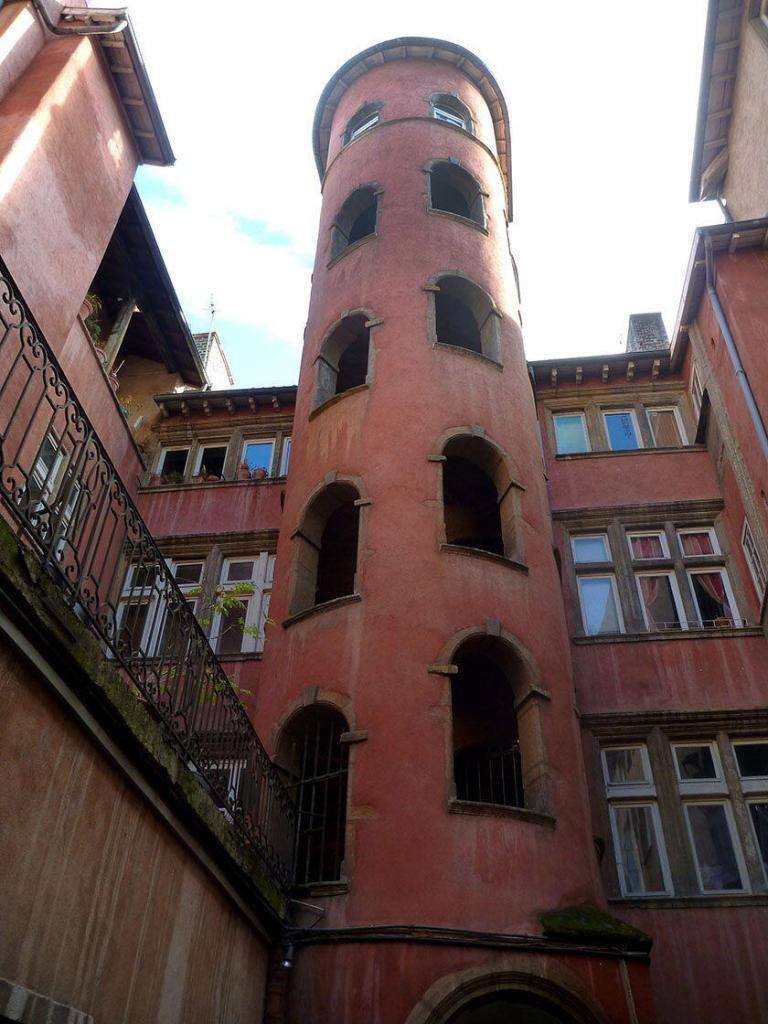 There are clear Renaissance and Italian influences in the architecture, but those embellishments came later. Original dwellings were modest possibly at only a couple stories in height, with space for animals on the bottom level. Eventually, the animals were displaced to meet the populations' growing housing requirements. This space permitted for the construction of central courtyards, watch towers, and circular stairwells. These are the spaces, which continue to give Lyon an Italian flavour.
Lyon long held a place as France's silk weaving capital. It was King Louis XI who determined the city to be the strategic choice for this industry. The city's location on the Rhône made for ready trade access with Italy. The silk trade was critical to the development of the city. Much of the large scale silk manufacturing has moved from Lyon, there remains a strong artistic community. Visit Maison des Canuts and the Colline de la Croix-Rousse district to get a better sense of this important part of Lyon's industrial past.
The truth is a weekend road trip to Lyon is not quite long enough. Before we get back to Provence…
Lyon Perspectives our Contributors' articles
Lyon a feast for the eyes
Impressions, Facts and Things to do in Lyon (other than eat)
Please share this with friends and family.