Pork Cheek Daube a Fall Weather Stew from Provence
I crave daube as soon as the cooler Fall weather starts. It corresponds to a single moment when my wife Lisa and I lived in a small, off the grid hippie cabin deep in the woods of Mendocino, California. Fall had started in earnest, and we decided to go for a long walk foraging for wild cèpes. I built a huge fire in our wood burning stove and placed a daube of beef to slow cook on top. We opened a bottle of wine to decant and walked out into the cool, misty day heady with pine scents. After walking two miles, we had collected two full shopping bags of mushrooms and headed back home to enjoy our simple feast. The closer to the cabin we got, the hungrier we became. The wood smoke and rich beef scents hung in the mist surrounding the cabin, enticing us to come in and eat.
Give this pork cheek daube a try.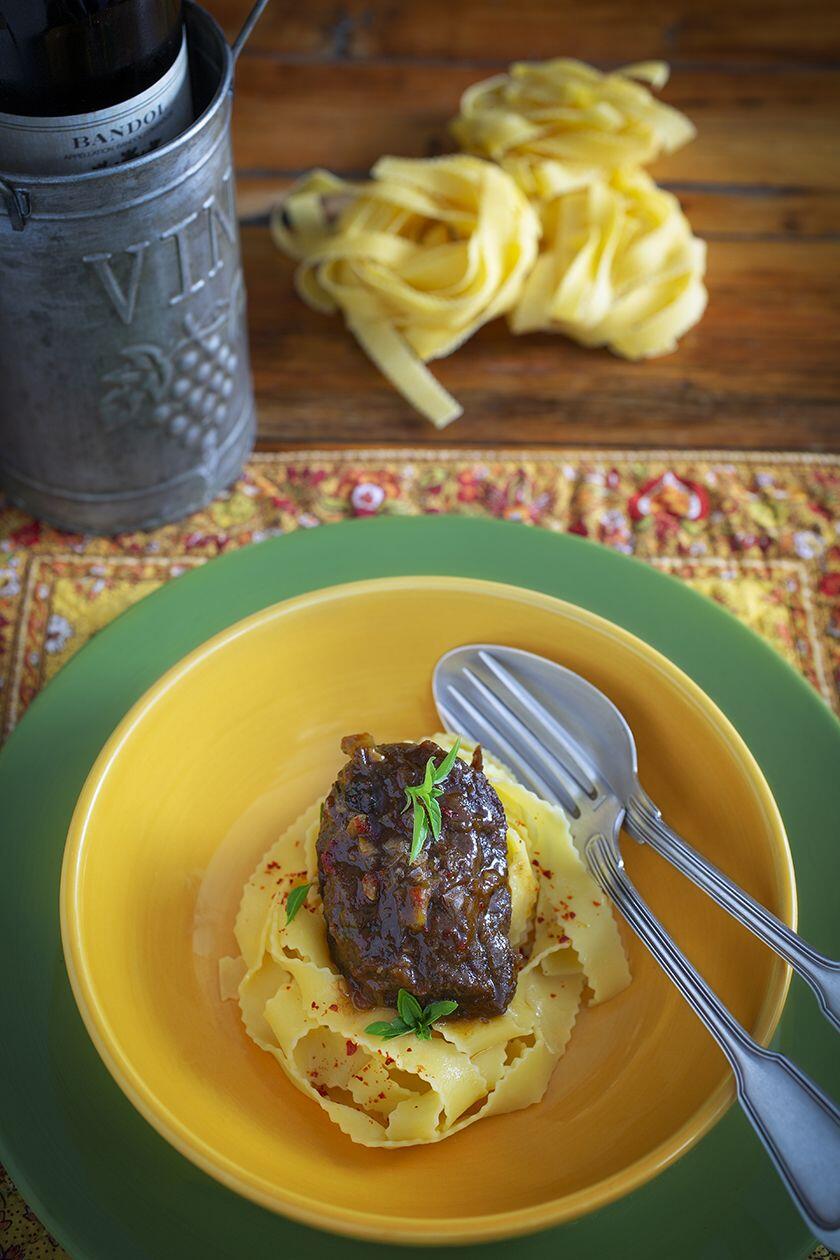 Daube of Pork Cheek
This slow-cooked pork stew will fill your home with delicious aromas. If you are lucky enough to forage for your own cepes, you with think you landed in autumnal heaven.
Ingredients
¼

cup

olive oil

4

Pork Cheeks

joues de porc in France

1

tsp

Herbes de Provence

2

medium

Carrots

sliced

1

Sweet onion

large dice

2

cloves

garlic

mashed

1

tomato

chopped

1

Orange

zested and juiced

1

Cinnamon stick

1

whole

Star Anise

1

cup

White Wine

1

cup

Chicken stock

1

big pinch

Saffron

4

Anchovy fillets

chopped
Instructions
Before your guests arrive:
Heat olive oil in a heavy sauté pan. Season pork cheeks with salt, freshly cracked black pepper and herbes de Provence, then sear in oil till browned, about five minutes.

Remove cheeks and reserve.

Add carrots, onion and garlic to pan, and cook till softened, about five minutes.

Add tomatoes, orange, cinnamon, star anise, white wine, stock, saffron and anchovy; bring to a boil, lower to a simmer and then cook cheeks slowly for two hours, or until pork is fork tender. I usually make a huge batch in the fall and freeze in smaller portions.
When you are ready to eat:
Reheat pork daube, spoon over with buttered noodles, rice or potatoes.