Pétanque is Provence's Sport
Provence is famous for many things. It's a hotbed of culture, with many notable painters from the region, or living there for a while. The list includes Vincent van Gogh, who lived in Provence from early 1888 to the Spring of 1890, and Pablo Picasso, who spent each summer on the French Riviera for 20 years before moving there permanently in 1946.
This part of France is also home to many contemporary forms of entertainment. It has a rich history of involvement in cinema, with one of the first-ever motion pictures filmed at the train station in La Ciotat. It continues to be featured in many French films like Swimming Pool, Jean De Florette, and Let's Talk About the Rain.
The region has plenty of museums, including Musée Départemental des Merveilles, Musée Granet XXe, and Musée des Troupes de Marine (in Frégus). You'll also find plenty of wineries, beaches.
Sport in Provence
Sport is another strong asset of Provence, with Ligue 1 team Nice having won the top-flight title four times and the Coupe de France on three occasions, and Marseille, who have won both Ligue 1 and Coupe de France 10 times. Marseille is also the only French club to win the UEFA Champions League.
Social Pétanque
When it comes to friendly competition, Provence is known for one sport in particular – pétanque, a form of boules. Similar to Italy's bocce, pétanque requires players to move their balls towards a target called a cochonnet or bouchon that tossed at the start of the game. The winner of the game is then the player that gets their ball closest to the target.
The game started sometime between 1907 and 1910 in La Ciotat, although other variations of boules have existed since the Middle Ages.
Additional reading: Pétanque the Story of Gaining Admission into a Circle of Trust in Provence.

Rules of Pétanque
Pétanque is typically played in teams, although some people choose to play it alone, with players each having two or three metal balls.
Players must stand in a circle to throw their ball, which is sometimes marked by a red plastic ring, or a line drawn in the dirt or ground. The player must not move their feet when they release their ball, which is unlike other games such as bocce.
The game is played in rounds (known as "ends" or "mènes"). The team that gets a ball closest to the jack is awarded points. If the winning team has the closest ball and their opponent's ball is second, the winning team gains one point. If the winning team has the two closest balls, they get two points. The opposing side gets no points in either situation.
For more details on the rules of pétanque, please read – Understanding Boules: Why The Game of Pétanque is Like Religion in Provence.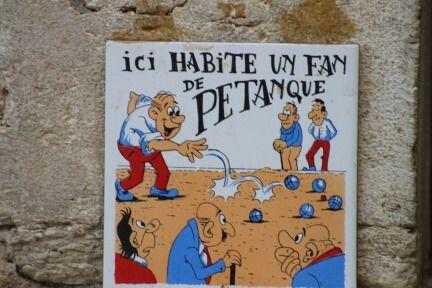 Who Plays Pétanque?
Pétanque is a game enjoyed in official competitions and as a leisure activity. The biggest and most prestigious international tournament is Mondial la Marseillaise à Pétanque, which takes place each July in Marseille. Over 10,000 people take part in the competition, with more than 150,000 spectators. The big games from the tournament even air on French TV.
The game is not exclusive to France. The US holds an annual tournament called the Pétanque Amelia Island Open every November on Amelia Island in Florida.
All rights reserved. Perfectly Provence articles and other content may not be published, broadcast, rewritten (including translations into other languages) or redistributed without written permission. For usage information, please contact us.
Syndication Information
Affiliate Information
As an Amazon Associate, this website earns from qualifying purchases. Some recipes, posts and pages may have affiliate links. If you purchase via these links, we receive a small commission that does not impact your price. Thank you in advance for supporting our work to maintain Perfectly Provence.