My Planning Tips for a Quick Getaway to Lyon, France
Lyon is the 3rd largest city in France and the French capital of gastronomy! With its beautiful old town, many restaurants, museums and shops, there are plenty of things to do in Lyon. So, when my good friend wanted to visit a new city together, we decided on a quick getaway to Lyon, and here is what we did in our 30 hours in the city.


30 Hours in Lyon
For anyone living in Provence with easy access to the Aix TGV Station, Lyon is a quick 1.5-hour train ride away. The city has much to offer in terms of culture, food and architecture! Plus, if you book your trip at least two (2) weeks in advance, TGV rates are more affordable, and the train is a pleasant way to travel. My friend and Angelino (fellow resident of Los Angeles), Judith Crane, did a whirlwind visit to Paris, then to Aix-en-Provence. We wanted to explore a new city together and decided that Lyon was a great choice.

The First Day
We hopped on an early TGV train on a Saturday morning and arrived at 8:19 am at Lyon Part Dieu, where our city adventure began. After a 12-minute cab ride, we dropped our luggage at our hotel, the Mercure Lyon Centre Beaux-Arts at 73-75 Rue du Président Edouard Herriot in the 2nd arrondissement and started our Lyon tour.
It was only a 22-minute walk from the hotel to shopping in the La Croix Rousse neighbourhood in the 1st arrondissement. Here we found small, independent shops full of original fashion pieces and vintage decor items, second-hand clothes shops, bookstores specialized in design and other trendy concept stores.
The Village des Créateurs (Creators' Village) is a hot spot for young artistic talent. If you are visiting on a Saturday, stop here after 11 am as stores are just opening. This area is where all kinds of artists and designers have studios and showcase their products.
And don't miss the beautiful Escalier Mermet, a historical landmark painted in blue, white, and yellow organic motifs by Artiste Wenc.

For All Foodies, Chefs!
Les Halles Paul Bocuse is the place to be! I was shocked at how many people were enjoying a leisurely lunch (especially oysters) late Saturday afternoon. After all, France is known for strict eating times, such as lunch 12-2 pm and dinner from 7:30 to 10:30 pm.

The incredible variety of culinary treasures stretched on and on inside this famous venue. I was especially taken with the pastries, the fruity marshmallows (guimaves) and the homemade kinds of pasta. I recommend stopping by Boulangerie Jocteur, run by Chef Jocteur and his two sons, and ordering a special Lyonnaise bread: Praluline brioche filled with pink pralines.

Tarte aux Prâlines Roses
An elegant but simple dessert for your New Year's Eve fête or a romantic Valentine's dinner!
Check out this recipe

Pink Praline Brioche à la Praline
This sweet bread has a crusty exterior yet is soft on the interior, and the pink pralines add the Lyonnaise touch.
Check out this recipe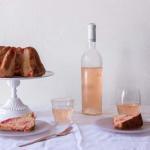 Time for Dinner
Rue Mercière in the 2nd arrondissement is delightful for both shopping and dinner. It is a lively, colourful section of Lyon that buzzes with activity. Judith and I dined (after shopping this quartier) at Casabea, known for its Mediterranean cuisine. We loved the ambience, the décor, the panisse and the Moroccan-style fish.
CASABEA – Cuisine méditerranéenne (website)
5 Rue de la Monnaie
69002 Lyon
Closed on Sundays
Sunday Morning
You can take the funicular at the bottom of the hill next to the Cathedral St-Jean in the Vieux Lyon section or take a taxi or Uber to Fourviere Hill and Notre Dame Basilica. The Basilica is a majestic building and exquisitely designed. The views of the city are breathtaking.

We then took an Uber to see the Roman ruins of Lyon to see the UNESCO Amphitheater of the Three Gauls on Rue Lucien Sportisse. This historical monument was built at the foot of the La Croix-Rousse hill.
Architecture Fans
For those interested in architecture, do not miss the Musee de Confluences, designed by Rem Koolhaus, a Dutch Architect.


Musée des Confluences  (website)
86 Quai Perrache,
69285 Lyon
Near the museum are the ultra-modern mixed-used orange and green cubes by Jakob + Macfarlane Architects.


And, if you are flying out of Lyon, the Lyon–Saint Exupéry Airport is also an architectural wonder designed by the Spanish architect Santiago Calatrava Valls.

And so ended our whirlwind tour of Lyon!
However, my conclusion is that 30 hours in Lyon is fantastic, but I recommend staying much longer – at least one week, if possible! The shopping, sites and cultural opportunities are endless.

---
More on Lyon
One could say that Lyon is at the crossroads of France. Lyon follows Paris and Marseille; Lyon is France's third-largest city. Located in the country's centre, the drive from Marseille takes a little over 3 hours and 4 1/2 from Paris. However, on the train (TGV), from either metropolis, the travel time is cut considerably. Moreover, Lyon enjoys easy access to mountain sporting activities with the Alps to the East. The heart of Burgundy's wine country is only a couple of hours away from Lyon, and the Northern Rhône vineyards are just to the southeast of the city.
December Lights
Lyon is famous for its Festival of Lights, or Fête des Lumières, set around December 8th. On this date, the people of Lyon place candles or lamps in their windows in reverence to the Virgin Mary. The origins of today's professional light show were, in fact, a celebration that began by accident. In 1852, a statue of the Virgin Mary was to be inaugurated on Fourviere Hill to pay homage to the Lord for banishing the Black Plague from the city. Unfortunately, due to violent weather, the official event was postponed. Finally, once the storm passed, the inhabitants of Lyon lit their homes with candles and took to the streets to celebrate.
All rights reserved. Perfectly Provence articles and other content may not be published, broadcast, rewritten (including translations into other languages) or redistributed without written permission. For usage information, please contact us.
Syndication Information
Affiliate Information
As an Amazon Associate, this website earns from qualifying purchases. Some recipes, posts and pages may have affiliate links. If you purchase via these links, we receive a small commission that does not impact your price. Thank you in advance for supporting our work to maintain Perfectly Provence.