Learning to Speak French One Sip at a Time Book Review
Expat living is not for the faint of heart. Surrounded by a new environment, comfortable routines are gone, and even mundane daily tasks require extra consideration and effort. Where to grocery shop? What are the best schools? What about health care? Add a foreign language and different cultural norms to the equation it could be quite stressful unless you are willing to embrace the experience with large doses of humour and humility.
Book About Expat Experiences
Keith Van Sickle and his wife are part-time expats who split their time between California and Provence. These two Americans have fallen in love with the South of France and grasped the experience with a "let's dive in" attitude. Van Sickle recently published his first book One Sip at a Time: Learning to Live in Provence a humorous reflection upon the couple's encounters in the region.
"Sometimes crazy opportunities come along and you just have to go for it."
The book is an effortless read on what could be a weighty topic. Learning to speak French and trying to gain a level of acceptance in a new culture. In each chapter, Van Sickle covers a range of subjects, including highway driving in this foreign land with its strange parking rules. After several years, the Van Sickles have grown quite a custom to the relaxed Provencal lunch, and they are not the least bit surprised when it ends several hours later at dinner time. Their spoken French has improved through a combination of lessons, language partners and various other resources (listed at the end of his book).
Van Sickle's writing style reflects the couple's adventurous attitude, in his recount of their experiences, including the tale of attempting to give blood. It would be difficult not to smile at his entertaining short stories. Van Sickle shared that he has many more anecdotes that did not make it into this first book. So, in the future, there may be more sips of Provence in Van Sickle's writing.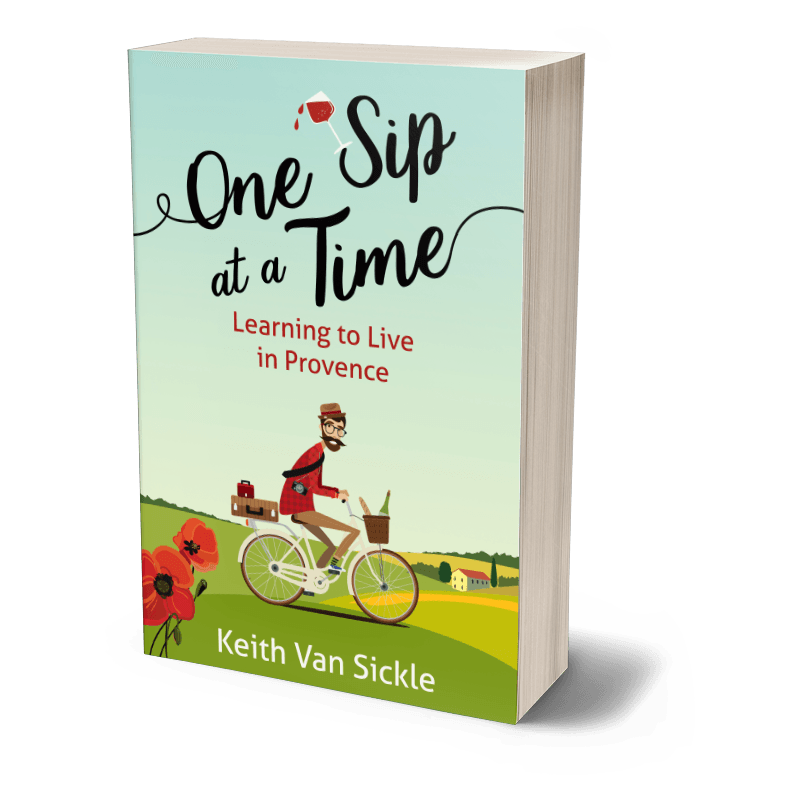 Enter the Book Giveaway
Van Sickle is offering a copy of One Sip at a Time: Learning to Live in Provence to one lucky Perfectly Provence reader. To enter the draw, simply leave a comment below and tell us why you would like to read his book.
The winner will be chosen via a random draw on May 5th.
Read more about how the Van Sickles ended up in St Remy here.