Eat Lunch in Cagnes-sur-Mer at Le Kafé In
Lunch in Cagnes-sur-Mer
For cool lunching not far from Nice head to in Cagnes-sur-Mer. If you fancy a casual meal on the Côte d'Azur, in a bar where the food is good, and the wine served by an ex-sommelier then give Kafé In a try.
While sitting on the sand, or in a beachfront restaurant, might seem like a great idea, sadly, often the food and welcome can be disappointing. Our local's tip is that it's best to be savvy – if you so wish – and seek out real food in the restaurants behind the sparkle of the sea.
On a recommendation from a friend, Michelle Oberg of La Kiwi's Choice – we were happy to try out the Kafé In in Cagnes-sur-Mer. The restaurant is an unassuming sort of place with just four tables inside, and plenty more in the sun outside, overlooking the Hippodrome – the horse racing circuit which looms large as you arrive at the Nice airport.

Owner/operators Ludovic and Corinne Parfait offer a warm welcome and a reassuring chalkboard menu. They do a lot of corporate catering as the primary revenue generator, so the casual restaurant service feels as if it is a pleasure, and not a tortuous duty.
We opted for the "fish of the day," a tartare with a touch of wasabi, and home-made ravioli – dishes range from €13 to €21 – but to be honest – you would be hard pressed to eat more than one course. To drink, just a pichet of local rosé but very nice it was too.
The clientèle appears to be mainly locals who live within spitting distance of Kafé In. At first, they were perhaps a bit frosty at their space being invaded but soon warmed up once they realized that we did speak French, lived in the mountains, and therefore, not too ghastly. They were trying out the New Year menu – looked great – and pretty good value at €45.
Fluttering our eyelashes, we did manage to get a little taster of the truffle sauce…yum! We will be back to Kafé In.

Eat – Cagnes-sur-Mer
Kafé In
Ludovic and Corinne Parfait
7, boulevard Kennedy
06800 Cagnes-sur-Mer
Tel: +33 (0)6 28 33 48 37
We highly recommended reserving in advance. Ludovic speaks English. Book a table in the sun!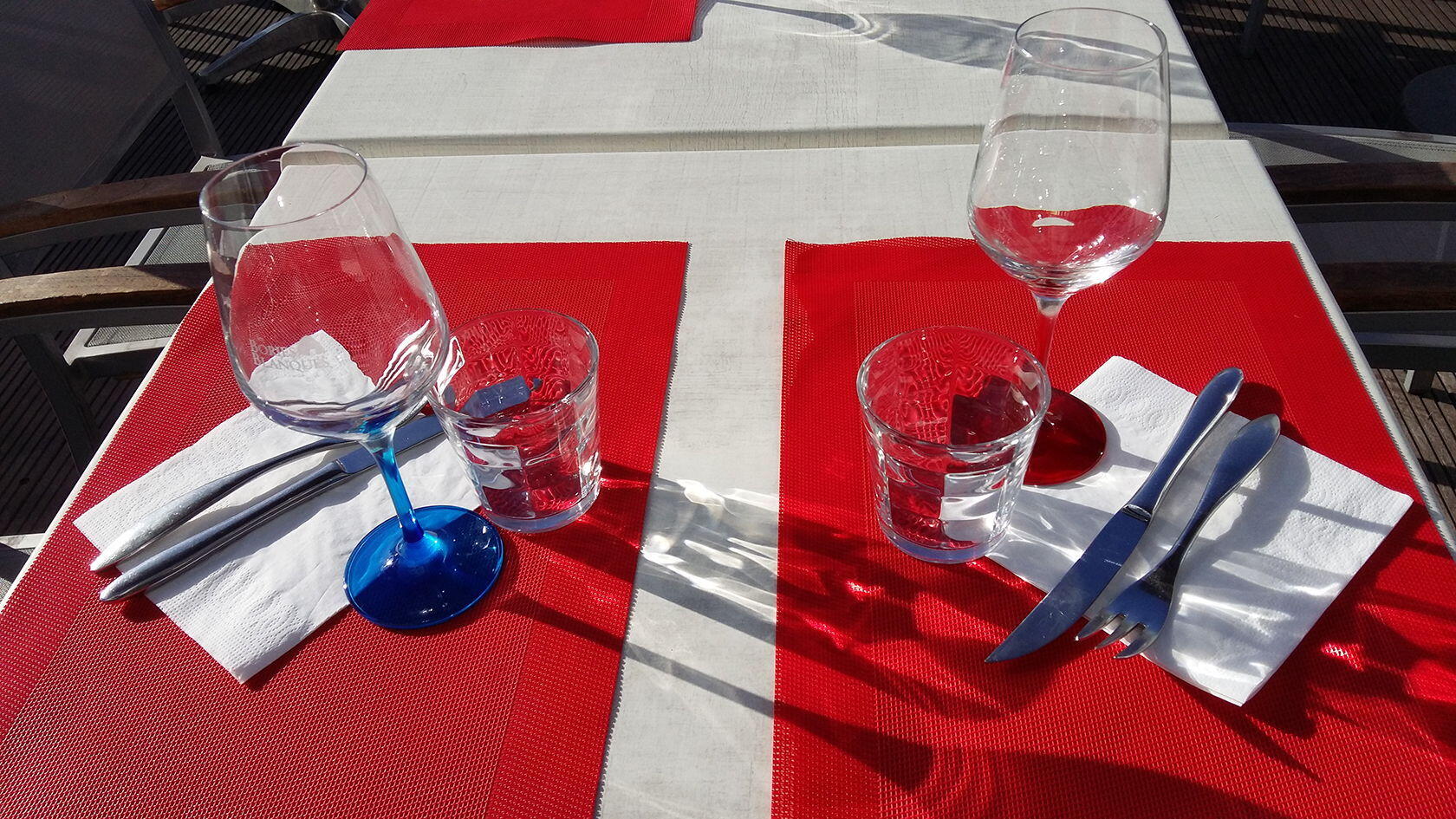 Why Visit Cagnes-sur-Mer
Most of the coastal strip is densely built-up along the Côte d'Azur. However, Cagnes-sur-Mer has almost a "villagey" feel. Heading west from Nice airport, you first hit Saint Laurent du Var followed by Cagnes, then down the road to Antibes, and of course the big draw of Cannes. Here, is a map link for orientation.
Just inland from Cagnes-sur-Mer, there is also the charming medieval heart of the village – the Haut-de-Cagnes. The Château-Musée Grimaldi is one of the highlights of this hamlet. Constructed in 1300 for the Grimaldi family it has been classified as a historic monument since 1948.
Tourist Office (Main) Website
6, Boulevard Maréchal Juin
06800 Cagnes-sur-Mer
Tel: +33 (0)4 93 20 61 64
Opening Hours:
July and August: Monday to Saturday – 9 am to 1 pm and 2 to 6 pm.
September to June: Monday to Friday – 9 am to 12 and 2  to 6 pm, and Saturday 9 am to 12.
Markets – Cagnes-sur-Mer
Fish Market daily (except Mondays) seaside at Cros-de-Cagnes from 9 – 12:30 pm for fresh catch direct from the small "pointu" boats.
Marché de l'avenue des Oliviers
Cros-de-Cagnes – avenue des Oliviers
Tuesdays and Thursdays from 8 am to 12.30 pm
Marché du parking de la Villette
Wednesdays from 8 am to 12.30 pm
Marché du boulevard Kennedy
Racecourse – boulevard Kennedy
Fridays from 8 am to 12.30 pm
Reference Guide: Markets of Provence and the Cote d'Azur
Stay – Cagnes-sur-Mer
The quaint Le Vanillé Hotel offers clean, affordable accommodation and even an apartment for those who prefer a self-catered experience.
Additional reading: Destination Antibes and Nice: Three Nights on the Côte d'Azur
---
Image credits: Spacebetween Self-Catered Walking Holidays in France