Culinary Travel Adventure in Provence with Goût et Voyage
This article was previously published on Marjorie R. Williams website "Exploring the World of Food, Antiques and Crafts.
"Provence as Seen by (and with!) Martine Bertin-Peterson"
I recently had the opportunity to interview Martine Bertin-Peterson, founder of the culinary travel adventure company Goût et Voyage. Martine escorts tours to Provence, Tuscany and Umbria, and she conducts cooking classes. I met Martine when she invited me to speak at Alliance Française in Doylestown, Pennsylvania. We're kindred spirits in our passion for French markets and for Provence in particular, so we immediately hit it off. In this interview, Martine describes what Provence means to her. She also announces a new trip that she is offering for those who wish to practice and improve their French while enjoying the delights of Provence. It's a wonderful opportunity to learn on the go with a pro! Read on.  ~Marjorie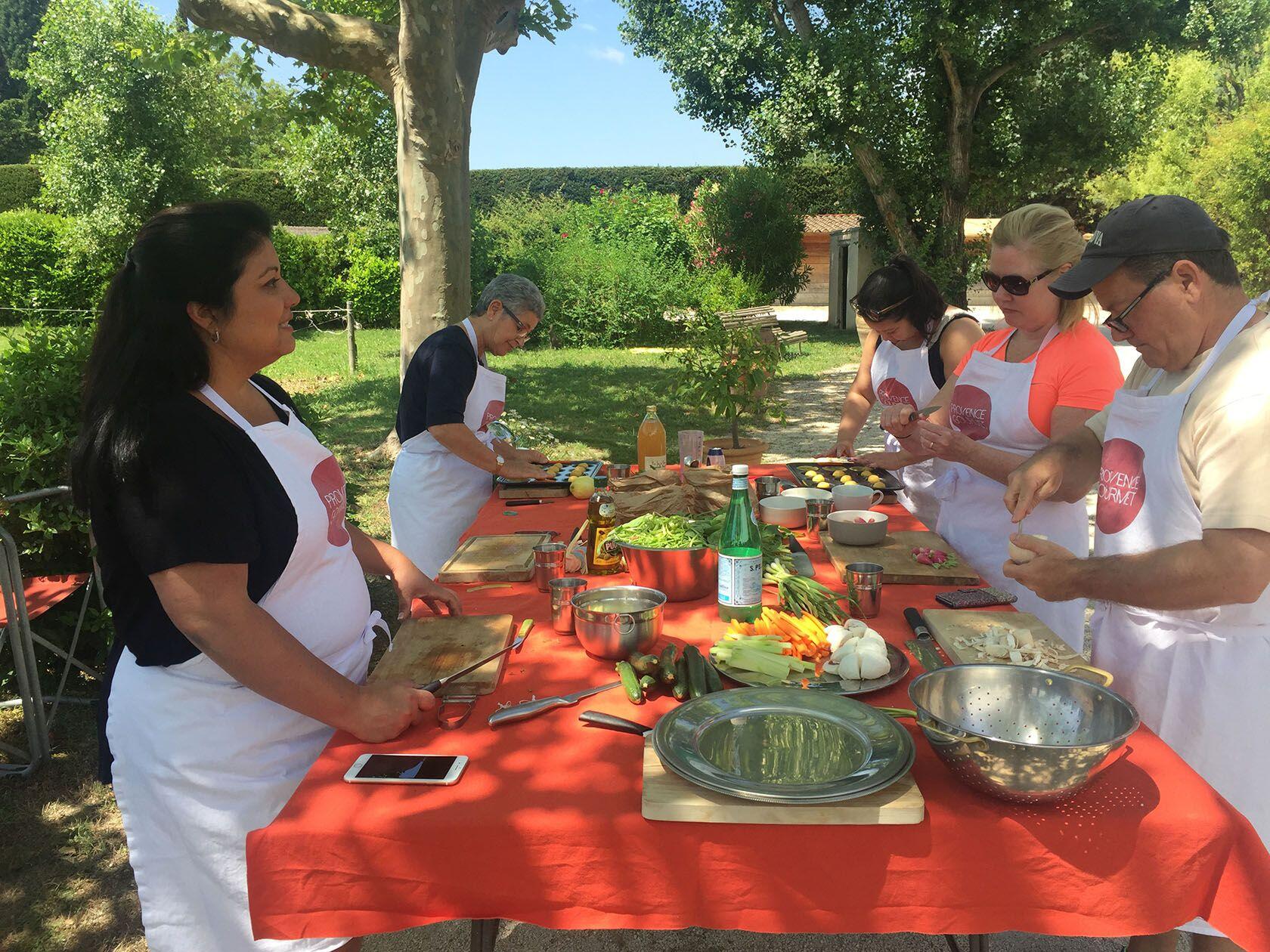 What's your personal connection to Provence?
I was born in Castres in southwest France and have spent time in many other French provinces. I always come back to Provence. The landscape, architecture, weather, markets, flora, and food come together in a unique way to create what I find to be the perfect environment.
What is your favorite food in Provence?
This is a really tough question for a gourmande like me! I love the cheese–especially the chèvre in all its variations. I love the fact that gorgeous produce and provisions are readily available, allowing chefs to offer seasonal dishes that don't require fussy sauces and complicated preparation to shine. Oh, and the wine of course–the rosés and the various Côtes du Rhône varietals.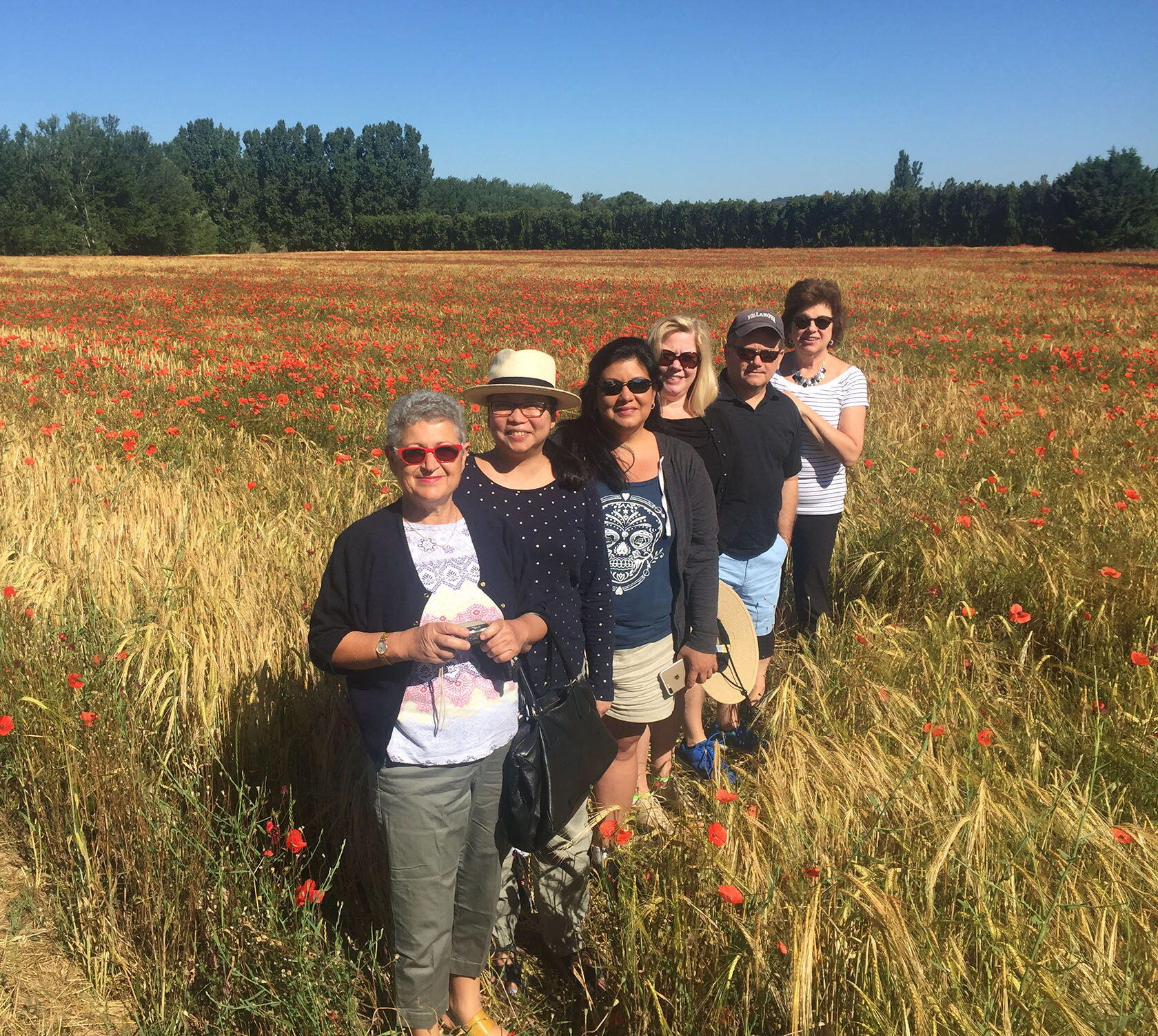 What's an easy Provençal-style recipe that you make?
Every restaurant and cafe in Provence offers its own version of tapenade to accompany an apéro. A delicious combination of the region's most popular ingredients–olives, garlic, basil, pine nuts and olive oil–there are a million variations you can serve on toasted baguette slices. Tapenade is so simple and quick to pull together. You'll never buy a jarred variety again.
Continue reading here for the full interview with Martine Bertin-Peterson by Marjorie Williams. Discover Bertin-Peterson's top picks for French films, favourite Provencal markets and what to shop for while you are there.
Book your Goût et Voyage "Taste of Provence" tour.
---
Who is Marjorie Williams?
A graduate of the University of Chicago Marjorie Williams began her career in book publishing, ending up as the Editorial Director of Harvard Business Press. However, it was living in France in 1995 while her husband was teaching at INSEAD, in Fontainebleau, where she discovered her first French market. Delighted and mesmerized, Williams began researching and writing about the best markets in Paris. She followed the success of her first book "Markets of Paris" with "Markets of Provence: Food, Antiques, Crafts and More"
Read more about Marjorie Williams' and her book on Provence here.
---
Image credits: photos published with the permission of Goût et Voyage