Coquilles Saint-Jacques a French Seafood Classic
Fishing for Coquilles Saint-Jacques or King Scallops takes place a long way from Provence in France. The Pecten maximus grow in the cool waters of the northeastern Atlantic in Brittany and Normandy, where the annual fishing season runs from October 1st to May 15th (more here).
This recipe for Coquilles Saint-Jacques is a French seafood classic found on restaurant menus throughout France. For maximum culinary impact, serve this dish as I did, the old-fashioned way, in the scallop shells. If you are wondering what to drink with this rich-flavoured dish, I recommend a sauvignon blanc – read my article on Provence Wine Zine.

Coquilles Saint-Jacques
This recipe was adapted from Saveur Magazine.
Ingredients
8

oz (228g)

White Button Mushrooms

finely minced

6

tbsp

Unsalted Butter

3

small

Shallots

minced

2

tbsp

Parsley

minced

1

tbsp+ leaves

Tarragon

minced and leaves for garnish

Sea Salt

to taste

Freshly ground black pepper

to taste

3/4

cup (177ml)

Dry Vermouth

white

1

Bay Leaf

6

large

sea scallops

remove the tough muscle

2

tbsp

Flour

1/2

cup (118ml)

Heavy Cream

2/3

cup (185g)

Grated Gruyère cheese

a squeeze of

Fresh Lemon Juice

4

Scallop Shells

or small gratin dishes for serving
Instructions
Heat mushrooms, 4 tablespoons butter, and two-thirds of the shallots in a medium saucepan over medium heat; cook until the mixture forms a loose paste, about 25 minutes.

Stir parsley and minced tarragon into mushroom mixture; season with salt and pepper.

Divide mixture among 4 cleaned scallop shells or shallow gratin dishes.

Bring vermouth, bay leaf, salt, and 3/4 cup water to a boil in a 4-quart saucepan over medium heat.

Slice the scallops sliced along the equator (middle). Add scallops to the liquid and poach until barely tender, about 1 minute.

Remove scallops from the heat. Place three slices over mushrooms in each of the shells.

Add the remaining shallots to the cooking liquid and boil until reduced to 1/2 cup, about 10 minutes; set aside.

Heat broiler to high.

Heat remaining butter in a small saucepan over medium heat. Add flour; cook until smooth, about 2 minutes.

Strain the reduced cooking liquid into the flour-butter mixture and add cream; cook until thickened, about 8 minutes.

Add cheese and lemon juice; season with salt, and pepper and divide the sauce over scallops.

Broil until browned on top, about 4-5 minutes; garnish each with a tarragon leaf.
Other Recipes with Scallops: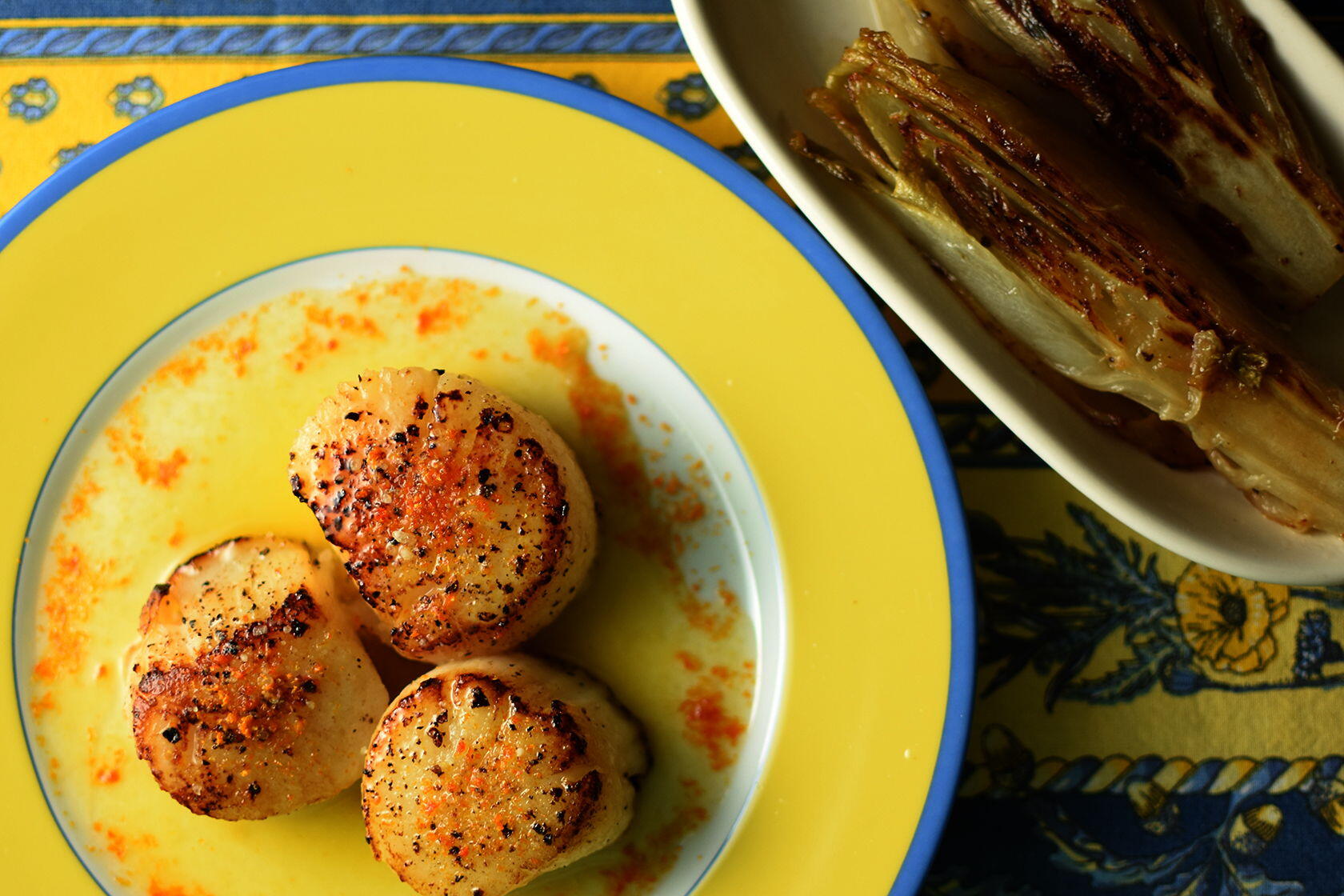 Saffron Spaghetti with Buttery Scallops
Seared Scallops Coquilles Saint-Jacques and Caramelized Endives
Seared Sea Scallops and Cauliflower Purée
Butternut Squash Soup with Roast Scallops
Seared Scallops (St. Jacques) with Creamy Curried Leeks