City Break Speed Dating 24-hours in Marseille
A Quick Visit to Marseille
Guest post and photos by Renata Haidle:
Not sure the above is a thing, but every time I visit a place for a very short time I think of speed dating. The anticipation. The pressure. Showing your best assets in a very limited time. Not the best way to start a relationship, but then again, I'm not here to judge. I'm here to tell you about my less-than-24-hour trip to Marseille. I fell in love with the city at first sight.
Dispelling the Image
Now, let me admit something that I'm not exactly proud of. I had come to Marseille rather prejudiced, mainly because of the eponymous show on Netflix, starring Gérard Depardieu and Benoît Magimel. Although enjoyable (again, not here to criticize) and with a gripping plot, it presents the city in a light that is slightly less than favourable. The story goes back and forth between the colourful, touristy areas surrounding the port and the city hall, to the outskirts, where the Mafia and violent gangs rule, and law-abiding citizens are frightened to even walk through certain areas. Granted, my city has those areas as well, and chances are, if you live in a city that's large enough, yours does too. Nevertheless, when the time came to board my EasyJet flight to Marseille from Heathrow, I was just a little bit apprehensive.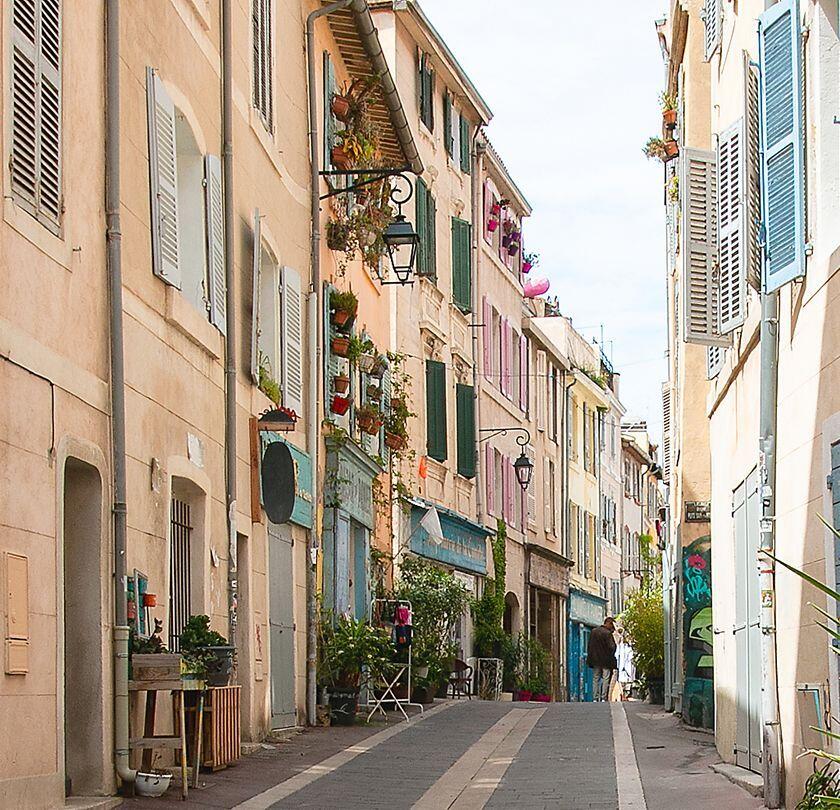 24-Hours in Marseille
Fast-forward to landing in Marseille at sunset. The sky was a delicious combination of pink, orange and blue pastels. At first glance, I saw the top of the airport building, and the signage: Aéroport Marseille Provence. No, this is not a typo, that is exactly how they spell it, all lower case, playfully. Might have been that, or the oh-so-Cézanne sky, but I felt all my apprehension disappear and a feeling of giddiness quickly replaced it: "you are in Provence, Madame", I said quietly to myself.
The ride downtown was quick and comfortable via one of the buses that link the airport to the central train station, Marseille Saint-Charles. From there, I tried to take a cab to my hotel, the NH Collection, but the taxi driver politely refused to take me. "It's only a couple of minutes away, right around the corner to your left," he said in French.
Modern Comfort
It turned out to be a bit longer than that, a 20-minute fast walk down a sloped street, heading towards the port. Once there, I was pleasantly surprised by the modern and clean vibes of the hotel. The friendly reception staff spoke mostly French and very little English. Either that or they really enjoyed seeing me struggle to come up with the correct French words. Long story short, I woke up the next morning to a quiet and beautiful view that reminded me of a quaint Parisian neighbourhood. The tall and narrow French doors open to a little wrought-iron balcony overlooking a leafy street and several Haussmannian-style buildings.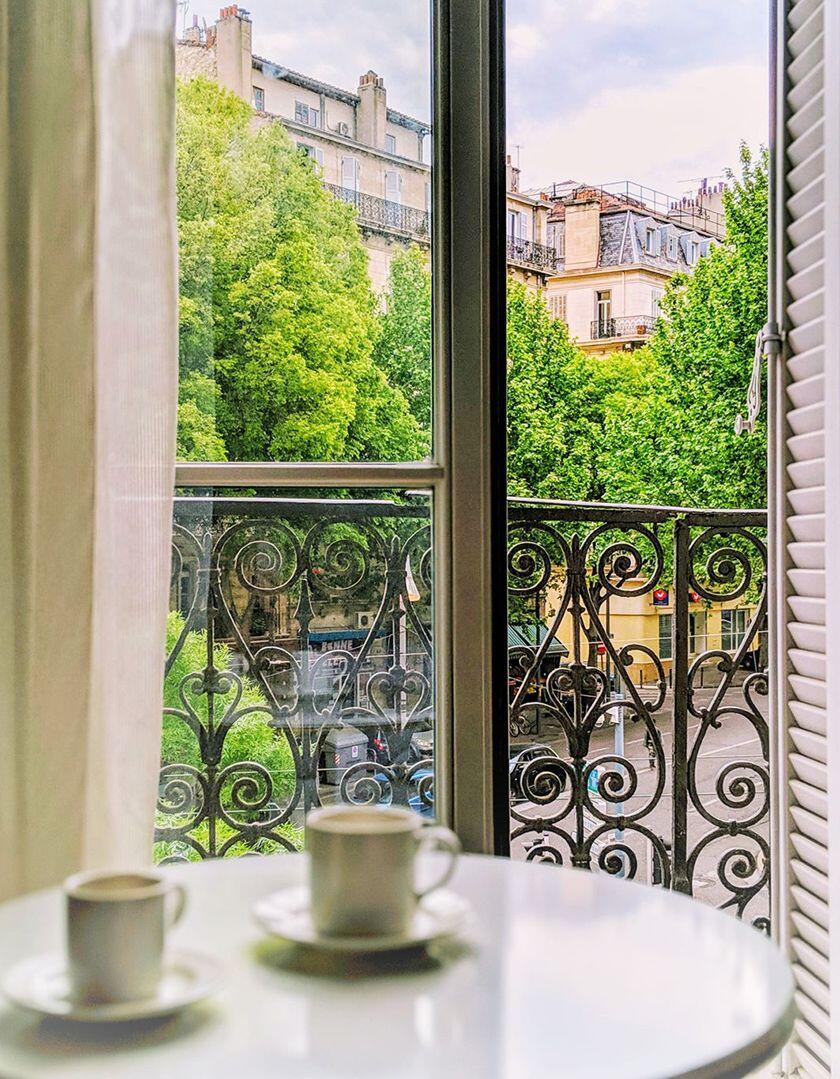 I checked the time and realized that if I were to see any of Marseille before my afternoon train to Aix-en-Provence, I had to hurry. I headed down towards Le Panier, and just a few minutes later I had arrived.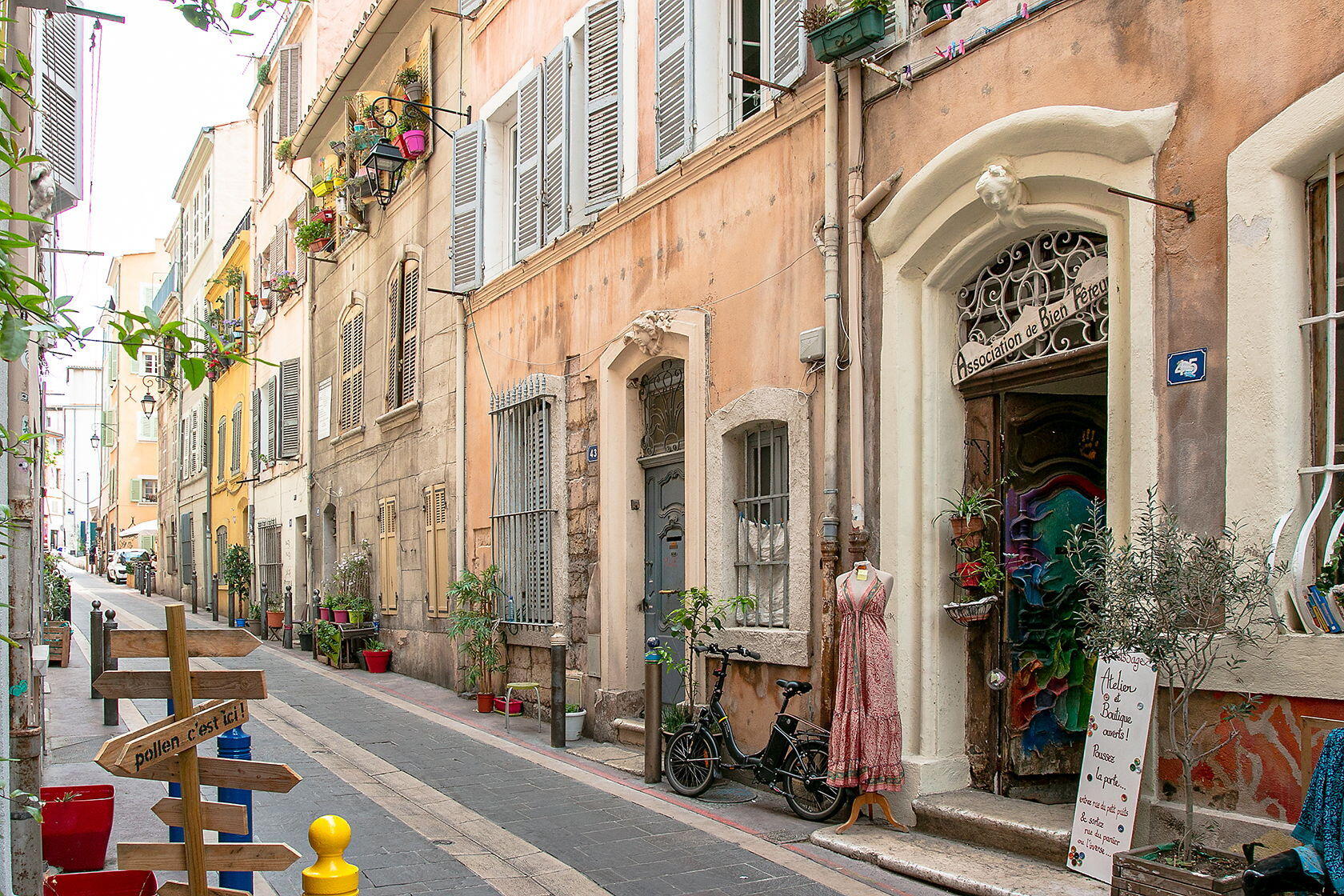 Marseille's Le Panier
Le Panier is the oldest neighbourhood of Marseille, and it shows it. Its age is engraved in the
old peeling walls and the cracked shutters. It has this feeling of "been here a long time, have seen it all". The Greeks. The Romans. The Visigoths. The French, naturally. And, more recently, the North Africans. The history is rich and tumultuous, and there is much that has been written on the subject, fact and fiction.
The most unexpected thing about Le Panier though is its young and vibrant street art culture. On some of the streets, graffiti covers just about every inch of wall space available. And it's really good graffiti. Vivid colours, original pieces, as well as familiar ones that I had seen on the streets of Paris. The works of street artists Manyoly, Alberto Ruce, Mr difuz, Nitram Joke, and many others stopped me in my tracks, over and over.
There is so much beauty and creativity on display, so much playfulness, and of course, there is the element of defying authority that comes with this form of art. But Le Panier is so much more than great graffiti. I ran into several cute little shops, selling everything from clothes to old books. Each store has curb appeal, drawing you near with random artwork or clever quotes painted right on their door. And of course, this being France, the café culture is being strongly represented, and reflected back in the artwork. The very popular Bar de 13 Coins (Bar of 13 corners), on the corner of Rue Sainte-Françoise and Rue du Petit Puits, was packed with people whiling away the afternoon over pastis or a pichet of rosé.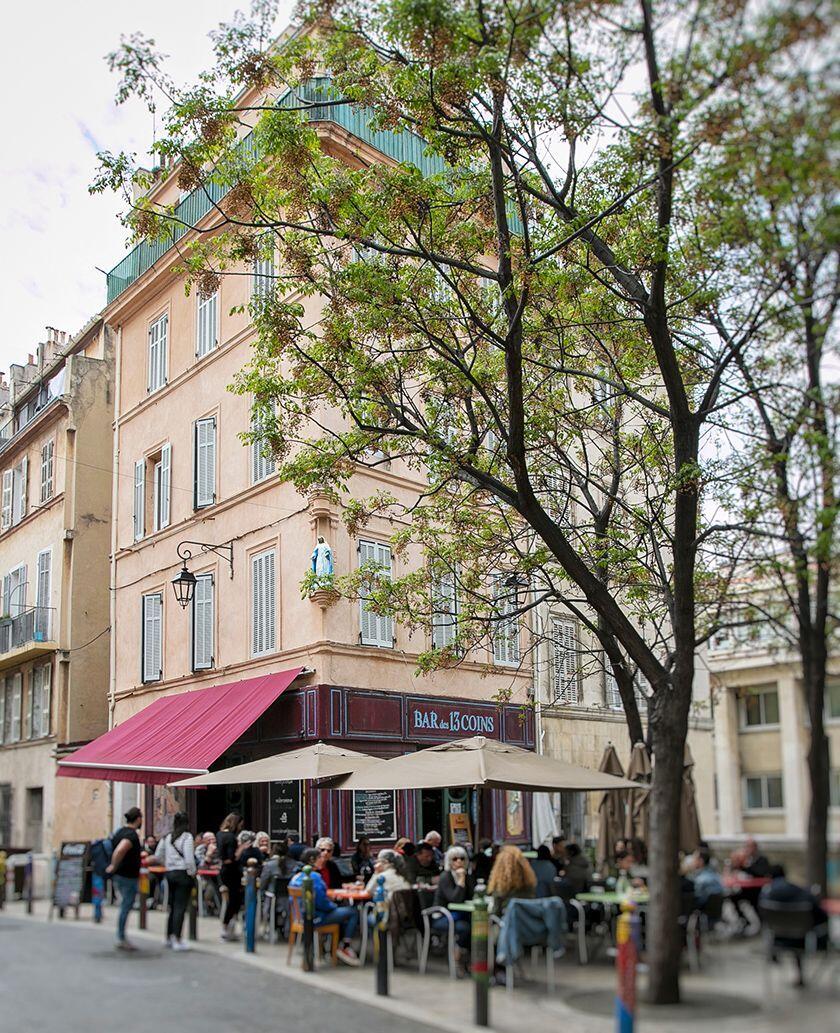 Around the corner, I found Bar de 13 Coins immortalized in paintings hanging in an outdoor art gallery. I ventured down the alley, admiring the colourful pieces and wishing I wasn't limited by the capacity of my carry-on luggage on my trip back home.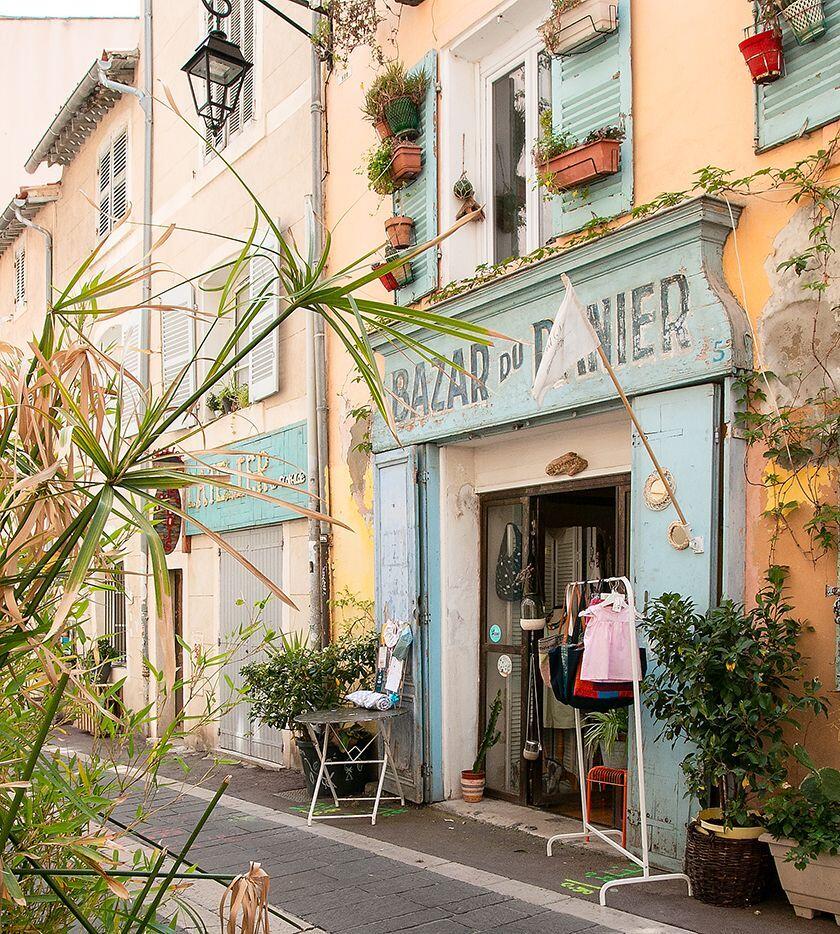 Le Panier is relatively small. You can go up and down its hilly streets in about an hour if you so wish. Or take your time and explore every narrow street and every graffiti-covered corner. Since I did not have the luxury of time, I hurried out towards the port, stopping briefly to see the majestic Cathédrale Sainte-Marie-Majeure, or La Major, as it is also known.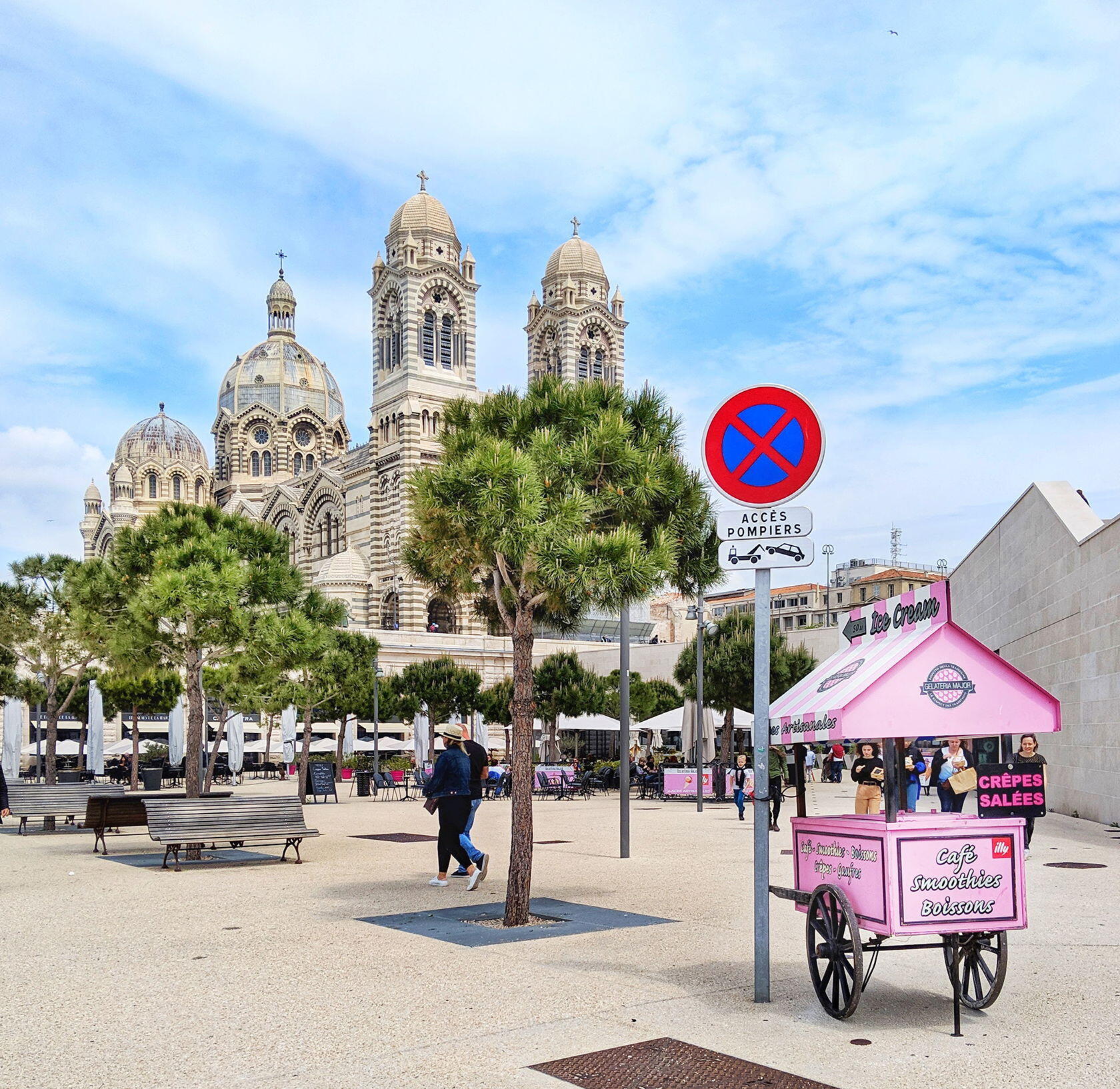 Initially built in the twelfth century, only part of the old building remains. The new cathedral was built in the nineteenth century in Byzantine-Roman Revival style and it is majestic. At 142 meters long, it is one of the biggest churches in France.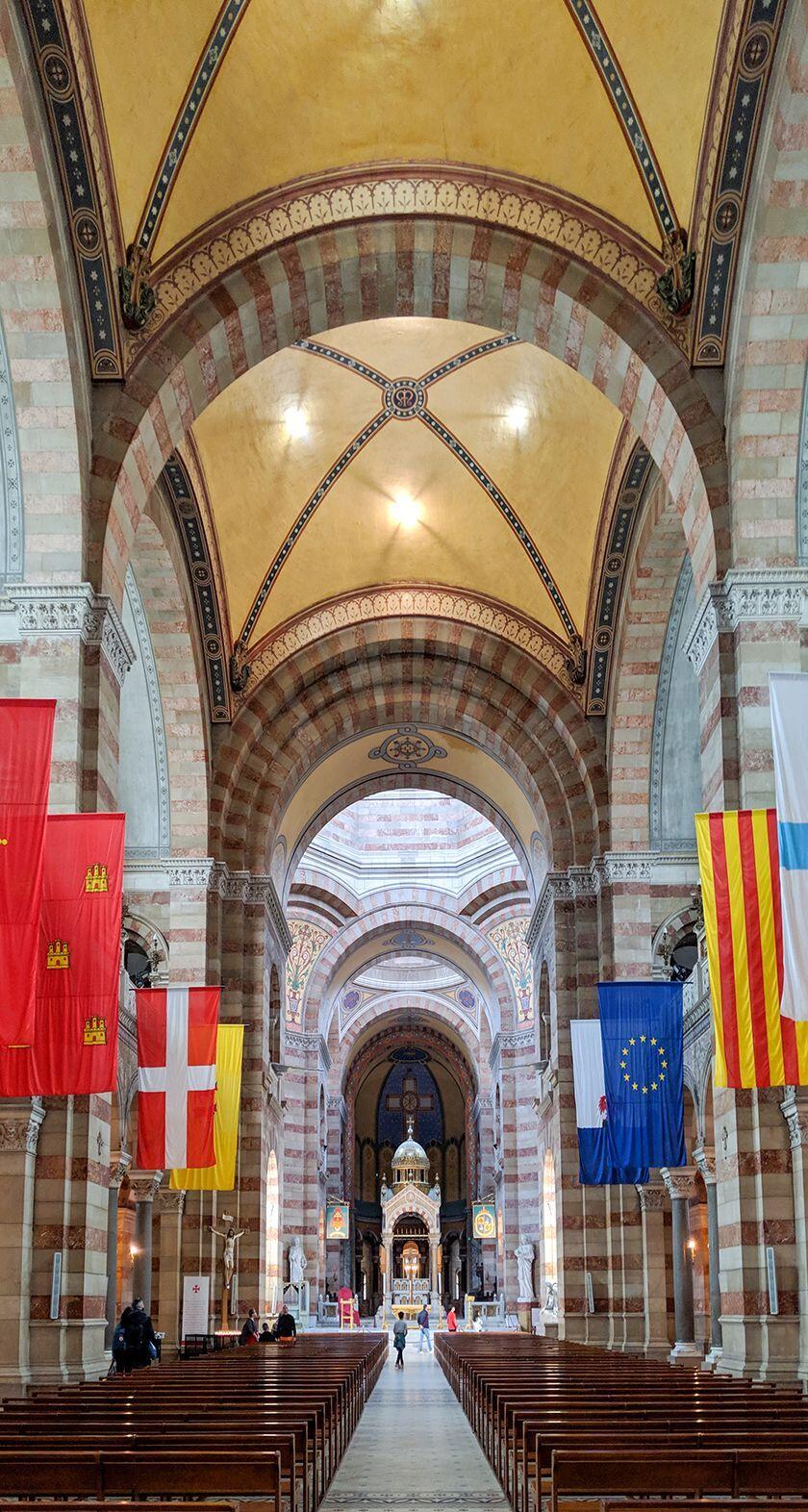 MuCEM and Fort St Jean
After the obligatory photos here, I resumed my walk towards the port, on the sunny promenade that hosts the very modern MuCEM – Musée des civilisations de l'Europe et de la Méditerranée, and the stunning Villa Méditerranée, an architectural delight that begs to be photographed.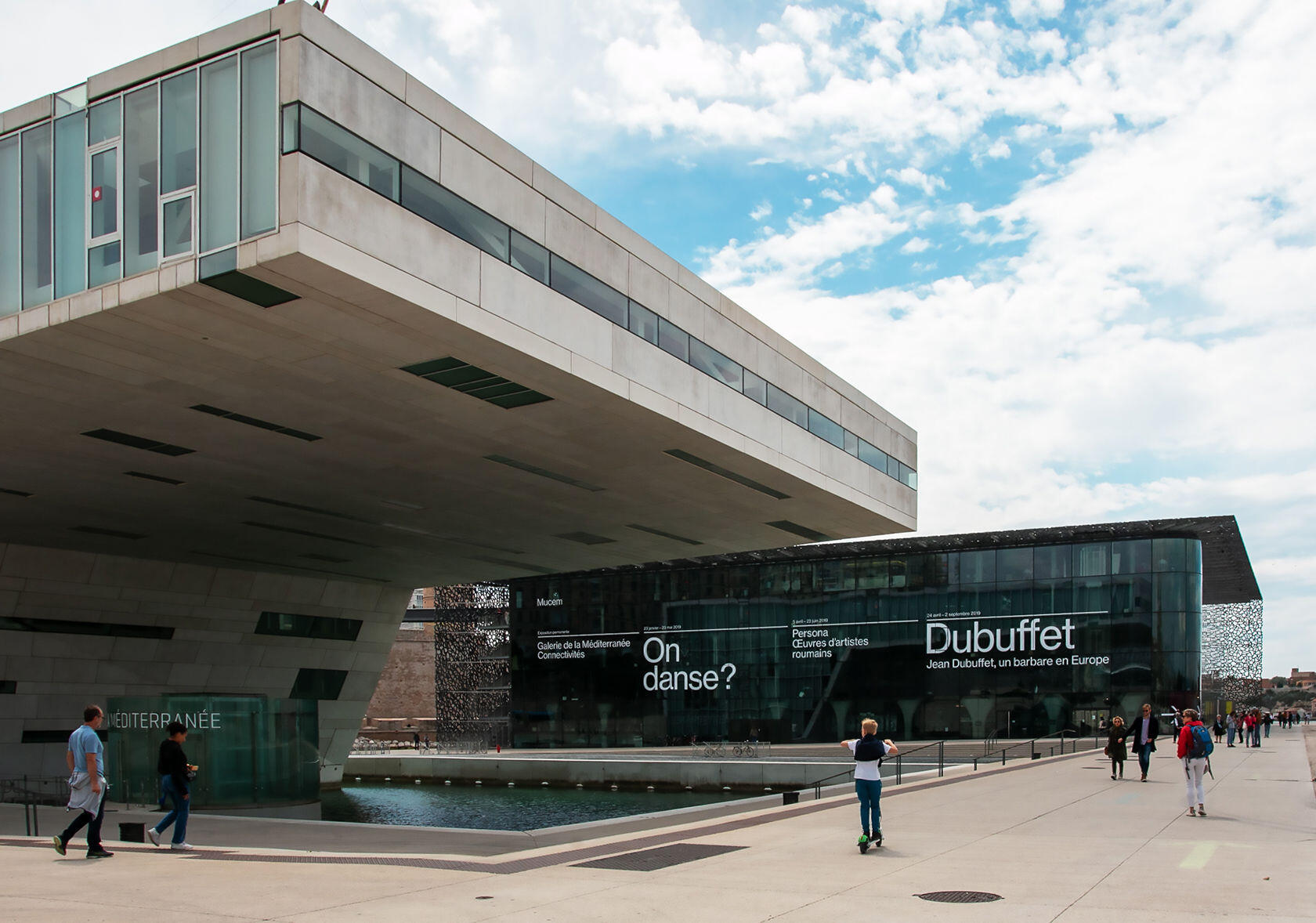 Regretting my lack of time once again, I walked around the MuCEM to get a better view at Fort Saint-Jean. Built in the seventeenth century under the orders of Louis XIV, the Sun King, the old fortress is part of MuCEM. The two structures are connected by a footbridge suspended above the water.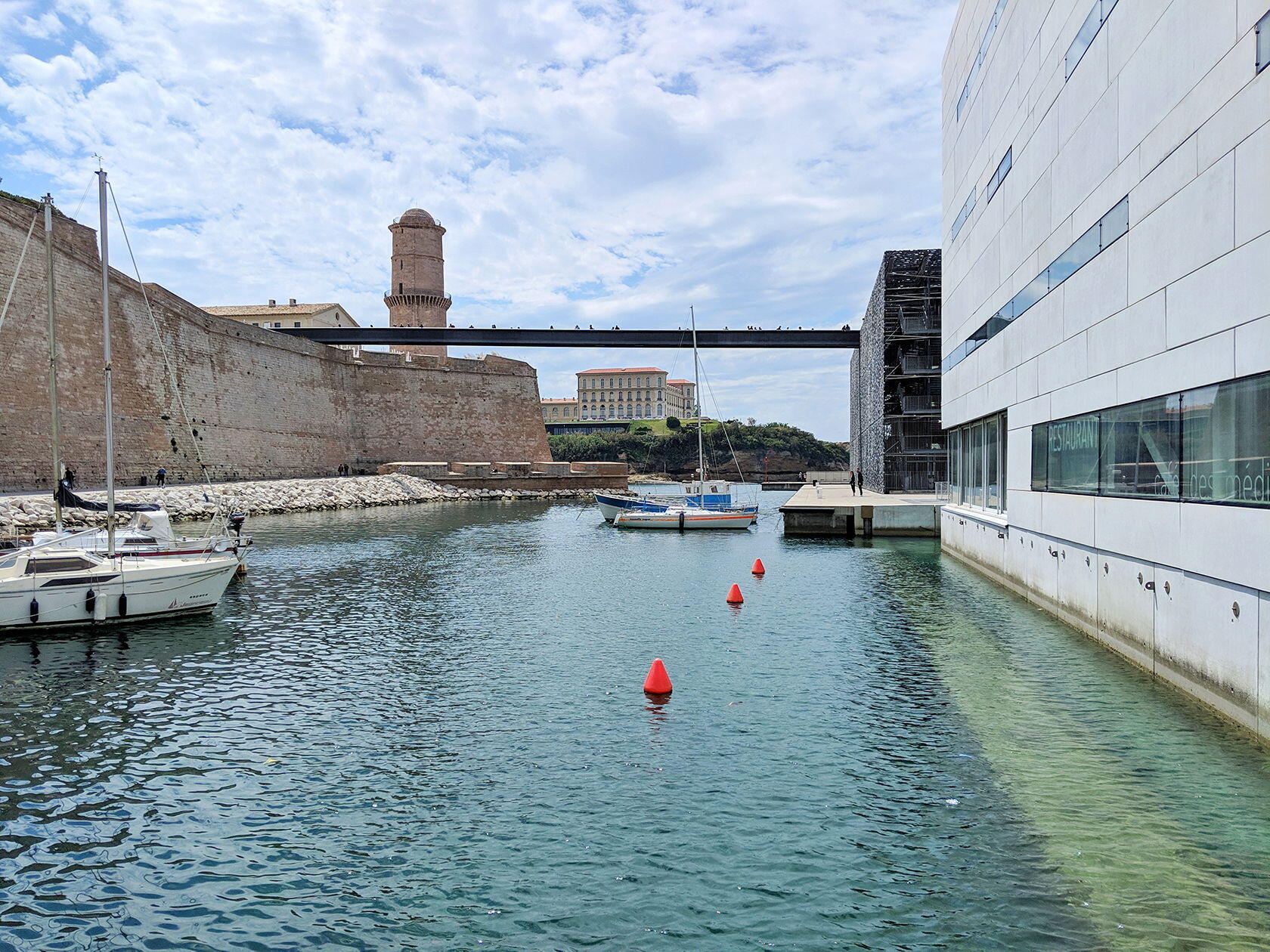 As I found out later, its gardens are free to visit and offer an unmissable panoramic view of the city. Sadly, I did miss it, as it was now time to head back to the Saint-Charles train station and embark on yet another adventure in the heart of Provence. My speed date with Marseille had gone remarkably well. Looking forward to getting to know it better – I cannot wait to return.
Additional reading: Marseille a City that History Buffs Should Visit
---
Author and Photographer
Renata Haidle is a Billings, Montana-based travel, architecture, and fine art photographer. She travels to Europe regularly, mainly to France and England, where she photographs beautiful architecture and snippets of everyday life. Her travel photos have been featured in numerous publications and exhibitions. Her travel book featuring photos of the French Riviera was recently published. Available on Amazon and Apple Books.
Discover Renata's work on her website at www.renatahaidle.com. Follow Renata on Facebook, her fabulous Instagram feed, and on Twitter @renatahaidle.