Charming Lourmarin Where I Live in Provence
Enamoured with Provence, Caroline Longstaffe is one of our regular contributors. Her blog, Shutters and Sunflowers, is about passion, living the journey and not waiting to get to the destination. A traveller at heart, Caroline says she was most probably born under a wandering star. Born in England, she lives in California but definitely has a soft spot for France.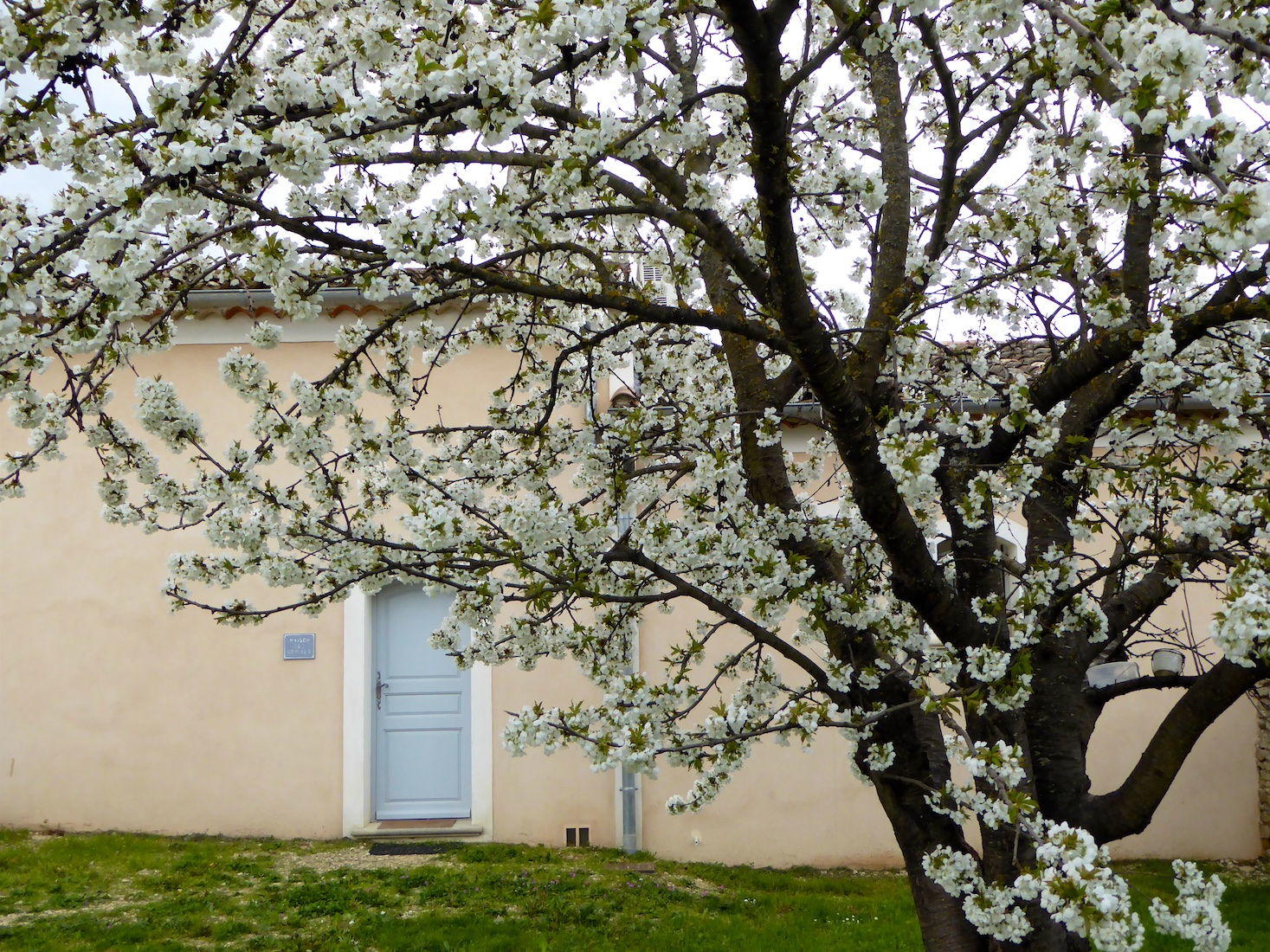 Charming Lourmarin Provence
It was not an easy choice. Caroline and her husband had the opportunity to live in both Uzès and Lourmarin. Drench in history, both towns deliver the wonderful trappings of the South of France lifestyle. However in 2017, after much debate, they bought a pied-a-terre in the charming village of Lourmarin. They now live part-time in Provence, and the balance of the year, their village home (Maison des Cerises) is available for rent.
---
Where I Live, Lourmarin
Tell us a bit about where you live in Provence?
Lourmarin is a tiny, medieval village huddled under the southern Luberon's gently folded landscape. Surrounded by vineyards, olive groves, abundant fruit trees, next to timeless perched villages and in the summer, endless fields of fragrant lavender. It is a magical place of meandering, cobbled streets lined with crumbling clay tiled, golden stone buildings. The village is full of vibrant cafes, restaurants, chic shops and galleries – watch the video here:
In addition to its' beauty and charm, Lourmarin has a real sense of community. I think the locals cherish this, the sense of belonging to a small village where people are genuine and care about each other. At the same time, they are an easy 30-minute drive from the vibrant city of Aix-en-Provence. It's only a little further to Marseilles and Avignon, 40 minutes from the TGV and 50 minutes from Marseille Provence (MRS) airport. So, a great location!
Lourmarin's proximity to these cities makes it a popular weekend destination for locals living in those cities. The regular stream of visitors keeps Lourmarin vibrant all year and allows businesses to thrive even during the winter months. This is something that differentiates Lourmarin from many of the nearby perched Luberon villages which are effectively closed in the off-season.


Every Friday morning Lourmarin plays host to a bustling market, colourful stands packed with locally grown produce, table cloths, baskets and all the treasures of a Provencal marché! The flower stall is my favourite they are always friendly and the flowers are some of the freshest.
Why (in your opinion) is Lourmarin a great place for someone to visit?
Quite simply because it is truly one of the prettiest villages of Provence, defining the very essence of what people dream they'll find in Provence. People stay in Lourmarin to just 'be'; to spend long, lazy days under cornflower blue skies, lavender perfuming the air and crickets chattering through the night.
Tour its mystical 15th-century chateau and enjoy an evening at one of its' lavish music concerts.

Surrounded by resplendent vineyards and olive mills rent a bike and explore the closest ones. We love, Domaine de Cavale, Domaine de Fontenille, Château Constantin and a bit far to cycle although only 15 minutes by car, Château La Coste. Meander through the perched villages where there's a different market to discover each day or go further afield to the nearby cities of Aix-en-Provence, Avignon or Marseille.
Lourmarin exudes charm and ambience. A place of artists and authors, it is no surprise that living near Lourmarin inspired Peter Mayle to write (A Year in Provence, and A Good Year) and that its where he chose to settle. Lourmarin has a timeless beauty that reaches into the soul, a place to dream about and yearn for when you're far away, somewhere once you've visited you'll always long to return.
Is there a must-see attraction in Lourmarin?
Don't leave town without visiting the Lourmarin Château, the oldest Renaissance chateau in Provence.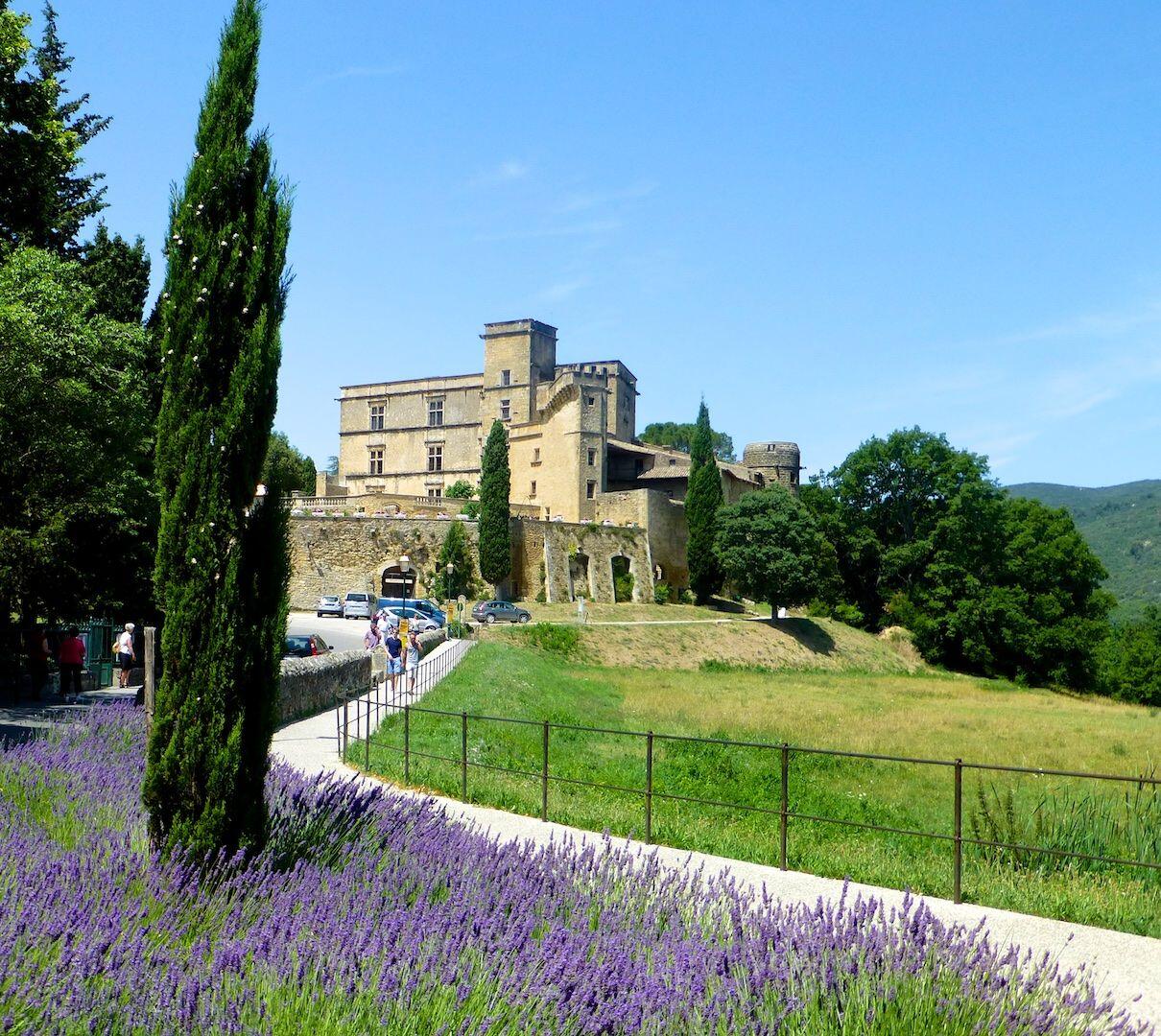 Eating and Drinking in Town
Where do you go for coffee?
One of our favourites is Café Gaby (Place Ormeau) in the center of the village, it's always open and we love it's owner Marc whose welcome is sincere and warm. Another favourite, although not always open is Maison de Café, (2 montée du Galinier) a pretty upstairs terrace café that has excellent coffee, homemade hot chocolate and the best presentation for miles! It's a lovely refuge for a cool drink on a hot day and a great place for an evening drink before or after lunch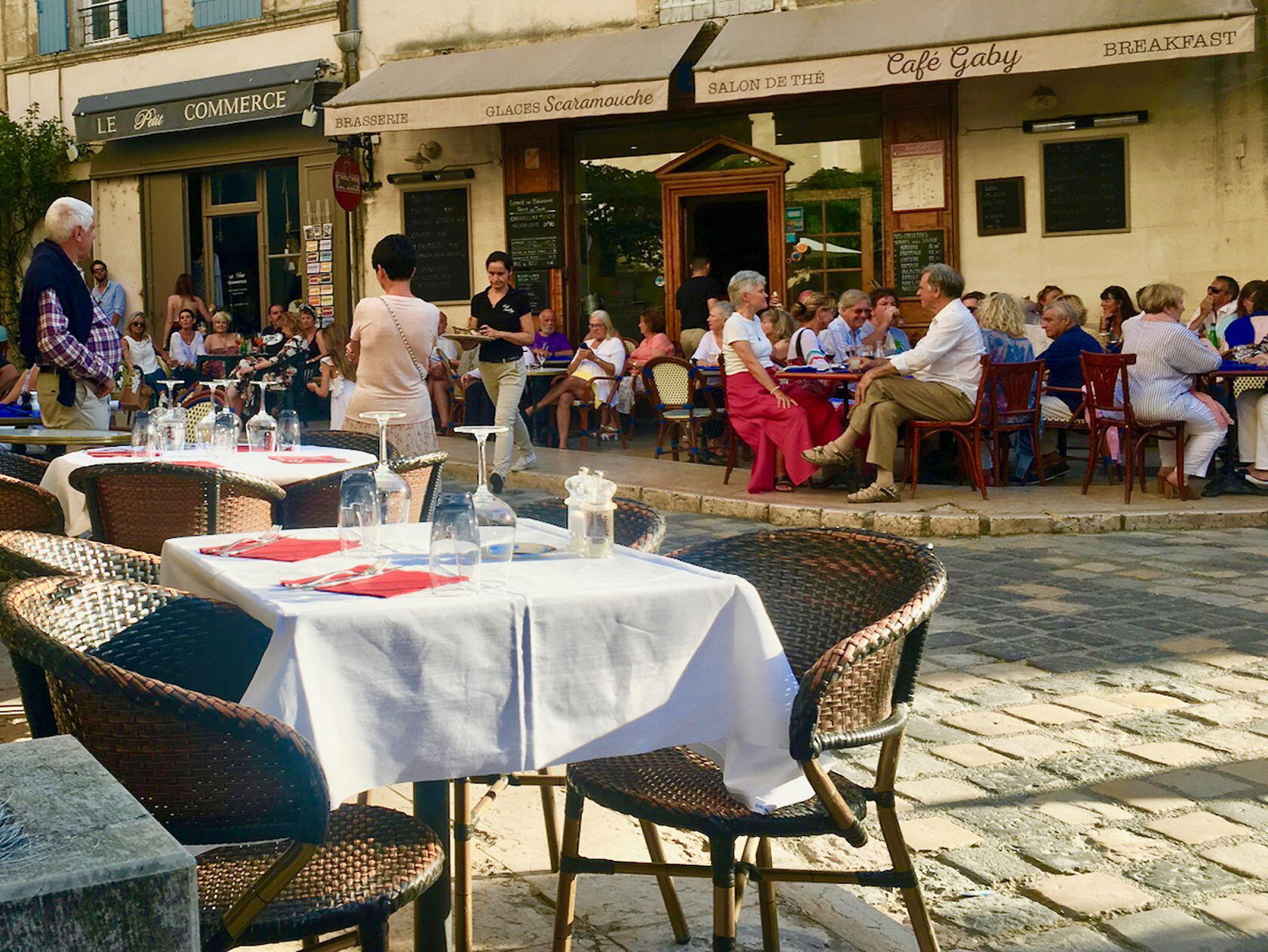 Do you have a favourite bakery?
Lourmarin has only one excellent boulangerie (8 Rue Henri de Savornin). We love their fanettes (similar to a baguette only a little denser). On Mondays, when it's closed, we buy bread at our local Vival, Lourmarin's mini grocery store (Place du Clos Immeuble).
Where do you recommend for a casual lunch with friends?
Newly opened Gina's (Route d'Apt,) or L'Insolite (Rue Henri de Savornin). Le Moulin de Lourmarin (Rue du Temple) also offers a good value market day lunch menu.
Where is your go-to spot for an apéro?
Maison de Café (2 montée du Galinier) has a small outdoor terrace, and in colder months a fireplace.
What is your top pick for a romantic dinner?
Le Numéro 9 Restaurant at 9 Rue du Temple opens March 1st for the season. They offer a lunch and dinner service most days except Wednesdays.  Le Moulin de Lourmarin also on Rue du Temple is a boutique hotel with a lovely restaurant.
Where do you like to go for dinner with friends?
La Louche à Beurre on Boulevard Le Rayol, Route d'Apt is a great choice for traditional Provencal dishes.
What is your pick for nearby family-friendly dining?
We have several go-to restaurants that suit all ages La Louche à Beurre, L'Insolite (Rue Henri de Savornin) or Pizzeria Nonni (2 Rue Albert Camus) – See my travel guide for information about Lourmarin and it's restaurants.
What about Shopping in Lourmarin?
Where do you head to for clothes (sport/fashion or other) shopping?
Lourmarin has several small fairly expensive boutiques, I like Albertine & Kut (Rue de la Juiverie) and Le Petit Commerce (16 Rue Henri de Savornin). Rose de Bagatelle for exclusive women's clothing.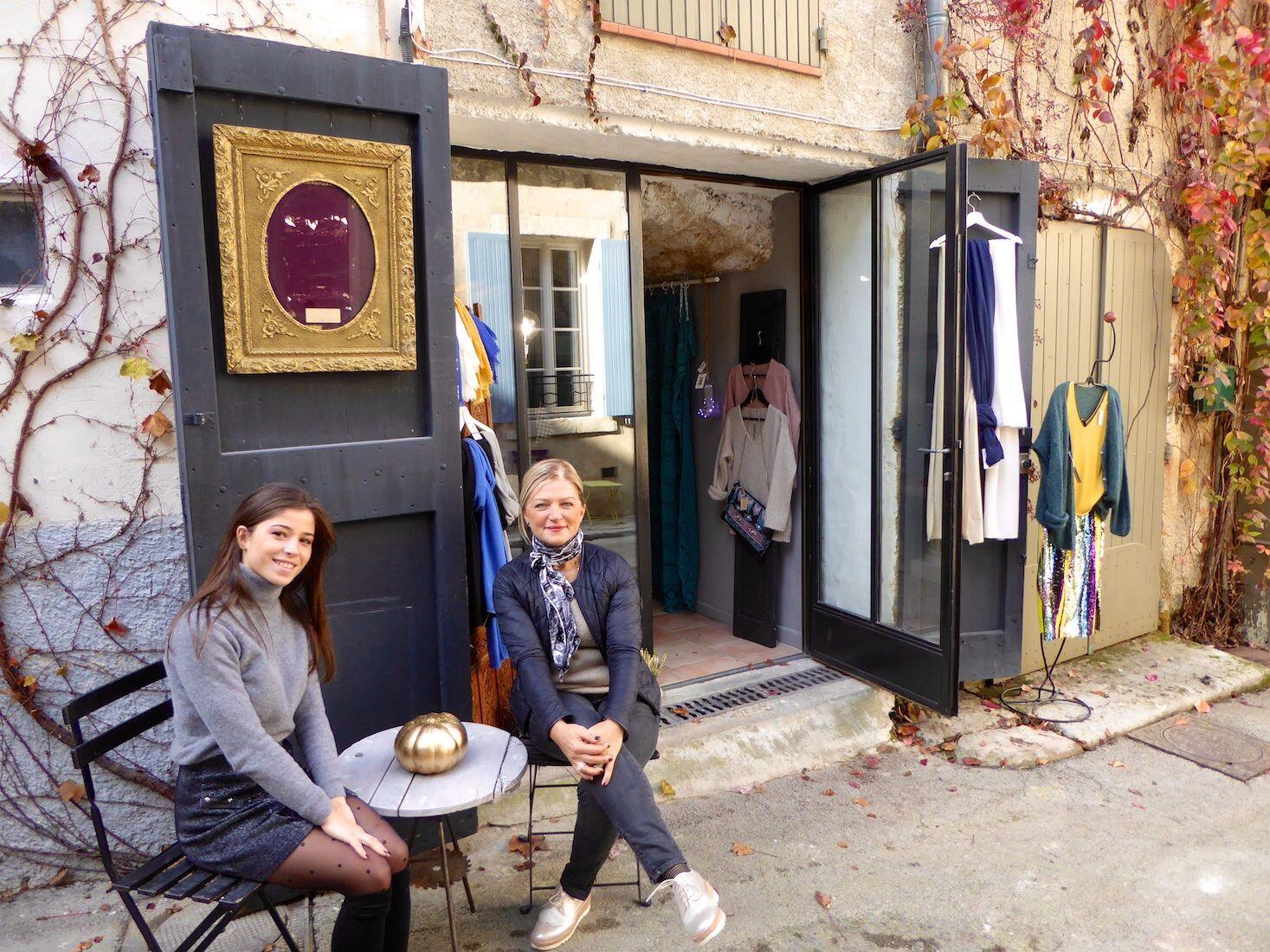 What about shopping for home decor?
Lourmarin has plenty of small shops with lovely items for home décor and gifts. Here are a few of my favourites: Boutique Alexine, (23 Rue du Temple), La Colline, (Rue Henri de Savornin), Kot (Rue de la Juiverie), Souleo de Provence (14 Rue Henri de Savornin),  L'Apothicaire de Lourmarin (6 Rue Henri de Savornin).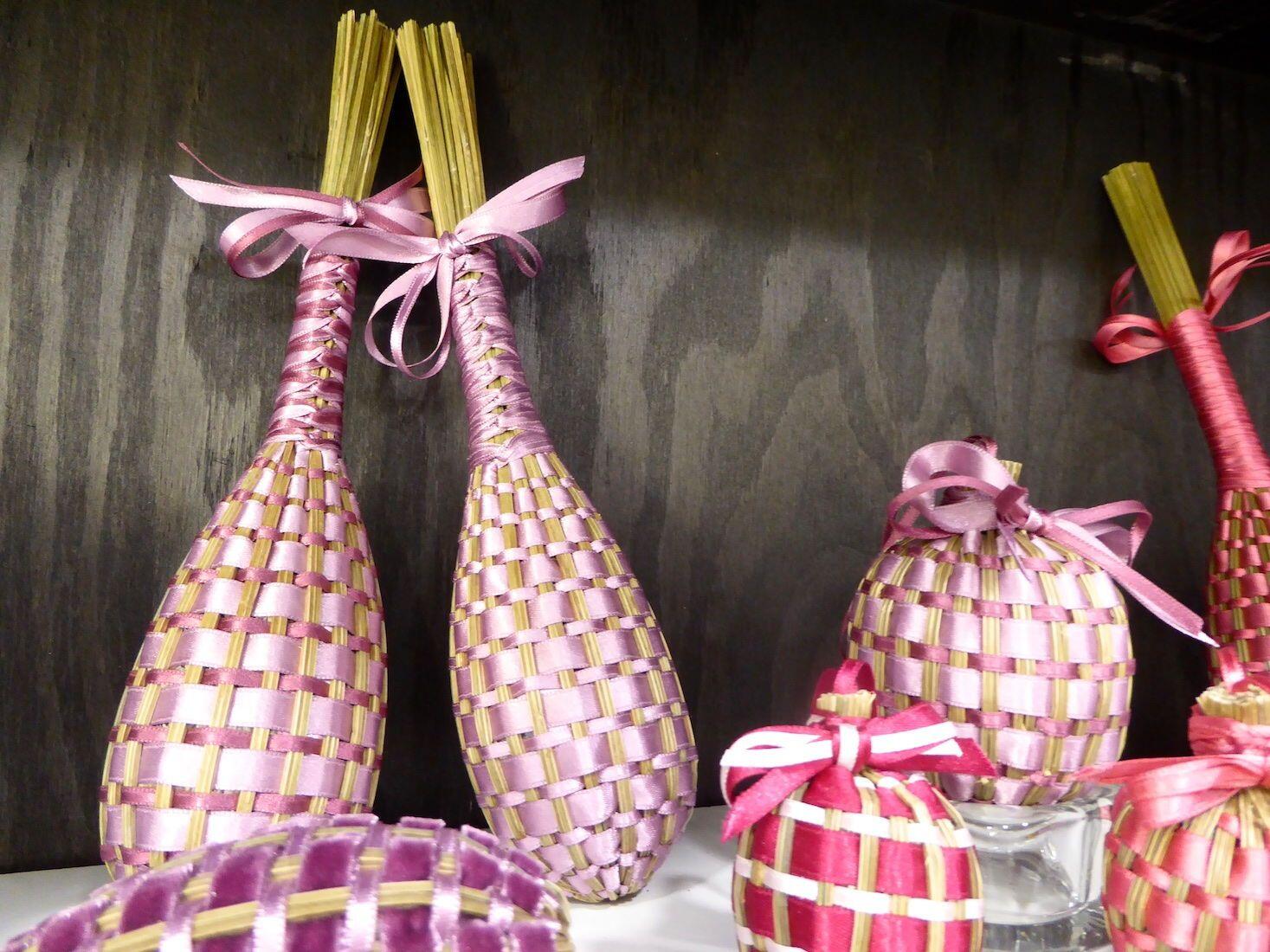 Lavender wands – fuseaux – make wonderful gifts and long-lasting souvenirs. Discover the collection at La Maison FRANC.
Touring Provence from Lourmarin
What is the best day trip from Lourmarin?
Lourmarin is a great location for exploring the nearby perched villages of the Luberon~ Bonnieux, Menerbes & Lacoste, Gordes and Roussillon to mention a few. The valley is especially lovely in June and July when the lavender is blooming. See for yourself in my video:
On a Sunday we love to visit the antique market at L'Isle-sur-la-Sorgue which hosts a huge Provencal market on the same day. The lovely university town of Aix-en-Provence is only a 30-minute drive away, Marseilles and Avignon a little further.

The delightful market town of St Remy de Provence is under an hour away, near Les Baux de Provence and one of my most favourite places to visit the incredible video art extravaganza show at Carrières de Lumières.
The beautiful bastide town of Uzès is just a little further (Uzès Travel Guide) as are the coastal towns of Cassis and Bandol.
Where to Stay in Lourmarin
If money was no object, where would you recommend staying?
In Lourmarin, itself is the charming small boutique hotel, Le Moulin de Lourmarin with 17 rooms and two (2) suites.
However, for a luxurious break with a pool and spa set in beautiful grounds with two restaurants (one with a Michelin Star), I'd stay at the recently opened Domaine de Fontenille five (5) miles from Lourmarin.
Where do you recommend for comfortable accommodation?
Our village house – Maison de Cerises is perfect for a self-catering holiday for 1-2 couples. There are two (2) master bedrooms with ensuite bathrooms and you can't beat the central location.
All rights reserved. Perfectly Provence articles and other content may not be published, broadcast, rewritten (including translations into other languages) or redistributed without written permission. For usage information, please contact us.
Syndication Information
Affiliate Information
As an Amazon Associate, this website earns from qualifying purchases. Some recipes, posts and pages may have affiliate links. If you purchase via these links, we receive a small commission that does not impact your price. Thank you in advance for supporting our work to maintain Perfectly Provence.