Atelier de Couleurs Workshop in Menerbes Where Period Furniture Gets a New Look
Artistic Menerbes
Once you have visited the hilltop village of Menerbes, it is easy to understand why the Luberon and this town has enchanted so many. The charming main street compels you to pause and wander through an art gallery, or have a drink at one of the restaurants, particularly so if you have biked up the hill.
Author Peter Mayle may have put Menerbes and the Luberon on the radar for many of his readers, but that is more recent history. Long before his books were published, the town had already been discovered by those with creative talents including Pablo Picasso, Nicolas de Stael and Dora Maar (Picasso's muse) among others.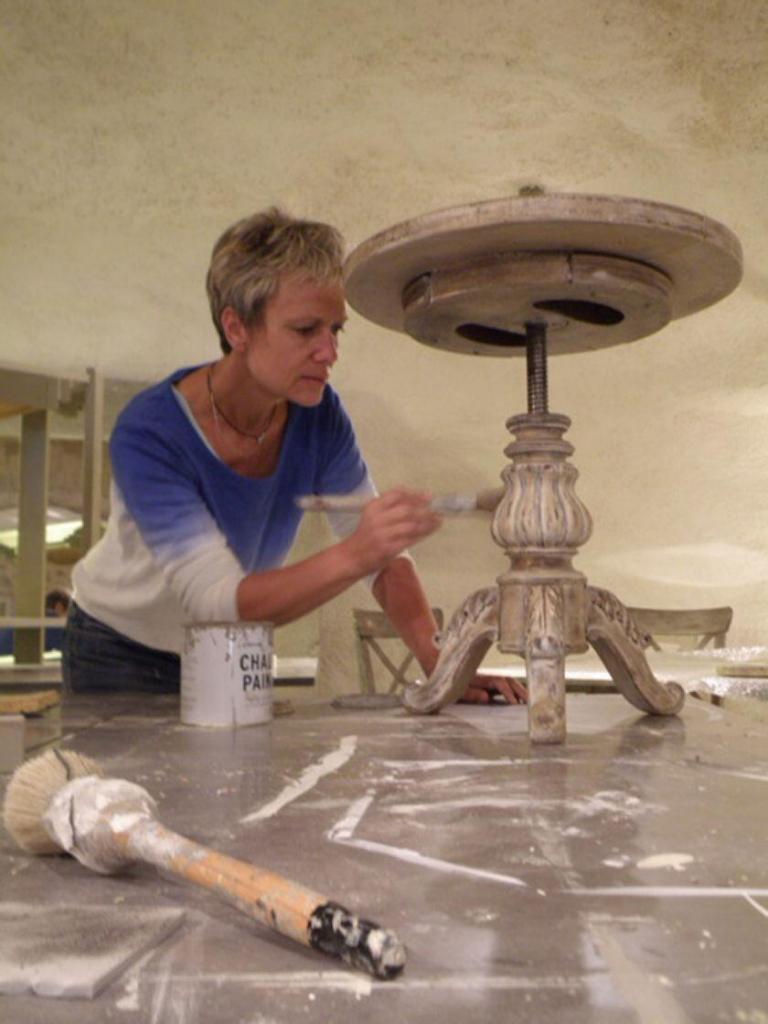 Menerbes continues to attract artists and musicians, including Liz Wyatt and her business partner Monique Lecoq the founders of Atelier de Couleurs. Using Annie Sloan Chalk Paint* and learned skills this duo transforms 19th and 20th Century French furniture from worn pieces they discover in antique fairs, from dealers and customers. Much of their work is commissions for clients, who are looking for specific decorative accents for their home, and those who have a family heirloom that needs a refreshed look.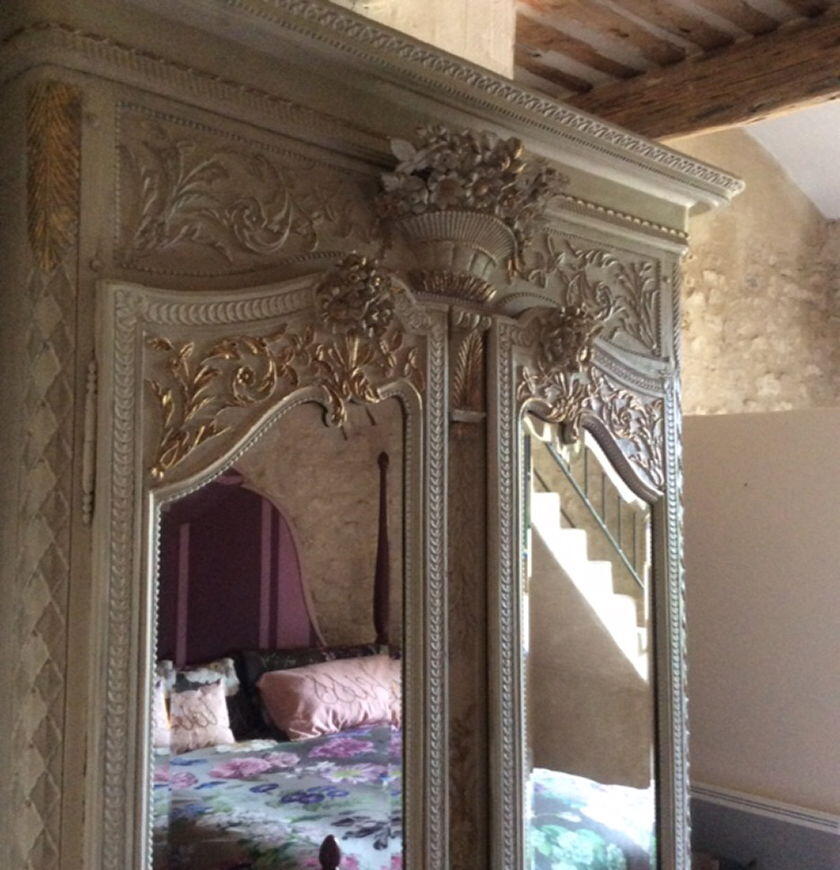 Atelier de Couleurs
We asked Liz Wyatt how she ended up in Menerbes. A bit like a paint colour it was the right mixture of timing and a bit of luck. Wyatt had renovated an old cherry barn near Bonnieux for her home but needed a studio for her work. When a workshop space came on the market in Menerbes, she knew it would be perfect for the showroom and painting studio that Atelier de Couleurs required.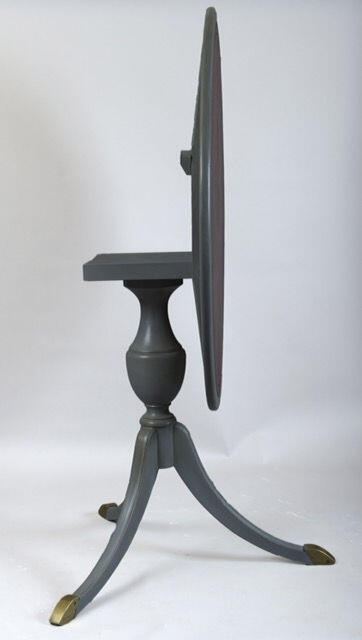 Not every family takes easels, palettes and oil paints on a picnic. Influenced by her mother who was a painter, Wyatt says, "I was born with a paintbrush in my hand." Her educational track led to a degree in fashion journalism, but her passion for painting furniture evolved about 15 years ago. Not quite alchemy, but undoubtedly transformative she works with old pieces such as tables, mirrors, armoires, and cabinets to extend the life of these pieces.
Sourcing furniture and decorative pieces at the right price is often the challenge, but one that Monique Lecoq appears to embrace with an eagle eye for quality and a vision for want can be done in the Atelier. After several years of buying, selling and trading the partners now have a solid, reliable network of contacts.
"Buying style is something which has unconsciously evolved – you learn along the way, and now we look for unusual, different pieces for the showroom.  We also buy for clients and then paint to their colour specification but whatever the piece we try to make it as original as possible."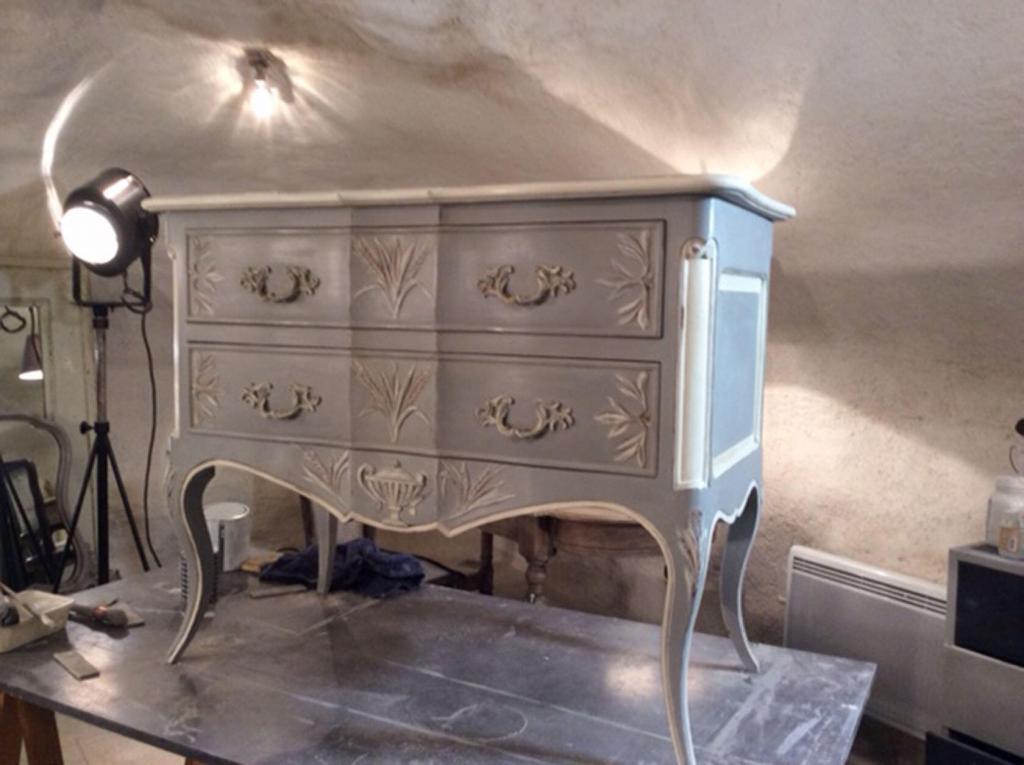 The critical ingredient is selecting good quality furniture at the beginning of the process. Working with Chalk Paint and natural ochre pigments Wyatt converts these decorative pieces into more contemporary stylish accents that work with a variety of interior design schemes.
After all that work is it hard to sell some of these new treasures? Yes!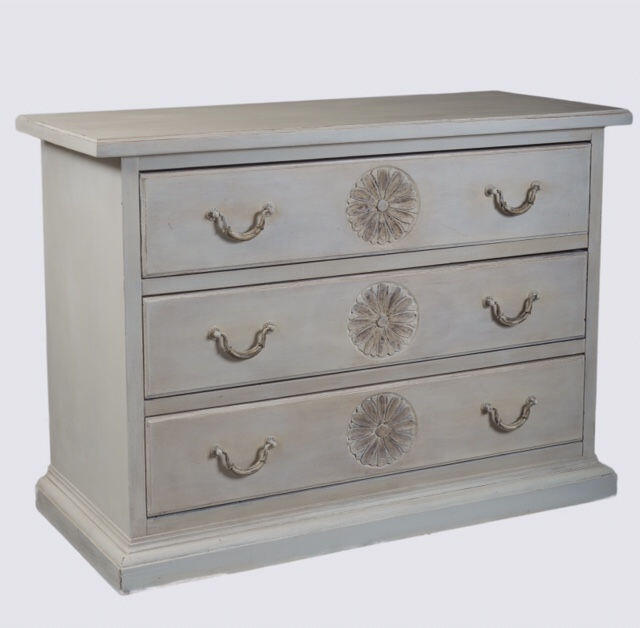 Workshops and Contact Information
Are you interested in learning this technique yourself?
During the summer and fall, Atelier de Couleurs offers bi-lingual painting courses. These workshops are an introduction to furniture painting techniques, the use of Chalk Paint, waxes and two-step patinas.  These classes accommodate up to a maximum of four people.
Atelier de Couleurs (website)
Rue Maupas, (opposite the village cafe)
84560 Menerbes, France
Atelier +33 (0)4 90 72 87 02
Mobile +33 (0)6 47 57 08 59
liz@atelierdecouleurs.com
Facebook
Atelier de Couleurs sells pieces directly from their showroom. They also take on commissions to sources and paint French furniture to order. Delivery can be arranged throughout Europe.
*  "Annie Sloan is one of the worlds leading decorative artists and she created this palette of Chalk Paint specifically for furniture painting.  I love it because it has a rich smooth texture,  it is easy to apply and it's versatile.  All colours in the palette can be mixed and matched to create wonderful tones.  We finish all our furniture with Annie Sloan Clear wax which protects and provides a beautiful soft satin finish. The Atelier is a stockist of Annie Sloan Chalk Paint and Waxes and we always have a full range of colours in stock. We are happy to offer advice to anyone wishing to paint their own furniture !"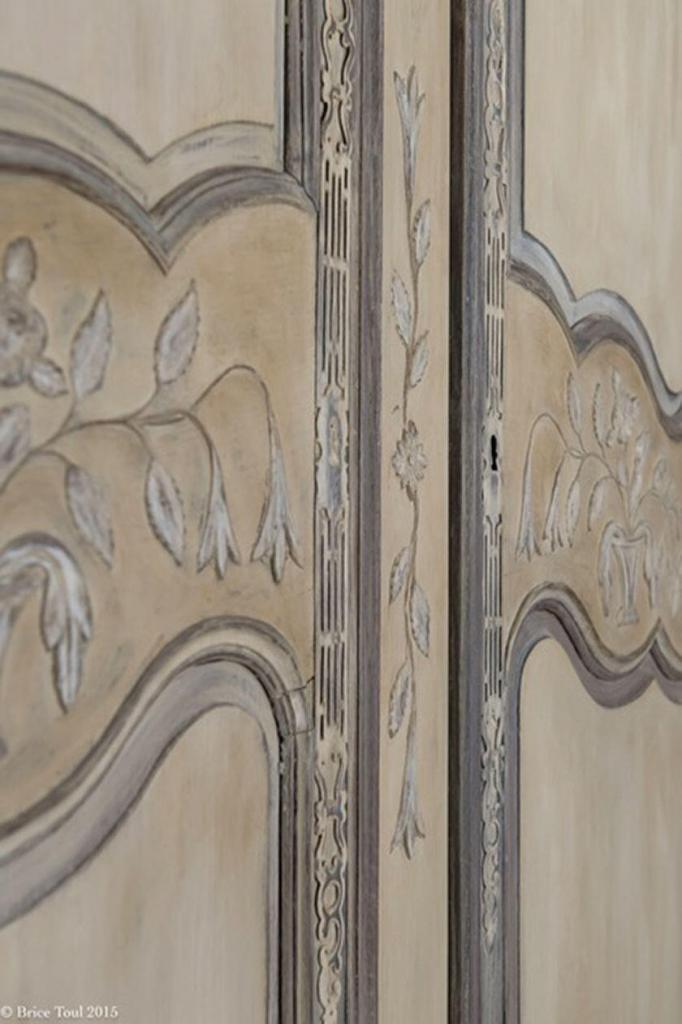 Image credits: all photos provided by and published with the permission of Atelier de Couleurs
---
Writing and Cooking in Menerbes
"Discovering Author Elizabeth David French Country Cooking at Ménerbes." Of all the British women writers of the mid-20th century, perhaps it is cookery author Elizabeth David who brought most colour and sensuousness to the page – and to the table.  When she wrote about aubergines, courgettes, garlic and aromatic herbs, these were exotic rarities in the grey of Britain's post-war rationing, and her descriptions evoked the tastes, aromas and brightness of the Mediterranean. She was far more than a collector of recipes: her writing captured a sense of time and place that was uplifting and inspirational. Follow this link for the rest of this article by Deborah Lawrenson.
All rights reserved. Perfectly Provence articles and other content may not be published, broadcast, rewritten (including translations into other languages) or redistributed without written permission. For usage information, please contact us.
Syndication Information
Affiliate Information
As an Amazon Associate, this website earns from qualifying purchases. Some recipes, posts and pages may have affiliate links. If you purchase via these links, we receive a small commission that does not impact your price. Thank you in advance for supporting our work to maintain Perfectly Provence.