Art Exhibits in Provence to See in 2023
As is the case, there are almost too many choices for art exhibits in Provence. The following list is not exhaustive, but some 2023 shows in Marseille's museums and beyond.
Let's start in Marseille, where MUCEM continues with 'Amités, creativité, collective' until 13 February. Next up is 'Alexandrie: Futurs anterieurs' (8 Feb – 8 May) with a free 'portes ouvertes' event on 7 February. Over two hundred objects will link archaeological research from 331BC to contemporary Alexandria's social, political and environmental issues.
There's a permanent display with a food theme at MUCEM.  Le grand Mezzé comprises a selection of 550 objects and documents from 35 museums in Europe and around the Mediterranean. Continue reading here for the original contributor blog post.
MuCEM Visitor Information
MuCEM (website)
Musée des civilisations de l'Europe et de la Méditerranée
7 promenade Robert Laffont (esplanade du J4)
13002 Marseille
The best place to park to access MuCEM and Fort Saint-Jean is in the parkade below the museum (Parking Indigo).
The museum opens at 11h and closes between 18h-20h, depending on the season.
Closed on Tuesdays.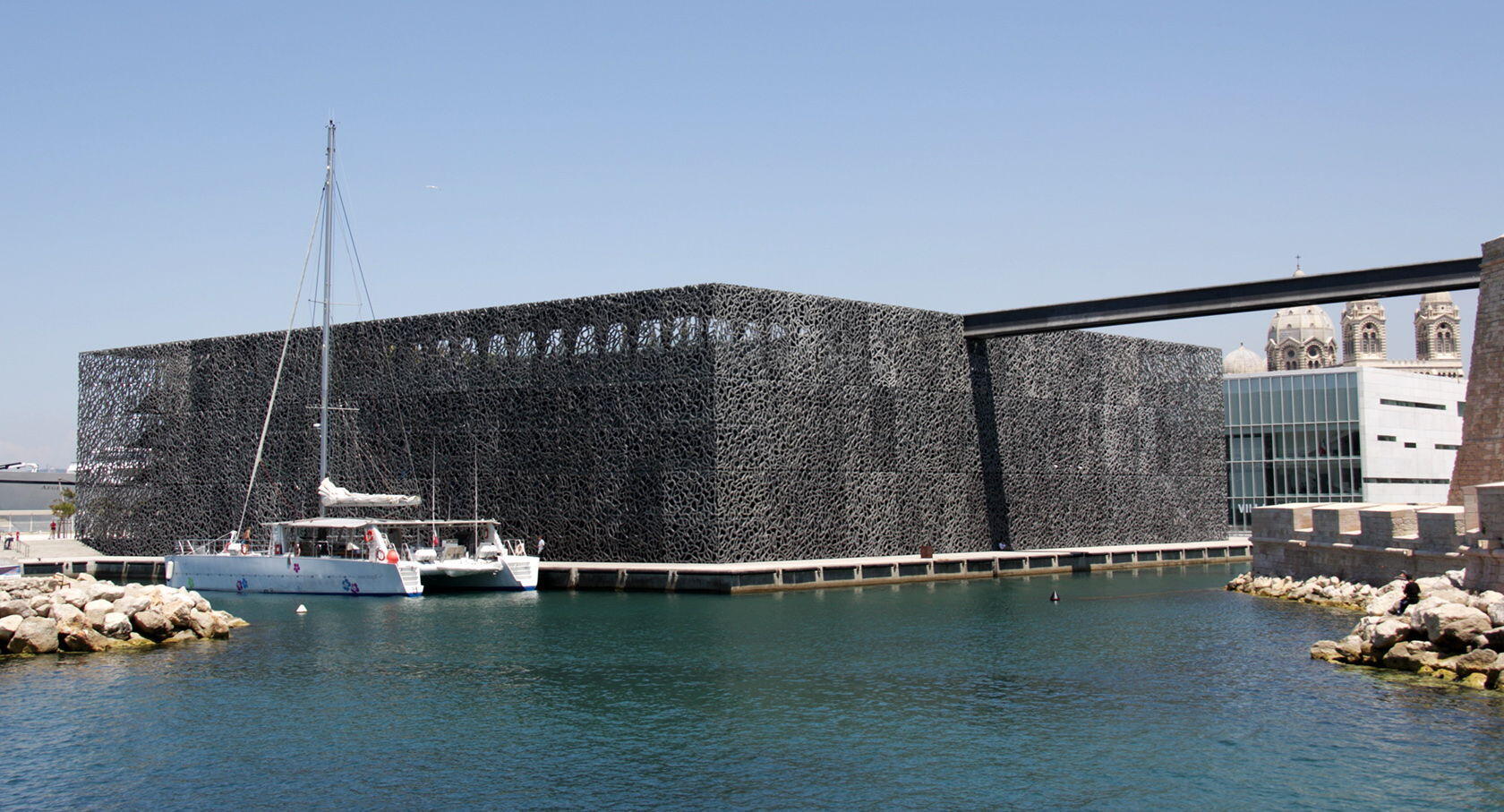 Other Marseille Museums
Musee Cantini (website)
19 rue Grignan, Marseille
Closed Mondays
Open Tuesday-Sunday 10-19h
Tel: +33 (0)4 91 54 77 75
The second person will get in for free if you have the My Pass Provence card. Audioguides are available.
Current exhibition: Louis Pons (1927-2021), j'aurai la peau des chooses – until September 2023
Initially constructed in 1694 as a private mansion (hôtel particulier) for la Compagnie du Cap Nègre, the building passed through several owners before Jules Cantini purchased the building in the mid-19th century. Cantini was a marble importer and thus involved in constructing many religious and other sites in Marseille. He was also a lover of the arts. He donated the house to the city in 1916. The Musée Cantini has a permanent collection of "modern" artworks from the 20th century  (1900 to 1960).
Musée Regards de Provence (website)
Avenue Vaudoyer,
13002 Marseille
Closed on Mondays
Current exhibit: Au bord de l'eau by Vincent Bioulès
Built as the Fernand Pouillon sanitary station for arrivals via maritime transport was abandoned for years, la Fondation Regards de Provence was established in 1997 to convert the space into a museum. The restoration project was a feat of engineering and architectural vision. The museum's collection of artwork from Provencal artists exceeds 850 works of art. There is a restaurant – Regards Café – on the top floor and an option for takeaway, which can be consumed on an outdoor terrace. The terrace has a terrific view of MuCEM and the port.
Art and Museums
The French Riviera coast is lined with sandy and pebbled beaches, grand villas and designer gardens. Whether you arrive by car, plane, train or yacht, it is an attractive destination. While there is no lack of things to do along the Côte d'Azur, you want a dose of culture some days. Here is a list of ten (10) museums in Nice that are all well worth visiting.
Arles was once an important Roman town, a trading center with a significant port. Barges with cargo from over the Empire plied the waters of the Rhone River. Around 2,000 years ago, one of those barges sank. This fantastic boat and many other artifacts are housed at the Musée départemental Arles antique.

Also, in Arles, the Muséon Arlaten closed for an 11-year renovation. Reopened in 2021 with the input of a leading architectural agency and the fabulous Arlesien designer Christian Lacroix, the museum certainly has style – see the staircase. Founded by the poet Frédéric Mistral in 1896, it exhibits costumes, furniture, work tools, and objects of worship, illustrating Provençal life in the 19th century.
Muséon Arlaten (website)
29 – 31 rue de la République
13200 Arles
Take a tour: In June, July and August, there are guided tours in English on Saturdays at 15h of Muséon Arlaten.
All rights reserved. Perfectly Provence articles and other content may not be published, broadcast, rewritten (including translations into other languages) or redistributed without written permission. For usage information, please contact us.
Syndication Information
Affiliate Information
As an Amazon Associate, this website earns from qualifying purchases. Some recipes, posts and pages may have affiliate links. If you purchase via these links, we receive a small commission that does not impact your price. Thank you in advance for supporting our work to maintain Perfectly Provence.