American Favourites for Lunch at the House of Cookies in Aix-en-Provence
Contributor blog post by Aixcentric:
Some days ago, I read this comment on Aixcentric:
"In your very comprehensive survey of Aix restaurants, I couldn't find any mention of House of Cookies, rue Boulegon (but maybe it's just my mistake!) It's a lovely place, American vintage-oriented, and the owner, Laetitia, makes the best scones/muffins/ cookies/pancakes in Aix (she makes the cakes for Book in Bar!) You may feel like having lunch there too, one of these days!"
and I decided to investigate….
The House of Cookies is one of those little finds in the back-streets of Aix-en-Provence, away both geographically and spiritually from the increasing number of chains in town.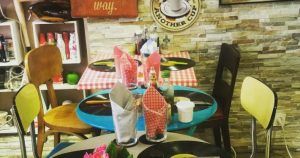 …Continue reading here to read about Lynne's lunch at this unique restaurant in Aix-en-Provence that offers tasty treats like pancakes!
Restaurant contact information
House of Cookies website
40 rue Boulegon, Aix-en-Provence
Tel: +33 (0)6 50 22 63 92
Via:: Aixcentric
Please share this with friends and family.