Why Should You be Networking in Provence
Or anywhere else, for that matter!
This is a question that probably has not entered your thoughts, unless you are used to networking. Firstly what is it? In all honesty I didn't have much idea when I started Network Provence in February 2015. By the way the dictionary definition states; interact with others to exchange information and develop professional or social contacts.
My life had been dedicated to working for other people, so the publicity responsibility was not mine and concerning the question of friendships in Provence, most I had made were either via my sports club or through my husband.
Reinventing as a life coach brought me to the world of Networking and self-promotion. Thankfully my background in taking large groups of people on vacation throughout the world, aided my self-confidence to get out and about and talk about myself, however it can be problematic if you have nowhere to go! Hampered by my inability to coach in French I began to look for English speaking Networking groups within a reasonable distance, here in Provence.
I attended Fabulous Women and Marvellous Men a networking company in the UK and Carole Ann Rice my former coaching teacher happens to run two of their groups in London, a timed one minute obligatory pitch is expected by all, your chance let's say to shine. I was particularly impressed with the conviviality and equality, there was absolutely no chance to feel intimidated or left out. Eventually I found and went to one english speaking group in nearby Aix, but the format was similar to going to a party, where you know no-one and if you weren't brave enough to introduce yourself to clique groups you'd be left stranded at the bar, it wasn't what I was looking for.
A chat with my mentor/coach led to her suggesting I run my own Networking group and somewhat naively I decided to launch Network Provence. Julie Mautner of Provence Post and Tracy Seacombe of the then What Larks Theatre group introduced me to their followers and to my delight and surprise our first meeting consisted of 25 women and one man. It was an overwhelming success and many more have followed, not only here in Maubec, but now in Aix en Provence, Avignon and lately in Saint Remy de Provence.
Inspired by the London networking format, everyone who comes has a chance (not an obligation) to speak about their business/project/blog or merely to socialise, you will never find yourself a wallflower here! Generally lasting two and a half hours, with a settling in period, introduction, a possible specialised talk and time for networking, with appropriate refreshments depending on the time of day. A meeting is found at one of the above locations on average each month and annual membership allows attendance to all meetings, otherwise you can pay as you go.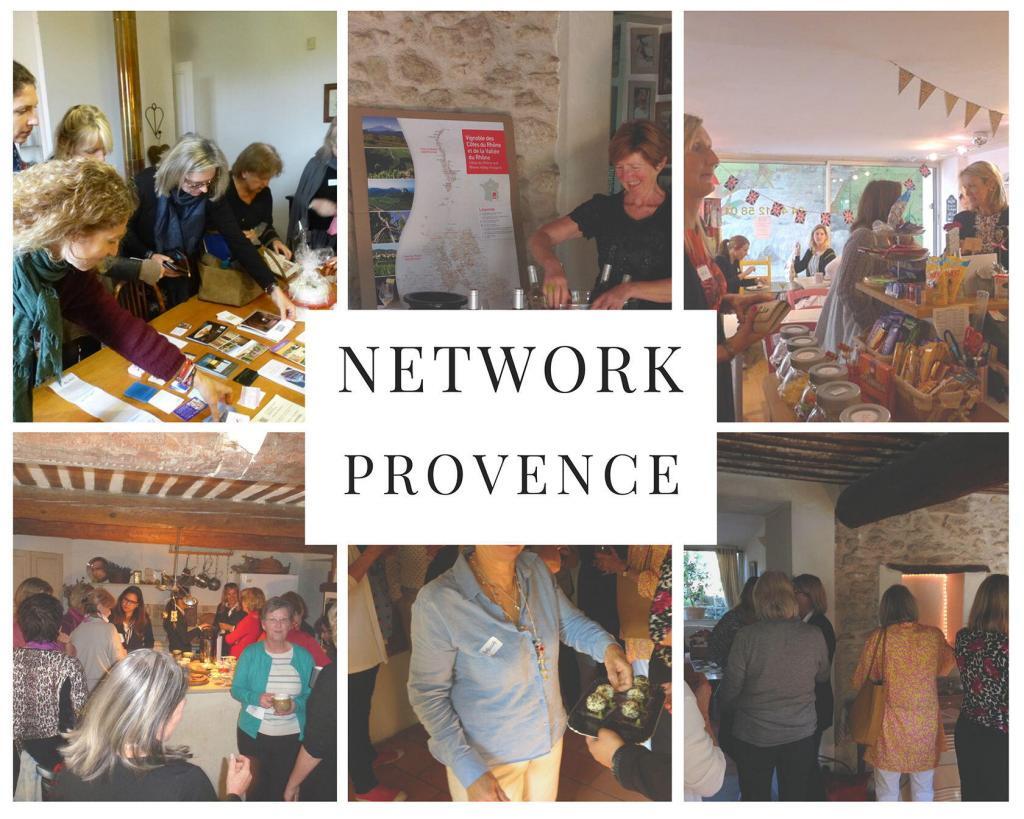 There is a very active growing Facebook group of over 150 women, nevertheless this will never replace actual social contact, which brings the best results whether it be business or social. English is spoken, but this is an international group of women from all corners of the world, who happen for a multitude of reasons to live in Provence. Everyone knows that not only arriving in unfamiliar territory can be daunting, but creating contacts for a new idea or business is frustrating to say the least, so coming to our meetings can be that step to opportunities to extend your network, because connecting with one person can literally change your world.
We have stuck to a women only formula, as men create a different group dimension, a review on this policy is regularly made and so far each time the answer has been to continue man free, so sorry to our male friends about that!
My goal is flexibility, in when and where we meet, so that more women are enabled to reach us, as I fully realise that timing, days and place is not always ideal. My dream is to take Network Provence to as many parts of the region as possible and even beyond.
Come and join us by contacting me via our Facebook group or Network Provence and discover how networking can serve you.