Simple Summer Lunch in Provence 3 Easy Recipes
Here in the South of France, we consider ourselves a little Spanish and a bit Italian at the same time. They say everything west and north of Marseille is considered Spanish whilst everything east of Toulon is inclined towards Italy. This is of course best represented in terms of food. Around Marseille paella frequently features, especially during celebrations whereas in Nice and surroundings you'll find Italian-inspired dishes such as gnocchi, pizza-like tarts like pissaladière etc.
Don't worry dishes from the two regions won't fight each other, so I'm picking one from each – to make a perfectly harmonized laid-back summer lunch. And since they can both be made ahead of time, they are also extremely suitable for a picnic. Enjoy!
Tortilla of Potato and Onion
Peperonata
Affogato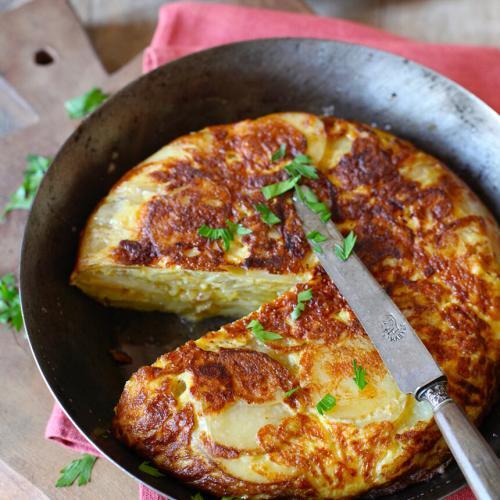 Tortilla of Potato and Onion
This dish takes a little bit of time to do it correctly, and there are no shortcuts. The onions and potatoes must be softened slowly in olive oil for 20 minutes… and yes, you do have to use that much olive oil. It may seem ludicrous to use that amount of oil but most of it will be strained off and tastes so deliciously of sweet onions and potatoes, that I use it to fry other vegetable dishes afterwards
Ingredients
250

ml

Olive Oil

4-5

large

Potatoes

scrubbed, sliced thinly

2-3

large

Onions

thinly sliced

6

large

Eggs

salt and pepper
Instructions
Heat the oil over medium-low heat in a large frying pan and carefully add the potato and onion slices, layering and stirring as you go. Fry gently, lifting and turning regularly, until the potatoes are cooked but not browned (about 20 minutes).

In a large bowl, whisk the eggs with a fork and season.  With a slotted spoon transfer the potato and onion mixture to the eggs and gently mix. Meanwhile pour off the remaining olive oil in a jug and set aside.

Wipe the pan clean and heat 2 tbsp of the oil until very hot. Now add the potato/onion/egg mixture in one go and spread it out quickly, flattening the top and pressing down firmly. 

Lower the heat and continue to cook very slowly for at least 10-15 minutes. Check whether the bottom has browned when it has, place the pan briefly underneath a hot grill to set the surface of the omelette (4 minutes or so).

Now invert a plate on the pan and flip over the omelette. Add another tablespoon of the leftover oil to the frying pan, then slide the omelette back onto the pan top-side-down, to cook the other side. Gently fry the other side until it too has browned and turn the omelette out onto a serving platter.  Serve cut in wedges at room temperature.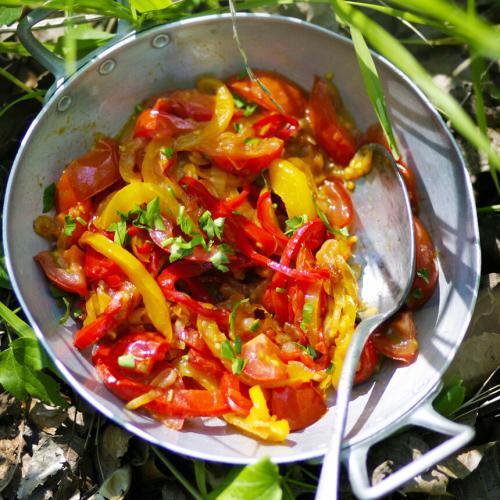 Peperonata
Serve hot or cold, either as an accompaniment or as an antipasti, with plenty of crusty bread.
Ingredients
1

large

Onion

thinly sliced

1

large

Red Pepper

thinly sliced

1

large

Yellow Pepper

thinly sliced

2-3

tbsp

Olive Oil

2

Fresh Tomatoes (chopped)

or 300g can chopped tomatoes

1

tsp

Wine Vinegar

1

tsp

Sugar

salt and pepper
Instructions
Heat the olive oil in a large saucepan and add the sliced onion and peppers.

Turn the heat down, cover with a piece of greaseproof paper or a lid, and gently sweat for about 15 minutes.

Add the chopped tomatoes and continue to cook gently uncovered for about 20 minutes.

Remove from the heat, stir in the vinegar and sugar and season to taste.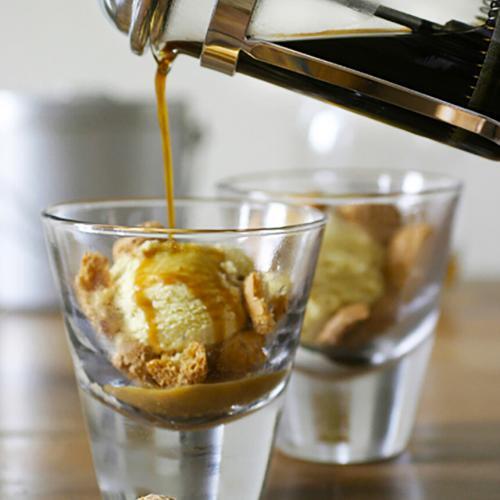 Affogato
This is the quickest dessert you'll ever make!
Ingredients
8

balls

Good Vanilla Ice Cream

8-12

Italian Amaretti Biscuits

8

shots

Strong Espressos
Instructions
Put one or two balls of good vanilla ice cream in 4 pretty glasses, crumble 2-3 Italian Amaretti biscuits in each glass, then pour over the hot coffee and serve immediately.

Hey presto – dessert and coffee in one!
Notes
PS.. You may add some alcohol to it too if you like – Baileys or Amaretti could be rather nice!