Recipe for Roast Tomato Tart with Goat's Cheese
This savoury tart "sings" of Provence with local tomatoes and goat's cheese. It is delightful treat to be served anywhere for certain, but exceptionally wonderful to find it on the menu in the charming B&B where you are staying. Sample this Roast Tomato Tart and other delicious creativity at Mas d'Augustine, a luxurious Chambres d'Hôtes located near to Uzes.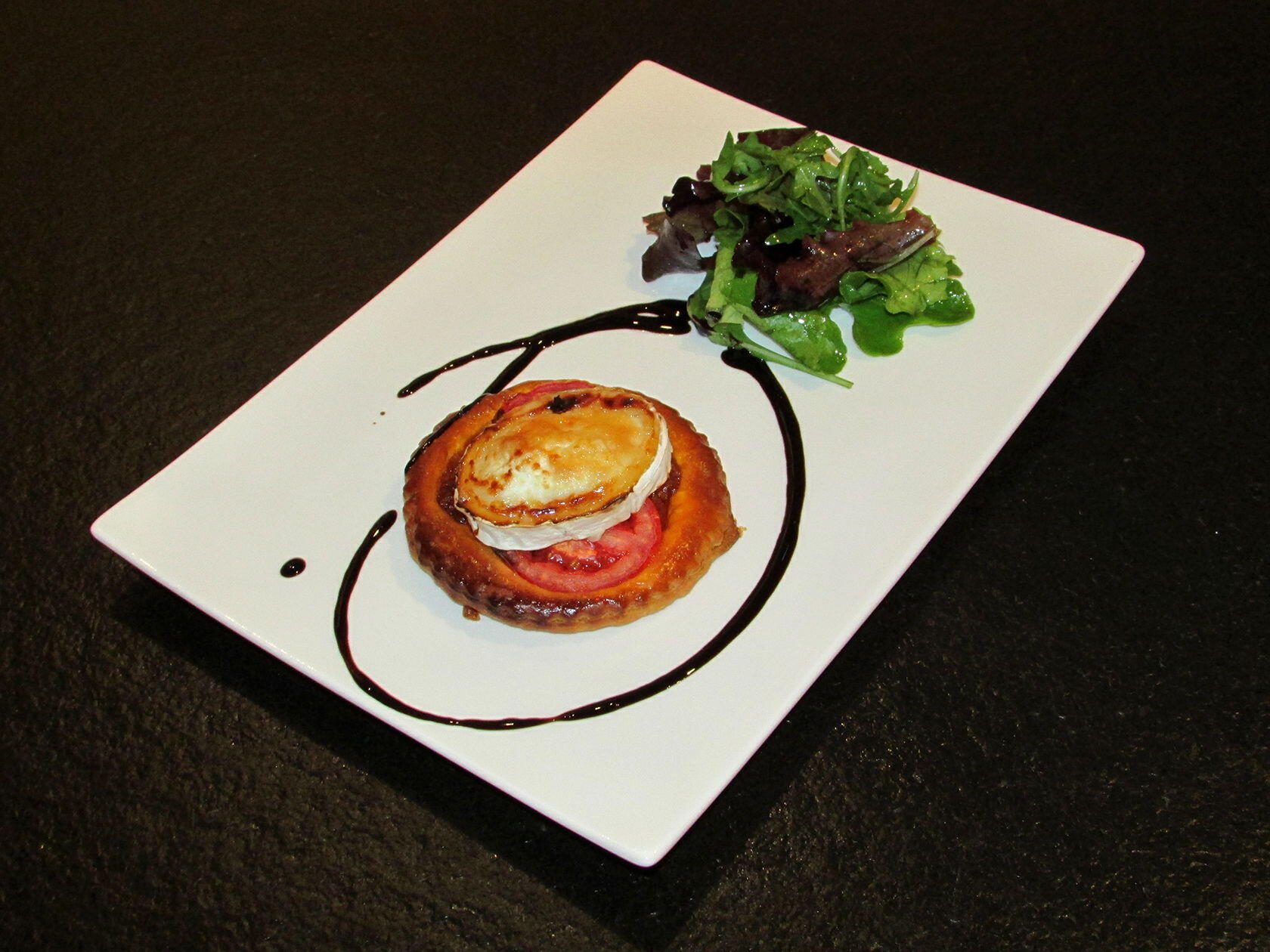 Roast Tomato Tart with Goat's Cheese
A light and flaky bed of puff pastry smothered in tomato and shallot relish with thick tomato slices and soft melted goat cheese.
Ingredients
3

tbsp

olive oil

2

large

Shallots

finely chopped

1

large

clove of garlic

crushed

1

tsp

Black pepper

1/2

tsp

Salt

2

tsp

Ground Cumin

1

tbsp

White wine vinegar

5

Really ripe tomatoes

peeled and quartered

1

package

Ready made puff pastry

6

Plum tomatoes

sliced in thick slices

1

Goat's cheese log

1

Egg

beaten for glazing
Instructions
Preheat the oven to 220C.

Heat the oil in a saucepan and very gently sauté the shallots and garlic.

Season with salt and pepper and add the cumin.

Add the white wine vinegar and simmer until the volume has reduced by half.

Add the peeled tomato quarters, cover the pan and simmer until you have a nice thick relish (about 30 mins)

If the pastry is not pre-rolled, then roll it out to ½ cm thick.

Cut out 6 rounds using a 12 cm pastry cutter.

Then carefully cut an inner circle with a 7 cm pastry cutter, but do not cut all the way through.

Prick the centre with a fork to stop the middle rising.

Spread a tablespoon of the relish in the centre of each pastry round and place two plum tomato slices on top.

Brush the borders of the tart with the beaten egg.

Bake in the oven for 15 minutes until the pastry is golden and crisp.

While the tart is in the oven baking, slice the goat's cheese log into 6 thick slices, drizzle with honey and place under a hot grill to melt and slightly brown.

To serve, place a slice of melted goat's cheese on top of each tart, add a small portion of salad leaves tossed in a light vinaigrette and drizzle with balsamic glaze.