Make Ahead Provencal Duck Stew
Try this recipe for Provencal Duck Stew before the weather gets too warm. This dish is a great main course for long summer lunches or dinner parties because it is best prepared ahead of time and reheated. Make this recipe in advance and it will allow you to enjoy the meal as much as your friends.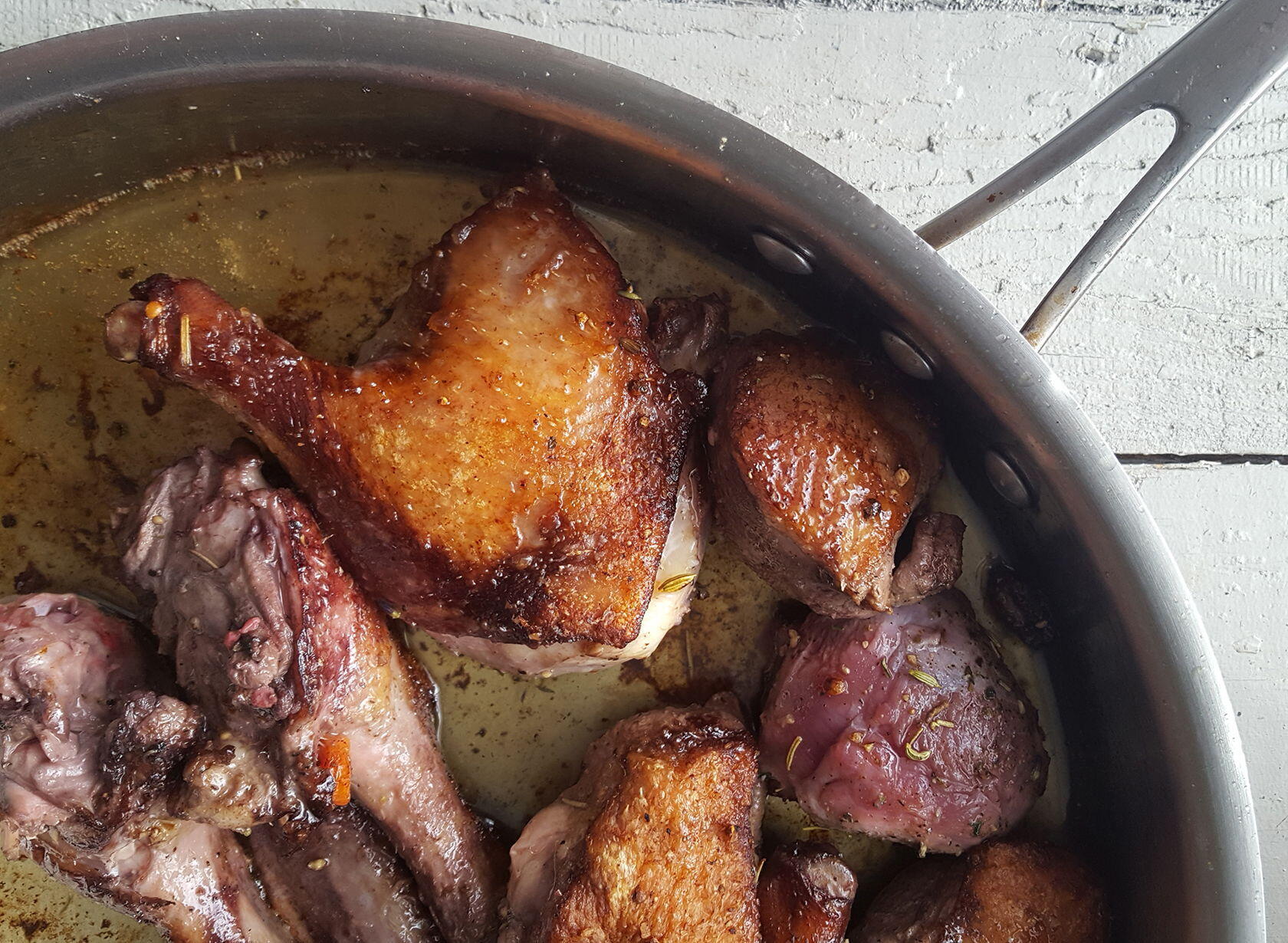 Provencal Duck Stew
Allow enough time to make this recipe in advance. The duck pieces should marinate for 10-12 hours before you start cooking. The dish is served hot but tastes better after the flavors have had a chance to "get to know" each other.
Ingredients
1 4-5

lb (2-2.2 kg)

Duck

1

Carrot

thinly sliced

1

medium

Onion

thinly sliced

1

stalk

Celery

thinly sliced

4

Garlic Cloves

mashed

10

Black peppercorns

10

Juniper Berries

1

piece

Star Anise

1

Cinnamon stick

1

Orange

for peel and juice

1

bottle

Pinot Noir

2

tbsp

Butter

1

tbsp

Flour

1

quart (950ml)

Chicken stock
Instructions
Cut your duck into eight pieces, like you would breakdown a whole chicken, and put in a large bowl with room for more ingredients.

Add the carrot, onion, celery, garlic, black peppercorns, juniper berries, star anise, cinnamon orange and pinot noir. Let marinate for 10 to 12 hours sitting out in your kitchen.

Strain the marinade, separating the vegetables and liquid.

Melt the butter in a large sauté pan and brown the duck on both sides.

When browned, remove the duck and sauté the vegetables leftover from the marinade.

Sprinkle flour over the vegetables, mixing well.

Strain marinade into vegetables and add the browned duck pieces back to your pan.

Bring to a boil, then lower to a simmer for one hour.

As you cook your duck you may need to add chicken stock to keep it moist and stew-like. I ended up using about one quart (roughly 950ml).

At the end of the cooking time, remove the duck pieces and strain out and discard the vegetables.

Once the dish is finished allow it to cool completely, cover and put in the fridge.

To Reheat: Return the duck meat to the pan then simmer for slowly (10-15 minutes). Adjust seasonings and serve.
Notes
I used an Alina duck from LaBelle Farms in New York. They are a special French breed renowned for their ultra rich, almost squab like flavor, that are raised in arena style hoops and fed only corn grown on the same farm.
Other Recipes with Duck:
Seared Duck Breast with Clementine-Pomegranate Beurre Blanc
French Duck with Spicy Noodles
Duck, Roasted Pear and Spinach Salad