Hotel Le Saint-Remy Delivers Cool 5-Star Luxury in Town
Chic Hotel Le Saint-Remy
After a 20-month construction timeline, Le Saint-Remy opened its doors to hotel guests in August 2018. The 19th-century mansion constructed for Colonel Chambéry with its cour d'honneur (ceremonial courtyard) would have been majestic in its heyday, but more recently it was dilapidated. Didier Rivière leveraged his boutique hotel experience from projects in the Camargue and the Southern Alps to breathe life into this urban location. Le Saint-Remy offers a contemporary setting in the centre of this Provencal town where traces of Greek and Roman settlement are still visible.
St Remy de Provence is the birthplace of Nostradamus, and the inspirational setting for many of Vincent Van Gogh's most famous paintings. The largest village in the Alpilles, St Remy is known for its Wednesday morning market. In recent years, Saint Remy's old centre was overhauled significantly improving the pedestrian experience. The town already a magnet for anyone interested in chic boutiques, diverse restaurants and tempting wine bars.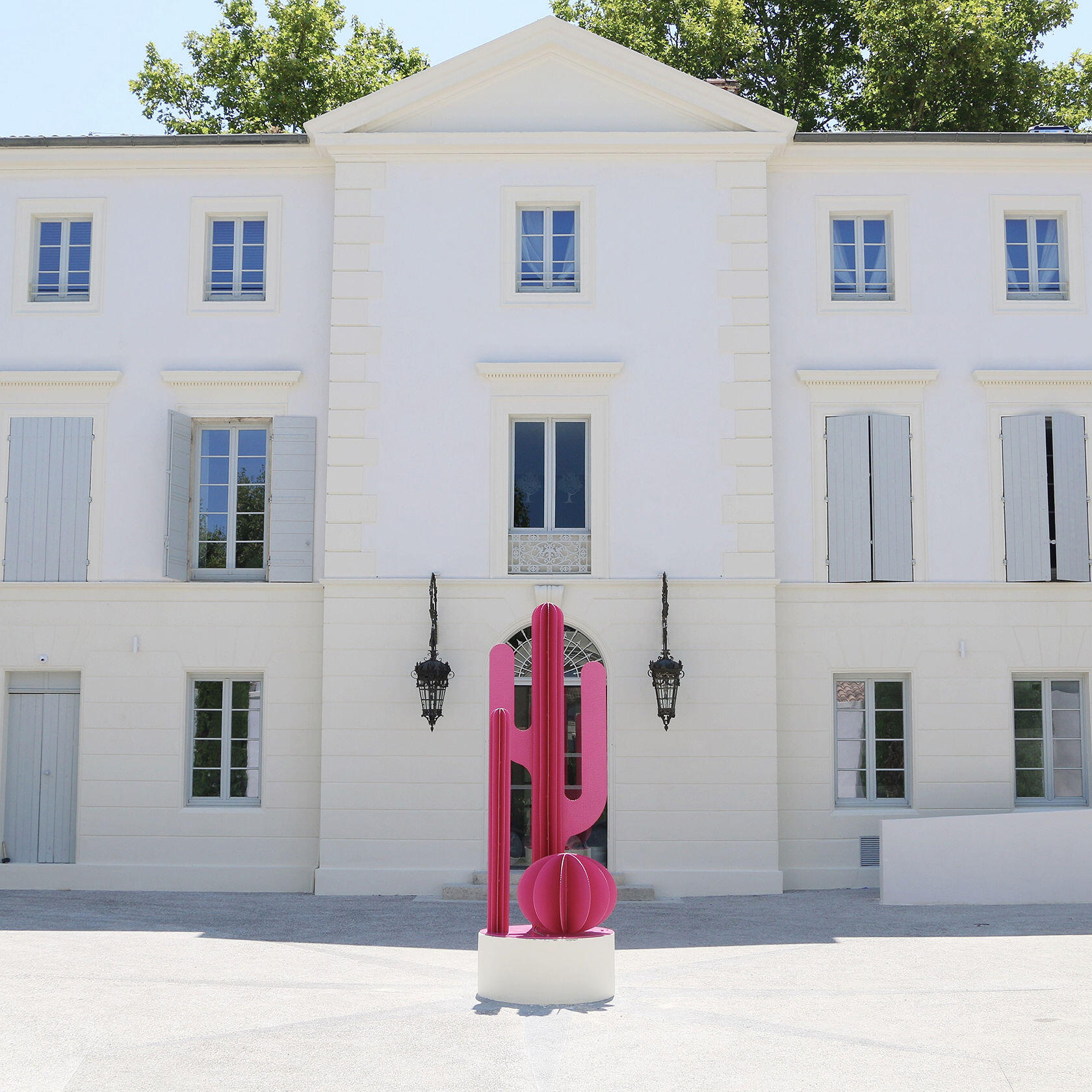 It Just Needed a Cool Hotel
A towering fuchsia-coloured sculpture marks the entrance at Le Saint-Remy, perhaps a strong signal that your experience inside the doors will be beyond ordinary. Local interior designer Reyhana Tamboura worked with Didier Rivière on the design concept. There are 31 guest rooms (including six suites) in the hotel with a range of options from the "Wild" Standard Room to the "Jetsetter" Prestige Suite. Each room is decorated in a "Gypset" (gypsy meets jet set) theme where bohemian accents contrast bright white linens and neutral tile work. Blink, and you might imagine that you were in Palm Springs, California and not Provence with design touches like the mid-century modern wicker swing chairs and macramé light fixtures.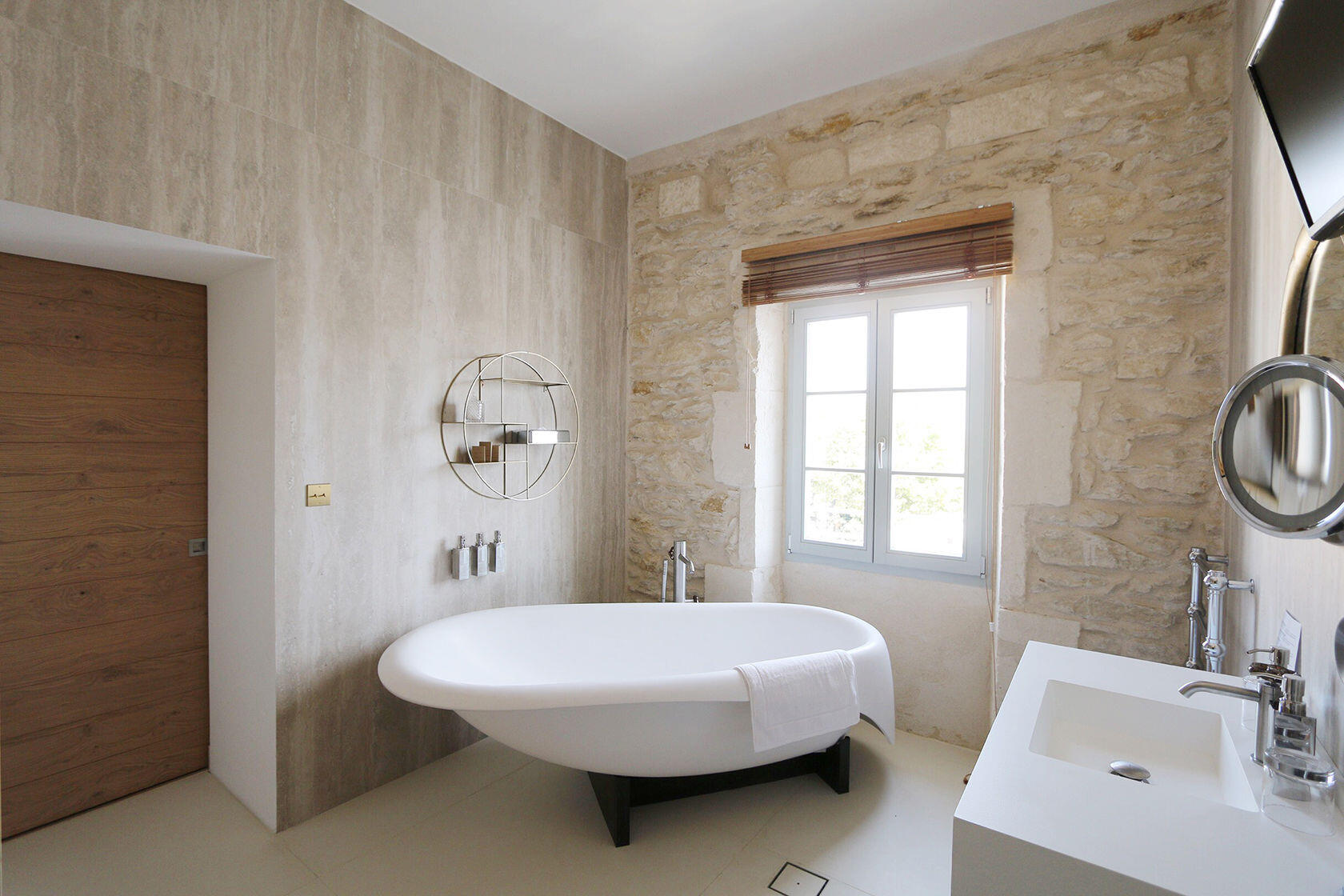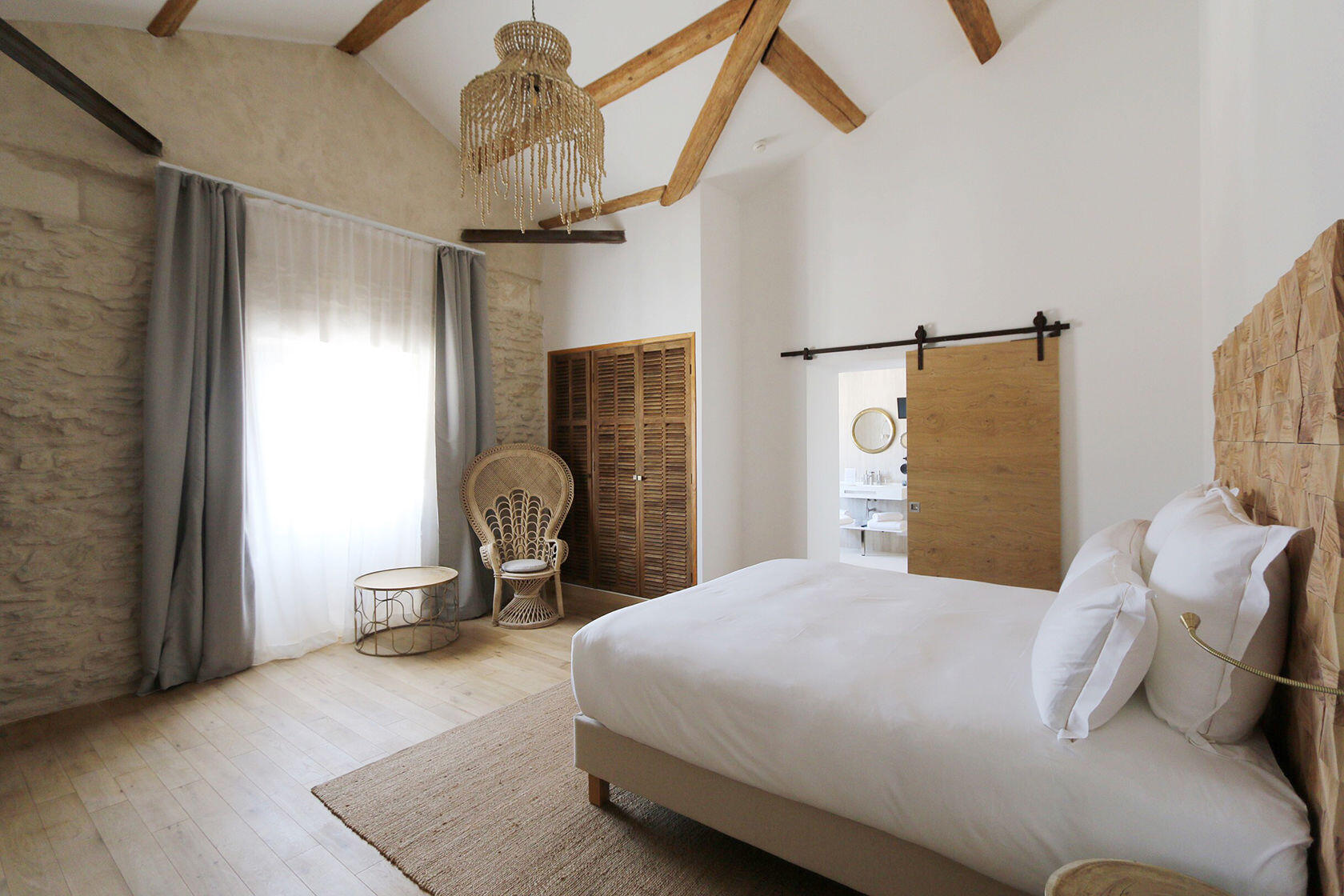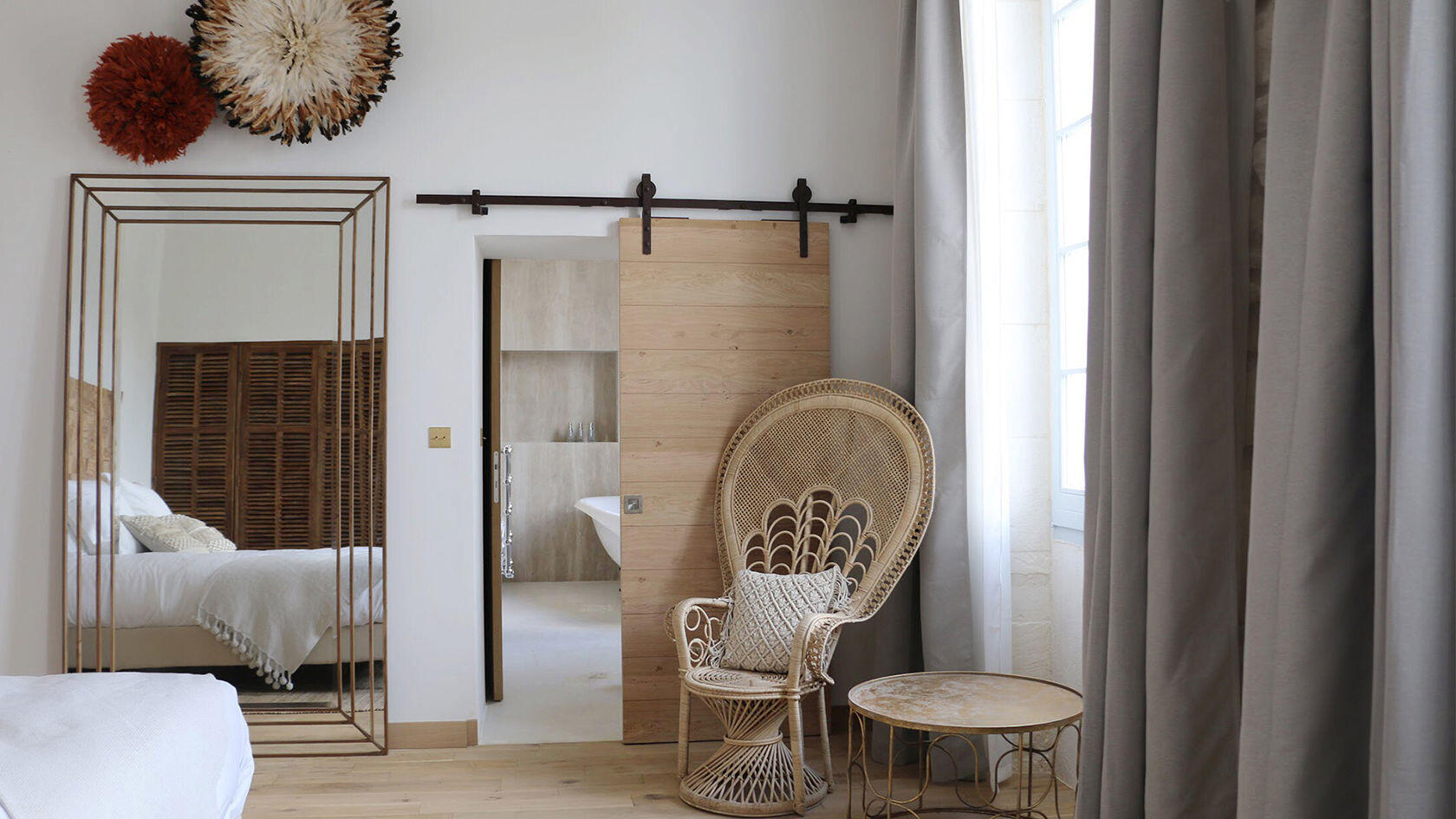 Le Saint-Remy radiates throw-back hippie style from the front entrance to the Brasserie Chic restaurant and retro bar. Fancy a handcrafted cocktail? Let Lorenzo the head barman and drink mixologist quench your thirst. You won't be disappointed by the restaurant, where "Beautiful, Delicious and Healthy" is Chef Jérome Julien's motto. He creates his seasonal menu from the freshest market products and the hotel's kitchen garden.
The 600 m² (6,500 ft²) spa is scheduled to open in March 2019. The dedicated space promises to be an oasis of relaxation complete with steam bath, heated infinity pool and jacuzzi. They will offer a full menu of wellness treatments using the range of Végétalement Provence products created in St Remy. Talking about pools the outdoor pool is the place for lounging, napping and perhaps reading a few pages in your book.

Now, if you can tear yourself away from the lap of luxury, there is plenty to do in and near to town. The hotel staff are happy to help you plan your excursions or venture out on your own (see our suggestions below).
Book your Stay
Le Saint-Remy (website)
16 boulevard Victor Hugo
13210 – Saint Rémy de Provence
Email: contact@le-saint-remy.fr
Tel: +33 (0)4 84 51 04 51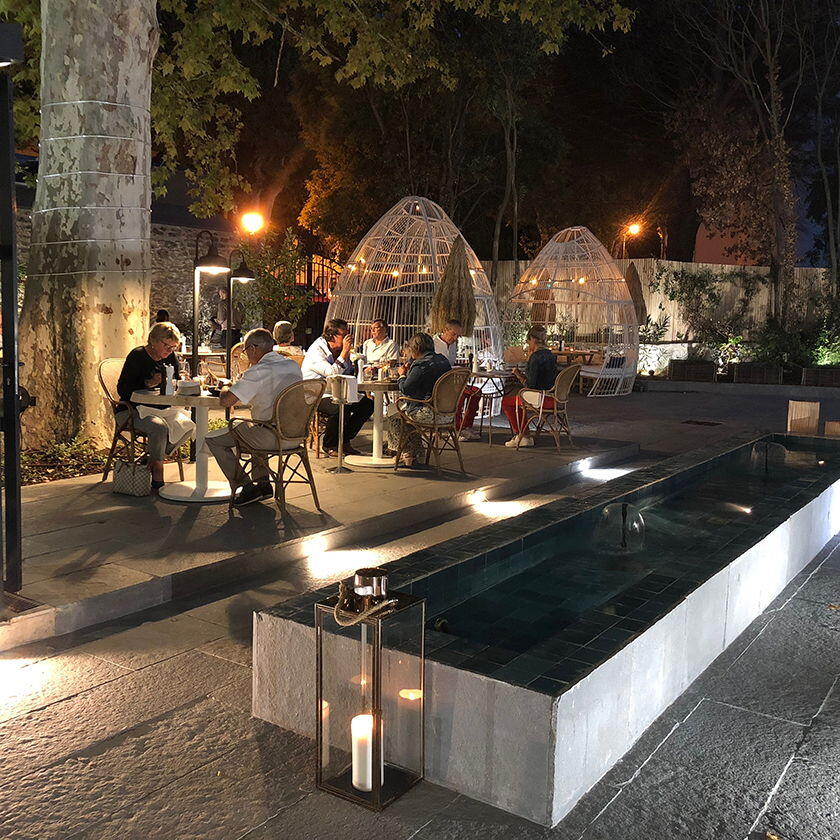 Things to Do in Saint Remy
Keith Van Sickle shares a list of things to do in St Remy and some of his favourite restaurants in the Alpilles.
Sample the wine at Domaine Henri Milan.
Take a walk along the shady canals.
Try gliding at Aéroclub des Alpilles.
Step back in time with a visit to ancient Glanum.
Head for a hike in the Alpilles or a bike ride to the nearby villages.
Discover Saint Paul de Mausole the hospital where Vincent Van Gogh committed himself and began his most prolific year of painting.
---
Image credits: All photos provided by and published with the permission of Le Saint-Remy