Discovering Marseille Learn French on Holiday in Provence
During Angela's French immersion holiday in Provence, we set off one day to discover Marseille's highlights, including its Bonne Mere – Basilique Notre Dame de la Garde.
French Immersion
Hello. My name is Angela. I'm in Provence again this year for an immersion holiday with Virginie. We decide to go visit Marseille that day. When we arrive, I see the little train that goes to the Basilica of Notre Dame de la Garde. I am very happy because I want to visit it. The last time I came to Marseille, I tried to visit the Basilica but couldn't go because I got sick in transit.
Bonjour. Je m'appelle Angela. Je suis à nouveau en Provence cette année pour une immersion avec Virginie. Nous décidons d'aller visiter Marseille ce jour-là. Quand nous arrivons, je vois le petit train qui va jusqu'à la Basilique Notre Dame de la Garde. Je suis très contente parce que je veux vraiment la visiter. La dernière fois que je suis venue à Marseille, j'ai essayé de visiter la Basilique mais je ne pouvais pas y aller car je suis malade dans les transports.

Ride the Petit Train
Arriving at the port, Virginie buys the tickets, and we get on the little train. The train crosses the city. We saw sites such as the Town Hall, the Old Port, the Museum of Deportations, Fort Saint-Nicolas and Fort Saint-Jean. The train went along the coast, and we saw the monument for the soldiers of Africa and the sea. There are many islands off the city of Marseille, such as the Frioul islands.
En arrivant sur le port, Virginie achète donc les billets et nous montons dans le petit train. Le train traverse la ville. Nous avons vu les sites tels que la Mairie de la ville, le Vieux Port, le Musée des Déportations, le Fort Saint-Nicolas et le Fort Saint-Jean. Le train a longé la côte et nous avons vu le monument pour les soldats d'Afrique ainsi que la mer. Il y a de nombreuses îles au large de la ville de Marseille telles que les îles Frioul.
An Exceptional Site
After skirting the sea, we arrive at the Basilica of Notre-Dame de la Garde. The people of Marseille call her the "Good Mother". The Basilica of Notre-Dame-de-la-Garde is an emblematic figure of the city of Marseille. It is located on the Notre-Dame-de-la-Garde hill and thus benefits from an exceptional panorama. She watches over sailors, fishermen and all Marseille residents. It is a huge monument with a large golden statue of the Virgin and Child at its top. This statue measures 11.2 meters.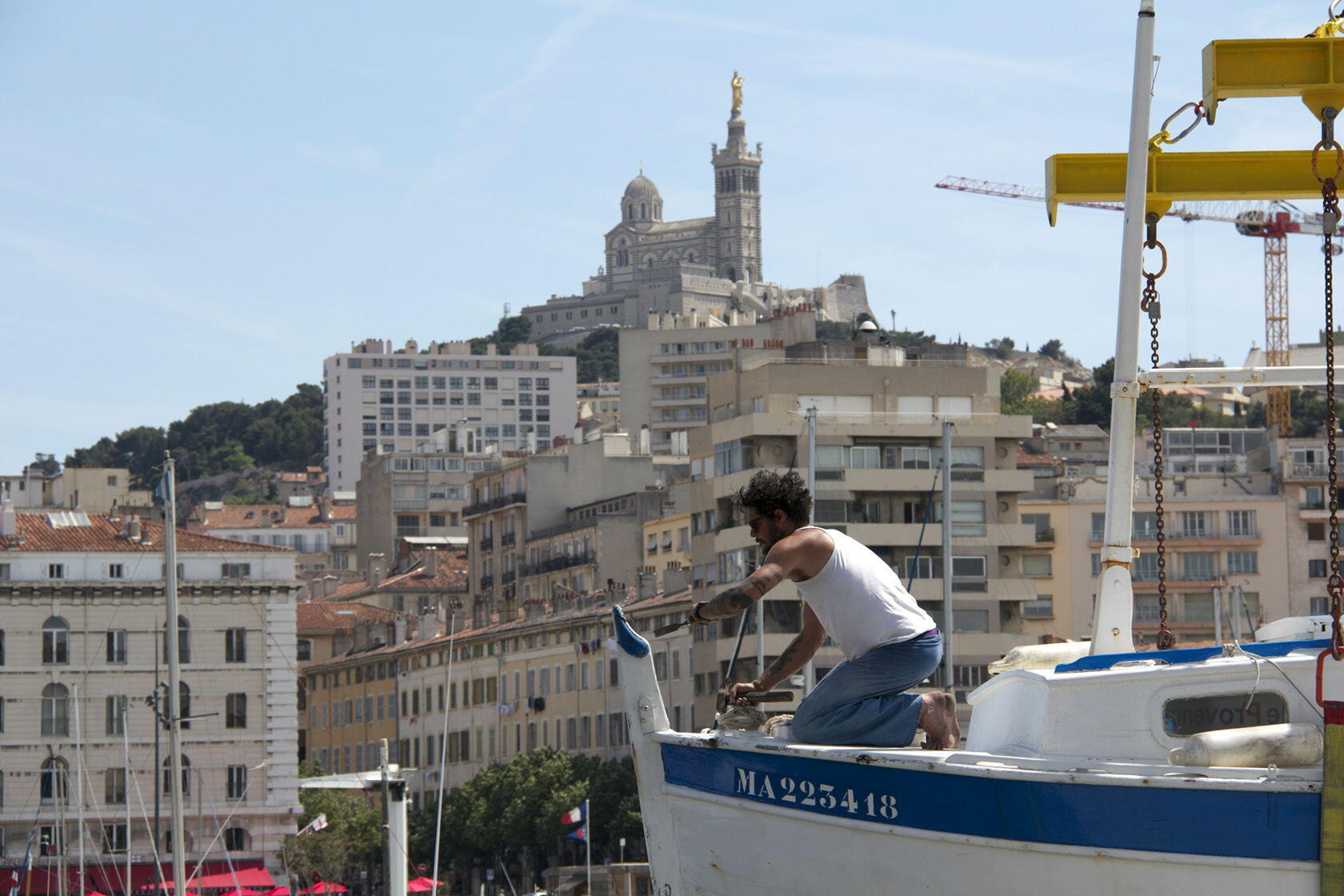 Après avoir longé la mer, nous arrivons à la Basilique Notre-Dame de la Garde. Les Marseillais l'appellent la « Bonne Mère ». La Basilique Notre-Dame-de-la-Garde est une figure emblématique de la ville de Marseille. Elle se situe sur la colline Notre-Dame-de-la-Garde et bénéficie ainsi d'un panorama d'exception. Elle veille sur les marins, les pêcheurs et tous les Marseillais. C'est un immense monument avec une grande statue de La Vierge à l'enfant en or à son sommet. Cette statue mesure 11,2 mètres.
The Good Mother's Timeline
It was in 1214 that the religious vocation of the Notre-Dame-de-la-Grade hill began. A priest named Pierre built a small chapel and a sanctuary there. From the Middle Ages to the Renaissance, several chapels follow one another.
In 1853, the first stone of the Basilica of Notre-Dame-de-la-Garde was laid because the chapel was not large enough to accommodate pilgrims. The works are carried out by architect Henry Espérandieu. It was consecrated on June 5, 1864.
On August 25, 1944, the Basilica was liberated from German occupation. It was then bombarded by the Germans and still bears the traces of these battles. One of the tanks used during the assault is still present below the Basilica.

C'est en 1214 que la vocation religieuse de la colline Notre-Dame-de-la-Grade commence. Un prêtre nommé Pierre y fait construire une petite chapelle et un sanctuaire. Du Moyen-âge et à la Renaissance, plusieurs chapelles se succèdent.
En 1853, la première pierre de la Basilique de Notre-Dame-de-la-Garde est posée car la chapelle de l'époque n'est pas assez grande pour accueillir les pèlerins. Les travaux sont assurés par l'architecte Henry Espérandieu. Elle est consacrée le 5 juin 1864.
Le 25 août 1944, la Basilique est libérée de l'occupation allemande. Elle est alors bombardée par les Allemands et porte toujours les traces de ces combats. Un des chars utilisé lors de l'assaut est toujours présent en contrebas de la Basilique.
Basilica Design
The Basilica of Notre-Dame-de-la-Garde is made up of:
– A low vaulted church or crypt
– An upper church
The building is Romano-Byzantine in style. It is an architectural style that mixes Byzantine architecture (domes, mosaics) with Romanesque architecture (barrel vaults). This mixture of styles is frequent in the 19th century.
The crypt is entirely in Romanesque style. It has very little light.
Inside the upper church, there are two types of marble: white marble and red marble. We speak of polychromy (which means a mixture of colours) of the stones.
The ceiling and the walls are beautiful and covered with golden mosaic. Many boat models hang from the ceiling. The floors are covered with Roman mosaics.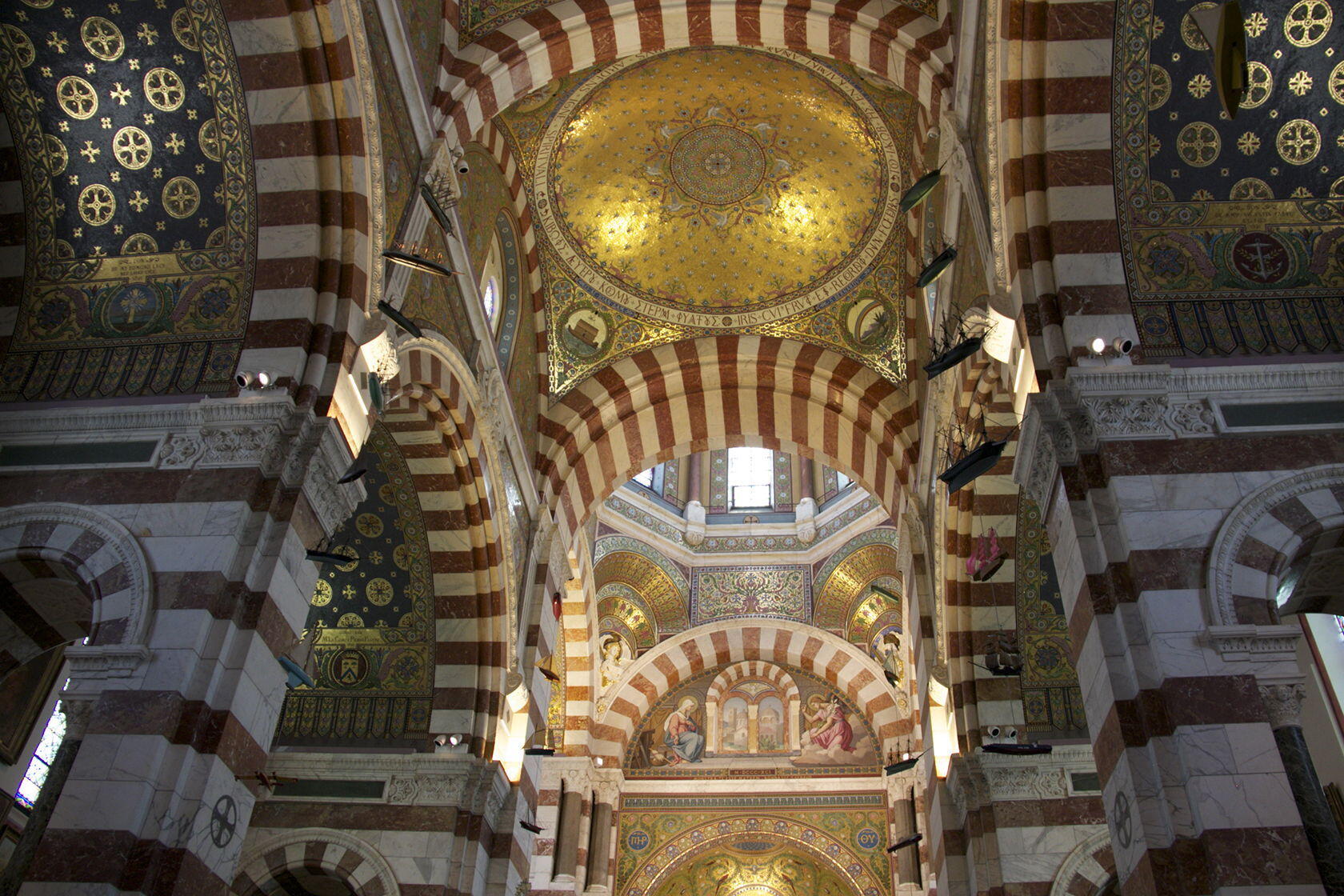 La Basilique Notre-Dame-de-la-Garde est composée :
– D'une église basse voûtée ou crypte
– D'une église supérieure
L'édifice est de style romano-byzantin. Il s'agit d'un style architectural qui mélange l'architecture byzantine (coupoles, mosaïques) à l'architecture romane (voûtes en berceau). Ce mélange de styles est fréquent au 19ème siècle.
La crypte est entièrement en style roman. Elle est peu éclairée.
A l'intérieur de l'église supérieure, il y a deux types de marbres : le marbre blanc et le marbre rouge. On parle de polychromie (qui signifie mélange de couleurs) des pierres.
Le plafond et les murs sont très beaux et sont couverts de mosaïque dorée. Beaucoup de maquettes de bateaux sont suspendus au plafond. Les sols sont couverts de mosaïques romaines.

Basilica Shop
At the end of the visit, we took the time to visit the Basilica's souvenir shop. There are religious objects such as carved nativity scenes in the different regions of France. There are also sculptures of the holy family.
The fame of Notre-Dame-de-la-Garde goes beyond the limits of Marseille. Visitors come from all over Provence and even from all over the world to have the chance to admire this masterpiece.
A la fin de la visite, nous avons pris le temps de visiter la boutique de souvenirs de la Basilique. Il y a des objets religieux tels que des crèches sculptées dans les différentes régions de France. Il y a aussi des sculptures de la famille sainte.
La renommée de Notre-Dame-de-la-Garde dépasse les limites de Marseille. Les visiteurs viennent et de l'ensemble de la Provence et même du monde entier pour avoir la chance d'admirer ce chef d'œuvre.
Language Immersion
When you come to us for an immersion stay in Provence, Virginie will be happy to share this excursion with you. She will also be very happy to help you discover the landscapes, the scents, and the culture of this beautiful region while helping you improve your French.
Quand vous viendrez chez nous pour un séjour en immersion en Provence, Virginie se fera un plaisir de partager cette excursion avec vous. Elle sera aussi très heureuse de vous faire découvrir les paysages, les senteurs, la culture de cette belle région tout en vous aidant à améliorer votre français.