Book Review: Riviera Dreaming by Maureen Emerson
Maureen Emerson and her husband spent in the South of France for 22 years. Although, that had not been their original plan. Born in Britain, Maureen has travelled extensively and lived on several continents. They are settled back in the United Kingdom. However, she says that she misses friends in France and the colours of the Mediterranean. Please read her full biography below.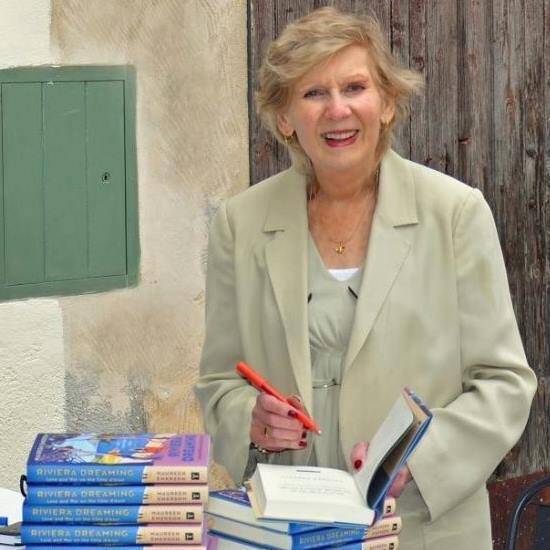 Research Fueled by Curiosity
Intrigued by the colourful characters who lived on the French Riviera during the period between the first and second World Wars, Maureen began her research. As a factual biographer, the stories of Anglo-American personalities during the 1920s and 1930s led her to uncover their impact on the local community. Her first book, Escape to Provence, published in 2008, is the true story of Lady Winifred Fortescue (author) and Elisabeth Parrish Star (Great War heroine).
This book is available in Kindle format here to purchase.
Book Review: Riviera Dreaming
Riviera Dreaming, Love and War on the Côte d'Azur Maureen Emerson's second book is the biography of American architect Barry Dierks. A name you have probably never heard of despite the vast body of residential design work he completed on the Riviera. The story of this young American architect and his English partner (both professionally and romantically) Colonel Eric Sawyer begins in 1925 on the French Riviera. A time when the WWI traumas started to fade, residents of the Riviera began rebuilding their lives and luxury homes along the coast.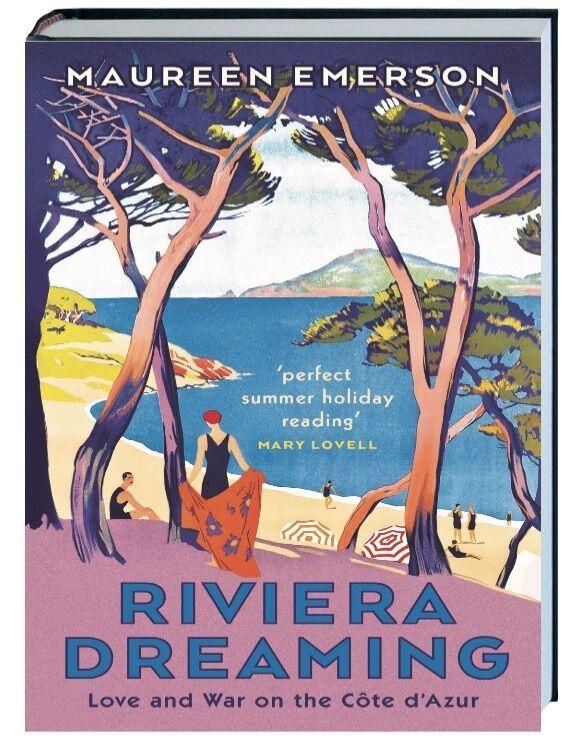 The first chapter of the book provides the backstory on Barry Dierks, a recent graduate from Pennsylvania, and Colonel Eric Sawyer ten years his senior. They met in Paris and enjoyed, along with many others, the post-war 1920s social scene in the city. A stroke of luck and some family assistance provided the couple with the financial flexibility to relocate to the Riviera and buy a property. Not far from Cannes, they found a 6000 sqm plot that suited their criteria and their home emerged. They designed and built a house and gardens to showcase Barry's talents and named the property Le Trident. As improbable as it seems Dierks successfully married "Modern and Mediterranean with Moorish and Classical influences" into the design of their home. The striking design effectively swayed potential clients resulting in numerous architectural commissions.
The combination of Barry's architectural talent and Eric's structural engineering and landscaping design attracted the attention they wanted. Barry's first commission was a luxury home – La Mauresque – for author Somerset Maugham on Cap Ferrat in 1926. One client led to many others; Barry Dierks completed 21 homes (rebuilds and remodels) on Cap d'Antibes over his professional career. Maureen highlights a few of these spectacular, if not slightly audacious, projects in the first section of Riviera Dreaming. Dierks' designs include a broad range of styles, although the era (1920s-30s) skewed towards Art Deco plans. Discover throughout this book some "jewels in the crown of Riviera architecture" and details about their equally interesting owners. These homes were designed for entertaining and recreation. In this coastal playground of the rich and famous, there were saltwater pools, a slide into the Mediterranean and stone terraces cantilevered over the rocky shoreline.
Then WWII changed everything on the Côte d'Azur and the rest of the world. However, once the war finished, people began to rebuild their lives again. Barry Dierks continued his work until his death in 1960, at the age of 60.
Years of Research
Maureen's eight (8) years of research is evident in the number of sources and related books listed throughout Riviera Dreaming. Discover the history of the coastline, its famous cities. Understand how Art Deco design influenced the architecture along the French Riviera during those glamourous years. Read about this architect you might not have heard of (until now) and the 70 houses on the Côte d'Azur he designed. Visit the Villas page on Maureen's website and enjoy the video and sounds clips.
This book is a must-read for anyone who loves the Côte d'Azur, is curious about history and loves architecture.
Buy your copy of Riviera Dreaming on Amazon here in hardcopy or Kindle version.
Author's Biography
From an Irish-Austrian background, Maureen Emerson grew up in London – for which she is eternally grateful. She raised her family in North Africa, Lebanon, Dallas and Singapore before settling in Provence for twenty-two years. There, she worked as a local coordinator for CBS and NBC at media festivals in Cannes. During her years in Provence, Maureen became enthralled with the stories of those expatriates who lived on the Riviera in the 1920s and 1930s and how the Second World War affected their lives. While still harbouring a strong affection for Provence, Maureen has now settled in Sussex with her husband.
Please visit her website for more details.
All rights reserved. Perfectly Provence articles and other content may not be published, broadcast, rewritten (including translations into other languages) or redistributed without written permission. For usage information, please contact us.
Syndication Information
Affiliate Information
As an Amazon Associate, this website earns from qualifying purchases. Some recipes, posts and pages may have affiliate links. If you purchase via these links, we receive a small commission that does not impact your price. Thank you in advance for supporting our work to maintain Perfectly Provence.