Book Review: Death on the Riviera
The following post is an interesting book review by Mary Jane on Death on the Riviera by John Bude, Poisoned Pen Press in Association with the British Library, Scottsdale, Arizona, 2016.
Being a fan of mysteries, and an amateur mystery writer myself, I like to check out what is being published or re-published in my preferred genre of mysteries, namely 'cozy'  mysteries set in beautiful locales. So recently I came across a new series entitled "The British Library Crime Classics."  My curiosity piqued, I looked deeper into the matter and discovered that the British Library (which split from the British Museum in 1973) is now re-publishing the works of lesser known British mystery writers of the "Golden Age" i.e. primarily of the 1920s and 1930s. That age included such stars in the firmament of mystery writing as Agatha Christie, Dorothy Sayers, Margery Allingham, Philip MacDonald and many more.  But the works currently being re-published are primarily those of writers whose works have not appeared in print since World War II. The initiative has been such a commercial success, that the British Library decided to partner with an American publisher, Poisoned Pen Press, with a predilection for the "Golden Age" type of mysteries, to publish an American edition of these books.
And that takes me to my review: looking through the list of these lesser known British mystery writers, I came upon one I had not heard of before, namely, John Bude, the nom de plume of Ernest Carpenter Elmore (1901-1957). Not only was he a prolific writer of Golden Age mysteries, but he also  co-founded, in 1953, the British Crime Writers' Association. Bude loved traveling in Europe, and in particular in France where he situated a number of his mysteries.
What struck me, however, was the coincidence in title and cover of one of his mysteries Death on the Riviera, with one of my own books. Not only was the title similar to my first mystery set in Provence: Murder on the Riviera, first published in 2004 by Paraclete Press, but the cover was almost identical (see the attached photos)! I can only conjecture that both covers were inspired by the same travel posters advertising summer holidays on the French Riviera, and distributed by the Southern Railway Company in England in the 1920s.   So of course I bought the book to see if we told a similar story.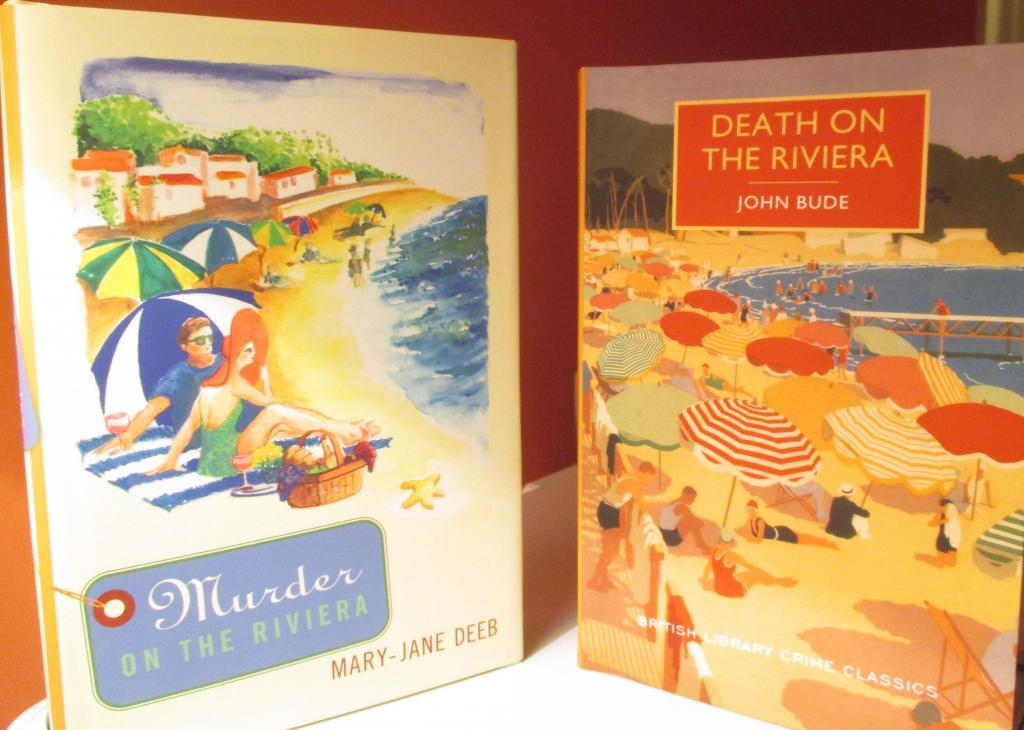 The answer is that we did not. My protagonists are amateur detectives: a French Grand-mere of the old school, who lives in Grasse in an old mas, and her half-American, and very modern grand-daughter Chrissy (Marie-Christine de Medici). Bude's protagonists are a British detective, Inspector Meredith, and his side-kick Sergeant Strang. My plot revolves around the murder of a newspaperman, blackmail, and money laundering. Bude's plot focuses on counterfeit money and paintings, mistaken identities, false alibis, and murder. My characters are mostly French and include among others the hen-pecked mayor of Grasse and his wife, the city's elegant judge and his very fashionable wife, a greedy cosmetic surgeon, and the editor of the local paper Le Loup Garou. Bude's characters are mostly British and include a rich and eccentric Englishwoman, a playboy, two beautiful English women one of whom has a shady past, and an artist who may or may not have painted his pictures.
But, more about Death on the Riviera.  Bude writes lyrically about the Riviera: in Cap Martin, the blue waters of the Mediterranean "lapped at that sun-drenched coastline as gently as a kitten at a saucer of milk." (p. 132) He describes the view of the rocks jutting out on the bay: "A few fishermen were perched like large black gulls here and there along the water's edge." (p. 132); "The warm caressing air was redolent of the scent of heliotrope and, somewhere in the half dusk under the palms, a fountain was splashing." (p. 56)
At first, the romantic magic of the Mediterranean leaves the stodgy Scotland Yard Inspector unmoved. But gradually, he falls under the spell of the place. When one part of the mystery is solved and Meredith realizes he will have to return home he thinks of a wet February night on Old Kent Road and shudders. "… it wouldn't be easy, he realized, to take leave of this sunlit, sparkling coast with its terraced vineyards and olive groves, its palms and oleanders, its fantastic cacti, its mimosa scented streets…"(p.88)
It is not easy either to leave this book and return to real life, away from the beauty real and imagined of this magical part of the world.