A Perfect French Roasted Chicken
Follow David Allen Scott on his virtual recipe journey of this French comfort cuisine dish and his review of Maria Zihammou's cookbook. While a primarily renowned region for their abundance of fresh seafood, this classic roast chicken dish could rival those anywhere.
As David's explains, "This is the first time I have reviewed a cookbook without holding it in my hands, to feel its heft, and how it actually reads with (and without) my glasses." French Bistro, by Maria Zihammou with photographs by Åsa Dahlgren, is a real beauty, at least in the online proof sent to me by Skyhorse Publishing.
More on David's delicious journey…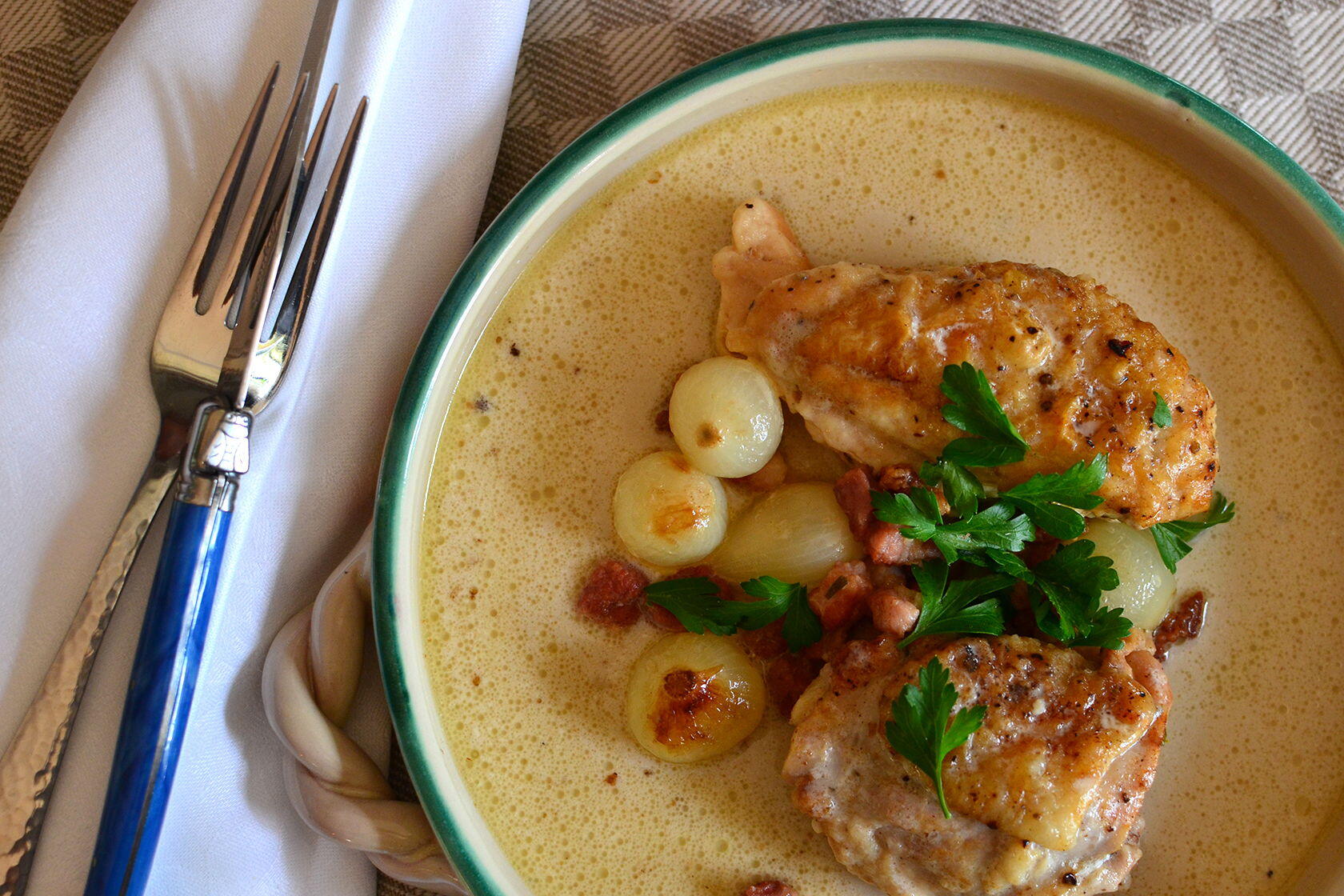 Poulet Bonne Femme
A simple one-pan main course of browned chicken, braised in apple cider and finished with cream.
Ingredients
1

whole

Chicken

or the equivalent in your favourite cuts

2

tbsp

Flour

to taste

Salt & Freshly Ground Black Pepper

2

tbsp

Butter

100

gr / 3.5 oz

Lightly salted pork belly

10

whole

Pearl onions

if you count mine I used 13

300

ml / 1 1/4 cups

Dry Apple Cider

try fresh from the farmer's market

1

Bouquet garni: Sprigs of Thyme, Parsley & Bay leaf

100

ml / 1/2 cup

Cream

1

tbsp

Fresh Parlsey
Instructions
Divide the chicken into eight pieces. (I used 8 chicken thighs, skin on and bone in.)

Flour, salt, and pepper each piece.

Sear them in a pan with half of the butter, so the chicken gets a nice color all around.

Transfer the chicken to a large pot.

Slice the pork belly into small cubes and sauté it in the pan in the remaining butter.

Peel the onions and add them to the pan when the pork begins to take on some color and become crispy. Continue sautéing until the onion, too, has browned.

Pour in the cider and bring to a boil, without covering.

Tie together with cooking twine, the parsley, thyme, and a bay leaf to make a small bouquet garni.

Place the bouquet garni in the bottom of the pot and cover.

Simmer for about 30 minutes.

Add the cream and cook, uncovered, for about 10 more minutes, then garnish with parsley.

Serve with salad and rustic sourdough bread.
Notes
Serve this easy, satisfying chicken with a crusty hunk of bread, a salad, and glass of wine, I can think of no meal more satisfying.