Want to Visit the Calanques this Summer? Know the Rules
Access to the Calanques National Park is controlled again this summer due to damage to the ecosystem caused by the burgeoning number of visitors and increasing fire risks.  The Calanque de Sugiton, which used to attract up to 2,500 people daily, is limited to 400 entries. Pre-booking one of the free passes is via the smartphone app 'Mes Calanques.'
Please see the Marseille Tourism website for full details on land and sea access to the park. Seasonal regulations begin on July 1st. Continue reading here for the original contributor blog post by: Aixcentric.
---
The Mes Calanques app is available on Google Play and the Apple App Store. It includes 20 itineraries and information on local flora and fauna that you may see along the way.
---
Calanques National Park
These stunning geologic features are in the Calanques National Park, which stretches between Marseille and Cassis. Dominated by stark grey limestone and dabbed with greenery here and there, the park provides a sharp contrast to the deep blue waters of the Mediterranean. Eons ago, ancient rivers carved canyons through this limestone on their way to the sea, forming the calanques we see today.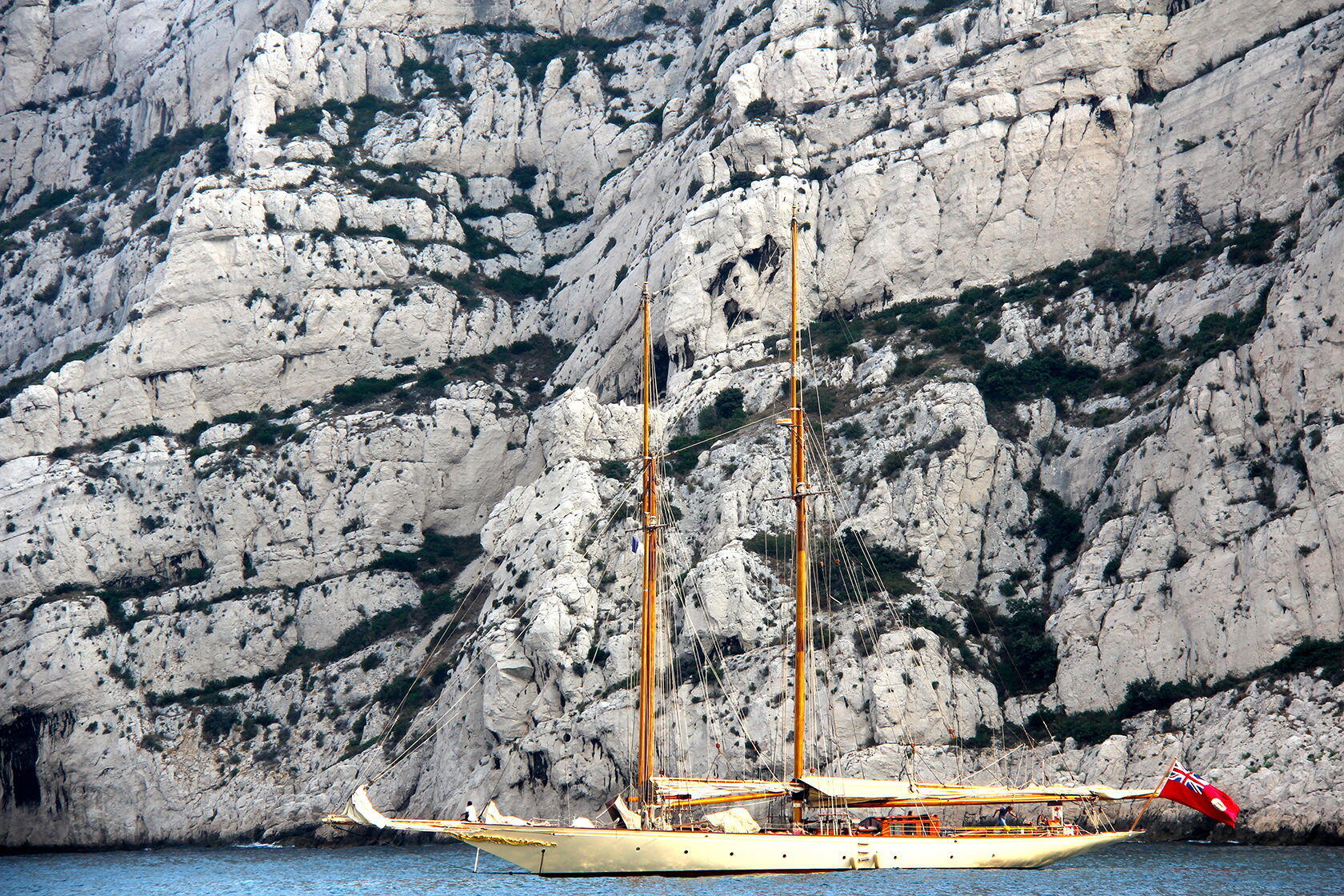 One easy way to enjoy the scenery without walking is by boat. However, not like the one pictured above, which is a beautiful private craft. There are two companies based in Marseille's Vieux Port. You can choose from rides lasting 45 minutes to two hours, which cover as few as three (3) or as many as nine (9) calanques. The ticket office is at the Quai Saint-Pierre, but be aware that seats sell out in the high season, so you should get there early.
Some of these stunning natural highlights include the Calanque de Sormiou, Calanque du Sugiton and the Route des Crêtes between Cassis and La Ciotat.
Compagnie Croisières Marseille Calanques
Angle Quai des Belges et Quai du Port,
Vieux-Port, 13002 Marseille
Telephone: +33 (0)4 91 58 50 58
Icard Maritime
Angle Quai des Belges et Quai du Port,
Telephone: +33 (0)4 91 33 36 79