Provence Wine Project for PANDAS Awareness À Table!
PANDAS Awareness
It took more than a village to bring the À Table! concept together – Susan and Towny Manfull needed a vineyard. In August 2018, Alexandra Manfull passed away, shortly after self-diagnosing her condition as an auto-immune disease that she had coped with for several years. The couple's grief is unimaginable, but their desire to raise awareness for Pediatric Autoimmune Neuropsychiatric Disorder Associated with Streptococcus (PANDAS) is unwavering. Lovers of wine, the family had lived in Provence for a while and have returned many times. Susan writes about wines and profiles winemakers for her website Provence WineZine. And, conversations start around the dinner table, which is precisely where the À Table! idea began to formulate.
Please watch this interview with Susan Newman Manfull about the project:
À Table! Fundraising Project
Where we might say, "Dinner's on" in North America, the French suggestion that it's time to eat is, "À Table! (Come to the table!).
"À Table! is one of the projects we created to raise awareness about PANDAS. It sounded a bit crazy at first blush, but we got the idea of using bottles of wine to spread the word about the deadly role of strep in causing neuropsychiatric symptoms." ~ Susan Newman Manfull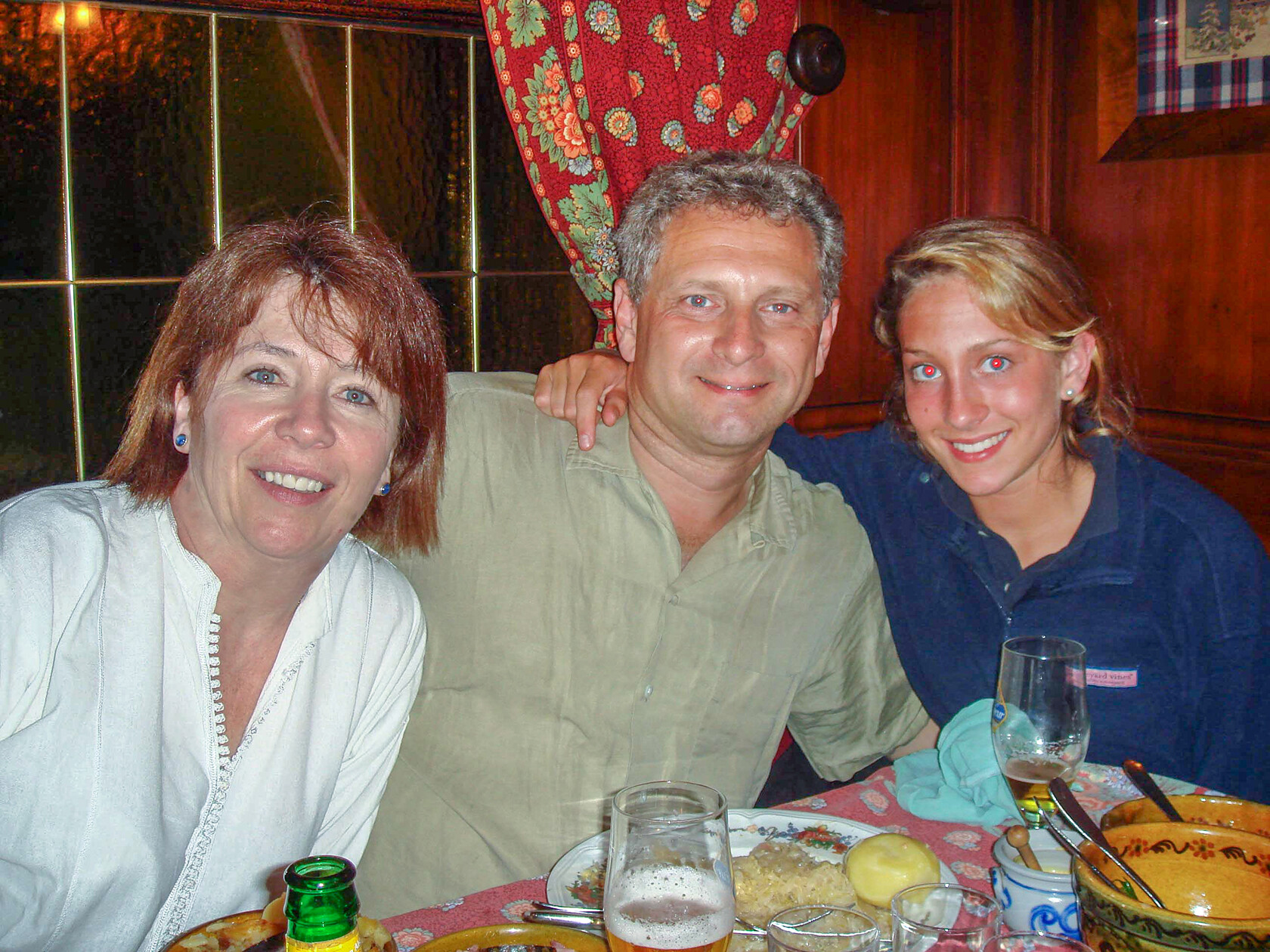 Crazy or not, the idea of wine from Provence as the catalyst for creating discussion and awareness for PANDAS began to germinate. How could they bring the pieces together? They needed a wine, a willing winemaker, a label for the bottle, a distributor in the United States, and some eager consumers.
The Wine
The Manfulls approached Madeleine Premmereur, the 4th generation of her family, to manage the Château Barbebelle wine estate. She was more than willing to participate in the project. Château Barbebelle is a 16th-century property located near Aix-en-Provence, one of the oldest estates in the Coteaux d'Aix-en-Provence appellation. The gorgeous 300-hectare (740-acre) estate located in Rognes has 45 hectares (111 acres) of vines under cultivation.

Susan describes the À Table! wine as, "A summer red." A balanced blend of Grenache, Syrah and Cabernet Sauvignon grapes from the best plots on the property this wine is light and refreshing. Open a bottle for a pre-dinner drink, enjoy it with burgers or pizza — the wine is meant for savouring with friends.
Château Barbebelle (website)
Route D 543,
13840 Rognes, France
Telephone: +33 (0)4 42 50 22 12
Email: contact@barbebelle.com
Creating the Label
Not just any label would do. Susan and Towny were not looking for a message in a bottle, but rather a message ON a bottle. The artwork needed to be reflective of the mission and Provence. The Manfulls turned to Gérard Isirdi, a painter whose studio-gallery sits in the heart of Lourmarin. As a local and an artist, Isirdi captures the essence of street life in the village and particular scenes of the popular Café Gaby.

During the Manfulls' time in Lourmarin, young Alex, at 11 years old, endeared herself to Gérard Isirdi and his wife. "She solidified a lovely relationship with Gérard and Christine, that included rendezvous at Café Gaby to paint. As Alex grew older, she would stop by Gérard's gallery to catch up with him and Christine." Isirdi wrote a poem that was read at Alex's funeral service. Happily agreeing to paint an image for the wine label, his design reflects life in Lourmarin with Alex at the centre.
Gérard Isirdi
Atelier Isirdi
4 rue Henri de Savornin
84160 Lourmarin, France
Telephone: +33 (0)4 90 08 50 96
Mobile: +33 (0)6 82 23 28 73
Email: isirdi@wanadoo.fr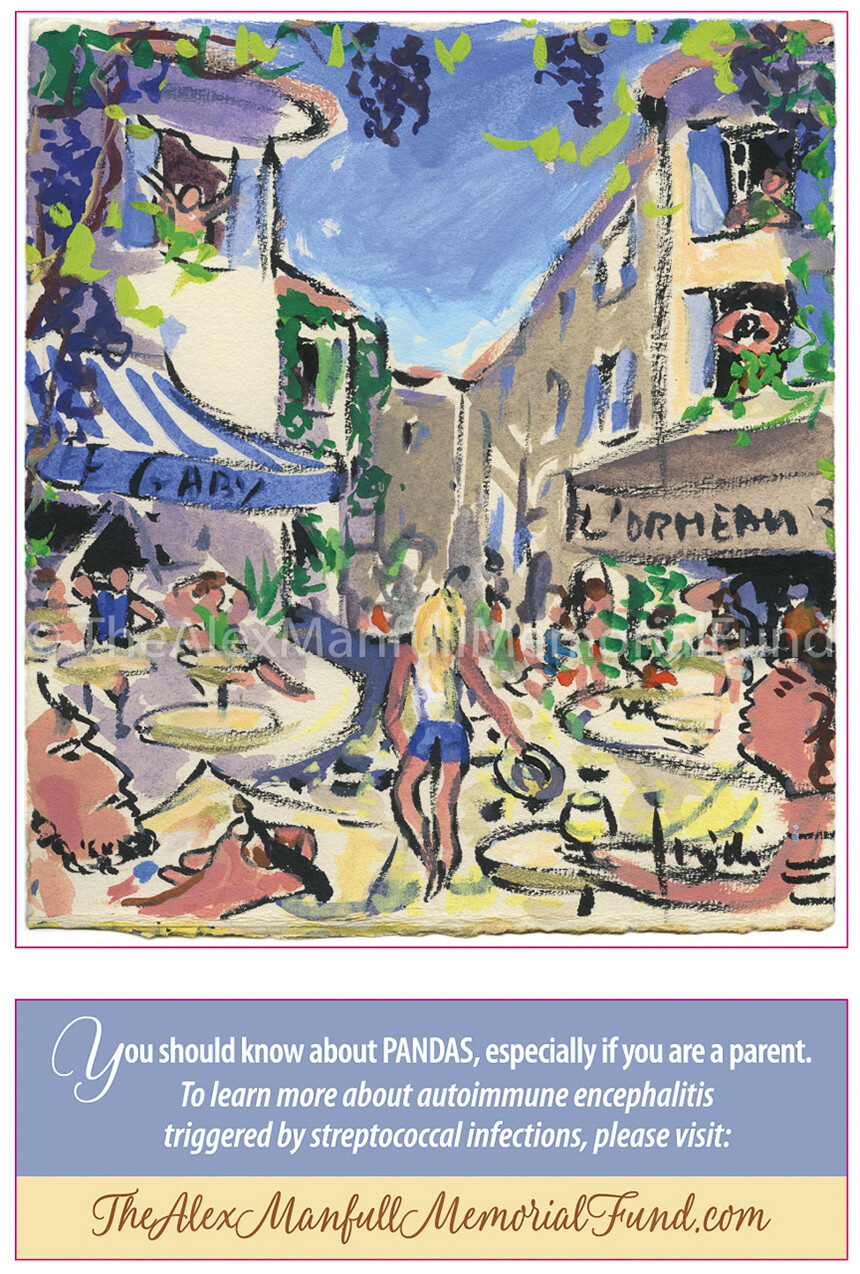 Help Support À Table!
Purchase a bottle of the wine, created especially for The Alex Manfull Memorial Fund, invite friends and family to your table, and enjoy the wine with a meal as you help spread the word about PANDAS and PANS. All proceeds will go to further research on the causes and treatment of Post-infectious Autoimmune Basal Ganglia Encephalitis disorders such as PANDAS and PANS.


On or before September 7th, Alex's Birthday, raise your glass to the defeat of PANDAS and send the Provence WineZine a photo for posting online. Send the images to this email Susan@AlexManfullWineProject.org. Those photos will be posted on Instagram @the_alex_manfull_memorial_fund and Alex Manfull Memorial Fund.
Or post your photo directly on Instagram, but please tag @the_alex_manfull_memorial_fund and use the hashtag #wecametothetable.
Read the full article on the À Table! Project on Provence WineZine.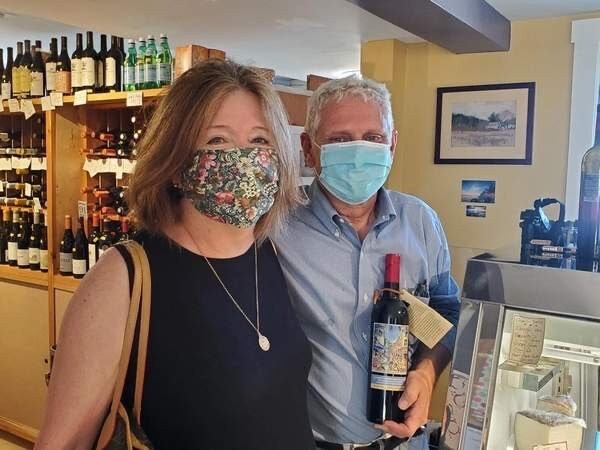 PANDAS is an acute onset of obsessions and compulsions and/or tics following a Group A Streptococcal (GAS) infection. Learn more about PANDAS and PANS here and here.
Where to Buy a Bottle
The launch of the wine took place at South Street and Vine, a local wine and cheese boutique, in Portsmouth. According to Susan, they expected a small number given Covid-19 restrictions, but 100+ people arrived and bought wine. They sold out!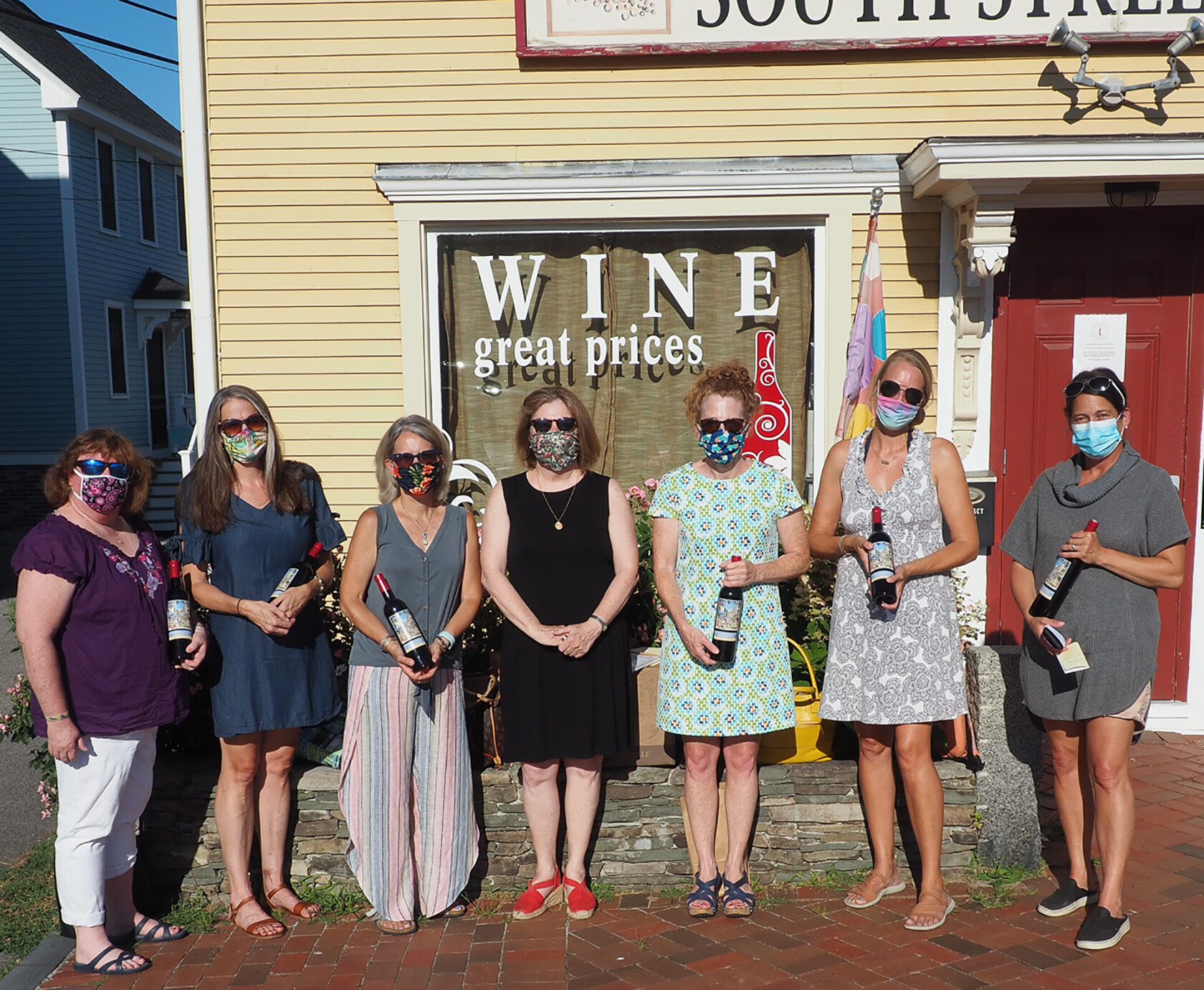 From Acquiesce Winery and Vineyards in Lodi, California:
Anyone who would like to support À Table! can go to – À Table Picpoul Blanc 2018 – and order the wine to be shipped to their home (where regulations permit).  The cost of each bottle is $28.00. Shipping is a bargain at $15 per shipment of up to 11 bottles and FREE shipping for a case or more. Each bottle will be accompanied by an insert telling the story of À Table! and including a picture of the original label with the artwork by Gérard Isirdi.
Picpoul Blanc is a grape variety thought to be native to the South of France where the vast majority of the world's Picpoul is still grown.  It is one of the thirteen varieties permitted in Châteauneuf-du-Pape. A few cutting-edge California wine producers – especially those who gravitate toward Rhône style wines – have started planting this variety with tremendous success. As they say, the proof is in the bottle!
Susan and Ridney Tipton first planted 100 vines of Picpoul in 2011. These vines were sourced from the storied Château Beaucastel in the Southern Rhône Valley, via the highly regarded Tablas Creek Vineyard in Paso Robles, California.
In New Hampshire:
South Street and Vine
359 Marcy Street
Portsmouth, NH 03801
Telephone: +1 (603)-430-2984
Email: robin@southstreetandvine.com
In Provence:
De La Cuisine Au 20
20 Rue du Temple
84160 Lourmarin, France
Telephone: +33 (0)9 53 96 96 61