Our Guided Tour Wine Tasting in Bandol and Cassis with a Professional
When I read on Kristin Espinasse's blog "French Word a Day," that her husband Jean-Marc, a wine professional, offered wine tours in Provence, I was in touch faster than you can open a screw-top bottle. We settled on a date for wine tasting in the Bandol and Cassis appellations. Although there are many other appellations in Provence, those two regions were of interest to us given the proximity to the Mediterranean and unique terroir in a small geography.
Wine Professional
Jean-Marc grew up in Marseille and studied accounting at business school. However, he quickly realized that his passion was not auditing balance sheets but learning the wine industry from top to bottom. He credits his uncle, who was rejuvenating a family vineyard, Domaine du Banneret, in Châteauneuf-du-Pape, with igniting his interest in winemaking. A career in accounting was not in the cards. Jean-Marc traded the numbers for a 35-year career in turning grapes into wine.
Working with his uncle on business plans and participating in the harvests, Jean-Marc gained an understanding of wine distribution, operations, and marketing. In 2006, an opportunity to purchase 25 acres of old vines in the Rhône Valley with a promising terroir was too good to pass up. It was time to make wine of his own at Domaine Rouge-Bleu. Subsequently, the Espinasse family planted vines, picked grapes, vinified the juice, bottled the wine and embarked on the sales and marketing journey. They have owned and sold two vineyards and operated an épicerie fin (wine store with gourmet food). Today, Jean-Marc distributes a portfolio of wines from 20 French family-owned vineyards to importers in the United States. In addition, he has vinified small production vintages at wineries in Sicily, Oregon, and Provence.
So, with that resume, we knew our wine tour and tasting experience would be excellent. It didn't take much to convince another couple to join us on a day trip to Bandol and Cassis. While organizing the day, Jean-Marc had asked about our preference for vineyards. We asked him to introduce us to some less-known gems.
Wine Tasting in Bandol and Cassis
Bandol AOP
In wine circles, this area has a reputation as one of Provence's top Appellation d'origine protégée/contrôlée (AOP/AOC) since 1941. The slope of the Massif de la Sainte-Baume stretches to the sea, creating a natural amphitheatre. Late-ripening grapes flourish in the limestone soil with plenty of sun, gentle sea breezes and shelter from the mistral winds. Red wines must contain at least 50% Mourvèdre grapes to meet Bandol AOP requirements. Most Bandol AOC wines are rosés. The breakdown is 65% rosé, 30% red, and 5% white. Bandol red wines must be aged for at least 18 months before being sold.
The appellation includes eight communes Bandol, Le Beausset, Le Castellet, La Cadière d'Azur, Saint Cyr-sur-mer, Sainte-Anne d'Evenos, Sanary-sur-mer, and Ollioules for a total of 1,500 hectares (3,750 acres) of vineyards.
Guide to Provence Wine Regions

Bandol: Le Beausset Vineyard
We met at Domaine de La Font des Pères in Le Beausset, one of the eight (8) villages in the Bandol appellation d'origine protégée (AOP). In 2010, Philippe and Caroline Chauvin bought the property with six (6) hectares of north-facing vines in the Bandol AOP. Already familiar with the area and versed in gastronomy with their Comptoir du Caviar (created in 1991), the couple embarked on a winemaking journey.
When the Chauvins purchased the property, the land and its vines, much work and investment were needed to rejuvenate the production. The 200 stone restanques (tiered terraces) needed repair, and the equipment was outdated. Domaine de La Font des Pères has significantly transformed in the last 13 years. There are 14 hectares under cultivation with nine (9) grape varietals. With a professional team and state-of-the-art equipment, the wine production capacity is 80,000 bottles.
There are now gîtes, villas, B&B rooms, and eventually a spa. Whether staying overnight or just visiting, enjoy a meal at La Ferme Auberge, the gourmet restaurant with a panoramic view or a light bite at the Bistro. A large potager (kitchen garden) on the property produces most of the vegetables and herbs used in the menu.
The Chauvins aim to produce high-quality wines following the rules of the AOP. They seem to have achieved that goal, as 80% of their wine sells at the vineyard and restaurants. Of course, we tasted the wine and stayed for lunch!
Domaine de La Font des Pères (website)
1306 Chemin de Pontillaou
83330 Le Beausset
Cassis AOP
Bandol and Cassis are only 30+ kilometres apart, and despite their proximity to the Mediterranean, the two wine regions are quite different. In 1936, Cassis was designated an AOC at the same time as Arbois, Châteauneuf-du-Pape, Tavel, and Monbazillac. It is the smallest appellation in Provence with 12 independent winemakers, 210 hectares of vines and 80% white wine production with roughly 1 million bottles/year. The Romans, and before them, the Phocaeans (mariners from what is now Turkey) planted vines on the sunny slopes beside today's town of Cassis over 2600 years ago.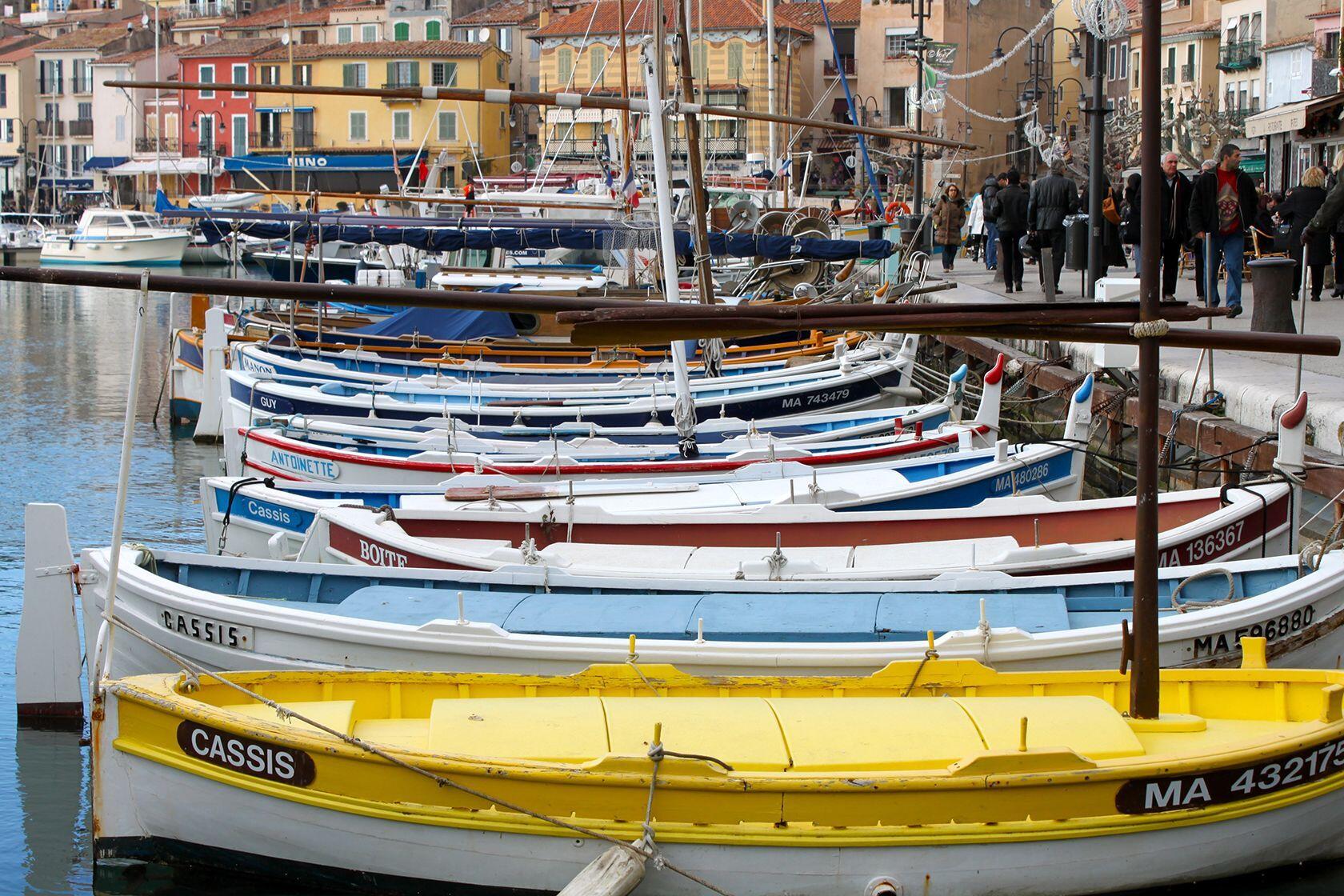 Nature was kind to Cassis, with a stunning setting. The Cassis vineyards are in a natural bowl with cliffs on both sides and the rocky yet arable land descending in terraces towards the Mediterranean. To the east, the Couronne de Charlemagne range and Cap Canaille, a cliff that plunges some 400 meters to the sea, shelter the vineyards. Of all the wine regions in Provence, Cassis AOC is often considered the most beautiful. It is a short drive east of Marseille, located along the Mediterranean coast between calanques (small coastal fjords with tall cliffs). The entire region, including the vineyards, forms part of the Calanques National Park.
Wines of Provence Understanding the Colours
Unfortunately, the Great Wine Blight almost decimated the industry in the 19th century, but it recovered well and now produces some of the best white wines in the world. The varietals planted after the blight (Marsanne and Clairette) produce dry wines with mineral notes due to the rocky limestone soil. Cassis AOC white wines tend to have citrus, dried herbs, peach, and honey fragrances. They pair well with fish, seafood, and vegetarian dishes.
Cassis Vineyard Visit
Given that there are only 12 vineyards in Cassis, Jean-Marc selected Domaine du Paternel for our last afternoon visit. The Domaine is owned and operated by the third generation of the Santini family. They have vineyards in Cassis, Bandol, and Saint-Cyr-sur-Mer producing vintages in keeping with those terroirs. Domaine du Paternel focuses on organic cultivation.
In 1943, three siblings, Catherine, Jeanne and Antoine Santini, became owners of a plot of land in Cassis known as "La ferme du Paternel." The land was in poor condition after two World Wars and a shattered economy. Pierre Cathinaud, Catherine's husband, took the lead on reforming the farm and its operations. La Domaine du Paternel came to be in 1951 and, with that, their first wine vintage. Today, the Santini family produces whites in the Cassis AOC/AOP, rosés in the Côtes-de-Provence appellation and reds in the Bandol AOC/AOP.
Jean-Marc toured us through the wine production area, and then we tasted the range of Domaine du Paternel wines and even bought some to savour at home. Although the tour and wine tasting in Bandol and Cassis were done, Jean-Marc insisted that we drive up to the top of Cap Canaille to see Cassis and the coastline from lofty heights. Both his wine tour and the view were not to be missed!
Domaine du Paternel (website)
11 Route Pierre Imbert
13260 Cassis

Contact Information
To book a tour and wine tasting in Bandol and Cassis or anywhere else in Provence, the Rhône Valley or Châteauneuf-du-Pape, please get in touch with Jean-Marc Espinasse. Email: jm.espinasse@gmail.com
Please read some additional information on Jean-Marc in this Wine Spectator article.
All rights reserved. Perfectly Provence articles and other content may not be published, broadcast, rewritten (including translations into other languages) or redistributed without written permission. For usage information, please contact us.
Syndication Information
Affiliate Information
As an Amazon Associate, this website earns from qualifying purchases. Some recipes, posts and pages may have affiliate links. If you purchase via these links, we receive a small commission that does not impact your price. Thank you in advance for supporting our work to maintain Perfectly Provence.