Luberon Biking Routes Cycling the Veloroute to Cucuron
It's been a long time since I last posted about a cycle ride in the area, that's not because we haven't been cycling, in fact, the opposite is true.
This area is so good for cycling, and even though we thought we had been along most of the main routes, we continue to find new places to explore. I'll post more of those in the future.
Luberon Hills and Valleys
The Luberon is a large geographic area that encompasses several valleys and three mountain ranges. Viewed from west to east the smallest ridgeline is the Petit Luberon, then the large Grand Luberon and on the eastern edge the Luberon oriental. The Parc naturel régional du Luberon protects most of this mountain terrain, natural pine forests, and native flora. There are plenty of options for exploring these hills on foot.

Read: Luberon Dog Walk from the Abbaye de Senanque to Gordes
Vineyards, fruit trees and seasonal produce dot the landscape on the valley floor. During the 16th century, the silk industry thrived in the South of France. The Luberon farmers contributed to raw silk production and natural fabric dyes, from cochineal insects and plants, until the mid-19th century. Read about the remarkable garden in the hilltop village of Lauris – Jardin Conservatoire de plante tinctoriales.
Perched Villages of the Luberon
Peter Mayle did not discover the Luberon village of Ménerbes, but his book "A Year in Provence" definitely created a broad audience hoping to visit. The southern flank of the Luberon includes several villages perched on hilltops. Today, those towns are a perfect photo opportunity for visitors, but historically, these locations were strategic and defensive. Discover the darker side of Provencal history in this article about the Merindol Massacre.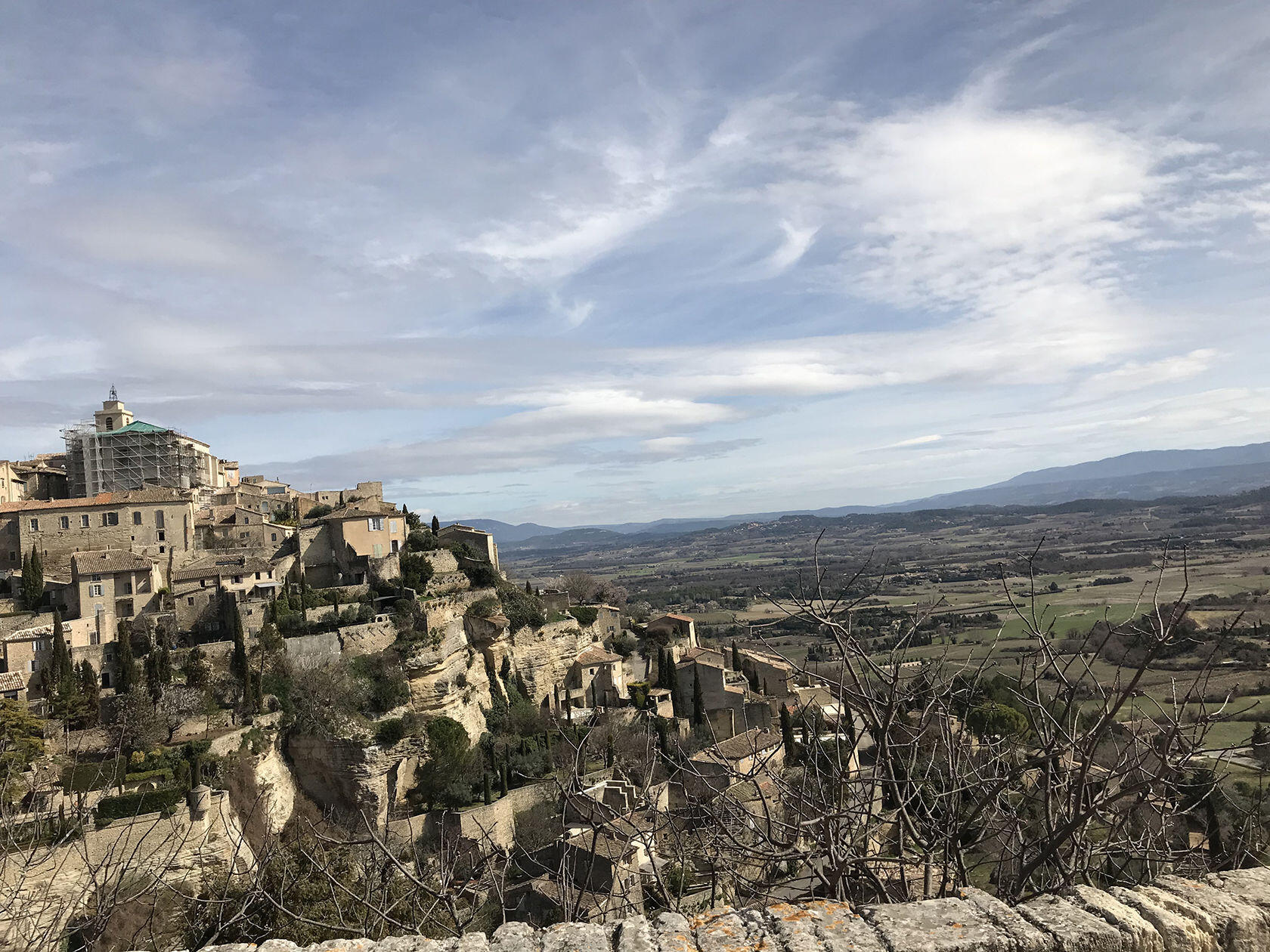 Within the boundaries of the Luberon, there are four (4) towns considered among the Most beautiful villages in France (Les Plus Beaux Villages): Ansouis, Gordes, Roussillon and Ménerbes. Don't limit your exploration to just these four villages as there are many towns well worth visiting in the Luberon. Julie (our Vaucluse Dreamer) has passed through most of these "Golden Triangle" villages on her bicycle.
Luberon Biking Routes
At close to 90km long and 1300m of elevation change, this biking route is not recommended for casual cyclists. However, there are options for shorter rides or take a drive along the route.
Veloroute du Calavon to Bonnieux to Lourmarin to Cucuron to Cereste for ice cream.
…Continue reading here for the details on this beautiful cycling route by Vaucluse Dreamer.
Biking to our Favourite Breakfast Spots in the Vaucluse
Mont Ventoux a Cycling Challenge: Taming the Beast