It Takes A Village to Raise This Expat
Contributor blog post by Deborah Bine:
Some of you remember PigPen in the Charlie Brown cartoons who always had a cloud of dust following him. Well, the Barefoot Blogger has a little cloud that has "trouble" written on it that seems to hang over me.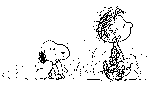 My friend, Geoffrey, used to be the one who always came to my rescue. Since his phone now switches straight over to voicemail when I call, my safety net has expanded a bit. …Continue reading here
Via:: Barefoot Blogger
Please share this with friends and family.