Sweet, Creamy and Tangy Dessert Lemon-Lavender Hearts with Lemon Curd
The lavender season may be over for another year in Provence, but the locally-grown citrus will be available shortly. Perhaps these Lemon-Lavender Hearts (Coeur à la Crème au Citron et Lavande) are the perfect dessert to bridge the gap between seasons in the South of France. The combination of sweet lemon curd and cream cheese blended into a delicious finish to any meal. Read special equipment required for the step-by-step photos.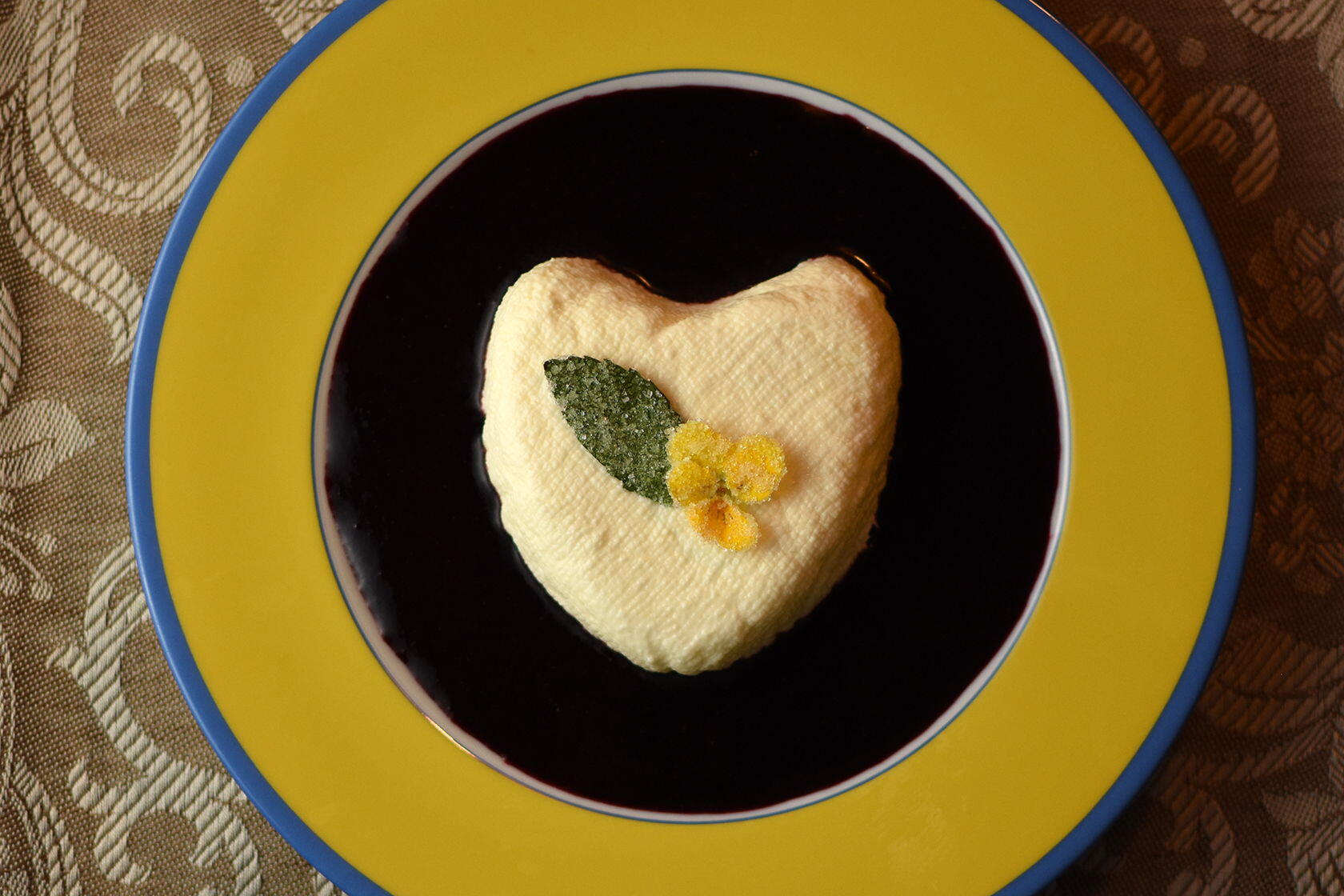 Coeur à la Crème au Citron et Lavande
This dessert takes a little bit of time to prepare, and make sure to allow for the overnight 'waiting period' - your guests will thank you.
Ingredients
1/2

cup + 2 tbsp

Heavy Cream

1/4

cup

Lemon Curd

1/3

cup

confectioners' sugar

sifted to remove lumps

1/2

tsp

Lavender Extract

or vanilla, if you don't have lavender

1

bag (16 oz)

Frozen Mixed Berries

1/4

cup

Sugar

1

tbsp

Chambord or Grand Marnier

Edible flowers and Mint Leaves

for decoration
Instructions
Preparing the Hearts:
Cut four pieces of cheesecloth (triple thickness) about 8 inches square.

Rinse well to remove sizing and squeeze to damp-dry. Line four individual coeur à la crème molds and set aside.

In a large mixing bowl, beat the cream cheese on high speed until light and fluffy.

Add 2 tablespoons of the heavy cream and beat to lighten the cheese.

Add the lemon curd, confectioner's sugar and lavender extract to the cream cheese mixture and beat to blend, scraping down the sides of the bowl as you go.

In a clean bowl with clean beaters, beat the remaining 1/2 cup of cream until it reaches soft peaks. Fold it into the cheese/lemon mixture until no streaks are visible.

Divide mixture among the four prepared molds and wrap overhanging cheesecloth over the top, pressing down lightly to ensure the mixture if conforming to the mold.

Put molds onto a plate to drain (the reason the mold has holes!) and refrigerate for at least 8 hours or over night. (Note: this recipe didn't drain any liquid.)
To Make the Sauce:
Put berries, sugar and liqueur in a large saucepan.

Bring to a boil and then let simmer for 10 minutes.

Force the berry mixture through a fine sieve and discard seeds and skins. Refrigerate the sauce until ready to use.
Plating the Hearts:
Unmold the coeur onto dessert plates and drizzle sauce around the sides.

Decorate with edible flowers and mint leaves.
Citrus in Provence
By November, it is typical to see Corsican citrus in some Provencal markets – pomelos, cédrat (cedrat or Corsican Citron is a lemon with a think rind), oranges, and clementines.
Lemons have been growing in the hills near Menton, on the French Riviera, since the 15th century. However, it took until the 16th century for the local citrus agriculture to become more formally organised. Today, there are about fifteen professional growers in the Menton region producing roughly 150 metric tons of lemons per year.
By 1928, Menton – "La Cité des Citrons" (The City of Lemons) – was the top lemon-producing region in Europe, a position that now falls to Spain. Global production stats have not stopped the city from "painting" the streets and the Jardins Biovès orange and yellow each year during the Fête du Citron. It is a lively festival (much more family-friendly than the Rio Carnival) that first started in 1933 as a way to attract visitors to the French Riviera during winter months.