Another Fine walk in Provence
Walk number one in the local green guide is 11 kilometres – Vaucarlanque
Starting at the Chateau in Saint Saturnin Les Apt follow the green markers heading West.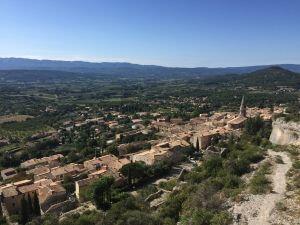 There are superb views over the old reservoir, the Perreal with the Luberon behind.

There are a number of …Continue reading here
Hiking in Provence
There are many hiking trails throughout Provence, from the moderate Luberon and Alpilles hills to the steeper pitches near Mont Ventoux and the Dentelles de Montmirail. You can also choose to head to the coast in either direction (east or west) from Marseille to find some beautiful hikes along the coast, although some of these trails could be difficult if you suffer from vertigo. The standard hiking rules apply in Provence, as they should anywhere, good shoes, sunscreen, hats, water, a snack and a mobile phone.
Tips for Hiking in Provence
The Institute National de l'Information Géographique et Forrestiére (IGN) maps are detailed and very accurate. There is also an IGN application for smartphones. IGN website.
Sturdy hiking shoes are recommended.
Take water, sunscreen and snacks.
If you are challenged with steep downhill grades, hiking poles are a good idea.
There are signs, rock piles and paint flashes to indicate the way.
DO NOT hike if there is any threat of bad weather.
Due to forest fire risk, during the summer months, there are restrictions to hiking in some areas. During this period, before you head out, you should check in advance to see if it is safe to access the trails. This is the rating system.
Green (clear) – a light risk of fire and it is safe to hike.
Yellow (moderate) – a minor risk of fire and it is safe to hike but be cautious.
Orange (severe) – hiking is not recommended
Red (extreme) – hiking is not allowed
Vaucluse: call this number +33 (0)4 88 17 80 00 or +33 (0)4 28 31 77 11. The teleprompters on the system allow you to choose your particular region.
Var: from June 21 through September 20th use the interactive map on this webpage to determine hiking conditions.
Bouches du Rhône: from June 1 – September 30th check this website for the current access status for the hiking trails.
Hiking Books for Trails in Provence
To order a copy, please click on the book cover images or titles. As an Amazon Associate, this website earns from qualifying purchases. Note: if you purchase a book via these links we receive a small commission that does not impact the price you pay.
Thank you in advance for supporting the work we do to maintain Perfectly Provence.