A Lunch Menu Inspired by Springtime in Provence
For our 2023 spring menu, we turned to Ginny Blackwell, the founder of International Property Shares. Blackwell and her husband split time between their farm near Portland, Oregon and the glorious southern France countryside.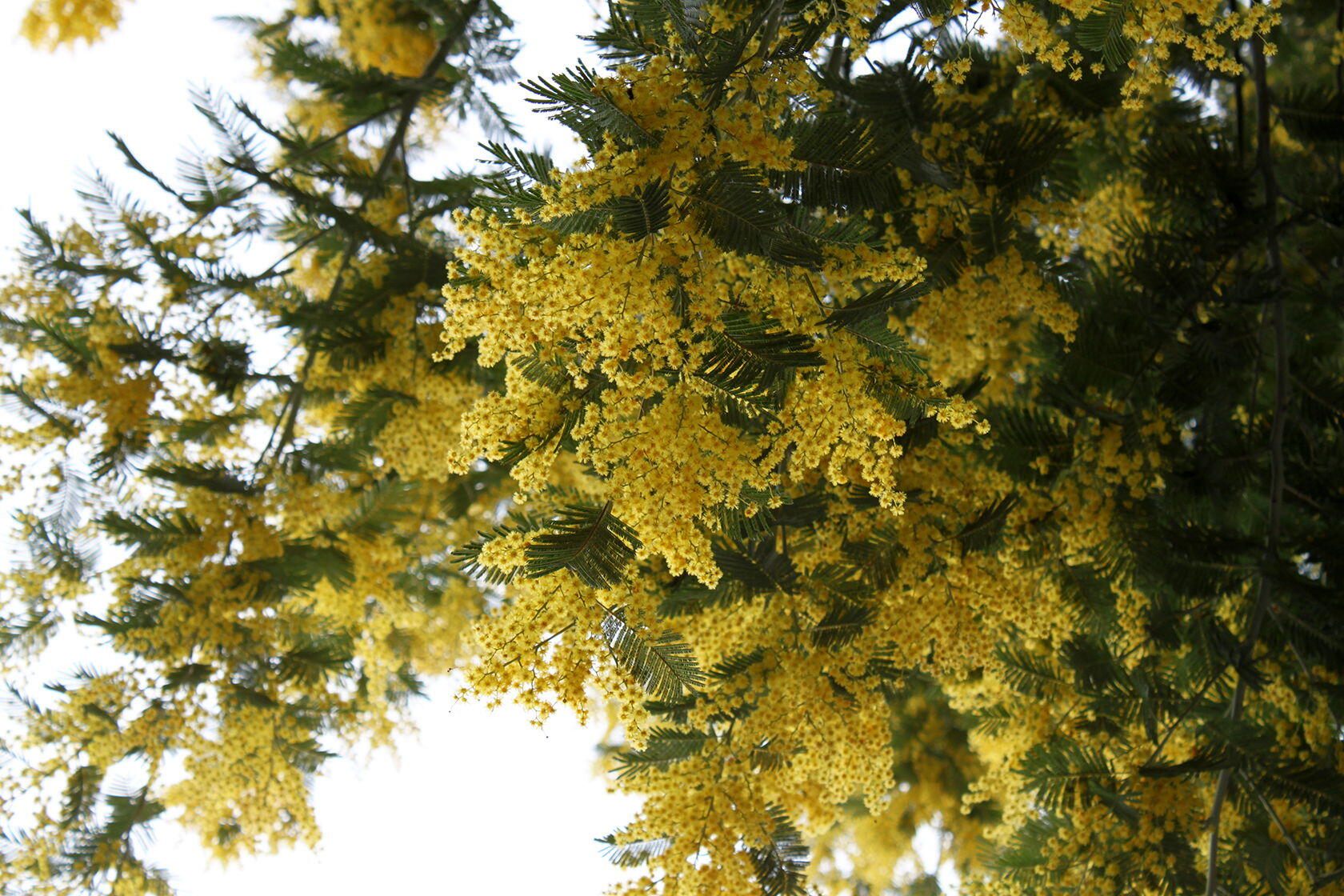 Lunch in Provence
Doesn't that sound like a dream?
Ginny Blackwell has chosen four (4) recipes for lunch with friends in Provence or elsewhere. Prepare the recipes in advance to maximize your time together at the table. The menu starts with Mimosa Deviled Eggs, a tribute to the beautiful early spring flowers along the French Riviera coastline. Following the appetizer is a warm soup with ginger and lemon for zesty spice and natural acidity. Finally, the sweet finish is a twist on traditional Panna Cotta ("cooked cream" in Italian). We hope you enjoy this Provencal lunch menu for the 2023 spring season.

With Drinks:
Is there anything more uplifting than Provencal Mimosas in early Spring? For this super simple hors d'oeuvre, Mimosa Deviled Eggs, choose high-quality farm fresh eggs – les oeufs fermiers – with their vibrant orange/yellow colouring and intense flavour.
Mimosa Eggs - Oeufs Mimosa
I was introduced to Oeufs Mimosa (Mimosa Eggs) years ago in Marseille when my cousin placed a large, resplendent platter of Oeufs Mimosa on the dining table. The traditional recipe is unbelievably simple: hard-boiled eggs, mayonnaise, and finely chopped parsley.
Check out this recipe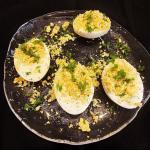 The Main Course:
As a big fan of lunchtime soups, this Cauliflower Soup with Coconut Milk and Fresh Ginger combines some of my favourite Asian flavours to warm you up on an April day. This will be perfect when paired with Provencal Fougasse Recipe with Olives and Cherry Tomatoes and a chilled Provencal rosé.
Cauliflower Velouté (with fresh ginger and coconut milk)
This soup, like most, is simple to make. Cook the vegetable add the liquid and purée. Enjoy a warm bowl on a cold day.
Check out this recipe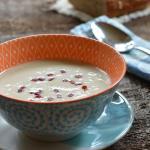 Fougasse with Olives and Cherry Tomatoes
The combination of sweet cherry tomatoes and tangy black olives make this focaccia-style bread a stunning addition to any meal. You can even enjoy it on its own with some olive oil or accompanying some soup for a well-rounded and delicious meal.
Check out this recipe

Alternative recipe:

Fougasse with Tomatoes, Olives, and Peppers
This fougasse is rich and savory, almost a meal in and of itself. Pair with a more structured, but dry rosé for a perfect aperitif.
Check out this recipe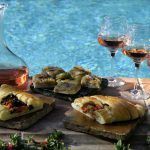 A Sweet Finish:
Try this unusual dessert recipe, Easy Panna Cotta Variation with Gin Poached Rhubarb, to take advantage of one of our earliest Springtime crops, rhubarb. Then, with pops of pink colour and the tangy flavour of rhubarb and panna cotta, save room for this finale!
Raspberry Gin Panna Cotta
The methodology for making panna cotta is not difficult but requires time as the layers need to set.
Check out this recipe

For a PDF copy of this menu, please contact us here.
And, for Pinterest fans:

---
Who is Ginny Blackwell?
In September 1998, we bought a "to-die-for," romantic, centuries-old farmhouse on the Lot/Dordogne border. All of the magic of France, the glory of its rolling countryside, and the streaming sunlight which filled our country kitchen at "La Bruyere" (which means heather) came to fruition because we followed our intuitions and allowed the wind to fill out our sails.
Upon returning to our farm near Portland, Oregon, my husband and I set about convincing like-minded friends and Francophiles that it would be a marvellous plan to own the house cooperatively, each having six (6) weeks of usage, and to share the ongoing expenses.
This was the start of International Property Shares, a pioneer in using a limited liability company to purchase real estate in Europe and then sell deeded lifetime shares to owners worldwide.
My vision has remained the same since then; to offer affordable elegant second homes to enjoy every year, with none of the year-round headaches and expenses of rentals and management. Today, nearly 25 years later, IPS owners have developed lifelong friendships with owners from South Africa, New Zealand, Australia, Canada, England, France, Denmark and the USA.