Water is Low at the Fontaine de Vaucluse
Contributor blog post by Aixcentric:
The spring at the Fontaine de Vaucluse is extremely low at the moment with a level of just 2.30m, no doubt as a result of the extremely dry summer followed by so little rainfall over the autumn.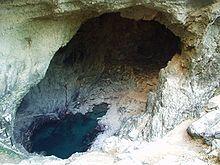 If you are new to Provence and haven't visited, it's a good time as …Continue reading here you can get very close to the source. Read about other interesting things to do while you are in Fontaine de Vaucluse – make a day of it.
Via:: Aixcentric